Front of House vs. Back of House: What's the Difference?
By Jordan Hollander
Last updated January 26, 2022
4 min read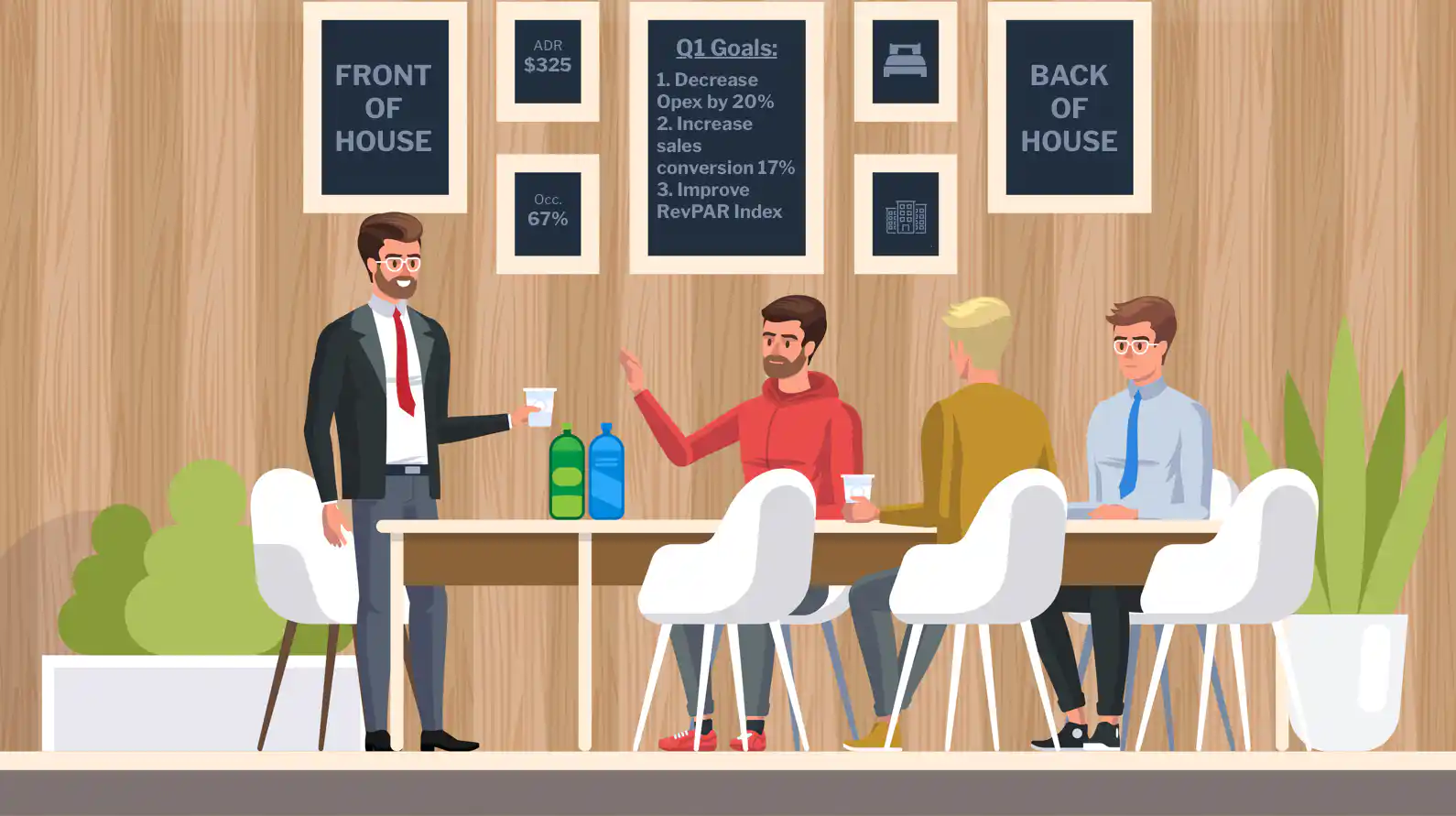 If you've ever started a hotel or restaurant business - or even worked in one - you know that there's often a disconnect between front of house and back of house positions. This disconnect is often greater when there's a restaurant within hotel operations.  
Just last week I called a hotel nearby to make a reservation in the dining room at their restaurant.  My family didn't believe me when I told them that the front desk agent didn't know the hotel didn't even had a restaurant (and this was a fine dining establishment).  
This is an extreme example obviously, but the disconnect between front of house and back of house is very real. The first step to solving these kinds of problems is to clearly define roles and responsibilities.  From there we can identify overlap and pass-offs then develop strategies to smooth out even the most complex of operations.
What is the Front of House?
Simply put, the front of house departments are guest-facing. They work directly with guests and handle operational tasks, like check-ins and check-outs. Front of house employees often work in shifts, with some covering overnight shifts so that an employee is always available whenever a guest needs assistance.
What positions make up the front of house team at hotels?
Front Desk Agents:  These employees usually have the most contact with guests. Front desk agents check in guests, handle inquiries throughout the guest's stay, and check them out at the end. Since guests often come to the front desk whenever they have a question, even if it concerns a different department, the front desk staff must be able to communicate well with the entire hotel team.

Bellman: Bell staff are responsible for helping guests with luggage during their arrival and departure. Sometimes bell staff also store luggage, deliver items to guestrooms, and assist with valet parking.

Concierge: A concierge assists guests with things to do during their stay. Concierges often book restaurant reservations, arrange tours, find concert tickets, and coordinate transportation on a guest's behalf. 

General Manager: The hotel's general manager oversees all of the staff and daily operations. While a GM usually does have an office, he or she spends a lot of time in the front of house, interacting with guests or resolving issues. Depending on its size, a hotel may also have an Assistant General Manager, a Director of Rooms, or other members of the executive team who work in the front of house like a front of house manager.
What is the Back of House?
While the front of house positions are important, they can't run a hotel alone! Often invisible to guests, the back of house team keeps things running smoothly behind the scenes. They have minimal guest contact, either working in offices separate from guest areas or in guestrooms when the guests are out. Back of house (boh) employees usually work during normal business hours.
The restaurant manager often bridges the gap between FOH and BOH
Which positions would you find in the back of house in hotels?
Marketing: The marketing team is responsible for maintaining the hotel's public image and brand. Marketing tasks might include sending email newsletters, managing social media, and brainstorming special offers.

Revenue Management: Depending on the hotel, a property could have one revenue manager, a revenue management team, or a corporate revenue manager who supports the hotel remotely. Revenue management sets rates, manages the relationships with OTAs, and implements promotions and availability restrictions.

Housekeeping: This team is arguably the most important in the hotel; without housekeeping employees, there would be no clean rooms! Housekeeping tasks range from cleaning rooms, doing laundry, cleaning public areas, and 

Finance: A hotel's finance team oversees all financial aspects of the hotel's operations, from accounting to payroll.
You may have also heard the terms "front of house" and "back of house" when talking about the restaurant industry or food and beverage department. In F&B, front of house also includes the guest-facing roles, like servers and hosts, while back of house includes cooks and stewards.
Generally both sides of the hospitality industry are similar in this regard.  At a restaurant, front of the house might include wait staff, bussers, sommeliers or anyone who deals with the overall dining experience.  While technically not part of the FOH or BOH teams, successful restaurants often have active restaurant owners who will bridge the gap working on guest service and behind the scenes.
In a restaurant, back of house might include kitchen staff members such as line cooks, chefs and dishwashers.
Low Cost Tech Helps Connect FOH with Back of House
Coordinating employees in various departments who also work different shifts is no easy task.  The hospitality industry uses hotel and restaurant software to connect the pieces and deliver outstanding guest experiences. And when you throw in the industry's high turnover rate, it seems next to impossible! With traditional offline methods, bringing the front of house and back of house together is indeed difficult. But with intuitive and integrated technology, like the solutions Amadeus' HotSOS product, front of house and back of house can collaborate effortlessly.
When a hotel's technology doesn't integrate, the hotel's operations are inefficient and, often, ineffective. Gaps in tech integration can lead to a lower standard of guest service, limited preventive maintenance, and overloaded employees who spend a lot of time on manual tasks. How exactly can integrated tech solutions solve these problems?
Deliver Better Guest Service
Imagine you're a guest, and upon arriving in your room, you find that the light doesn't turn on. You call the front desk, and the front desk assures you that someone from housekeeping will be up shortly to change the light bulb. You wait and wait, and nobody shows up. You're frustrated, and your experience at the hotel is now less than ideal. What went wrong? What likely happened is that your request got lost somewhere between the front desk and the housekeeping department because there was no system in place to easily communicate requests like this one.
In a hotel that uses integrated technology, the front desk agent could have submitted a request in their property management system, which would be delivered directly to the HotSOS housekeeping module spurring that department to action. The housekeeping staff could have been equipped with radios that alert them real-time when a request comes in.
Streamline Proactive Maintenance and Inventory Management
Going back to our light bulb example, integrated technology can help the hotel ensure no guest walks into a room that has maintenance issues. The hotel could implement smart sensors on all of the lights - both in guestrooms and public areas - that send alerts when a light bulb needs to be changed. Without these sensors, the housekeeping or maintenance team relies on the busy front of house staff to communicate issues as they happen, rather than preventing them before they happen.
Amadeus's integrated systems can also assist with inventory management. Whenever a housekeeper loads a cart with bars of soap, for example, they can track how many bars they took. The inventory management system delivers alerts when inventory is low so that the housekeeping or procurement manager can order more.
Reduce Manual Tasks
Typically technology like a POS system (or PMS) in hotels connects teams to ensure a consistent guest experience.  Besides making communication more efficient, an integrated technology stack can also help employees become more efficient by reducing the amount of manual work. Pulling reports, managing inventory, sending messages to guests, and more can all be automated to free up employee time and reduce the chance of human error. For front of house staff, spending less time on manual tasks means more time can be dedicated toward providing top-notch service and personalized attention. For back of house staff, automation allows them to spend more time on strategic projects rather than routine reporting.
In conclusion, to run a great hotel and deliver exceptional guest service, the front of house and back of house teams need to be 100% aligned - especially across shifts. Integrated technology, such as Amadeus's solutions, is the key to keeping everybody on the same page in real time, ensuring that nothing slips through the cracks.