The 9 Most Futuristic High Tech Hotels in the World
By Jordan Hollander
Last updated March 04, 2023
5 min read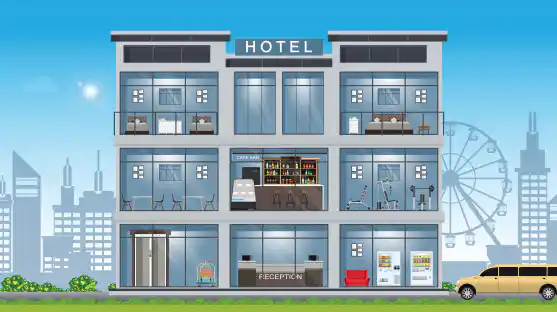 The pandemic accelerated technological transformation across the hospitality industry. Contactless has become a must-have, fitness centers have gone virtual, guest communications have moved to mobile, and self-service has become standard.
While some hotels found themselves rapidly deploying new technologies, other hotels have been playing the tech-long game for years. Here are some of the world's most notable high-tech hotels.
We've covered the tech strategies of great hotel groups like Viceroy and Noble House who implement everything from contactless check-in to digital concierge but this article focuses on some more wacky tech implementations with a bit of focus on form over function.  This list features some pretty cool hi-tech gadgets and hotel room amenities that go above and beyond the typical flat-screen tv.  Some of the cutting-edge technology on this list may off-put more traditional travelers but will undoubtedly hit the spot for tech-savvy millennials.
Rather than layer technology onto the operation, these properties embed technology into the fabric of the operation, making it a focal point and key feature. Some use it as an Instagrammable moment at a specific location while others structure their entire brand around the tech-enabled guest experience. Either way, technology is front-and-center at these hotels.
Henn Na Hotel, Japan
"The Robot Hotel" Tokyo has become the marquee high-tech hotel. The brand concept is "commitment to evolution," which appears across its operation in the form of robots. Lots of robots! The brand claims to be the world's first hotel staffed by robots -- and there's really no disputing that, as guests are greeted by robots at the front desk. At one property, the front desk is even staffed by dinosaur robots and iPad kiosks, which is quite the experience.
Other high-tech features at some locations include a robot barista frothing lattes, espressos and teas, as well as a 360-degree VR space for guests to immerse themselves in virtual reality experiences. The hotel is also fully enabled with Wifi powered facial recognition, which eliminates the need for a hotel key altogether. Guests can access the property, and their individual guest rooms, seamlessly using biometrics. Very futuristic, indeed!
YOTEL, New York City
The YOTEL brand has been synonymous with technology since it opened its doors near  Times Square. The showstopper was a massive robot arm dominating the lobby, providing automated luggage storage for guests (as well as safety deposit boxes to store valuables). The YOBOT also provides self-service check-in, which puts the brand far ahead of today's contactless guest experience.
The rooms -- called cabins -- may be small, but YOTEL uses technology to deliver its promise to "give you everything you need, and nothing you don't." This includes Smart TVs so that guests can connect their own devices and choose their own entertainment.
The guest rooms also use motorized beds as space-savers and motion-activated sensors for lighting and AC to reduce carbon emissions. It's all about efficiency, delivering an outsized guest experience in even the smallest spaces.
Blow Up Hall 5050, Poland
The Blow Up Hall 50/50 is an impressive mix of form and function. Designed by BAFTA-award-winning artist Rafael Lozano-Hemmer, the hotel combines a restaurant, bar, gallery, and hotel into a unique vibe. There are several digital art installations, including a commentary on surveillance capitalism embedded right within the lobby. 
The property eliminates the traditional touchstones of the hotel experience: there's no front desk. The guest's smartphone provides access to the property, from check-in to room keys to staff communications. The phone also acts as a room finder: after opening the app, the assigned room lights up and the door unlocks automatically. It's these small tech flourishes that reinforce the property's sense of mystery and intrigue.
Hotel Zetta, San Francisco
At the center of Silicon Valley, the centerpiece of Hotel Zetta is most definitely its virtual reality room in the lobby. Designed by a local tech startup (naturally), the VR cube gives guests a fully-immersive opportunity to experience virtual reality. There are also Nintendo Switch consoles and Oculus VR headsets available so guests can experience next-generation technology in the comfort of their rooms. 
Other tech touchstones include a vintage Atari Pong table in the Zetta Suite, which is modernized to include both the classic game and a Bluetooth speaker to play personal playlists. Each guest room is also equipped with Alexa-enabled voice control in every room. Guests can order a meal from room service, set an alarm or learn about on-property dining specials.
Kameha Grand, Zurich
The Kameha Grand isn't one of those kitschy places that you're embarrassed to stay at. Quite the opposite: the high-end "lifestyle hotel" is part of Marriott's Autograph collection. And, with rooms designed by Marcel Wenders, it's got all of the trappings of a luxury property. Rooms
Our favorite rooms are, of course, the Space Suites. It's the most futuristic room type on this list because it quite literally connects to space. The in-room TV features a live feed from NASA TV so that you can fuel those space dreams. The atmospheric vibes will contribute to that dreamy feel, with "outer space furnishings have been designed down to the smallest detail with a floating bed, pictures of galaxies, hovering astronauts and models of rockets." Far out!
Virgin Hotels
The Virgin Hotel brand has always been tech-forward and guest-centric. Even prior to the pandemic, the brand empowered guests to control their own experiences right from the palm of their hand. Now, those features are dramatically expanded to be even more contactless.
Named Lucy, the app allows guests to skip check-in, using their phone to select rooms and unlock doors. Guests can also use the app to order room service, adjust room temperature, control entertainment (in-room streaming and Apple Music), plan their trip around the city, or even follow custom exercise routines by Fitbod.
Following on smartly with its brand promise, the app also offers three preset lighting modes for guestrooms:  Get Lit for full brightness, Get in the Mood for dimmed relaxation, and Do Not Disturb for sleep. By putting all of these elements together into a single interface, Virgin Hotels puts the guest in control.
25hours Hotels
Another brand that's focused on high-tech without losing high-touch hospitality is 25hours. Thanks to an in-house multidisciplinary think tank, the Extra Hour Lab, the brand experiments with new ways of engaging with guests, both through digital and analog channels.
That balance plays out in Cologne, where the record store greets guests alongside 

Perhaps that's one aspect that distinguishes the futuristic, high-tech hotels: those that understand how to inject storytelling into the experience alongside the latest technology.
Cityhub
A hybrid between a comfortable hotel and a convivial hostel, Cityhub is futuristic in both its technology and its approach to hospitality. It's part of a new wave of brands that blend categories and use technology to enable a more social experience.
The Cityhub brand has an app but it also takes a cue from Disney and offers RFID wristbands. These bands are used not only for check-in and property access, but also  at the bar, cafe or vending machines, where guests can serve themselves and charge their rooms. Without having to constantly pull out their phones, there's a more personal element to the experience.
Each "hub" has its own customizable lighting, temperature and audio streaming, so guests can control their vibe. There's also an on-property social network, giving guests a digital lobby to meet and plan real-world adventures.
The Atari Hotel, Las Vegas (coming soon!)
A notable mention is the upcoming Atari Hotel in Las Vegas.  This property will blur the boundaries between hotel and immersive experience, building on Las Vegas' long history of blending entertainment with hospitality. The experience is straight out of Blade Runner: bright lights, massive marquees, and an "everywhere you look" focus on gaming. 
The Atari Hotel points to a far-more futuristic vision of hotels than anything else on the market today. It very well could be the first hospitality experience built just as much for the virtual world as for the physical one.
Guests can host friends in their rooms for gaming marathons, with consoles, batteries, and spare controllers available for delivery. The Atari Hotel may redefine the category and establish a new mainstream travel trend: the gamer circuit.
--
What are your favorite high-tech hotel amenities? Let us know if we missed any key ones like hotels with crazy underwater speakers, air conditioning activated by motion sensors, cool touchscreen applications, and more!