Viceroy Hotels and Resorts Global Head of IT Weighs in on Mobile Key and Contactless Hospitality
By Hotel Tech Report
Last updated March 16, 2022
3 min read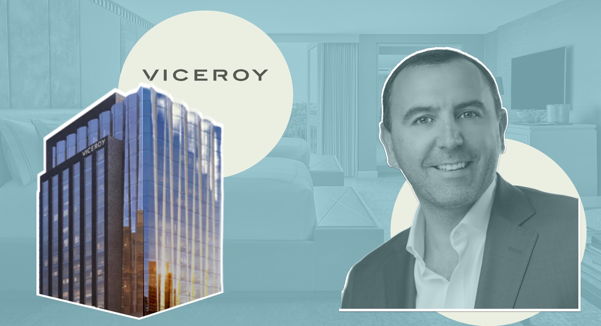 Last week Hotel Tech Report sat down with Viceroy Hotels and Resorts Global Head of IT Darren Clark to learn about mobile access solution considerations and trade-offs in the hotel industry. Clark has led IT projects for some of the most prestigious hotel brands and ownership groups in the world like Starwood Hotels, Fairmont, Standard Hotels, Thompson, Ian Shrager, Faena Hotels and now Viceroy Hotels and Resorts giving him deep insight into hotel technology procurement and implementation.
In the wake of the COVID-19 pandemic, hoteliers around the world have been bombarded by calls to go "contactless", where mobile access and keyless entry technology has been at the center of chain hotel initiatives.
Major brands like Marriott, Hilton and Hyatt have used mobile key initiatives as a way to market cleanliness and traveler safety but some smaller properties and groups are apprehensive to adopt the technology fearing complexity and cost. In this article we're going to dive into the mobile access options for properties and groups of all sizes.
Let's dive in.
Mobile Access Considerations for Smaller Hotels and Independents
Viceroy's Clark sees three main ways for smaller independents to bring mobile access to their properties: (1) hardware manufacturer apps (2) certified third party apps and (3) appless lock retrofitting.
The most straight forward mobile key solution for smaller independent hotels is to leverage a white labeled app from hardware providers. For example, if your locks are made by ASSA ABLOY you'd want to explore the dedicated ASSA ABLOY mobile key app. Some much smaller properties who are working with non-enterprise grade locks like residential systems will need to explore lock retrofitting solutions (which we discuss below).
According to Viceroy's Clark, the one drawback to manufacturer apps is that most require middleware for identity authentication like Canary Technologies or Cielo Pay in order to go fully contactless.
Without middleware for identity verification guests still need to check in at the front desk and execute a credit card transaction to receive their key in the application. Consequently, properties looking to deliver a fully contactless guest journey need to also partner with a middleware solution like Canary which adds some complexity and cost (admittedly not much).
According to Clark, manufacturer apps allow your property to go mostly contactless with the highest level of security and at a relatively low cost but there are also certified and uncertified third party options available on the market.
Applications like Openkey provide a similar app experience to those provided by manufacturers with a bit more customization and functionality.
Uncertified vendors generally provide a fully contactless experience but sacrifice on security and add risk of voided hardware warranties.
Properties that leverage vendors like 4Suites and StayMyWay who retrofit lock hardware with BLE or barcode technology and send keys via the mobile web risk voiding hardware warranties. These are great solutions and should be explored but first you should check with your hardware manufacturer and check impact on lock warranties.
Viceroy's Clark believes that keys sent over the mobile web are generally easier to copy or hack but it's important to note that there have yet to be any major public breaches with these appless mobile access software players and that Viceroy demands the highest levels of security where a family run bed and breakfast in the German countryside, for example, may not have those same demands.
Mobile Access for Larger Groups (Viceroy Case Study)
While independent hotels are wise to avoid building their own mobile applications, Viceroy Hotels & Resorts has 16 properties globally with F&B outlets, a loyalty program and other complex requirements which led Clark to start the process of building a Viceroy brand app. Clark and his team were already in the process of creating the Viceroy app when the pandemic hit.
For Viceroy a dedicated brand mobile app was necessary to facilitate functionality such as: fully contactless mobile key, loyalty, marketing push notifications and multi-property analytics.
Mobile apps provide the highest level of mobile key security due to download authentication at the device level. With the Viceroy app guests can authenticate their identities, access mobile keys, purchase on-site amenities like F&B, manage their loyalty benefits and enhance guest communications. All things considered, Clark and his team at Viceroy are impressively executing a fully contactless guest journey and mobile experience from arrival to check out that is mostly out of reach for smaller hotels on tighter budgets.
Mobile Access Isn't Just for the Most Elite Hotel Groups like Viceroy Anymore Though
For smaller properties, cost effective lock manufacturer apps are a great way to offer a "mostly-contactless" option and show guests you care without breaking the bank and without adding risk or liability. To go fully contactless, smaller properties can also bolt on middleware to execute check-in from guests' mobile devices. For properties with low levels of perceived security risk, lock retrofit vendors are an easy and cheap way to offer fully contactless check in. When you set out to pursue mobile access at your hotel start by taking inventory of your existing hardware and technology. Next map out your requirements and goals. Consider whether you need a fully contactless experience or if a keyless option is good enough for your guests. In the end, mobile keys are accessible to every hotel today but solutions are not "one size fits all".
Check out Hotel Tech Report's 10 Best Mobile Key Providers of 2022