Hotel Bed Banks: Everything You Need to Know in 2023
By Hotel Tech Report
Last updated November 02, 2022
5 min read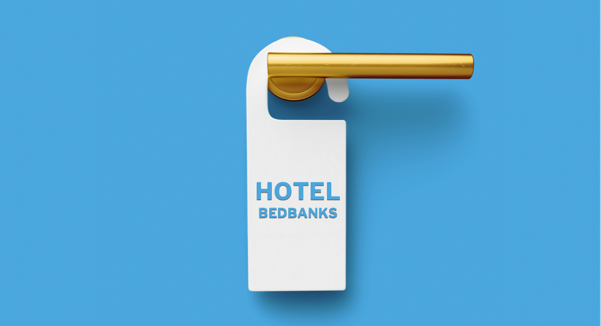 Wondering what bed banks are? Or perhaps you're doing some research before committing to a wholesale contract or a new agreement with travel agents. Bed banks are an important distribution avenue for many hotels, especially large hotels or properties in seasonal markets. But how exactly do they work? And what benefits can they bring to hotels? 
In this article, we'll explain what bed banks are and introduce you to some of the largest ones. We'll also walk through some key differences between wholesale reservations and your standard transient bookings. By the end of this article, you can decide whether working with a bed bank makes sense for your hotel and how you can take advantage of wider marketing reach and achieve higher RevPAR by partnering with one.
What is a Bed Bank?
Let's start with the basics. A bed bank, or a wholesaler, is a B2B hotel distribution marketplace that connects accommodation providers with travel sellers in need of inventory. Suppliers that send inventory to bed banks include independent hotels, chain hotels, boutique hotels, and even vacation rentals. The partners who buy the inventory could be tour operators, airlines, travel agencies, or conferences or conventions. Those partners then sell the rooms to their tour guests, airline passengers, conference attendees, or agency clients, who often don't even realize the room came through a bed bank. Suppliers provide rooms at negotiated rates and all the content, like photos and amenity information, via the bed bank, for the travel sellers to pass onto the guests. When reservations are booked, the bed bank passes the real-time reservation details to the hotels (or hotel chains) via API or XML, like dates and guest names and email addresses, back to the hotel.
You might be wondering, "what's the difference between a wholesaler and an online travel agency like Expedia or GDS like Amadeus that also drives hotel bookings?" The key difference is that OTAs are B2C marketplaces; the guests themselves book rooms on the OTAs. A bed bank is a B2B marketplace, so the "customer" side of the bed bank is another business, like a tour operator or a travel agency. However, like OTAs, bed banks often also sell ancillary travel services, like airport transfers and car rentals, in addition to hotel rooms.
What are the Latest Trends in Bed Banks?
Bed banks aren't a new concept; most of today's biggest bed banks were founded in the early 2000s. But they continue to innovate and adapt to greater travel and economic factors. Some of the latest trends among hotels and wholesalers include offering a wider range of connectivity options, being more focused on rate parity, and seeing growth from new entrants in the industry.
Connectivity is a major advantage for bed banks; by partnering with bed banks, hoteliers don't need to initiate separate connections for each long-tail channel where they want to distribute inventory. In the past, bed banks used direct contracts that stipulated hotels provide a fixed number of rooms at fixed rates, which were usually loaded into an extranet manually, and reservations would be sent back to the hotel for manual input. But as hotels become more accustomed to working with third-party channels through channel managers (or hotel management systems with integrated CMs), which eliminates the need for manual work, and allows for more dynamic inventory and rate controls, wholesalers have ramped up their channel manager integration options.
Rate parity is another hot topic among hotels and wholesalers. Quite often, a hotel will find some of their inventory on a relatively unknown OTA for a cheaper price than on any other public channel, only to find out that the rate was feeding from a wholesaler. These cheap rates are becoming more obvious through the increasing popularity of metasearch channels, such as Tripadvisor and Trivago, which make it easy to see all available rates for a given hotel. If a hotel's contract with a wholesaler doesn't explicitly prohibit distribution of wholesale rates to channels like these, then technically the wholesaler is operating within their bounds. So hoteliers are staying vigilant, checking rate parity reports frequently to catch rate undercutting, and becoming more strict with wholesale contract terms.
As the wholesaler business changes, new entrants are finding success through innovative strategy and a fresh approach. One of the newer bed banks, WebBeds, recently surpassed industry giant HotelBeds in terms of number of partner hotels, which is quite an achievement considering HotelBeds had a decade's head start.
What Value Do Bed Banks Provide Hotels?
We've established how bed banks operate, but what benefits do they provide hotels? When you consider other channels like OTAs, your own hotel website, and your sales team, what's the value proposition of wholesalers?
Marketing power and reach: With a wholesaler as the intermediary, your hotel can tap into segments of guests you can't easily target on your own, like international travelers or conference attendees. 
Efficiency: Working with a bed bank eliminates the need to connect your reservations system to or sign contracts with lots of smaller channels.
High-value reservations: While the ADR for wholesaler reservations might not be as high as via other channels, the wholesaler reservations often have longer lengths of stay, longer booking windows, and lower cancellation rates, which means the cost of stay may be lower than regular transient guests who book last-minute and only stay for one night.
Occupancy boost: By selling a fraction of your inventory through wholesalers, you effectively shrink the size of the hotel, so you have fewer rooms to sell through your other channels. Bed banks aren't going to contribute the highest ADR out of all of your channels, but they will contribute additional occupancy, which can help you achieve your RevPAR goals.
Reliable payments: Since bed banks and their "customers" are all businesses, the risk of non-payment is significantly lower than regular transient guests. Most hoteliers have had to deal with chargebacks or guests who book on OTAs using fraudulent credit cards, and in these cases the hotel has little to no recourse for collecting payment.
What Are the Top 5 Bed Banks?
The wholesaler industry is constantly changing as some of the biggest players have merged or rebranded in recent years. Let's get to know the largest and most well known bed banks in the world:
HotelsPro is the world's largest wholesaler in terms of reach. HotelsPro works with over 600,000 hotels in 205 countries. HotelsPro works with all types of hotels, from budget motels to luxury resorts, and the company is truly global with support for multiple currencies, languages, and payment methods.
WebBeds partners with over 365,000 hotels in more than 10,000 destinations, and the company is relatively new, having launched in 2013. WebBeds sources inventory through both direct contracts with hotels and chains and partnerships with over 65 connectivity providers. The majority of WebBeds' supplier inventory is in Europe and Asia Pacific, but it's quickly expanding in all markets around the world.
Hotelbeds works with 180,000 hotels in 185 markets, but that's not the only reason why many hoteliers work with this wholesaler. In 2017 Hotelbeds acquired two of its competitors, major players GTA and Tourico, and folded those brands into the Hotelbeds business. Hotelbeds is known for being tech-forward and offering integrations with many channel managers, and its suppliers range from resorts to boutique hotels to apartments.
Travco specializes in European inventory, with many of its 12,000 contracted hotels based in Europe. Travco's hotel supply is generally higher end, like luxurious city hotels or beach resorts.
Bonotel is a rare breed of bed bank which specializes in luxury inventory. Roughly 2500 hotels work with Bonotel, and they're mostly high-end hotels and resorts in the US, the Caribbean, and Mexico, but Bonotel has plans to scale its operations globally. Five-star chains like Four Seasons and Mandarin Oriental work with Bonotel, which connects their inventory to a network of 3000 travel agencies.
Conclusion: Tips for Maximizing Value of Bed Banks
So, as a hotelier, how can you make bed banks work for you? In order to maximize the value you get from bed banks, use their strengths to your advantage. Do you have an off-season or slower days of the week when you struggle to pick up occupancy? Consider giving inventory to a wholesaler during only those need periods to help your RevPAR without diluting ADR during periods when you can get a full house with high rates. When choosing a wholesaler to work with, opt for one that integrates with your channel manager so you don't need to input rates or reservations manually. Furthermore, it's important to have very clear contract terms with wholesalers, especially when it comes to rate parity and opacity, so they cannot distribute your negotiated rates to any public channels like OTAs. You want to keep those special rates hidden and only accessible to travel agencies, tour operators, or similar. With these tips in mind, you can make bed banks a strategic part of your distribution mix and a tool for hitting your RevPAR targets.