HotelFurniture.com: The Next Generation of Hotel Renovation, Design & FF&E Procurement
By Hotel Tech Report
Last updated October 28, 2022
5 min read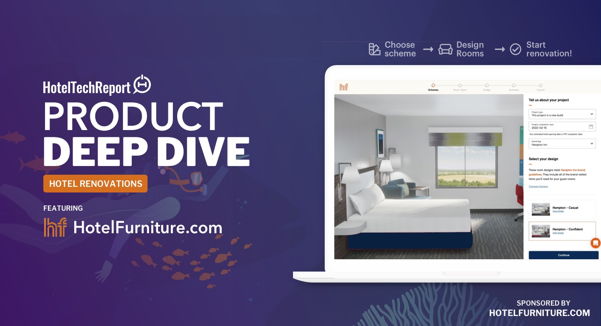 Did you know that one of the most common causes of guest complaints and low review scores is old, unattractive, or uncomfortable furniture?
Furnishing your hotel rooms is one of the most important steps in a new build, renovation, or takeover, and it's traditionally one of the most time-consuming and tedious parts of the project - until HotelFurniture.com came onto the scene. From choosing color schemes and deciding between nearly identical nightstands to managing ordering and delivery, designing your hotel rooms and public areas is no simple task. Imagine a solution that would give you dozens, if not hundreds, of hours back during the launch of renovation of your hotel; what would you do with all that time? HotelFurniture.com's efficient and intuitive platform can not only save some of your valuable time, but it will also ensure that your hotel's FF&E both aligns with brand standards and looks great.
In this article, we'll discuss the traditional FF&E procurement model, explain how HF is disrupting it, and walk you through HF's platform so you can get ready to bring the future of hotel FF&E procurement to your next project.
Understanding FF&E Procurement in Hospitality
In the traditional model, procurement of furniture, fixtures, and equipment (FF&E) is a lengthy, involved process. Typically, property owners or managers work with a design firm and/or a purchasing agent to guide them through the project. Once the property owner has chosen a firm, the project will start with a kick-off meeting, during which the scope and parameters of the project are agreed upon.
The design team will then put together a comprehensive budget that includes not only prices of the FF&E, but also the time to order and ship the items. The designers will work with vendors to find products that align with the property owner's timeline, quality specifications, style, and budget. Once vendors have been selected, the design team will build a model room, either virtually or in real life, for the property owner to review. There's often some back-and-forth here; if the property owner doesn't approve of an item, then the design team can select a different option or perhaps select a different vendor. This step of the process can take several weeks, or even months.
After the property owner signs off on the design team's selections, the design team will place the orders. In this context, ordering is much more complicated than clicking "Add to cart" on Amazon, so the design team must manage the process with each vendor and submit all the required documentation, renderings, and specs. Once the orders have been dispatched, the design team will track the orders and coordinate delivery to the project site. Upon delivery, the design team will support the contractors and on-site crews who assemble and arrange the FF&E, providing regular updates to the property owner. Finally, once everything has been installed, the design team and property owner will do a comprehensive walk-through and follow up on any missing or damaged items. From beginning to end, designing and furnishing a hotel can take a minimum of a few months up to a few years.
The Digitization and Consumerization of Hotel FF&E Procurement
Old-school FF&E procurement for hotels places the design firm squarely in the middle of each step of the process, from getting the initial quote all the way to installation. During this process, you, as a hotelier, don't get much insight into pricing or item selection until the design team unveils their initial quote - and even getting to that initial quote can take weeks. Pricing isn't transparent, so it's difficult to fully understand what you're paying for, and any back-and-forth about alternatives can add extra days or weeks to your timeline.
Enter HotelFurniture.com: This innovative company is turning traditional hotel FF&E procurement upside down. On their website, you can quickly browse room packages, see itemized pricing, and visualize your selections in renderings - without even setting up an account. You can get a quote in just a few minutes, which gives you a weeks-long head start on the design process compared to working with a traditional firm. Let's explore how HF works and what value it can add to your next hotel project.
What Does HotelFurniture.com Do?
HF is essentially a modern version of Carver & Associates or another hospitality-focused procurement firm. Currently, HF only works with branded hotels, although they're planning to make their services available to independent hotels in the near future. HF works with new builds, renovations, and flag changes, plus hotels that are on property improvement plans. As a branded hotel, you can be confident that all the FF&E sourced via HF adheres to brand guidelines because HF works with brand-approved vendors and gets up-to-date standards directly from the parent companies like IHG and Choice International.
If you're planning to build a new hotel, refresh an existing one, or change from one brand to another, you can start the design process on HF's website, even if you have zero design experience. Their design wizard walks you through each step and provides helpful hints along the way.
You'll start by sharing some preliminary information about your project: what type of project is it, when is the estimated completion date, and which brand flag will you use? If you don't see your brand on the list, you can request that HF add it. They add a couple of new brands each month.
After entering this information, you can immediately browse the applicable FF&E packages for that brand and see detailed renderings. 
Once you've chosen a package, you'll be prompted to enter the breakdown of room types at your hotel. Based on the number of rooms, you can see a preliminary quote at the top of the screen - just one minute into the design process!
Continuing on to the Design step, you can see pricing for each item in the room package. Some items might offer options, like the chaise below. You might need a left-oriented or right-oriented chaise depending on the room layout at your property. If you make a different selection, the rendering will update accordingly. 
And if this step seems overwhelming, there's a little tutorial on the screen that will walk you through it.
If your package has options for the lobby and other public spaces, you can repeat the same process for those areas.
That's all the information HF needs to compile your preliminary quote. If you want to proceed, you'll get connected with a designer who will finalize the details and make adjustments based on the specifics of your property, like if your rooms are larger than average, and then you'll get a final quote. The only additional fees beyond what's outlined in the quote are taxes and shipping. HF manages all the ordering, shipping, and delivery for you, including executing the timeline so your bedding doesn't arrive before you have carpet installed, for instance.
During the course of a project, you can see all related documentation in HF's portal, and you can upload any relevant documents, like a PIP, so all the project docs are in one place. This feature is also great for management companies or owners who have multiple projects going at once; each project has a separate folder on HF's dashboard.
It sounds great on paper (or on a screen), but what do real-world hoteliers think about HF's novel approach to procurement? According to feedback from hoteliers at AAHOA Convention & Trade Show, hoteliers are surprised that HF's system is so easy to use and that you don't need to pay any type of fee or deposit to get a preliminary quote. Plus, AAHOACON attendees were impressed by HF's transparency around prices, and that HF's value proposition doesn't just encompass competitive pricing, but also the time savings and simplicity of not dealing with many vendors.
Want to design a new hotel from scratch in under 5-minutes or browse HF's FF&E marketplace, here to HotelFurniture.com to try it for free.
This article was created collaboratively by Hotel Tech Report and HotelFurniture.com