Use Next-Gen Tech for a Contactless Guest Experience
By Renz Ganaban
Last updated July 13, 2022
5 min read
The hospitality industry is rooted in offering guest-centric, high-touch experiences delivered by caring and courteous staff. In the wake of the pandemic, however, guest expectations have shifted, with 88 percent of customers expecting companies to accelerate digital initiatives that reduce the need for physical interactions. Your guests no longer want to wait in crowded lobbies to ask a question, touch laminated room service menus to place an F&B order, or flip through paper compendiums to find local activities. This shift is causing hotels and casinos across the globe to seek out ways to provide personalized, high-touch customer service in a touchless way.
Hotels that wish to stay competitive must implement a new generation of interactive digital technologies that address the challenge of augmenting the hotel experience with relevant information and offerings without requiring physical touch.
Quick Response (QR) codes, Near Field Communication (NFC), and location-based beacon technology have entered the scene, allowing properties to drive new contactless channels of hotel and guest interaction. These solutions not only help you deliver a high level of service that enhances guest stays but drives fresh streams of incremental revenue as well.
Use the Power of QR Codes
Quick response (QR) codes are advanced 2D barcodes that guests can scan with their personal mobile device. They can be used to send emails, open chat windows, and connect phone calls, as well as link to digital documents, websites, and customized URLs. Initially garnering a lot of hype in the early 2000s, QR codes were starting to fade into obscurity until the pandemic – and better integration with smartphone operating systems – brought them back to life. And a vibrant life at that. In 2021, 75.8 million smartphone users made use of QR codes, and that number is projected to hit 99.5 million by 2025.
Today, QR codes are a must-have tool for contactless interactions in the hospitality industry. They help to create a seamless, hassle-free experience that enhances guest satisfaction starting from the moment a guest completes their booking. You can send a reservation confirmation email that includes a QR code, paving the way for an automated check-in process.
You can also place QR codes in strategic locations around your property to benefit a guest's entire stay. For example, guests can scan a QR code posted on lobby signage for password-free access to hotel Wi-Fi. Codes posted near guest rooms, the fitness center, elevator, or parking garage can be used as a digital key, offering greater security and convenience over traditional keycards. In addition, a QR code located on a guest room tent card or displayed on the in-room TV screen can place the maps and local area information normally found in paper compendiums in the palm of a guest's hand, available whenever they need it.
Guests can scan QR codes they find by the pool or casino tables to make dining reservations, or instantly access digital menus to place F&B orders for delivery wherever they are on property. And QR codes make it easy for guests to book specific amenities, such as reserving a tennis court, scheduling a golf tee time, or securing a spa appointment. Furthermore, because QR codes are dynamic, information can be changed in real-time, so it's always relevant and up-to-date.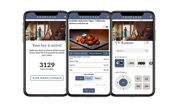 THE PITCH
RATINGS
BEST FOR
77
HT Score
Hotel Tech Score is a composite ranking comprising of key signals such as: user satisfaction, review quantity, review recency, and vendor submitted information to help buyers better understand their products.
Learn More
Runtriz technology powers Virgin's Lucy App that hotel guests use to do everything from check-in, mobile key, local discovery, room service, guest requests and more.

THE PITCH
RATINGS
77
HT Score
Runtriz technology powers Virgin's Lucy App that hotel guests use to do everything from check-in, mobile key, local discovery, room service, guest requests and more.
Learn More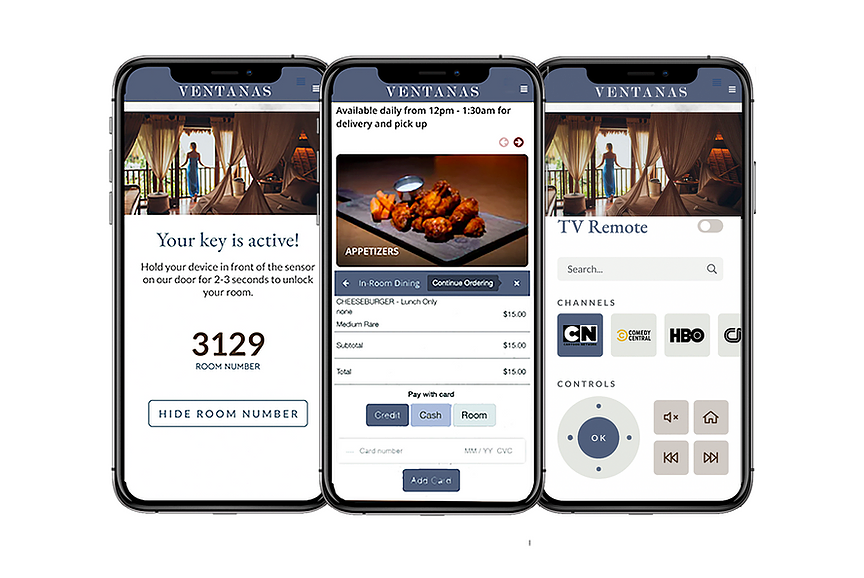 ×
Capitalize on the Functions of NFC
There are nearly 4 billion smartphones in the world today, and the majority of them have Near Field Communication (NFC) as a standard feature. NFC provides secure wireless transmission between smart devices using electromagnetic fields. One device holds an "NFC Tag," a low-cost chip that you can embed or stick on items. The tag transmits data within a reduced transmission range – typically only a few centimeters – to a smart device capable of receiving that data. While Bluetooth technology works similarly, NFC is unique in that it's instantaneous. It doesn't require pairing or permission to transmit data.
Hoteliers can use efficient NFC technology in ways similar to QR codes, for accessing hotel Wi-Fi, specific hotel and area information, and as a secure mobile key. Instead of scanning a code, however, guests simply place their smart device near an NFC tag to obtain instant access to exclusive and personalized content. NFC tags (as well as QR codes) offer flexibility since they can be embedded into fixed objects and supports such as bracelets, pins, and even customizable, semi-permanent tattoos designed to last for the length of a guest's stay.
One of the more popular uses of NFC is for contactless payments through mobile payment platforms, such as Apple Pay and Google Pay. Contactless payments have skyrocketed since the pandemic. According to research by eMarketer, U.S. mobile wallet users will surpass 50 percent of all users by 2025. When your guests utilize these encrypted payment services, they no longer have to present their credit card or sign a bill every time they buy drinks or finish a spa treatment. Instead, they enjoy quick and easy cashless, cardless payment by simply waving their mobile device or wearable near a contactless payment terminal.
Experience the Benefits of Beacons
Beacons are another form of contactless tech that is changing how guests interact with hotels, and can be particularly effective when used in combination with hotel apps. Beacons provide a form of proximity or location-based marketing. They act similar to a lighthouse, sending out low-energy Bluetooth signals into the world that detect the presence of nearby mobile devices. Once detected, the beacon triggers preset actions to deliver a contextual and personalized message to the guest.
As examples, a beacon can trigger a welcome message the moment guests walk through your hotel door along with an offer to upgrade to a suite, or sharing the exclusive benefits of joining your loyalty program. A stroll past your on-site restaurant results in a message popping up with a mouthwatering image of your best-selling menu item along with a list of your specials. Or when a guest walks past your fitness center, a beacon can trigger an instant push notification to their mobile device, letting them know about available one-on-one training sessions or a sunrise yoga class for the next day, along with the ability to sign up right then.
You can also obtain valuable instant feedback while it's fresh in a guest's mind by posting beacons near the lobby and exit points, such as those for your restaurant, pool, and fitness center. Use the technology to send guests a short survey that they can answer quickly on their mobile device, helping you get in front of issues before they snowball and potentially damage your review scores.
Harness the power of beacons still further by using them in conjunction with NFC or QR codes. For instance, as a guest approaches a digital sign near your spa, a short video clip begins rolling and draws guests in by highlighting the soothing experiences you have on offer. The video ends by directing guests to a QR code or NFC tag with the message "Tap or scan here to receive 20% off a spa service when you book now." With this effective combination of contactless tech, you're able to deliver the right message at the right time in the right location to inspire guest engagement and boost revenue.
Get Real-time Data Analytics
Another great benefit of implementing contactless QR codes, NFC tags, and beacons comes in the form of valuable data analytics. By placing these contactless solutions at your pool, restaurant, bar, lobby, casino floor, and other significant areas around your property, you're able to capture critical guest data – accessing real-time insights on guest behavior and activities. You can analyze the levels of interaction around your property and identify which areas are your most lucrative profit centers during specific hours of the day. This information will empower you to optimize offers and rewards accordingly and make more accurate business decisions that impact your bottom line.
Differentiate Your Property with Contactless Tech
Seven in 10 guests prefer staying at a hotel offering self-service tech, choosing to use it to resolve simple matters for themselves. Implementing contactless technology can be a real game-changer for your hotel, resort, or casino – allowing you to offer a high-touch experience in a completely touchless way. The right contactless tech helps you differentiate your property from your competition, and create a seamless experience that engages your guests in very granular ways. Dynamic QR codes, NFC tags, and beacons allow you to connect with your guests at an intimate level that improves their overall experience while simultaneously creating new revenue channels and upsell opportunities.