What Does a Night Auditor Do in a Hotel?
By Jordan Hollander
Last updated July 19, 2023
7 min read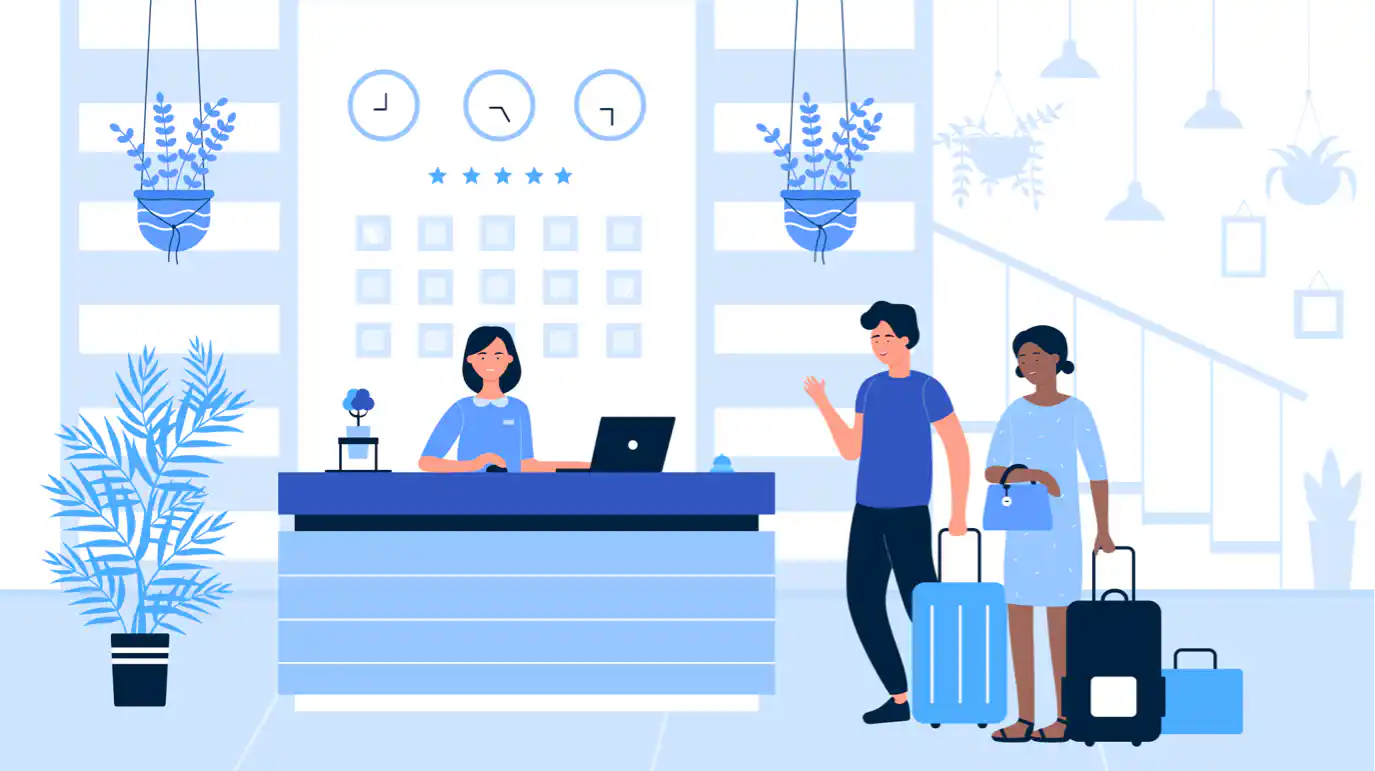 If you're considering a full time or part time night auditor job - or preparing to hire a night auditor - you've come to the right place. While many people are familiar with the job of a hotel front desk agent since it's during the day shift, the night auditor's responsibilities aren't as well known despite providing high paying entry-level positions at hotels. In this article, we'll explain what a night auditor role entails, what skills will set you up for success as a night auditor, and offer advice for landing a night.
What is a Night Auditor?
If you're not familiar with the night auditor job, you're probably wondering: what does a night auditor do? A night auditor has two main responsibilities: provide a great guest experience for guests during the overnight hours and balance financial reports from the previous day's activities. So is a night auditor an accounting job? In part, yes. Although night auditors usually fall under the umbrella of the front office department, many key night auditor responsibilities relate to end-of-day financial reporting and reconciling.
What does a typical day (or night) look like for a night auditor?
Now that we've outlined the key responsibilities, you may be wondering what a night auditor actually does on a nightly basis. Night audit usually works a shift from approximately 11pm to 7am, taking over from the evening front desk agents and passing the baton to the morning front desk staff the next day.
At the beginning of their shift, a night auditor will check in guests arriving late and assist with any guest inquiries or requests, like scheduling wake-up calls or arranging airport transportation. Throughout the night, a night auditor will continue to answer phones and help guests with whatever they need.
As the shift goes on and things quiet down at the front desk, a night auditor can switch gears to their important reporting tasks. Night audit is responsible for many end-of-day tasks, including processing guest payments, balancing reports, reconciling the cash drawers at the front desk, and preparing invoices for the following day. These tasks are often called the night audit process, and this process happens every night. Curious why it has to wait until nighttime? Many reports cannot be produced until the day closes out, meaning when the clock hits midnight and the hotel's systems switch to the next calendar date.
Although night audit is called "night" audit, the job includes some important morning-time responsibilities too. Night auditors are often the ones to make wake-up calls, check out guests who depart early in the morning, arrange transportation, provide area recommendations, and perhaps even assist with room service orders at the beginning of breakfast service. When the morning front desk shift arrives, usually around 7am, night audit will brief them on any important information before clocking out and heading home.
Night auditor job description:
Liaise and communicate positively with guests, colleagues, and vendors
Strengthen relationships both internally and externally, while ensuring the provision of excellent customer service levels for all amenities and services offered
Execute all registration processes revolving around arrival, inclusive but not limited to, providing an introduction by name to guest valet/colleague performing escort, overview of key operation and offering further assistance (intuitive service) in accordance with check-in performance standards
Execute all registration guest accounts processes revolving around departure, inclusive but not limited to, handling payment processing according to any instructions on file in accordance with check-out performance standards
Execute all telecommunications processes, inclusive but not limited to, answering incoming calls, responding in a timely fashion and minimizing call transfers in accordance with telecommunications standards of performance
Inputs and receives resident information into PMS and other interfaces as required
Execute all cashiering processes, financial records, , inclusive of posting charges to accounts in PMS
Work cohesively in collaboration with the room reservations and Sales team to ensure a smooth experience for all residents and patrons
Enforce established policies and procedures regarding persons on property, reporting any concerns immediately to hotel management
Comply with company and departmental rules and regulations at the hotel
Maintain a professional, neat and well-groomed appearance adhering to hotel grooming standards
Perform any other reasonable duties as required by management
Reconcile bookkeeping and complete all daily front desk agent work
Balance room posts and close day
Run accounts receivable reports
Provide next day reports for hotel
Address complaints, glitches and/or requests in a very friendly and professional manner. Ensure that all are resolved or addressed with the proper department manager
Investigate all safety issues reporting during the shift to find their cause, and give recommendation to avoid repeated issues. Initiate investigations and complete incident reports when necessary
Communicate all GST complaints and issues to the General Manager and/or Supervisor
Conduct multiple property safety and security walks-through.
In the event of an emergency, perform all necessary safety protocols, including but not limited to, checking the fire panels, contacting emergency services, and communicating with the General Manager.
Perform any other reasonable duties as required by management.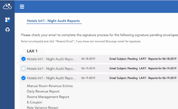 THE PITCH
RATINGS
BEST FOR
48
HT Score
Hotel Tech Score is a composite ranking comprising of key signals such as: user satisfaction, review quantity, review recency, and vendor submitted information to help buyers better understand their products.
Learn More
Automate your night audit processes with myDigitalOffice.

myDocs by MDO
Finance & Accounting Software
THE PITCH
RATINGS
48
HT Score
Automate your night audit processes with myDigitalOffice.
Learn More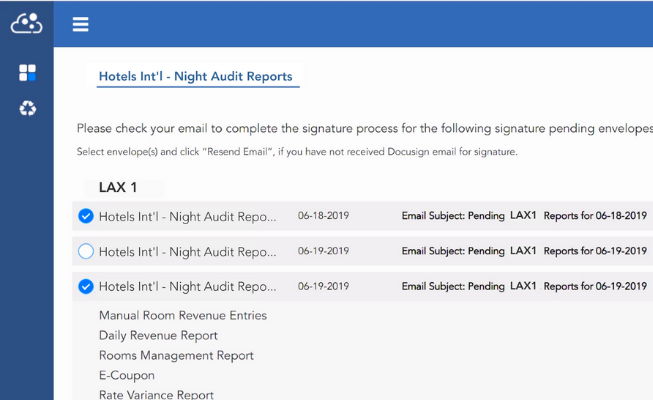 ×
Which Hotel Departments Work Closely with a Night Auditor?
Even though many hotel employees are sleeping during the night audit shift, night auditors still interact with counterparts in other departments. Housekeeping, maintenance, and finance departments have the most interaction with night audit. 
Some hotels have overnight housekeeping staff, so if a guest requests more towels, for example, during a night auditor's shift, then they can transfer that request to housekeeping. If a guest reports a maintenance issue overnight, then the night auditor can leave detailed notes for follow-up when the maintenance team is back on-site in the morning. Night audit also passes off various end-of-day reports to the finance team as well as flagging errors on invoices or problems collecting credit card payment for the finance team to action during business hours.
What Skills Should a Night Auditor Have?
Night auditors should have a unique combination of customer service and communication skills, attention to detail, and organizational skills. Since one component of the night auditor job involves interfacing with guests, night auditors should have some sort of customer service experience under their belt, like retail or some other kind of hospitality experience.
A keen eye for detail is also crucial to your success as a night auditor. Night auditors are the ones to catch errors in other departments' reporting or issues with guest payment, so they can't let anything slip through the cracks. Organizational and time management skills are necessary for a night auditor to be able to complete each shift's tasks while balancing the spontaneous guest service aspects of the job. In addition, computer skills are required to use software like the hotel's property management system and payment processor.
Is Night Auditor a Hard Job?
For the right person, a night auditor job can be fulfilling and interesting. The job involves plenty of challenges, like resolving tricky guest requests or managing emergencies in the middle of the night. It also offers the opportunity to hone customer service skills and financial reporting techniques, so night audit can be the perfect stepping stone into the finance department or a front desk leadership role. At the same time, night audit is often a solitary job, and night auditors must feel comfortable working overnight hours.
How Do I Become a Hotel Night Auditor?
Does night audit sound like a good fit for you? The job market is competitive, so you'll want to spend some time polishing your resume to highlight your skills and relevant work experience before pursuing an open night auditor position. Make sure to include specific details about your past work experience, like the average number of guest requests you handled during a shift or the types of reports you audited, so the hotel employee reviewing your resume can be confident in your abilities as a night auditor.
Ready to apply? Nearly all hotels that have 24-hour front desks need night auditors, so the best places to look for open positions are usually at the hotels themselves - whether on the hotel's careers website or by contacting their human resources office directly. General job boards like Indeed, LinkedIn, and Hcareers will also post night audit jobs. Personal referrals go a long way in the hospitality industry, so another way to get your foot in the door is via a friend or family member who works at a hotel; they can introduce you to the human resources staff and maybe even put in a good word on your behalf.
Key night auditor criteria:
Must possess a positive attitude

Must be energetic and outgoing

Must be service oriented

Must be a team player

Must be able to multi-task

Must possess excellent interpersonal, analytical, and organizational skills

Must have knowledge of basic arithmetic (bonus for hotel KPIs like occupancy, RevPAR, etc.)

Must have the ability to input data and access information on the computer

Flexible schedule- must be available to work a variety of shifts

Fluency in English both verbally and non-verbally

Provide legible communication and directions

Ability to input and access information in the property management (PMS) system/computers/point of sales system

Ability to perform job functions with attention to detail, speed and accuracy

Ability to prioritize and organize

Be a clear thinker, remaining calm and resolving problems using good judgment

Follow directions thoroughly

Understand guest's service needs

Work cohesively with co-workers as part of a team

Work with minimal supervision

Maintain confidentiality of guest information and pertinent hotel data

High school diploma
Still have questions about night audit? Let us know!
What Tech Tools Should Hotel Night Auditors Know?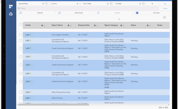 THE PITCH
RATINGS
BEST FOR
48
HT Score
Hotel Tech Score is a composite ranking comprising of key signals such as: user satisfaction, review quantity, review recency, and vendor submitted information to help buyers better understand their products.
Learn More
Automate the distribution of the right reports to the right teams on time using workflow.

myDocs by MDO
Finance & Accounting Software
THE PITCH
RATINGS
48
HT Score
Automate the distribution of the right reports to the right teams on time using workflow.
Learn More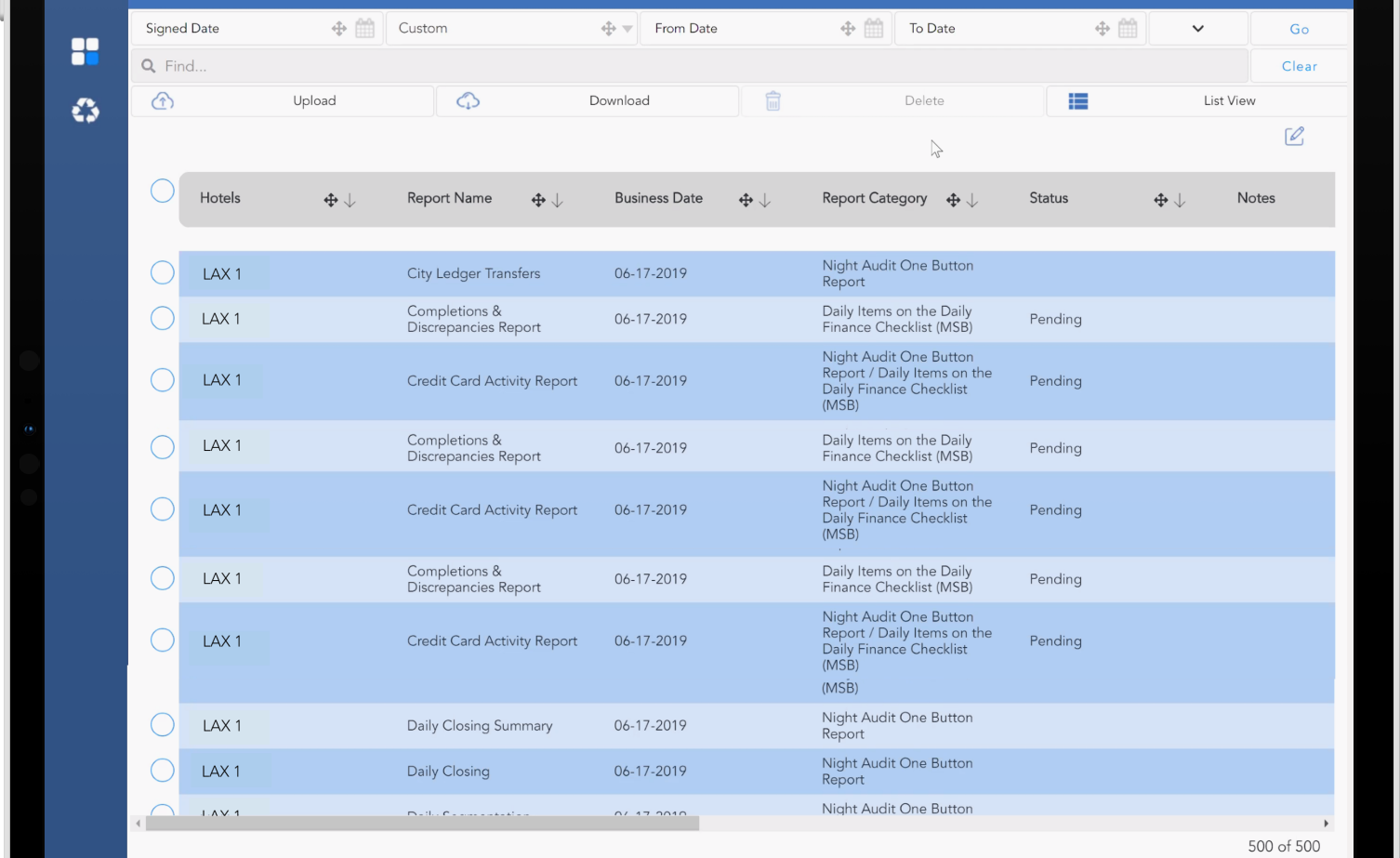 ×
The night auditor plays a crucial role in the hotel industry, specifically at the front desk during the overnight shift. As a key member of the hotel's front office team, the night auditor is responsible for various tasks related to financial records and guest service.
One of the primary responsibilities of a night auditor is to perform the end-of-day accounting functions. They reconcile guest accounts, ensuring accuracy in room rates, charges, and payments. By carefully reviewing financial records and folios, the night auditor ensures that all transactions are properly recorded and balanced.
The night auditor handles the bookkeeping tasks, including accounts receivable and cash drawer management. They compile financial information, generate reports, and update the hotel's financial records. These reports are essential for hoteliers to make informed decisions about occupancy rates, revenue, and financial performance.
In terms of guest service, the night auditor serves as the point of contact for any guest inquiries or issues during the overnight shift. They handle guest check-ins and check-outs, ensuring a smooth process even during non-traditional hours. Excellent customer service skills are vital in addressing guest inquiries and providing a positive experience, despite the late hours.
The night auditor role requires individuals who are detail-oriented and possess strong communication skills. They must effectively communicate with guests, fellow staff members, and other departments to ensure seamless operations. Moreover, being able to work independently and make sound decisions is crucial due to the reduced staffing during the overnight shift.
Typically, a high school diploma is the minimum educational requirement for the night auditor position, although some hotels may prefer candidates with a background in hotel management or hospitality industry. Job seekers interested in becoming a hotel night auditor can find opportunities through job boards, LinkedIn, or other hotel industry-specific platforms.
The night auditor job description often includes both part-time and full-time positions, depending on the hotel's needs. As the overnight shift can be challenging, especially for those new to the role, some hotels provide training and support to ensure the night auditor's success.
The night auditor's role is crucial in the hotel industry due to their responsibilities in financial record-keeping, guest service, and maintaining accurate and up-to-date records. Their attention to detail, excellent customer service, and ability to handle accounting functions make them an essential asset to any hotel's front desk operations.