Oracle's Vision for Nor1: Double Down on Machine Learning and Attribute Based Selling in Hospitality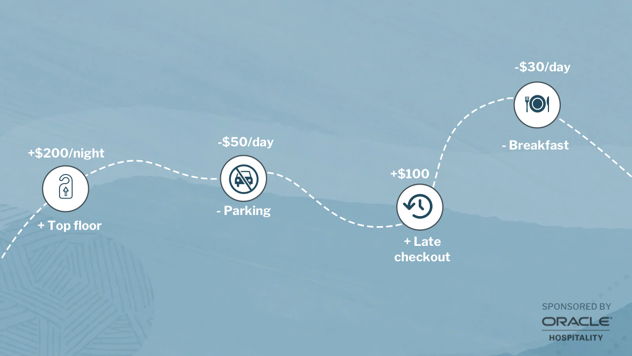 Have you ever had a guest complain that their service level or room didn't meet expectations? I was recently at a hotel where I paid for a premium ocean view on a special occasion but arrived to find that I was given the worst version of this room type with a severely obstructed view.
This arrival experience was awful and despite the hotel making the situation right by upgrading us - there was an easier solution, more granular attribute-based selling. When traveling by air, we can select our preferences down to the seat, row, and even pay a premium to bring heavier luggage. Hotels are a bit behind on this front, but Oracle's acquisition of Nor1 may prove to be a step in the right direction.
In this article, we'll talk about the trend towards attribute-based selling and walk through how this product combination may just be the solution the hospitality industry has been looking for.
What is Attribute-Based Selling?
Let's take a step back; what is attribute-based selling? In the traditional hotel booking model, a guest chooses a room type out of just a few options. Perhaps the guest could choose between a Standard Queen room, Deluxe Queen room, or Suite. Maybe every room includes parking and breakfast, but the guest needs to pay extra for a late check-out. But what if the guest really just wants a basic room, with no parking or breakfast, but needs a late check-out? Under the traditional model, the guest would be "paying" for parking and breakfast even though they aren't using those amenities, and they might feel frustrated about paying for a late check-out.
What's the solution here? Enter attribute-based selling. If you've booked a flight in the last few years, you're probably familiar with this model. Essentially, you only pay for the features you want, and you can pay extra for the amenities that really matter to you. At a hotel, for example, a guest would start with a basic room, then choose to upgrade to a king-size bed or add parking or breakfast - or not. Maybe the guest could even pay extra for a room on a high floor or for a late check-out. We can think of it as a sort of "unbundling" of all the components in a room type or rate plan. Not only does attribute-based selling allow the guest to truly customize their stay, this model allows hoteliers to more accurately forecast and track amenity usage (like parking and breakfast) and generate incremental revenue.
Understanding OPERA, Nor1, and the Product Interaction Today
We've established that Nor1 provides upselling solutions, but how does it work? Nor1's products tie their upsell recommendations to data, pulling in details like length of stay, number of guests, guest history, arrival date, and more to tailor each offer to the individual guest. Nor1 offers products for each step of the guest's journey:
eStandby Upgrade: offers room upgrade requests and add-ons (like early check-in or attributes like a high floor location) at the time of booking. At this point, the guest can simply request an upgrade, but it won't be confirmed until closer to their check-in date, or with no-cost integration to OPERA, the guest request can be automatically fulfilled with no interaction on the part of the hotel

eXpress Upgrade: if the guest doesn't accept the original upgrade offer, the system re-targets them. If the guest turns down the offer again, the system "learns" from the interaction to provide more relevant offers to future guests. The guest may also receive an another offer at check-in

CheckIn Merchandising: gives front desk agents tools to offer and confirm room upgrades during check-in, plus offer add-ons like discounted drinks at the lobby bar or attributes like a balcony or a water view room.
Oracle Hospitality provides products for hotels, resorts, casinos, restaurants, and more, and the company's two flagship hospitality solutions are their property management system, OPERA, and their restaurant management system, Simphony. OPERA is either cloud-based or on-premise, and it has a slew of features like detailed guest profiles, loyalty tracking, advanced rate management, and a mobile version. Recently added to OPERA Cloud is a new Foundation level targeting smaller, limited-service hotels which complements the existing functionality in OPERA for mid-size, full service properties. Simphony, a point-of-sale system for restaurants, allows restaurateurs and employees to manage everything from online orders and digital menus to reservations and waitlists.
So how do OPERA and Nor1 interact in a pre-arrival environment? Via the no-cost Nor1 OXI, OPERA feeds the reservation data that Nor1's eStandby Upgrade and eXpress Upgrade need to make targeted, personalized upsell recommendations and to trigger offers that are sent to guests. In addition, front desk agents use Nor1's CheckIn Merchandising solution during the check-in process to facilitate upsell offers, like room upgrades, by keeping CheckIn Merchandising open alongside OPERA.
Benefits the OPERA + Nor1 Combination Beyond Attribute Based Selling
In this case, one plus one does not equal two; the sum of OPERA and Nor1 are greater than the individual components because of the benefits hoteliers can realize when the systems work together.
Most importantly, Nor1's entire upsell flow will integrate directly into the -OPERA interface, which means staff will no longer need to switch between the two applications. Recommendations will also be more personalized because Nor1 can tap into richer data from the OPERA. The two systems can also deliver time savings by automating room assignments instead of manually assigning upsold rooms, plus Nor1 can get a more precise view into availability and can upsell more granularly based on the nuances of individual rooms.
The two systems working in tandem will make upselling accessible to new market segments. Historically upselling has been cost-prohibitive for smaller hotels and delivered limited ROI in limited-service, midscale, and economy hotels. Not only will the out-of-pocket software cost and the staff needed to manage upsells decrease, but the systems are sophisticated enough to provide unique upselling options even at properties with limited F&B, on-site amenities, and room types.
Oracle and Nor1 can also leverage Simphony, the restaurant management system, to offer unique and personalized food and beverage options for guests, and the guest behavior will prove advantageous in driving guest loyalty. For example, if Simphony knows that a guest orders a particular bottle of wine during every stay, then Nor1 could promote an upsell offer that includes that specific beverage choice.
Another benefit, while less flashy than personalized upgrades, is that Nor1 can leverage Oracle's massive investment in data management, security, and compliance. As a global, Fortune 100 company, Oracle's resources are on a different level that a smaller company like Nor1 couldn't gather on its own. Users of both companies can now benefit from peace of mind that their guests' data will be secure.
Ready to bring personalized upselling to your property? There's no better time to implement a solid strategy than now, as you prepare to welcome guests again.
This content was created collaboratively by Oracle Hospitality and Hotel Tech Report.