6 Simple Ways to Create a Seamless Guest Experience at Your Hotel
By Jordan Hollander
Last updated October 12, 2022
4 min read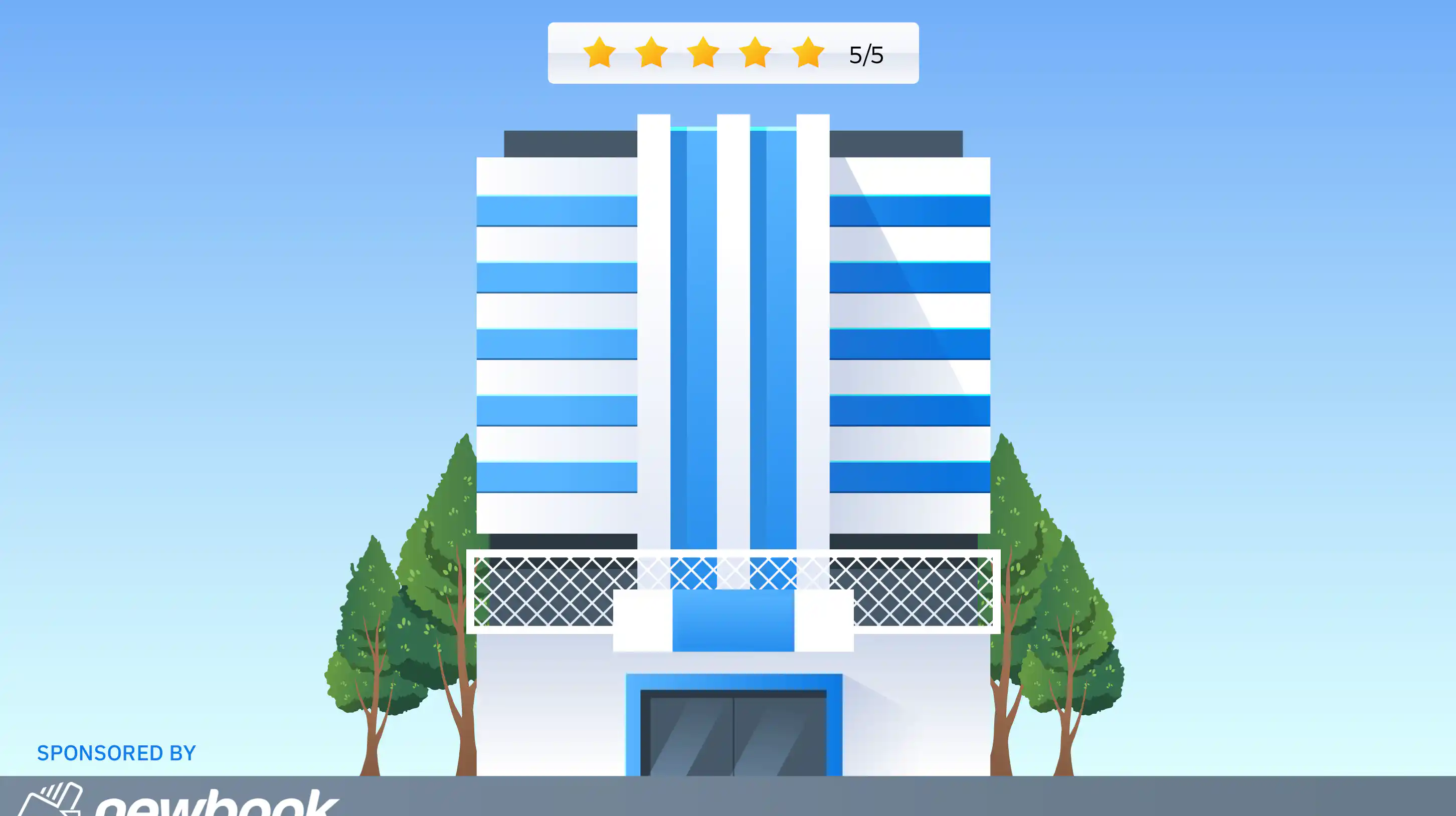 With guest expectations continually changing and new technologies popping up daily, how can you possibly stay on top of it all? You might feel paralysed by choice or unsure of where to begin; there are simply so many potential vendors to consider or new ideas to test. And let's not forget about budget and resource constraints, since you probably don't have a blank check to put toward endless bells and whistles for your guests. But even with limited staff and realistic budgets, hotels of any size can dazzle their guests with a five-star guest experience if you know which technology investments will pay off. Whether you own or operate a boutique hotel, an inn, guesthouses, or something else, this article will help you craft a smooth guest experience – leading to better review scores, more repeat guests, and higher RevPAR – by leveraging technology effectively.
Provide a Chatbot to Answer Common Questions Instantly
Years ago, hotel chatbots had limited functionality, and they may have been more frustrating than useful to interact with. Today, however, chatbots can deliver immense value at several points during the guest experience. A chatbot, such as Newbook's NEW.B.I.E, actually enhances your guest experience from the moment a guest lands on your website. Adding chatbot functionality on your website and booking engine allows guests to ask questions and find more information, helping them feel empowered during the booking process. In addition to assisting in the booking process, a chatbot can also book ancillary services (like restaurant or spa reservations), offer upsells, and help guests with directions or special requests. Beyond the booking experience, in-house and past guests can engage with the chatbot on your website or app to further add value during and after the stay. Not only does a chatbot put information at your guests' fingertips, but it also reduces the volume of inquiries at the front desk, freeing up your front desk agents' time to build more meaningful relationships with guests.
Offer a Self-Service Check-in Kiosk
One of the most exciting ways to upgrade your guest experience is to let guests self-serve some aspects of their stay. If your hotel welcomes many business travelers or international guests, you might find that self-service check-in kiosks are especially compelling as an alternative to traditional checkout and preferable to some guests relative to contactless check-in solutions. Not only can they significantly expedite your check-in process (which business travelers would greatly appreciate!), but they can also support multiple languages and handle a variety of ID requirements and payment methods. And for hotels with limited staff, check-in kiosks like Newbook's can alleviate the responsibility of checking in guests so your front desk staff can focus on tasks that are less repetitive and more impactful.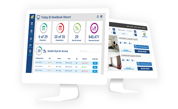 THE PITCH
RATINGS
BEST FOR
0
HT Score
Hotel Tech Score is a composite ranking comprising of key signals such as: user satisfaction, review quantity, review recency, and vendor submitted information to help buyers better understand their products.
Learn More
newbook offers a fully integrated self-check in kiosk designed to deliver a simple, time-saving, user-friendly solution to traditional check-in and support to guarantee your guests enjoy the most seamless stay possible, every time.

NewBook (PMS)
Property Management Systems
THE PITCH
RATINGS
0
HT Score
newbook offers a fully integrated self-check in kiosk designed to deliver a simple, time-saving, user-friendly solution to traditional check-in and support to guarantee your guests enjoy the most seamless stay possible, every time.
Learn More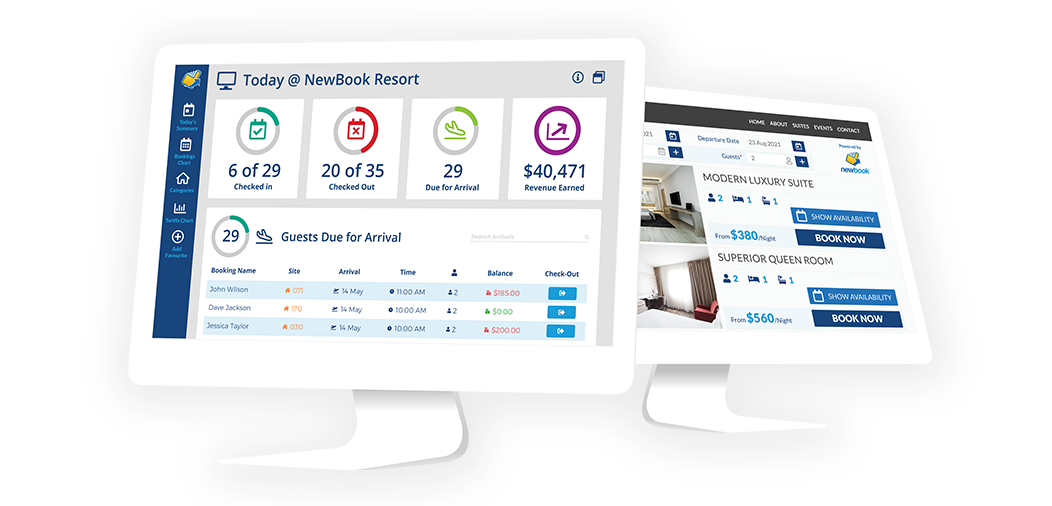 ×
Send Automated Communications Throughout the Guest Journey to Educate and Set Expectations
From the moment a guest books a stay with you, do you engage with them? You have a great opportunity to build relationships and set expectations with guests during the period between booking and check-in, and even after a guest arrives, you can continue to build rapport. However, it's not feasible to send all of this communication manually; between emails and text messages, you'd have your hands full. Many tech-savvy hotels automate this communication with a dedicated customer relationship management system (hotel CRM), such as Revinate, or with functionality within their property management system. Some PMSs, like Newbook, offer support for automated communications. This functionality allows you to build templates, set trigger schedules, and include dynamic fields to personalize your messages. For instance, you might choose to send an email with a seasonal packing list one week before check-in. Or, maybe you want to send a promotional email to all guests who stayed with you over Labor Day last year to give them a special discount over Labor Day this year.
Provide an Interactive App
Like a chatbot, a guest facing hotel app can enhance your guest experience by putting all the resources a guest needs for a fantastic stay in the palm of their hand. An interactive app can deliver a variety of benefits for any type of hotel: it can answer guest questions, provide information, take requests, share billing details, and add a brand touchpoint. Questions that guests might normally direct to the front desk can instead be resolved instantly via the app. More sophisticated apps, such as Guest Assist by Newbook, can even process payment for add-ons (like F&B ordering or late checkouts) and manage membership details (like your loyalty program).
Solve the Key Problem
One of the best problems to solve with technology is one that will unlock better experiences for all of your guests. Nobody likes waiting in line to get their room keys, so technology that improves the key distribution process has the potential to significantly improve guest reviews and drive loyalty. There are two main solutions to the key problem: an automated key dispenser or kiosk, or a mobile key system that lets guests unlock their doors with their smartphones. If your hotel uses traditional keys, or if you aren't in the position to upgrade to locks that can support mobile keys, then a smart key kiosk is the way to go.
Similar to a set of lockers or mailboxes, a cloud-based key dispenser, like the one Newbook offers, allows guests to open their designated key box with an access code sent via SMS or email, no matter how late in the evening they arrive. On the other hand, smart locks can eliminate the need for physical keys altogether; these locks use Bluetooth or RFID sensors to securely control guestroom access with guests' smartphones acting as the mobile "keys."
Run Mid-Stay Surveys
Let's not forget that one of the most impactful ways to elevate the guest experience is to understand what's going well and what could be improved. One great way to gain a better understanding of your guest experience is to send a mid-stay survey or feedback request while your guests are still in-house. Not only will this survey help you find opportunities to improve, but you'll still have a chance to perform service recovery before the guest checks out. In comparison, if you find out about a problem in a guest review posted upon checkout, you can only do so much to remedy the situation. By sending a quick request feedback, like a text message that asks guests to rate their stay on a scale from 1 to 10, you can keep a pulse on the guest experience in real-time and resolve issues instantly.

Which of our six recommendations will you implement first? With a robust technology vendor as your partner, you can boost your guest experience and earn better reviews, gain guest loyalty, and achieve higher ADR and RevPAR.
This article was created collaboratively by newbook and HotelTechReport