Smart technology buyers judge companies by capabilities not number of employees
By Hotel Tech Report
Last updated January 26, 2022
11 min read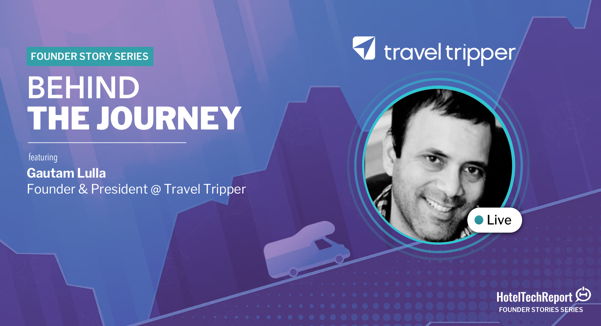 Unseasoned technology buyers often make the assumption that the biggest companies have the best products.  It's not a terrible assumption when you think about it. After all, didn't the biggest companies become so big by delivering great products to clients? There's the old adage that "nobody gets fired for buying a Xerox" - doesn't that still hold true?
It's true that big companies often get big by delivering great service to clients but technology changes so quickly that assuming 'bigger = better' can lead technology buyers into precarious waters.  When companies get to a certain size, they risk losing focus on customer relationships. Many massive companies, especially in hotel tech, have become synonymous with poor customer service. Think about the last time you called your CRS vendor because the system went down but they don't reply for 48-hours - that's a major problem.  Similarly, when engineering team grows to a certain size, the company's products become plagued with feature bloat. Teams become more and more disparate which makes working on the same product a disaster if the organization isn't managed properly. Big companies are also notoriously susceptible to disruption from smaller and more nimble firms.
This isn't to say that everyone should go jump into bed with the startup down the street.  The most savvy buyers know to look for the most innovative vendors who have achieved product market fit, are innovating quickly and will become the giants of tomorrow.  Travel Tripper is a firm that has proven itself in the market, is innovating at a rapid clip and still maintains strong relationships with clients through world-class customer support.  Don't take our word for it, read what verified Travel Tripper customers are saying.  Perhaps that's why hoteliers have rated Travel Tripper's CRS #1 in the world for 2 years in a row.  The firm has recently expanded its offerings through a highly praised merger with Pegasus so we sat down with Travel Tripper president Gautam Lulla to get a behind-the-scenes perspective on what's to come.
The important thing for hotels to remember is not to judge tech vendors by the size of the company, but by the quality and capabilities of their product and their dedication to customer service.  ~ Gautam Lulla
Prior to launching Travel Tripper, Gautam worked at hotel tech giant Amadeus so he has seen the inner workings of both startups and massive enterprise in the space.  He also began his career working in hotel operations and eventually corporate hospitality where he developed unique insights about the hotel tech vendor landscape before jumping in himself.  
As with many great businesses, Travel Tripper's founding team created the business to solve real-world problems that they were experiencing.  After working with several distribution and marketing technology vendors, the leadership team at Highgate Hotels wasn't impressed by the results they achieved and thought they could do it better, so they launched Travel Tripper.  It turns out that they were right -- now hotels around the world are knocking on Travel Tripper's door to tap their knowledge, technology and services. We are lucky to have caught Gautam in the midst of his integration between Pegasus and Travel Tripper, which he calls a highly synergistic transaction.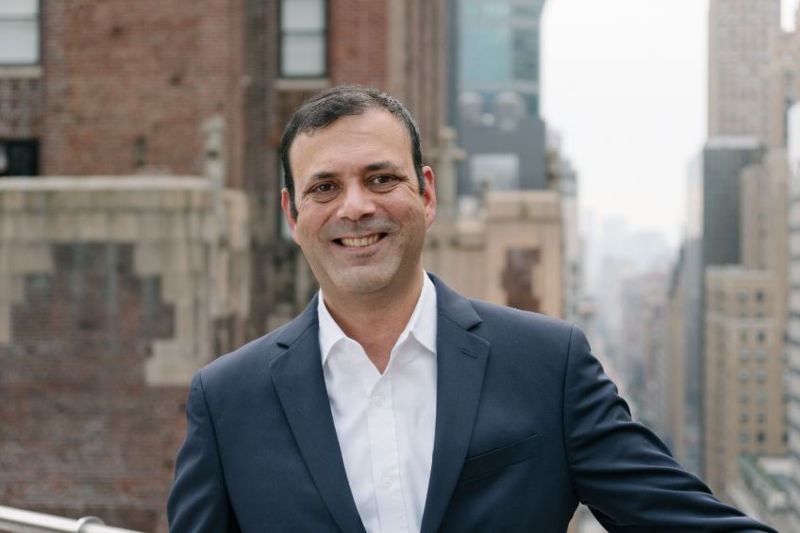 Gautam Lulla Travel Tripper's NYC Headquarters
What does the Travel Tripper-Pegasus merger mean for clients?
It's important for us to emphasize that as a combined company, no capabilities or services will be lost. In fact, exactly the opposite is the case. The driving force behind the merger was our complementary set of strengths, from our product offerings to our customer base. In this case, 1 + 1 really does = 3!
To illustrate, Pegasus has always been uniquely and natively built for enterprise hotel chains and have more experience serving chains than any other business in the history of the hospitality industry. Additionally, Pegasus has a long and proven record of helping hotels increase corporate business with their Corporate Sales Representation Services, offering instant connections to 800+ corporations and 30+ consortia and TMCs.  Additionally, the recent introduction of Pegasus Business Intelligence Platform gives Revenue Managers the ability to turn their raw data into actionable information to positively affect their bottom line.
Travel Tripper has built its reputation among independent hotels and casinos with its powerful CRS, e-commerce, and digital marketing solutions, which work together to help hotels grow their overall business while maximizing revenues in their direct channel. Combining this strong suite of products means that we can now offer existing customers and prospects a broader range of solutions tailored to their needs.
What is Accel-KKR's thesis behind the new infusion of capital?
Accel-KKR is a company that invests in high-growth technology companies in many verticals and different industries, not just hospitality. The primary thesis for their investment was the recognition that both Travel Tripper and Pegasus were two companies with a similar DNA of innovation and top-notch customer service, as well as complementary sets of strengths in our product offerings and customer base. They believe that they can provide us the infrastructure and support to help take our combined company to the next level.
What was your background prior to launching Travel Tripper?
I started my career in the hotel industry with Taj Hotels in India, where I was introduced to the world of hotel technology, after spending about a year or so in the front office. As Electronic Marketing Manager, I was responsible for managing the usage of our central reservation system as well as building and strengthening relationships with our CRS providers. I was also responsible for growing the GDS business.
Subsequently, I joined Pegasus Solutions in Scottsdale, Arizona as a Product Manager and stayed there for about two years. It is where I learned all about the the workings of a CRS, and what better place to learn it than at Pegasus. It was the clear leader in the space with no competitor even a close second to Pegasus.
Later on, I accepted an offer from Amadeus in France to join their e-commerce team. Hotel booking engines were a part of the portfolio, however as a GDS company it was not economically viable for hotels to pay GDS transaction fees on top of CRS fees for their direct booking channel. But Amadeus decided to invest in Hotel IT solutions, with the intent of replicating their success in Airline IT.
I subsequently moved from France to the United States and continued with Amadeus for two years, during which time I became deeply involved with our first prospective customer. But after a short while with Amadeus USA, I realized I was also far removed from the center of activity within Amadeus and got a little bored.  It's when I decided to join Travel Tripper, in its earliest days.
What made you decide to jump in and launch Travel Tripper?
My friend and ex-colleague Kurien Jacob had just started a booking engine company and asked me to run and grow the business. After leaving Amadeus, I was ready for a new challenge that would allow me to work at a much faster pace, so I jumped right in.
Technically, I didn't found the company, but I joined as a partner when we were just a team of three people.
As a partner, I did or oversaw everything on a daily basis—from product design and development to engineering, sales, and marketing, invoicing, customer support, so, literally everything that a young company of that size has to deal with.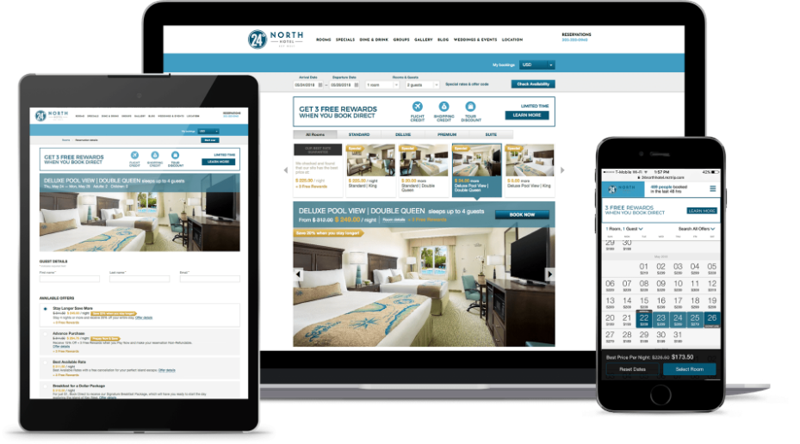 Travel Tripper's Reztrip CRS took gold in the 2019 HotelTechAwards
Who was Travel Tripper's first customer?
Highgate Hotels was our first customer at Travel Tripper. Kurien, who had started the company, was the Chief Revenue Officer at Highgate Hotels at the time. He was convinced that Highgate could earn more direct business if they designed a booking engine, designed by the way, as a seed that would grow into a full-scale CRS, with certain features. So, that was sort of the rationale in founding, the raison d'être of the company. It became our motto and philosophy: Be Direct.
Highgate tried out the first version of our product on one of their properties, a very large midtown Manhattan property. Even though it was a big risk for them, they went ahead and tested the technology anyways. After seeing spectacular results with the first property, we rolled out the booking engine across various Highgate hotels in New York and elsewhere.
One of our other early customers was the Leela Hotel Group in India, which also benefited a lot by taking a chance on us. We increased their website contribution by very impressive numbers.
Another early customer of ours was the Stratosphere Hotel, a large 2,500-room hotel in Las Vegas and our first casino hotel (a segment in which we now have 30% market share in the U.S.). We were able to get them on board because of our strong track record. They joined us in 2008 and significantly increased their website contribution as the result of our partnership.
How do you see Pegasus and Travel Tripper working together moving forward?
The combined entity of Pegasus and Travel Tripper provides a solid platform for hotels that  want innovative technology solutions combined with the best customer service in the industry. Pegasus has a deep and storied history in CRS and distribution, and offers world-class demand generation services designed to increase direct and corporate bookings while considerably expanding a hotel's market reach. Travel Tripper has grown a strong reputation in helping independent hotels and casinos/resorts in direct channel optimization, bringing user experience to the forefront in our CRS, booking engine, e-commerce, and marketing solutions to help drive highly profitable direct bookings. Our merger brings together the best of our combined capabilities to help hotel groups large and small to directly own guest relationships and maximize bottom-line ROI.
In short, we are a formidable and disruptive challenger to some of the bigger (yet more stagnant) players in this space!
Who is one mentor that has really helped you scale the business?
I'm lucky to have several mentors who have helped and influenced me at different stages of my career. In my early days at Travel Tripper, right after leaving Amadeus, I remained close friends with an ex-colleague of mine, Andy Ahluwalia, who has since passed unfortunately. Andy had built a successful business in our space and was very encouraging and gave me sound advice about the effort and the patience that it would take to make this company successful. He also taught me a lot about how to sell the product and negotiate with customers. I'm very grateful to have known him.
Kurien and the team at Highgate, from whom I've learned a lot, have also been spectacular supporters of Travel Tripper. Of course, they have been one of our key customers since the beginning and have a vested interest in our success as a company. They've always been very encouraging and have provided me with the space and room to make mistakes and persevere while growing Travel Tripper. Highgate itself has grown tremendously since the time when we started our company. Watching their growth and expansion, even as they were already such a large company, has been an inspiration for me.
And Paul McGrath, erstwhile and now again Product Manager extraordinaire was my first boss at Pegasus—he taught me all about the workings of a CRS. Paul led the product management team at Pegasus during its heyday and has returned to the company to once again lead the product management team of our combined company. 
What's one commonly held belief that most hoteliers believe to be true in your niche that actually is false?
Unfortunately, in this industry, the size of a hotel tech vendor sometimes is overplayed or overemphasized, while the quality of product and engineering teams is underemphasized. People often assume that large companies have better products simply because they can afford better engineers relative to smaller companies.
This is far from the truth—I've seen very large companies struggle with their platforms and engineering initiatives. And I've seen smaller companies blow away the industry with their solutions.
The important thing for hotels to remember is not to judge tech vendors by the size of the company, but by the quality and capabilities of their product and their dedication to customer service. It seems obvious, but happens more often than you think.
What's the most surprising thing you've learned about scaling technology into hotels?
I don't know if I can call it a surprise as much as learning, but one of the things that we have learned how to do effectively is to scale the platform based on evolving needs. For many organizations, it is quite difficult to anticipate the proper architecture in its early days until you meet challenges along the way. You can plan and design for scale, but there will alway be unexpected hiccups and scaling issues that you will certainly come across along the way, no matter how well you plan ahead.
Therefore, you should plan and design as best as you can, but also be prepared to make some fundamental changes along the way when you encounter obstacles. We've done that several times throughout our history and have been able to successfully scale the platform.
For example, when Travel Tripper took on Stratosphere Hotel around 2008, I recall that traffic volumes would peak around a certain time of day, and the system would simply keel over and fall down, so we always had to reboot at around 4:00 p.m. It turned out that was a relatively small problem to solve that wasn't anticipated at initial design time.
Along the way, we've come across other challenges as our customer base grew to a certain size. At one point, we started getting hit by a lot of robots that were scraping our booking engine user interface to get pricing information on our hotel customers. This is a common phenomenon in our industry and we were able to resolve the issues along the way when we encountered them.
What have been some of the most successful partnerships for Travel Tripper over the years?
Obviously we have numerous close partners in the industry, and our relationships with all of them are very important.
We enjoy our partnership with Stay Wanderful, which provides a conversion optimization tool that helps hotels to increase their direct bookings and revenue through instant gratification and AI technology. We have worked closely to provide a strong integration and good user interface that generate good results for our customers.
OTA Insight has also been a great partner for us on the industry level. Their company offers one of the top hotel Rate Intelligence/Business intelligence platforms on the market. We often run many marketing initiatives together to help educate the industry, such as webinars, roundtables, and our upcoming Tech Talks series at ITB Berlin.
If you could partner with any vendor in hotel tech, who would it be and why?
As a CRS company, there are so many vendors that we need to build interfaces and integrations with. We particularly enjoy working with the ones that are open to quick integrations in order to foster better functioning between our respective products. In other words, they do not lock up their APIs and charge unreasonable fees for integration and certification.
How will the hotel distribution landscape change in the next 5-years?
Traditionally, the companies in the hotel tech space have focused on being very good at one "category" of product. Sure, a PMS company could offer a booking engine, but ultimately it was more known for being a PMS company. The new startups in the space have amplified this trend.
But now that companies are starting to mature and consolidate (ourselves included), the lines are going to start blurring and it's going to be difficult to pigeonhole a company into a product type or category. The industry is moving quickly in the direction of a "platformization" model, where the breadth and interconnectedness of solutions will trump—or at least bring together—smaller niche solutions. We think we are on the cutting edge of that trend.
We see ourselves as the strongest provider of the products and services we offer to the hotel industry. We are well on the way already.

Does Travel Tripper have any new product or feature launches we should know about?
Travel Tripper and Pegasus have recently launched innovative new products lately that we think are going to be very exciting for our respective customers and prospects.
To help hoteliers combat rate disparity and increase direct revenue, we created Rate Match, a powerful price checking and rate matching tool that automates best rate guarantee against the OTAs. On the e-commerce side, we recently introduced a very simple but enormously helpful ADA Monitoring Platform and audit services to help hotels mitigate legal risk of potentially expensive ADA compliance lawsuits. We are also about to launch Conversion Plus, a new direct booking optimization tool that drives conversions using personalized messaging and special offers based on real-time booking engine rates, OTA comparative rates, and user behavior.
There is power in numbers which is why we recently launched the Pegasus Business Intelligence Platform. This solution offers Revenue Managers a way to turn raw data into immediately actionable information to amplify revenue management and marketing success across all distribution channels, all in one place. We combine guest data from multiple sources and deliver it with automated intelligence and easy-to-understand dashboards. The result is instant insights that help guide a hotelier's strategy to increase bookings and occupancy and improve revenue and profitability.
What's one piece of advice that you have for any entrepreneur looking to get into the hotel tech space?
Be patient and persevere. It's a crowded space, and it's getting increasingly more crowded and competitive. There are a ton of companies that you will need to work and integrate with in order to succeed. In the hotel CRS space, the barrier to entry is quite high so it will require a lot of money and technology to be built before you can come in with a viable product for a meaningful segment of the market.