Cloudbeds: What You Need To Know About its Hotel Management System
By Jordan Hollander
Last updated March 04, 2023
7 min read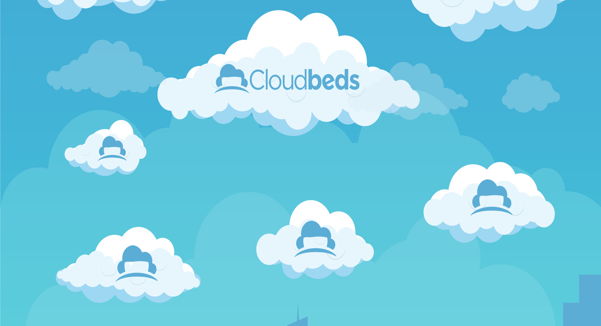 For independent hotel property owners, hostels, bed-and-breakfasts and boutiques, it often makes sense to reduce the options under consideration and select a single solution to help you manage your hotel. The best hotel management system (HMS) can open up new channels to bring in more revenue, reduce the stress of day-to-day operations and generally make your life better by giving you back more time in the day so you can focus on what matters: providing the kind of experience that inspires positive reviews and repeat guests.
One of the more popular HMS vendors is Cloudbeds, which lands at number three on our popularity index. The Cloudbeds ratings and reviews summary shows relatively strong ratings across the board. It maintains an average 4.1 rating with verified customers, as well as a 96% recommendation rate. Let's jump in and see what Cloudbeds is all about.
A Complete Hospitality Management Software Suite
The Cloudbeds hotel management software is built to be a reliable, steadfast ally  across all aspects of your hotel. Think of it like the operating system for your hotel. Always on and always there, it's an all-in-one solution that reaches across your operation to make things run more smoothly and more profitably. 
"I love that Cloudbeds is entirely vertically integrated so there's no need to get one company to handle the booking engine, one for the channel manager, one for the PMS.  Cloudbeds has it all." ~Hostel Manager in Chicago (read more reviews)
For hoteliers who don't want to deal with legacy systems or stitch together a patchwork of technologies from multiple vendors, a single integrated system is the way to go. The benefits of a single solution are threefold:
Accuracy. A single solution works seamlessly, ensuring that data is accurately and quickly shared across all systems. A patchwork of vendors leads to potential errors due to data not transferring from one system to the other. 

Sanity. Multiple vendors means multiple contracts, multiple logins, and multiple interfaces. All of which complicates your life -- not to mention makes on-boarding new staff even more challenging.

Cost & value. A single vendor can save your money by offering complete functionality at a better rate than you would get from multiple vendors.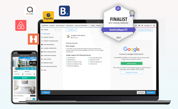 THE PITCH
RATINGS
BEST FOR
100
HT Score
Hotel Tech Score is a composite ranking comprising of key signals such as: user satisfaction, review quantity, review recency, and vendor submitted information to help buyers better understand their products.
Learn More
Cloudbeds is a SaaS company creating the most forward-thinking technology in the travel industry. We deliver a transformative technology platform upon which any lodging provider, from luxury hotels to campgrounds, can build and run their business. We help businesses reach travelers in every corner of the globe and empower them to spend more time with their guests, and less time worrying about technology. Cloudbeds has brought together the smartest minds from around the world to innovate new technology that challenges the status quo and makes the world a more connected welcoming place.

Cloudbeds PMS
Property Management Systems
THE PITCH
RATINGS
100
HT Score
Cloudbeds is a SaaS company creating the most forward-thinking technology in the travel industry. We deliver a transformative technology platform upon which any lodging provider, from luxury hotels to campgrounds, can build and run their business. We help businesses reach travelers in every corner of the globe and empower them to spend more time with their guests, and less time worrying about technology. Cloudbeds has brought together the smartest minds from around the world to innovate new technology that challenges the status quo and makes the world a more connected welcoming place.
Learn More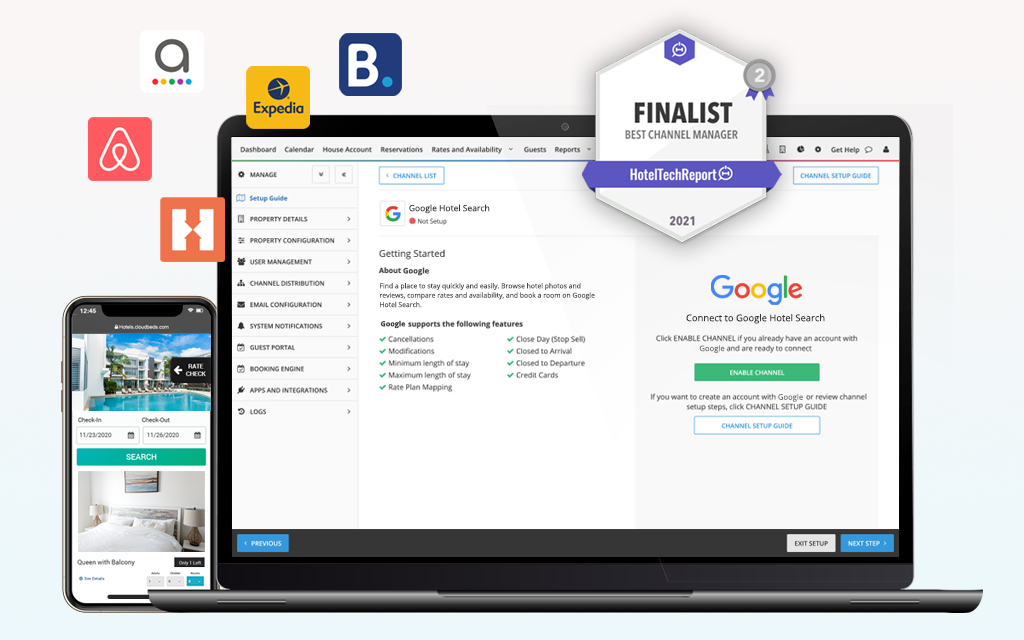 ×
Best for: Small to Medium Sized Independent Hotels
Of the 20,000 customers Using Cloudbeds, the vast majority of our independent properties, boutiques, and breakfasts and hostels. Vacation rentals also use the software, although that's generally limited to professional operators with more than one property.
That's not to say that multi-property brands aren't using Cloudbeds. It's just that those brands tend to have more complex use cases that don't easily align with the product's core functionality.
Cloudbeds Suite Features
As a single solution, Cloudbeds' hotel management software combines six core capabilities that support specific objectives:
BOOKING ENGINE
Your hotel website is your calling card, it's your online billboard showcasing everything that makes your property unique. It's an essential part of your hotel's identity. With a booking engine that turns lookers into bookers, you can reduce leakage to OTAs and capture more commission-free direct bookings. This also means that you own the guest relationship. So you can do things like send scheduled pre-arrival emails with property information and potential upsells (room upgrades, in-destination activities), as well as post-stay emails to encourage more reputation-building online reviews.
The Cloudbeds booking engine interface remains consistent across devices. 
Other valuable functionality of a hotel booking engine: works on smartphones and tablets so that your property is bookable across all devices; promo codes so you can optimize digital marketing for conversions; upsells within the booking flow to improve your total revenue per available room (tRevPAR); and integrated payments so you can stop taking payments manually.
CHANNEL MANAGER
If most of your bookings come from a single channel, an unexpected downtick in demand can prove disastrous. It's a best practice to diversify demand by getting your hotel in front of as many potential guests as possible. That's what the Cloudbeds channel manager does: it distributes your inventory across hundreds of OTAs and metasearch sites -- over 300, in fact -- and lets you set channel-specific rates so you focus first on the most profitable channels, i.e. those with high demand and low commission.
This exposure means that you can earn revenue from from far-flung countries that you may not otherwise be able to access. For example, getting your hotel in front of Chinese travelers via Ctrip, a popular OTA in that country. Cloudbeds is also a preferred software partner with Airbnb, so you can distribute your property on one of the most-trafficked travel portals.
FRONT DESK SOFTWARE
Guaranteed connectivity is a top benefit of going with an integrated hotel property management system like Cloudbeds. With the PMS communicating clearly and reliably with your booking engine and channel manager, you avoid overbookings or lost reservations…and all the related stress. 
The Cloudbeds Property Management System is a breeze to use: From the centralized calendar view, simply drag and drop reservations to check them in and out. To adjust reservations, click in from the calendar view. Each reservation is tied to a guest profile, which puts guest data at your staff's fingertips so they can track preferences and recognize repeat guests. On the marketing side, the PMS automates your guest communications, so you can send pre-stay emails (with upsells) and post-stay review requests to build your online reputation. There's also an available housekeeping module to keep tabs on room cleanliness and prioritize housekeeping.
"The look is simple, but it can do everything.  Drag and drop reservations from room to room.  Edit pricing in seconds.  Need client info for a checkout? It's in front of your eyes in seconds.  There's no waiting for anything to load.  It's there.  And software rollouts happen seamlessly." ~Boutique Hotel Owner in Czechia (Read more reviews of the Cloudbeds PMS)
PIE REVENUE MANAGEMENT TOOL
Smaller properties usually don't have the budget or need to deploy a full-featured revenue management solution, such as IDeaS or Duetto. But that doesn't mean they can't benefit from one! Cloudbeds puts pricing automation and business intelligence in the hands of hotels of all sizes with its Pricing Intelligence Engine (PIE). 
The pricing automation is really powerful. Rather than manually setting the rates in response to property, market, and competitor dynamics, PIE offers rule-based automation. You set a rule -- such as increasing your rates by 10% when you hit 80% occupancy -- and the system will do it automatically, even if you're out of the office. Alternatively, you can set the system to trigger a notification when a specific threshold is met, Such as your competitor dropping it's rates by 5%. The next time you login, you can review these alerts for potential action.
PIE also gives hoteliers access to a robusts data dashboard, which combines data from your HMS with local market data. You'll be able to track and analyze important data, such as your occupancy rate, RevPAR, ADR, and total nights sold, alongside relevant market data to benchmark your performance and identify upcoming opportunities.
HOTEL APP MARKETPLACE
Even with an integrated system, you may find other solutions that you want to integrate with the core hotel management system. The main benefit of direct integration is seamless data sync. Let's say, for example, you want to send a reputation builder email from TrustYou at check-out. Without an integration, you would then have to pull that information from your PMS, log into TrustYou, and schedule.
It makes a huge difference when these sorts of things can be automated -- no matter how busy you are, you can rest assured that workflows are executed as planned. To see if your current technology play is well with Cloudbeds, check out the list of integrations on the Cloudbeds Marketplace first.

Cloudbeds Pricing, Implementation and Hotelier Reviews
The Cloudbeds pricing model adjusts on a sliding scale based on the number of active rooms on each property. Then, there are several tiers that include different levels of functionality: Essentials, Plus, Premier, and Enterprise.
You'll need to upgrade if you're looking to take advantage of things such as advanced rate plans, customized booking engines, housekeeping management, and the integrations marketplace. In addition, the PIE revenue, payment processing, and groups module are all add-on features for an additional fee.
For implementation, Cloudbeds provides ongoing training available online via scheduled training sessions. With these 24/7 training options, it becomes much easier to onboard new staff quickly and effectively. Several verified reviews of Cloudbeds emphasize the strength of the company's training and support, mentioning "quick support via email," "great customer service," and "easy to learn" with "lots of tutorials available before calling support."  Cloudbeds has one of the best help and training centers in the industry with detailed step-by-step tutorials guiding users through key functionality to optimize their businesses.
Behind the Scenes with Cloudbeds
Cloudbeds is the brainchild of co-founders Adam Harris and Richard Castle.  The firm is headquartered in San Diego and was initially launched to help small property owners get  access to the same kinds of digital operations and distribution tools being used by major brands.  The Company's core property management system is enhanced by a dedicated channel manager which helps hospitality businesses efficiently sell inventory on platforms like Booking.com and Expedia.  The Cloudbeds support team is completely global to help tens of thousands of clients for its hospitality management suite succeed 24/7 no matter where they are in the world.  Cloudbeds enables hospitality industry small businesses to make more money and happier guests.
Conclusions: Is Cloudbeds Worth It?
If your hotel is looking to consolidate into a single platform, Cloudbeds is a popular choice. You'll need to consider your data migration and be sure to get everything in writing so you can confidently trust that the company will deliver successful migration without interrupting your operations.
It's also possible to select only certain portions of the Cloudbeds portfolio. If that's what you're considering, be extra sure that your existing technology will integrate seamlessly. Part of the value of an integrated hotel management system from a single vendor is that it eliminates the worry of uneven syncs.
Another consideration: fast-growth companies, such as Cloudbeds, can sometimes mean that implementation and customer support can be uneven. While the majority of HTR reviews are positive, it's best to ask for yourself and push for clear terms related to implementation and ongoing training.
Overall, if you're looking for a powerful hotel management system that costs less than securing technology from multiple vendors Cloudbeds is a solid choice. Fewer tools to manage means less time wasted switching between tools and streamlined training and onboarding for new staff through a single vendor. You'll also benefit from seamless communication between tools so there's no latency or errors. And, since Cloudbeds integrates with other solutions, you can customize as your needs evolve. That gives you one of the most valuable assets: flexibility to grow and adapt as you see fit.
Before signing up with any hotel PMS or all-in-one hotel software like Cloudbeds, a hotel owner should consider the functionality requirements, pricing, integrations, automation, guest engagement, occupancy management, direct bookings, front desk features, onboarding and customer support and integrations partnerships.