The Ultimate Guide to Hotel Phones
By Jordan Hollander
Last updated February 16, 2023
4 min read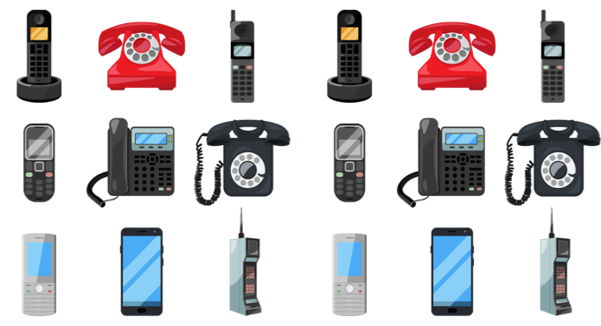 Do you think a hotel room phone is a dead ringer for a regular home phone you'd find in your living room? Think again! Although the two types of phones might look alike, the features and uses are actually quite different. If you're scoping out phone options for a new hotel, looking to upgrade your existing phones, or considering hotel phone alternatives, then this article is for you. We'll explain how hotel phones are different from standard home phones, dive into their most important features, and introduce you to some of the top choices on the market today. And if you're thinking out of the box, we'll also share some alternatives to hotel phones that you may want to consider.
How Do Hotel Phones Differ From Regular Phones?
If you're preparing to open a hotel, it might be tempting to think you can just buy standard home phones from Target or Walmart and place them in your guestrooms. While a typical guestroom phone does look a lot like a standard home phone, the functionality needed in a guestroom phone is quite different from what you'd need at home for a few main reasons.
First, hotel phones must be connected to your central PBX system, which allows your front desk or PBX operator to transfer calls from the main hotel line to a guestroom phone and to allow guests to easily call other rooms or hotel departments. Standard home phones aren't built for this. In addition, a regular home phone has a pretty simple keypad with numbers and some buttons to access voicemail, call waiting, and conference functions. A hotel phone will usually have additional buttons that serve as shortcuts to call the front desk, restaurant, spa, 911, and other frequently dialed numbers. Also, home phones usually get pretty light use, while hotel phones are picked up by hundreds of people each year, so they need to be much more durable.
Key Features of Hotel Phones
Now that you know what makes hotel phones different from your average home phone, let's review the most important features to look for as you shop around for hotel phones:
Compatibility with your PBX system: This is a big one if you're upgrading your existing hotel phones. You'll want to make sure the new phones are compatible with your system. 
Guest service keys: These are the buttons marked "front desk," "restaurant," "valet," and such. Phones designed especially for hotels will usually have these buttons, and you'll be able to program them to connect callers with the respective departments.
Phone jack connection: Not all phones use a phone jack for connectivity today, so if you want your phones to plug into a wall jack, make sure to double check that the phone is set up for that type of connection.
VoIP connection: If a phone does not use a phone jack, it probably uses the internet to make and receive calls. This type of connection is called VoIP (voice over internet protocol), or you might see it referred to as SIP (session initiation protocol).
Speakerphone: Not a necessity, but guests will definitely appreciate being able to take calls or wait on hold hands-free. Plus, some guests feel uneasy putting a handset near their face that many other guests have touched, so if speakerphone is available, they can make and answer calls without picking up the handset.
Battery power: In case of a power outage, it's important that guests can still make calls. If your phones are cordless or connected via wifi, then you need a backup option in case power is lost. 
USB ports: Since phones are located on the nightstand or desk in many guestrooms, it's a nice convenience if your phone has a couple of USB ports that guests can use to charge their devices.
Customizable faceplates: Don't forget that your hotel phones can be a brand touchpoint; many hotel phones have customizable faceplates that can accommodate an insert that shows your logo, hotel name, website URL, or any other branding you wish to highlight.
The Leading Hotel Phone Brands and Products
Let's take a look at a few hotel phone brands and models that are top picks of many hotels across the country. These phones are highly regarded for their features, design, and value.
Teledex is one of the most popular brands of hotel phones, and they offer several different models. The company started in 1982, but their phones range from classic to contemporary. The Teledex Diamond model is the most popular hotel phone in use today, with about 5 million devices in hotel rooms around the world. It's a corded, analog (phone jack connection) phone with some basic features like guest service keys and voicemail retrieval, making it a solid value-oriented choice for hotels.
A subsidiary of Teledex, TeleMatrix offers higher end phones that are more design-forward than the traditional Teledex phones. The 9600 series is the most popular cordless phone in the world, and it has a minimalist design and analog or VoIP functionality. TeleMatrix also has a Retro line of phones with a rotary-style aesthetic that would fit right in at a historic hotel.
If you're looking for something sleek and stylish, VTech is another industry leader that makes both analog and VoIP phones. VTech's phones are constructed with antibacterial plastic that kills over 99% of bacteria, so they're a great choice today when hygiene and sanitation are such a focus. If you're short on space, VTech's Petite line of phones is designed with a smaller footprint perfect for nightstands. Most of VTech's phones have USB ports for added convenience, and they offer both corded and cordless options that are Energy Star certified, so you don't need to worry about the phones driving up your electricity bill.
Hotel Phone Alternatives
Hung up on your phone-purchasing decision? Perhaps traditional phones aren't the best or only solution for your unique property. While some local regulations stipulate that you must have a landline in each hotel room, you might also want to consider some phone alternatives that can further enhance the guest experience, such as:
Tablets. These handheld devices can let guests set the temperature, turn on the hospitality TV, order room service, control lighting and curtains, and more, all with just a few taps. Suitepad, Crave, Betterspace and INTELITY are some of the most popular tablet providers for hotels, and their devices offer integrations with over 150 complementary systems, like your PMS, CRM, or ticketing system. 
Smart speakers. Voice-powered speakers like Amazon's Echo give guests the option to contact the front desk, check the weather, or play music by saying "Hey, Alexa." In addition, these speakers have Bluetooth functionality that let guests stream music from their phones or laptops.
Bring-your-own-device apps. If you're not keen on adding more electronics to your guestrooms, perhaps a bring-your-own-device system is the right solution. Guest messaging software like ALICE and Whistle let guests communicate with hotel staff (and vice versa) without downloading an app.
Whether you're adding new phones, upgrading, or looking for some functionality beyond what the standard handset provides, choosing the right communication tools for your hotel has the power to improve guest review scores, boost efficiency, and even decrease costs.