Transform High-Touch Hotel Service into a Touchless Experience
By Renz Ganaban
Last updated October 28, 2022
4 min read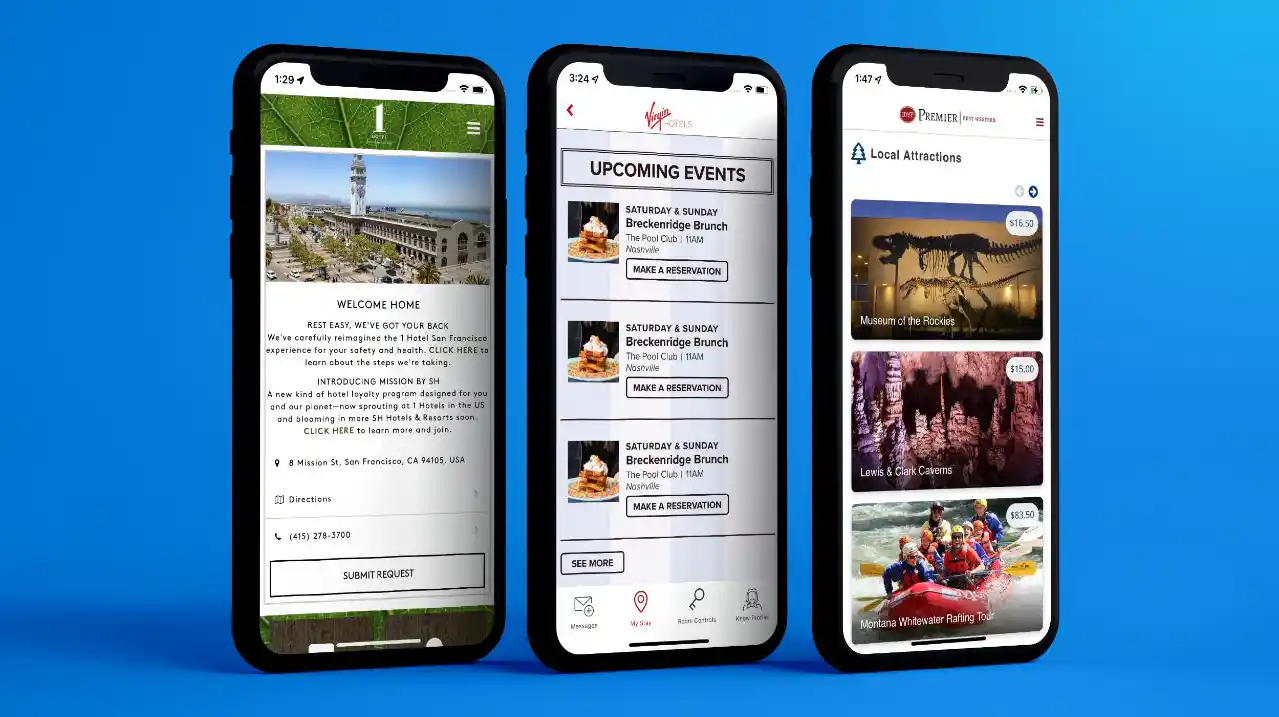 "Revenge travel" is on the rise. Although there's no standard definition yet for the term, the phrase is catching on among industry professionals who use it to describe the big increase in people wanting to make up for travel experiences lost to the pandemic. But today's travelers have new expectations. 
According to a new study by Oracle Hospitality, nearly three-quarters (73%) of post-pandemic travelers want to eliminate the "touch" from the high-touch industry they once knew. Instead, they now prefer to use their personal devices to manage as much of their hotel experience as possible. In fact, that same percentage of travelers agree that they're more likely to stay at a hotel offering self-service technology that lets them minimize contact with the staff and other guests.
An easy way for hotel operators to make this transformation, is through implementing a web application. Web apps can be launched quickly because you only need internet connection. And unlike native apps, you don't need to create multiple versions for different device operating systems, so they're easy for guests to use, as well as simple to maintain and update. The touchless experience that web apps enable not only enhance guest satisfaction but simultaneously lighten the workload on your staff.
On-the-Go Breakfast with a Custom Touch
Food-and-beverage (F&B) service has always shaped an essential part of the hotel guest experience. Today however, where the breakfast buffet once reigned supreme, grab-and-go options have risen to take its place. In a pre-pandemic survey by Culinary Visions, 62 percent of travelers stated that they'd consider purchasing fresh grab-and-go meals from a hotel marketplace. Along with the trend toward contactless hotel experiences, demand for breakfast-on-the-go is only increasing.
 Rather than handing guests generic breakfast bags, however, consider employing a web app to deliver a contactless yet customized solution that will delight your guests while involving very little effort from your staff. Through the app, guests can view your grab-and-go menu at their convenience, and order their preferred breakfast items in advance. Your hotel gains efficiencies because kitchen staff can see all the orders in one place, secure necessary supplies based on demand and plan ahead for order fulfillment. Team members are no longer running around at the last minute, and your early-bird guests are walking out the hotel door feeling pleased that their specific needs have been met.
Simplify F&B Ordering
In addition to rising demand for breakfast-on-the-go, the average person has two food delivery apps and uses them three times per month. Furthermore, over half of your guests consider the ease of online F&B ordering a key factor in whether to choose your on-site restaurant over another one. As people grow more comfortable with technology and the hospitality industry continues its shift toward a "low-touch economy," mobile ordering is becoming an integral part of the hotel F&B experience.
By letting guests place F&B orders via a web app using their personal smartphone or web-enabled device, you're satisfying guest expectations and making team members' jobs easier. Digital ordering removes time-consuming steps such as lengthy phone calls to take down food orders, delivering those orders in a timely manner, as well as managing and settling bills in various locations like the lobby, lounge area, guest rooms, casino, or poolside cabanas. In addition, you improve order accuracy because guests are communicating directly with kitchen staff.
Mobile ordering via a web app can also automate tailored upsell and cross-sell offers – boosting incremental revenue – by promoting specific wine pairings, appetizers, or desserts to accompany an entrée choice. Research shows that guests may order up to 20 percent more via mobile ordering. An app can also keep track of popular orders and peak ordering times, allowing management to plan ahead and effectively promote those menu items that deliver higher profitability. And GPS tracking allows staff to expedite food delivery to guests at any spot around your property.
Reservations On Demand
Although demand for mobile ordering is increasing, many of your guests still enjoy the restaurant dining experience. But they don't want to hassle with phone calls or face-to-face interactions with hotel staff in order to make a reservation.
According to a Customer Engagement Technology Study, 53 percent of your guests want to be able to make their restaurant reservations online. They prefer this contactless option because it gives them more control, offering the freedom to plan in advance and make reservations whenever the mood strikes, day or night. 
A web app's automated system eliminates reservation errors like accidental double bookings that can happen when you have busy front-of-house (FOH) and restaurant staff separately handling guest phone calls. In addition, rather than staff members dealing with back-and-forth conversations regarding special requests, guests can simply add notes to the system. So, when guests arrive, servers can offer a more personalized experience because they're already aware of specific dietary restrictions, or they can have that special bottle of wine uncorked and waiting on the table.
Automate Transportation Services
Many travelers consider complimentary hotel shuttle service an important benefit when traveling to a new city. Whether using it for airport transfers or as a free ride to local sites, this amenity can play a role when guests compare one hotel to another. One of the biggest frustrations for both guests and staff is locating and waiting for the shuttle. Team members are often stuck dealing with phone calls from frustrated guests, while guests may struggle to find the correct pick-up location, or find themselves waiting outside in inclement weather, wondering when the shuttle will arrive.
A web app simplifies the entire process by offering real-time shuttle tracking and scheduling. It reduces confusion by giving everyone with a web-enabled device the ability to see exactly where a shuttle is located along with its estimated arrival time. And if hotel shuttle pick-up locations are difficult to find at your airport, your web app can easily include a digital map that details the precise location and what the shuttle looks like. 
For on-demand shuttle service, an in-app scheduling feature provides safe, contactless communication between guests and drivers, allowing the service to adjust quickly to special demands, such as group travel for a specific number of people.
The Convenience of a Digital Guest Directory
Your guest-facing staff often answers the same questions from guests, over and over, day after day. When you include an interactive digital guest directory in your web application, you create a touchless solution that puts the information and answers to guests' needs at their fingertips. You also make team members' lives easier by removing the need for guests to constantly approach them with repetitive questions.
Your digital guest directory can include key phone numbers, FAQs, maps, menus, and detailed information on local activities and hotel amenities. You can also spotlight special offers and services, helping to increase ancillary revenue. The interactive format of a web app lets guests book amenities like spa appointments on their own, further easing stress on your FOH staff and satisfying guest demand for contactless solutions. Furthermore, because the directory is digital, information is available around the clock and changes can be easily updated in real-time.
Another benefit of a digital directory is that it's a more sustainable solution than a physical directory. Research from Booking.com revealed that 83 percent of travelers feel sustainable travel is vital. A digital directory helps hotels meet this demand while also eliminating the need for staff to print and disburse vast amounts of flyers and brochures.