Hotel Front Desk: Here's What it's Like to Work This Job
By Jordan Hollander
Last updated October 24, 2023
7 min read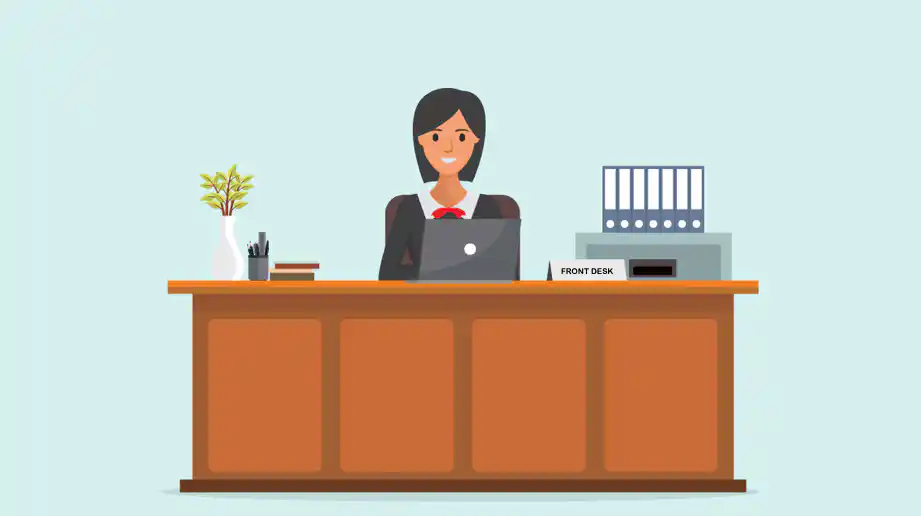 A front desk agent is one of the most important jobs at any hotel, but what's it really like to work as one? As a front desk agent, you're the first person to welcome a guest to your hotel and the last one to bid farewell when they leave, so you're responsible for the crucial first and last impressions as well as delighting guests throughout their time on property. If you're curious about working as a front desk agent, then you've come to the right place. In this article, we'll dive into the tasks and responsibilities of a front desk agent, how to apply for a front desk role, and what career paths you can take after working as a front desk agent.
Key Responsibilities of Hotel Front Desk Agents
First and foremost, a front desk agent is responsible for assisting guests with whatever they may need - with a smile and a friendly attitude. Front desk agents are the "face" of the hotel, and even when dealing with tricky situations, they must maintain a high standard of guest service. Beyond helping with guest requests, front desk agents answer phone calls and respond to emails from guests and other hotel departments, and they process check-ins and check-outs, which includes charging credit cards and reconciling guests' bills. Front desk agents may also create and modify reservations, provide local recommendations, book restaurant or activity reservations for guests, field complaints and perform service recovery, and come up with creative solutions for problems that may arise. Additional responsibilities might include training new front desk agents, helping with guests' luggage, responding to guest reviews, and collecting payment for retail items.
A Day in the Life of a Hotel Front Desk Agent
Front desk coverage is typically divided into three shifts: the morning shift runs from roughly 7am to 3pm, then the afternoon shift comes in from 3pm to 11pm, and the overnight, or night audit, shift lasts from 11pm to 7pm. The three shifts have some key differences, like the morning shift handles check-outs while the afternoon shift handles check-ins. Night auditors do important reconciliation and reporting tasks at the close of the day, usually around 2am.
Let's take a closer look at a typical morning shift at the front desk:
6:45am: Arrive at the hotel and change into your uniform.

7:00am: Clock in and pick up your cash drawer (called a bank).

7:05am: Receive a debrief from the overnight shift, which can include pending guest requests and a summary of anything noteworthy that happened during the night shift.

7:15am: Follow up on any urgent items that night audit passed to you and make some wake-up calls.

7:30am: The night auditors clock out, leaving the morning shift to run the front desk for the first part of the day.

7:40am: Field some incoming calls from guests requesting assistance with their luggage as they check out.

7:45am: Handle your first of many check-outs for the day.

8:00am: Answer the phone and respond to emails whenever you have downtime.

8:20am: Assist a guest with lunch reservations at your restaurant.

8:45am: A groggy traveler who just got off a red-eye flight asks if he can check into his room early, so you move some pre-blocked reservations around to free up a room, and you grant him a complimentary early check-in.

9:20am: Share your top recommendations with a guest who inquires about a good coffee shop nearby.

10:20am: Quickly check guests out because a line is starting to form; check-out is at 11am, so this is peak check-out time.

11:30am: Catch your breath after a whirlwind of check-outs. Oh no, you realize that a guest left his suitcase in the lobby! You quickly check the name on the luggage tag, find his phone number in your property management system, and call him. Thankfully, he's only a few minutes away and can turn around to pick it up on the way to the airport.

12:00pm: Lunch time! You get a 30-minute lunch break, and hopefully there are some leftovers from the breakfast event in the ballroom this morning!

12:30pm: Hurry back up to the front desk to relieve one of your coworkers, who is about to take her lunch break.

12:45pm: Assign the rest of tonight's reservations into available rooms, which will speed up the check-in process for your colleagues on the afternoon shift.

1:15pm: Pick up the phone and book a reservation for a guest who couldn't recall which room type he booked last time he stayed at your hotel; you were able to look up his reservation history and book the same room for him again with an internal "do not move" note on his new reservation so he's guaranteed his favorite room. 

2:05pm: Two guests approach the desk and ask how to get reservations at the most popular restaurant in town. Good thing you know the hostess from the popular industry night event that the bar down the street holds every Monday. You call her, and she can shuffle things around to squeeze your guests in tonight. Your guests are thrilled!

2:40pm: The bell staff is busy, so you jump in and help a guest who needs to pick up the luggage she stored for a few hours.

3:00pm: The afternoon crew arrives, and you give them a recap of the morning shift and leave a list of a couple guests who are waiting for their rooms to be ready.

3:20pm: Count your bank and tidy up your area of the front desk.

3:30pm: Clock out. Another shift is done!
Applying for a Front Desk Agent Job
A front desk agent job is an excellent way to get into the hotel industry because it's an entry-level role and often requires no prior hotel experience. Luxury hotels may seek candidates with prior front desk experience, but most hotels are simply looking for someone with passion for hospitality, good communication skills, and problem-solving abilities. If you've worked in restaurants, retail, or some other customer-facing job, then you are an attractive candidate for a front desk role.
Hotels usually post front desk agent jobs on their career websites, and the easiest way to apply is often through the hotel's own career site or through a job board like Indeed or LinkedIn. If you're so inclined, you could also visit the hotel and apply in person. If you apply in person, remember to bring a copy of your resume and cover letter to leave with HR. You'll likely have to pass at least one interview to get the job, likely with a front desk supervisor or manager, and perhaps with a Director of Rooms or even a General Manager if you're applying to work at a higher-end hotel. Be prepared to provide references, and some hotels might require a background check or a drug screen before you can start working.
Sample Front Desk Job Description
The Guest Service Agent is responsible for delivering excellence in guest service by developing relationships with guests, providing personalized service, and anticipating and delivering guests' needs by providing prompt and courteous service. They will report to the Director of Front Office and follow the hotel's high standards of greeting and registering guests, in addition to accurately closing their guest account. The ideal candidate for this position has sharp attention to detail, excellent recall and follow up, and is able to multitask ever changing demands. They must be a highly communicative, meticulously organized team player who possesses a positive, problem-solving attitude and a passion for innovation.
QUALIFICATION STANDARDS
Essential Functions:
Greet and welcome all guests approaching the Front Desk in accordance with hotel standards.
Maintain proper operation of the PBX console and ensure that all hotel standards are met.
Answer guest inquiries about hotel services, facilities and hours of operation in a timely manner.
Ensure logging and delivery of packages, mail and messages to guests and meeting rooms.
Review Front Office log and Trace File daily, auctioning any outstanding items.
Answer inquiries from guests regarding restaurants, transportation, entertainment, and other concierge related items as necessary.
Follow all cash handling and credit policies as established by Refinery Hotel.
Be aware of all rates, packages and special promotions offered by the hotel.
Be familiar with all in-house and arriving groups.
Obtain all necessary information when taking room reservations and follow the rate-quoting scenario, including individual and group reservations.
Be familiar with hospitality terminology.
Have knowledge of emergency procedures and assist as needed.
Handle check-ins and checkouts in a friendly, efficient and courteous manner.
Use proper two-way radio etiquette at all times when communicating with other employees, wearing an earpiece at all times.
Fully comprehend and be able to operate all relevant aspects of the Front Desk computer system, including but not limited to: Opera PMS, HotSOS, Kipsu, Revinate, nor1, Recharge, Expedia Partner Central, Digital Alchemy, etc.
Be able to perform and complete all tasks and duties on the shift checklist in a timely and efficient manner.
Be able to complete bucket check, room rate verification, and housekeeping discrepancy reports.
Post and reconcile Mini Bar, Laundry, and Valet Parking Charges on a daily basis.
Balance and prepare individual paperwork for closing of shift according to hotel standards.
Maintain and market promotions and guest engagement programs.
Assist with delivery of VIP amenities to guest rooms.
Maintain a clean work area.
Physical Requirements:
Due to the cyclical nature of the hospitality industry, employees may be required to work varying schedules to reflect the business needs of the hotel.
Considerable repetitive motion of hands and wrists as it relates to the use of computer keyboards is possible.
Light work - Exerting up to 20 pounds of force occasionally, and/or up to 10 pounds of force frequently or constantly to lift, carry, push, pull or otherwise move objects.
Ability to stand during entire shift.
Other Requirements:
Maintain regular attendance in compliance with Hotel Standards, as required by scheduling, which will vary according to the needs of the hotel.
Comply with Hotel Standards and regulations to encourage safe and efficient hotel operations.
Maximize efforts towards productivity, identify problem areas and assist in implementing solutions.
Must be able to understand and apply complex information, data, etc. from various sources to meet appropriate objectives.
Must be able to cross-train in other hotel related areas.
Must be able to maintain confidentiality of information.
Must be able to show initiative, including anticipating guest or operational needs.
Perform other duties as requested by management.
Must be able to work at least two two overnight shifts.
Education & Experience
College course work in related field helpful.
Experience in a hotel or a related field preferred.
High School diploma or equivalent required.
Computer experience required.
Ability to read, listen and communicate effectively in English, both verbally and in writing.
Ability to access and accurately input information using a moderately complex computer system.
Hearing and visual ability to observe and detect signs of emergency situations.
Grooming Requirements:
Maintain high standards of personal appearance and grooming, which include wearing the proper uniform and hotel branded pin (specific standards available).
This job description is not intended to detail every aspect of your job or list every task you may perform. It is provided as a general overview of the responsibilities and skills required to do this job successfully.
Pay: From $24.00 per hour
Benefits:
401(k)
401(k) matching
Dental insurance
Employee assistance program
Flexible spending account
Health insurance
Health savings account
Paid time off
Retirement plan
Vision insurance
Schedule:
Hotel Front Desk Career Paths
Maybe a front desk job sounds compelling for now, but you don't want to work behind the desk forever. What possible career paths can you consider? One of the most popular career tracks for front desk agents is to work up the ranks of the front office department. After working as a front desk agent for a while, you might get promoted to a front desk supervisor, then a front office manager. Some front office managers aspire to become a Director of Rooms, which oversees both Front Office and Housekeeping, so it's not uncommon for front office managers to work for a year or two as housekeeping managers to gain a better understanding of that department before getting promoted.
But some front desk agents decide the front desk isn't for them and transfer to a different department, like sales or finance. Or perhaps a front desk agent wants to transfer to a different hotel or brand, which is quite common, and the big hotel companies make it easy to transfer from one Hilton to another, for example. And some front desk agents decide at some point that working in a hotel isn't the right fit; luckily, many of the skills you build as a front desk agent, like problem solving and communication skills, are transferable to a variety of different industries.
If you choose to become a front desk agent, you'll find that it can be a rewarding job with the potential to develop into a long career in the hotel industry. You'll meet fascinating people, collect interesting stories, and make memories that will last a lifetime - all while gaining valuable skills and building your personal network.