Hotelogix: Everything You Need to Know About Its Hotel Management System
By Jordan Hollander
Last updated January 26, 2022
7 min read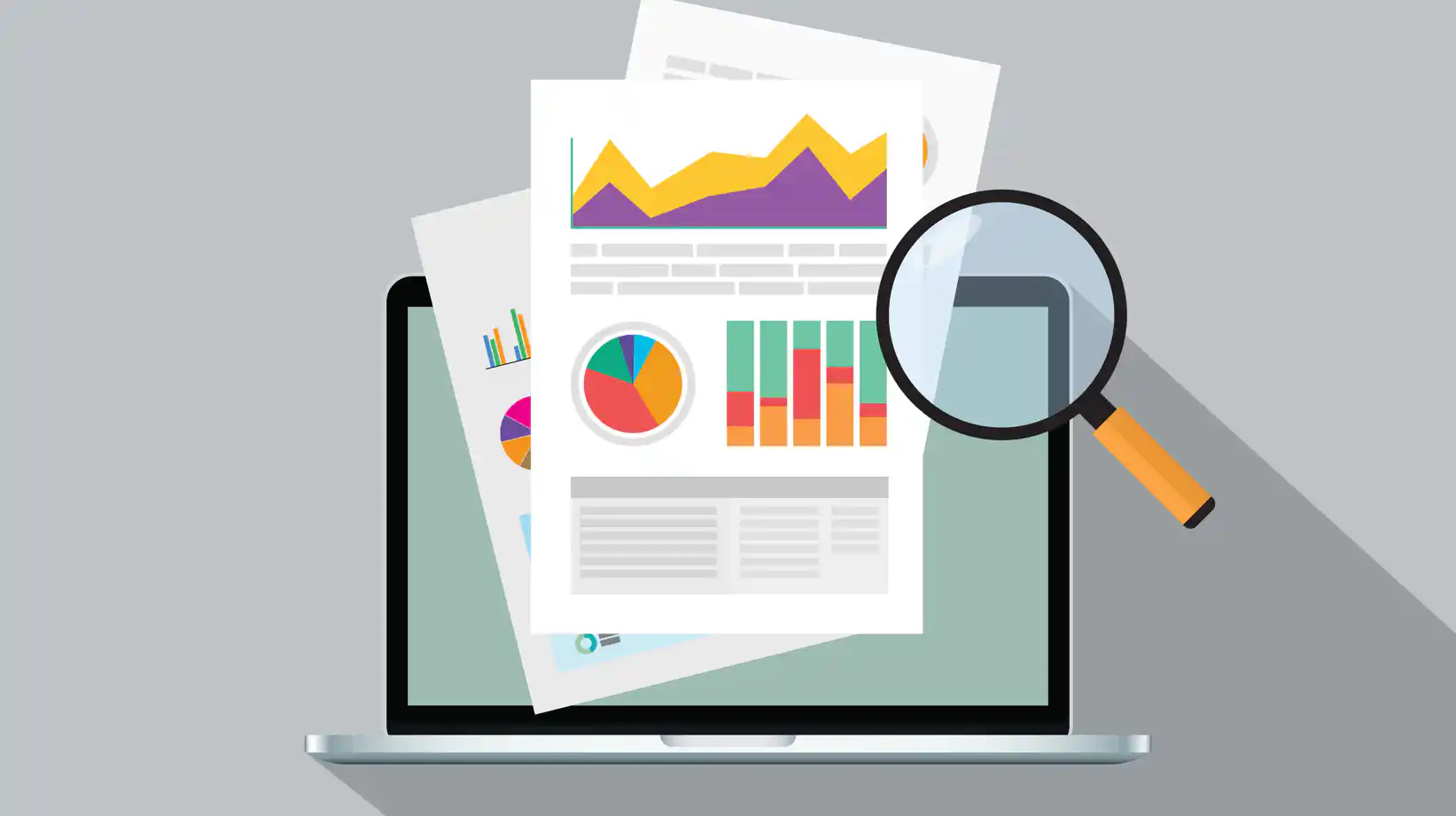 An all-in-one hotel management system (HMS) packs a lot of functionality into a single solution and Hotelogix is one of the most popular chosen amongst the HTR community. We know that researching and vetting HMS vendors is extremely time consuming so we've done some of the work for you.  We've interviewed Hotelogix clients, researched the product and synthesized dozens of verified customer reviews into the analysis below.
Let's dive in.
For small-to-midsize properties, as well as certain chains and resorts, an HMS often makes sense because it streamlines the overall hotel operation. From back office to bookings, housekeeping to channel management, the best hotel management system helps hoteliers prioritize tasks, manage staff, expand distribution and analyze performance, all from the same place.
There are three main benefits for selecting a single vendor for your hotel management needs:
Accuracy. An all-in-one solution plays well together, which means that data is accurately and quickly shared.  choosing multiple vendors can lead to data-related issues, which can cause errors when data doesn't match up or syncs slowly.

Complexity. Managing multiple vendors means multiple contracts, multiple logins, and multiple interfaces. This dramatically increases back office complexity, and requires more training to on-board new staff on multiple tools.

Cost. Selecting multiple vendors a la carte may actually increase your costs, whereas a single vendor offers complete functionality at a more favorable rate.
When evaluating a hotel management system for your hotel, consider Hotelogix HMS, the second-most popular HMS vendor on HotelTechReport. Thanks to consistent high ratings on ease-of-use, implementation, ROI and customer support, Hotelogix HMS maintains an average 4.1 rating with verified customers, as well as a 98% recommendation rate. Here's a complete overview of everything you need to know about the Hotelogix approach to hotel management software.
What Hotelogix Does: An All-in-One Hotel Management Solution
Hotelogix pulls together everything you need to run your hotel into its cloud-based hotel management system:
Working together, these individual components simplify operations, create more revenue opportunities and increase reach so that hotels can operate more profitably.  
Who Hotelogix Is For: Small to Medium-Sized Hotels, As Well as Resorts and Smaller Chains
The majority of Hotelogix's customers are smaller independents. This includes bed-and-breakfasts, city hotels, and serviced apartments. Given the all-in-one nature of the software, some properties find that the functionality is still a bit more than is necessary, said one GM in a recent customer interview conducted by HTR:  
"A good solution for small to mid-sized properties. We chose Hotelogix because it is cloud-based and an affordable system with excellent support. We all think it is very easy to use. There are an overwhelming amount of functions, however. We do not use many of them because we are not a large-scale hotel."
That same operator also pointed out that Hotelogix is a solid choice for properties on a budget, saying: "The cloud-based aspect is important, every new staff is able to use it with their own laptop. It saves a lot of time and budget for our daily operations." Another reviewer echoes this sentiment, saying that the Hotelogix HMS is as "as simplistic or complex as you need it to be" and provides "great value for the small operator."
That's not to say that Hotelogix  doesn't offer robust tools for those with more complex needs, such as resorts and multi-property operators.
For resorts, the company offers a flavor of its software as a resort management system. Resort-specific functionality include a Rates & Package manager for bundling and rate management, automatic assignment of airport pickups, quick check-ins for groups and the inclusion of guest meal plans in F&B point-of-sale. This helps resort operators tailor their offerings to each guest in advance of their stay and then delivering those offerings via a consistent on-property guest experience.
How Hotelogix Fits Into a Multi-Property Management Scenario
For multi-property operators, Hotelogix has a specific set of functionality that centralizes operations into a single platform. These features include a central reservation office, group revenue management tools, profile management for corporates and travel agents, and cross-property guest profiles. Reports can also be pulled across the properties, providing that higher-level view of portfolio performance. Given the price of more enterprise-grade solutions, such as Oracle Hospitality, Hotelogix is a good value.
Also: Hotelogix has a global footprint of customers in over 100 countries who use the software in one of its many available languages, such as French, Spanish, Portuguese, German, Russian, Arabic, Thai and Turkish.
Why Hotelogix: Notable Features For Hoteliers
In addition to the property type specific functionality mentioned above, the Hotelogix all-in-one platform has some essential features that set it apart from competing hotel management solutions:
Run your hotel on the go with a complete hotel management solution in the palm of your hand.
The Hotelogix mobile hotel app brings together check-in, checkout, housekeeping and F&B ordering into a convenient interface for operators. This untethers staff from desktop computers and reduces hardware costs for those operators looking to allow staff to use their own devices. 
With the app, staff can create room reservations, scan guest IDs to capture details easily, check guests in and out, Assign and track housekeeping tasks, manage F&B outlets, settle folios, and access reports.  For chains, the app can also be used to manage multiple hotel properties, so no matter where you are, you can maintain control and visibility.
TripConnect's deep integration with TripAdvisor drives direct bookings through reputation management and digital marketing.
TripConnect, Hotelogix's hotel distribution software, features a two-way sync with TripAdvisor so you can automate review collection and drive direct bookings via advertising. To automate reviews, Hotelogix integrates with TripAdvisor Review Express so that you can send automated review collection emails to recently checked-out guests, and then monitor those reviews from your Hotelogix PMS.
To drive direct bookings via Hotelogix's TripConnect campaigns, you can display your hotel's rates and availability and capture commission-free bookings either by cost-per-click or pay-per-booking. The integration of TripAdvisor digital marketing simplifies the process and makes it easy to capitalize on TripAdvisor demand.
Frontdesk PMS software helps you stay on top of guest communications with automated SMS outreach and database decluttering
Multi-channel guest messaging shouldn't be reserved for only the major brands. Hotelogix's Frontdesk PMS allows your hotel to communicate with guests and the channels they prefer, such as text messages. The automated messages can be sent at whichever stage of the guest journey you prefer: on reservation creation, modification, cancellation, check-in, checkout, or even post-stay, for special occasions like birthdays and anniversaries.
Hotelogix also helps verify guest information, such as phone numbers and emails, so that your database remains accurate and uncluttered. That way, when you pull data from your PMS to do email marketing or to create look-a-like audiences for digital marketing, you'll have the  most accurate information possible.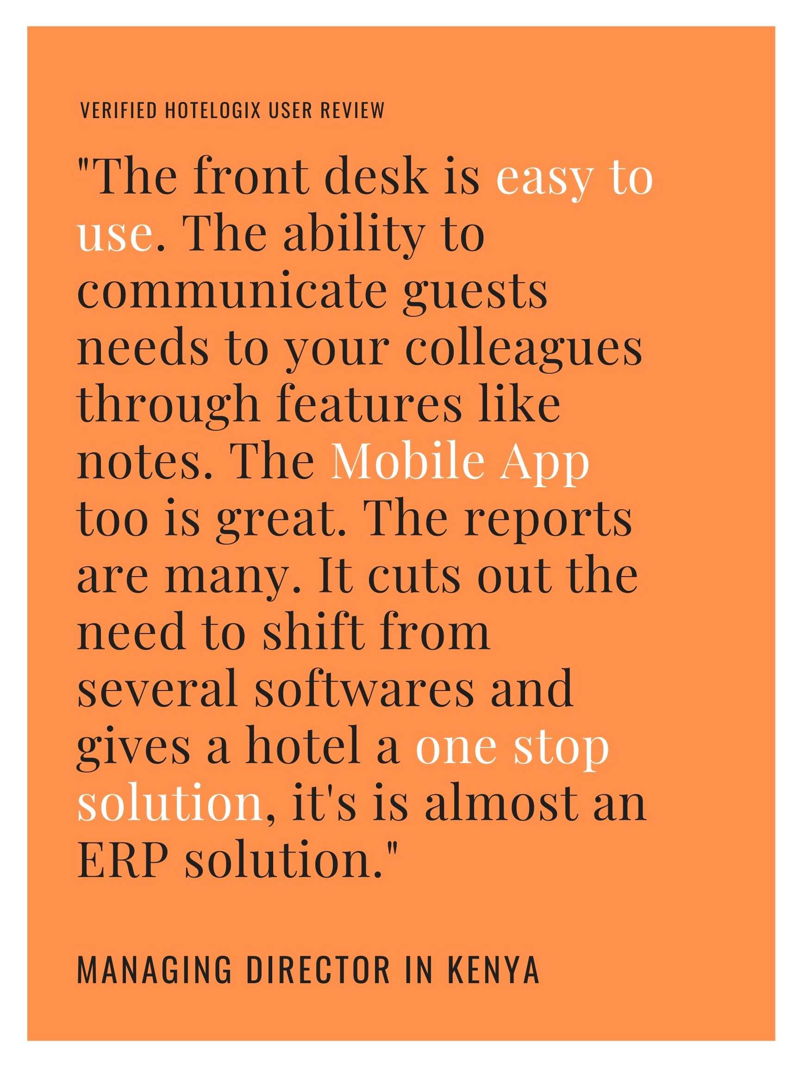 Read more reviews of the Hotelogix HMS
A marketplace that connects your favorite tools into the HMS
While some hotels may get everything they need within the Hotelogix HMS, others may want to connect other technologies to perform certain functions. To facilitate this customization, Hotelogix launched its Marketplace of third-party services that work together seamlessly. These integration partners include revenue management tools, such as BEONPRICE, business intelligence platforms, such as Snapshot, and reputation management platforms, such as RepUp, among others. To explore more, we've broken down which Hotelogix Marketplace Partners work best for hotels of different sizes.
Intelligent housekeeping module keeps your rooms organized and accurately allocated, all with the PMS
Rather than relying on separate housekeeping software, Hotelogix customers can use the integrated housekeeping module to assign tasks, close out rooms for maintenance, and set up automations to avoid putting a guest in a dirty room. The module syncs with the PMS so management can consult color-coded room status information to build each day's daily list of tasks. This streamlines cleaning and reduces the time it takes to prioritize staff resources.
For room allocation, the Dynamic Room Allocation manager ensures that the best available room is allocated to each guest by analyzing available inventory alongside parameters such as housekeeping status and room occupancy. By doing this automatically and in real-time, your staff can check-in guests more quickly and without potentially embarrassing mistakes. 
Hotelogix: Pros and Cons According to its Customers
As the second most popular hotel management system on HTR, Hotelogix has garnered 45 reviews from hoteliers across the property type spectrum. Between these reviews, and an in-depth user interview conducted in fall 2019 with an independent operator, here are the pros and cons according to verified Hotelogix customers.
Hotelogix Pros:  
"Easy to maintain or update allotments of rates to OTAs" 

"Tab display for different reservations within the main calendar page"

"For overbookings from OTAs, they will notify in a timely manner, and those failed reservations can be managed and re-pushed once allotments are open."

"The customer service is the best. Never need to wait for responses and can trust they will work on whatever issue you have."

"They are constantly improving the product by adding new helpful features."
Hotelogix Cons: 
Cluttered interfaces and a "booking engine that's not that intuitive for guests" with "many mismatches in rates between what the guest sees and what's actually being offered."

For smaller operators, there is "Almost too much functionality. When we train new employees it takes 2-3 weeks to ramp them up because there are so many functions and certain ways to input information."

"It takes time to implement integration with new software."
Getting Started with Hotelogix HMS
For hotels interested in trying Hotelogix before committing, the company offers a 15-day free trial, no credit card needed. Beyond that, the HMS is offered on a per room/per month basis depending on the desired functionality: Premium, Premium Plus, or Platinum. Each tier also has a minimum billing threshold so smaller properties should take note. Multi-property operators will need to contact sales for a custom quote.
On the  support side, customers do mention good things about Hotelogix's support staff. While the company has not completed HTR's Verified Customer Support Certification, Hotelogix does offer 24/7 support that one hotelier called "Amazing," explaining further that the "Best thing is when you send a request to tech Support Team, within a Min. they reply (NOT Auto reply)." Another reviewer called the team "professional" and always available to sort any issues."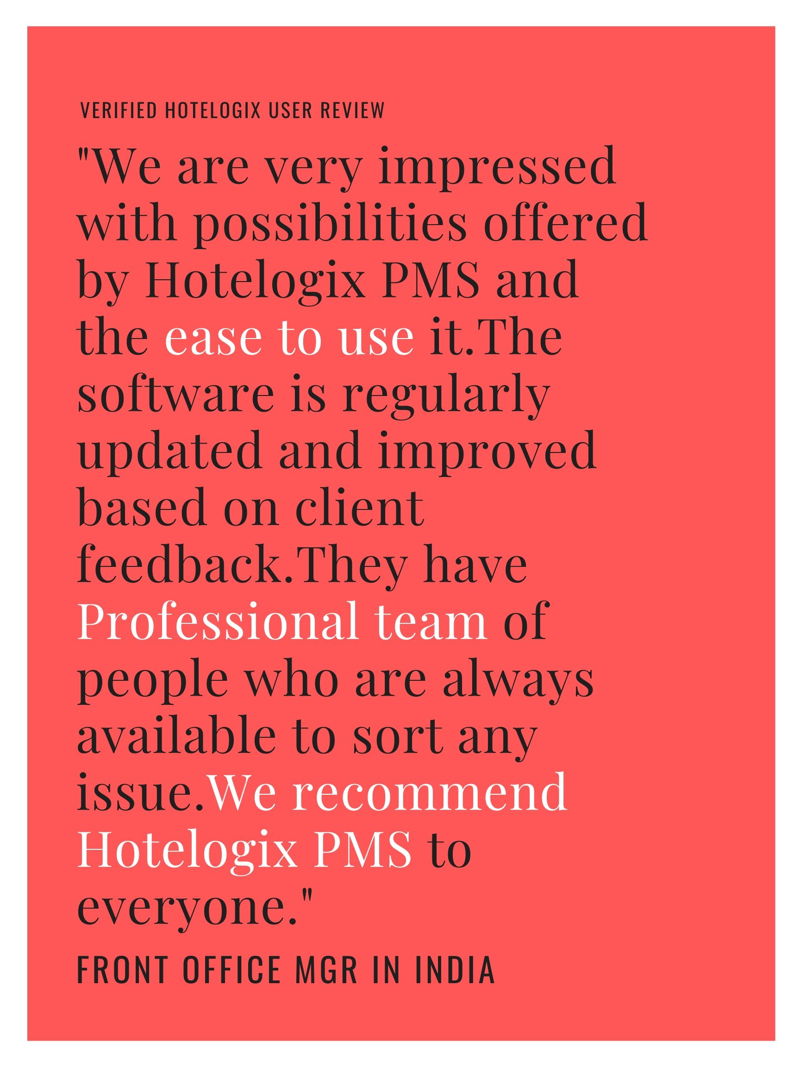 Read more reviews of the Hotelogix HMS
Conclusions: Should You Choose Hotelogix?
For smaller properties looking for competitive functionality at a reasonable price, Hotelogix is likely to be a great fit. As we've seen, it may even provide more than you're looking for. Even so, having unused functionality could be the incentive you need to start exploring new ways to integrate technology into your independent operation.
For larger properties, there's some serious value to the enterprise-level version of Hotelogix. It may not be the prettiest or most intuitive interface, but it gets the job done by providing essential functionality without breaking the bank. In these cases, Hotelogix may work best alongside a dedicated business intelligence tool and revenue management system. That way you get the advantages of robust reporting and analytics, alongside the core hotel management functionality. 
One final note: Be sure to take the time to evaluate all available solutions in the hotel management system category. When asked to share advice for a newcomer, one hotelier interviewed by HTR had this recommendation:
"Evaluate all functions you need (like channel manager, booking engine, financial support, etc.) before you make the decision."
That's excellent advice which is a best practice when evaluating any options in hospitality technology. Invest the time to read relevant reviews, talk to colleagues, and test solutions. Finding the best solution for your hotel is well worth the time it takes to yield the best result: a piece of technology that fulfills its promise to make your life easier, earn you more money, improve guest satisfaction, or make your operation run more smoothly.