How to Destroy Guest Relationships: Make them Download Your Hotel App
By Hotel Tech Report
Last updated January 26, 2022
6 min read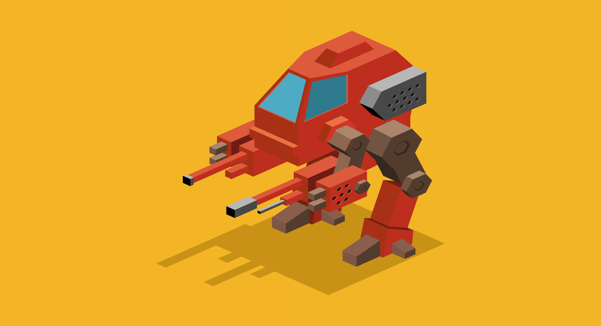 There are more than 2.1M apps in the Google Play app store. Guess how many mobile apps the typical U.S. smartphone user downloads each month?
The answer will shock many of you: zero. 51% of U.S. smartphone users say they download zero apps each month (on average). That's not to say that mobile apps are dying, it just means that users rarely download an app unless it provides utility (and value). Why aren't they downloading? Well, finding and downloading mobile apps is a pain in the butt.
The majority of app usage (i.e. time on device) goes to social media, music, video and gaming. Apps made by hotel brands like Marriott are popular; however, independent hotels rarely produce mobile experiences that are compelling enough to be considered a top travel app.
Hotel apps do none of these things yet somehow the lion's share of hoteliers still believe their properties need a dedicated mobile app. Your guests don't want to download your hotel's app and they certainly don't want to book another room on said app while they're staying on property. Rather than just getting an app because you think you should, dive into the real use cases and you'll realize that tech like in room tablets and guest messaging are way better at serving some of those same guest needs without the barrier of a download.
"If you think about it, when was the last time you downloaded an app because your local supermarket suggested it? It's just too much of a hassle. Hotel apps are no different-the barriers in the way of usage are too high. Over the years, this belief has become less common, but we still hear it." ~Tilmann Volk, Founder of SuitePad
Hilton and Marriott's apps enjoy relatively high engagement rates but those are because of loyalty programs (i.e. high volumes of repeat bookings). It's important to highlight that these are NOT hotel apps, they are brand apps. With brand apps guests don't need to download a new app for each stay.
Further, even with those programs guests rarely use their apps in stay outside of the core use case highlighted by Hilton's 2018 Annual Report. That use case is mobile key (and check-in): Hilton guests downloaded 7.6 million mobile keys through the app in 2018. The only real incentive that moves the needle is mobile check-in/mobile key but even those are better suited in a download-free environment when possible.
App developers usually pitch hotels and hotel groups with stats like the ones below from MCD Travel:
80% of guests want to use their mobile device to browse hotel amenities

78% of guests want to use their mobile device to view local area maps

55% of guests want to use their mobile device to schedule a hotel taxi pickup

43% of guests want to use their mobile device to sync with the in room television
It's true that your guests bring their phones everywhere and are constantly using them for in destination functions but these statistics are making one key (and majorly flawed) assumption - that guests already have your hotel app on their phones.
If your guests want to search local maps or schedule a taxi, they've already got Google Maps and Uber/Gett/etc, so there's no need for your hotel to have an app that just routes them to those places.
The core guest needs that aren't already being met by apps they already have are things like: the ability to make requests (e.g. late checkout), order room service, connect with the concierge and control in-room entertainment (like Sonifi or Enseo), mobile key and mobile check-in.
So what options do hoteliers have to meet these needs and drive increased engagement on property? The two solutions that really hit the nail on the head are: guest messaging platforms and in room tablets.
Which of these solutions your hotel employs is really a matter of preference. Each has unique advantages and drawbacks.
Guest messaging is great because the medium requires no hardware and allows guests to communicate with staff wherever they are. The drawback is that messaging requires guest consent/active opt-in in today's hyper sensitive privacy environment so there will inevitably be guests who stay with you that do not access the service. All of those stats above support leveraging a guest messaging platform where guests can meet all those needs with an app they already have on their phones.
In room tablets are a great alternative for hotels to reach 100% of guests with in room tech. The physical form factor of a tablet digitizes in room folios which saves paper and time. Tablets are a great way for hotels to market services and amenities like bookable spa appointments, F&B offers and local tours to drive incremental revenue. Some tablet software vendors are getting extremely creative with data initiatives like time based offers to fill need periods in F&B outlets and real time dynamic pricing for room service.
SuitePad is one of Europe's leading guest room tablet providers working with brands like Ruby Hotels, Jumeirah and Falkensteiner. We sat down with SuitePad founder Tilmann Volk to discuss the future of guest engagement, why hotel guests don't want to download apps and more.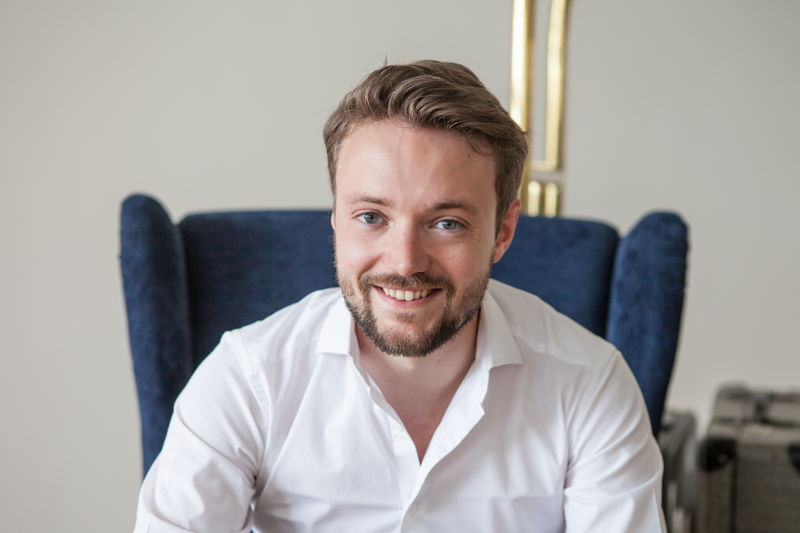 SuitePad founder Tilmann Volk
What was your background prior to starting the company?
We started SuitePad coming almost directly out of university. Aside from a few months of professional experience in a different startup right before SuitePad, I learned everything here.
My co-founder Moritz, and I were both at a crossroads of sorts in our lives. We had stayed friends after leaving university and had both recently moved to the buzzing city of Berlin, each working on other things. I think we both felt the urge for a change and started brainstorming concepts and tinkering on ideas after work.
At the time, in 2012, the tablet-PC market for consumers was just taking off. We saw the opportunity to take a consumer technology and bring it into a B2B context. That it was going to be hotels we were serving, wasn't immediately clear to us. We just saw the technology without understanding how to best employ it. When we spoke to hotels, it clicked. Digital guest engagement was still a very young field and we were keen on shaping it.
Who was SuitePad's first customer?
One of the very very first hoteliers we talked to was Erich Falkensteiner from Falkensteiner Hotels and Residences. He's been a leading voice in the hotel industry, so when he said that he'd buy our product, we knew we were onto something. At the time, our product was only a clickable powerpoint presentation on an iPad. I think we, as newbies to the industry, only were successful with this start because we listened closely to what hotels wanted and shaped our product accordingly.
I spent a night at the Circus Hotel in Berlin and got a chance to use SuitePad a couple months back. For our readers who haven't yet had a chance to use the product can you tell them a little about the platform?
The world around us travellers has become digital- I can book my stay, reserve a restaurant table, and leave a review digitally. Now think of the hotel room of today: the guest directory, phone, remote control, spa brochure, room service menu are remnants of analogue days that clutter the hotel room and don't provide much upselling potential. We combine all of these things on a single device, making them easier to use and providing up-selling and cost-reduction possibilities while we're at it. In short: we're here to help hotels engage their guests in a digital world.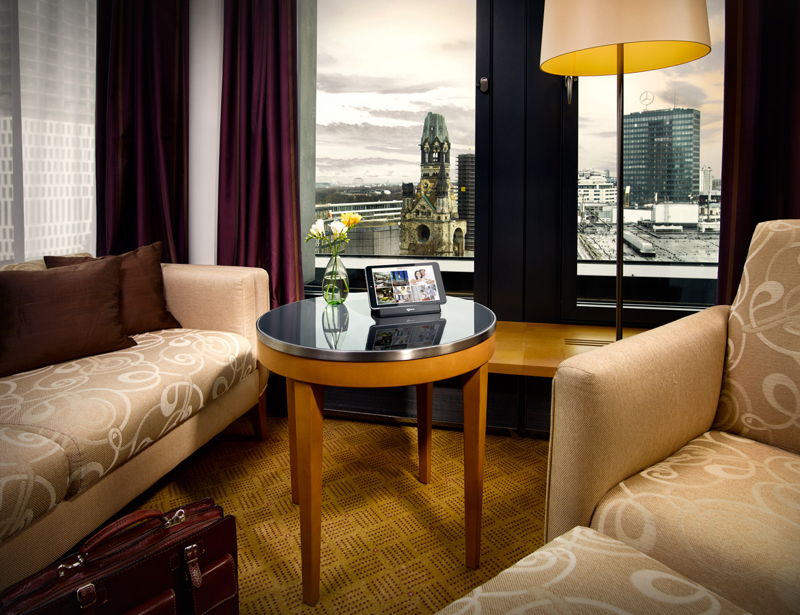 What's one common belief amongst hoteliers that is actually false?
If I had a cent for every time someone told us that it is a good idea to have guests download a hotel app onto their phones for digital guest engagement, I'd have millions.
If you think about it, when was the last time you downloaded an app because your local supermarket suggested it? It's just too much of a hassle. Hotel apps are no different-the barriers in the way of usage are too high.
Over the years, this belief has become less common, but we still hear it.
What's the most surprising thing you've learned about scaling technology into hotels since founding the business?
Scaling in the hotel tech field seems to take longer than in other industries, as hotels often seem cautious to adopt new technologies. So tech trends might be slow to come, but I believe they are pretty sustainable when they do- which is good, because we're in it for the long haul.
Hotel tech is a small community and vendors are constantly developing partnerships with companies who have built complementary products. Are there 1 or 2 companies that have been a particularly good partners for you? How have these partnerships been unique?
Where do you see guest tech going in the next 5-years and beyond?
We want to continue to shape the ways hotels engage with their guests. In 5 years' time, we'll have replaced pretty much everything in the hotel room save for the bed and the TV. We'll be doing this in hundreds of thousands of hotel rooms around the globe.
The entire hotel tech space is seeing the arrival of platforms, marketplaces, and other facilitators of interfaces. I think that interfaces between different hotel tech players will be more important than ever, and that hotels have every reason to be excited about this development.
Do you have any new products or feature launches of late?
We just recently went live with SuitePad TV, enabling guests to control the TV from their tablet. We're excited about the feature, because it's about more than just replacing the remote control. SuitePad TV offers a better user experience because it lets guests filter for preferences and languages when choosing a channel. It also significantly drives up guest-interaction on the SuitePad, which is great news for hotels looking to promote their offers & services!
We're currently also testing a new product that lets guests seamlessly stream their content from their phones to hotel TVs. I'm really looking forward to how it pans out!
What's one piece of advice that you have for any entrepreneurs looking to get into the hotel tech space?
Do it! Partnering with hotels means partnering with people who are full-blooded hosts and care deeply about their customers, and it's contagious! Plus, the coffee is great!
What is the best book you've read lately and why?
Thinking Fast and Slow by Kahnemann and Tversky is worth reading and re-reading!
What is your favorite podcast?
NPR car talk re-runs are my guilty pleasure on long drives.
What is one thing that most people don't know about you?
I have a terrible sense of direction.