What is Quore? A Hotel Operations Software Review (2022)
By Hotel Tech Report
Last updated January 26, 2022
6 min read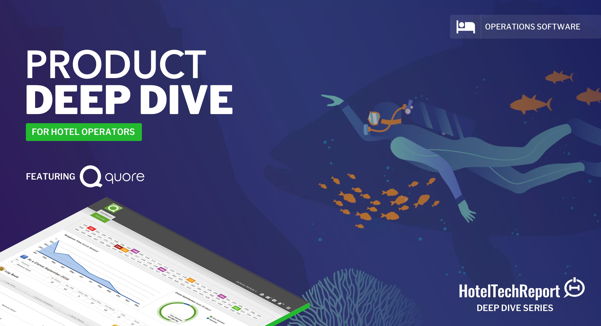 Hotel operations and hotel management are insanely complex. On one hand hoteliers and their management companies need to deliver an outstanding guest experience and on the other they need to run profitable day-to-day operations. How do you get happier guests while also keeping your owners happy with profit margins?
Automating tedious tasks that are prone to human error is one of the easiest ways to deliver great (and profitable) guest experiences. Hotel management software comes in many flavors with most vendors serving modules targeting different departments from maintenance to concierge and housekeeping to front desk.
One such solution is Quore, a workhorse that harmonizes hotel operations for 3,600 hotels in 22 languages and 29 countries. Its cloud-based platform enables more efficient communications and operations management across housekeeping, engineering, and guest relations. For some hotels, the integrated approach to handling guest requests on the platform led to a 50% improvement in problem-handling score.
Effective, reliable communications also improves the staff experience -- something that matters more in a tightly competitive labor market. Staff want the right tools that help them do their jobs well -- and many will leave in frustration without them.
The Bureau of Labor Statistics pegs the 2018 hospitality turnover rate at 74.9%, so hotels that use technology to make work better will out-perform their peers in both retention and referrals from current staff. With an eye towards empowering employees, here are four team members that will be thankful for the Quore hotel operations platform.

Preventive Maintenance to Prioritize Projects Better
Guests hate discovering a maintenance issue upon arrival. It's an unwelcome challenge, presented immediately. It also makes even the most forgiving guest wonder why the hotel missed such an obvious thing, such as a burnt-out light bulb, a clogged toilet, or a broken doorknob.
Quore's functionality makes it easier for preventive maintenance to overcome these challenges and work more efficiently in three key areas:
Real-time problem management. When something goes wrong in the guestroom, it's nearly always urgent. Guests don't want to sit around and wait for an engineer, and, some things (such as a flooding drain or a sweltering room) are emergencies. Quore provides real-time problem handling that can quickly be assigned to the right team member -- and visible on that team member's mobile device. Zdravko Bengez, a maintenance technician at the Hilton Garden Inn and downtown Nashville puts it like this: "With Quore, I know in seconds what needs to be done." All relevant details appear on his mobile device, without having to chase down more information.

Resource and project prioritization. Prioritizing resources is a daily tug-of-war, especially for larger properties. To effectively prioritize resources (including urgent problems like the ones mentioned above), Quore gives maintenance a quick overview, showing the up-to-date task list, as well as whether it was made by supervisor, the front desk, or a guest. This allows technicians to make on-the-fly decisions about where to go next, As well as stay in-the-loop with colleagues across the hotel.

Preventative maintenance. PMs shouldn't be guess work. Quore supports hotel maintenance techs and engineers with preventative maintenance checklists that are automatically surfaced at the right time. As these lists evolve, changes are applied universally to keep everything consistent.
Quore has robust enginnering features to support your maintenance staff: Prevenative maintenance, Pool chemical readings, Work orders, Boiler readings, Asset tracking, Meter readings, Custom inspections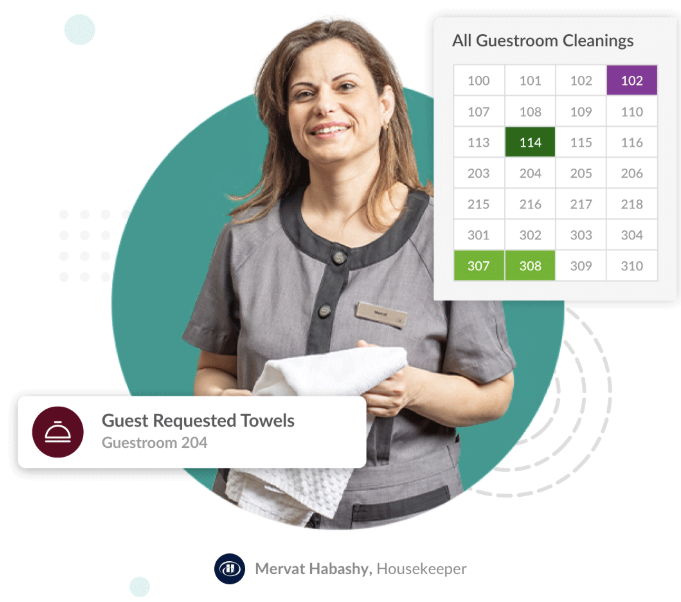 Housekeeping Room Assignments and Shift Management
Housekeeping has many responsibilities that require regular communication and precise time management. Before a guest checks in, housekeeping must ensure that a room is available -- and up to brand standards. During a guest's stay, housekeeping must service the room and fulfill guest requests for specific items. After check out, housekeeping must flip the room efficiently (and to brand standards) so that it's available for the front desk to assign.
"The way in which a room is cleaned, tidied and presented to its guests is in direct relation to the level of service the hotel prides themselves on. Housekeeping provides guests with a clear indication of how they are valued." Paul Duverge, General Manager, Menlyn Boutique Hotel
Quore's housekeeping software module makes this daily cycle easier on the housekeeping manager by supporting:
Preparation. Each housekeeping shift is a puzzle. In advance of a shift, it's all about preparation and planning. Quore helps housekeeping managers to set each days priorities, as each stayover and checkout is clearly defined in the system. It simplifies the process of assigning rooms to housekeepers before they clock in.

Prioritization. Things change throughout today. Real-time updates on things like stayovers becoming checkouts helps the housekeeping manager match staff resources with guest demand.

Accountability. There's also very important advantage of a paper trail. As Liz, the assistant housekeeper manager at the Hilton Garden Inn in downtown Nashville learned after starting at a hotel with Quore, there's less accountability without a written record: "[With walkie-talkies] it's easy to not write something down. With Quore, it's like having a paper trail, so there's more documentation. Also, I can start and complete an activity all through Quore which is helpful for tracking."
Quore has robust houskeeping features to support your staff: Housekeeping assignments, Guestroom inspections, Deep cleanings, Lost & found, Room notices, Custom inspections, Digital breakouts, Room status tracking, Work orders, Brand standards compliance

Front Desk Agents Never Miss a Beat
It takes a certain amount of finesse to work the front desk. The ideal team member here is pleasant under pressure, with a knack for creative problem solving. Yet, even the most creative employee will be hobbled by poor information. The front desk is, in many ways, the central command post for a hotel's operations.
As the front line of guest communications, one of the toughest challenges encountered by most front desk agents is the unevenness of information. Quore's smooths out these imbalances by adequately equipping the front desk to solve guest problems quickly with its:
Dashboard. The Quore platform provides a single unified dashboard to collaborate quickly and across departments. This synchronization allows the front desk to focus on the rapid resolution of guest issues and avoid poor service situations, such as assigning an unclean or out-of-service room. Instead of less reliable means of communication, such as walkie-talkies or face-to-face, the front desk can communicate guest requests efficiently, says Finesse James, a front desk agent at Hilton Garden Inn in downtown Nashville: "It's a great method because it can keep us from having to call them when things are busy up here, and we are multitasking. It's easier to click and type in that we need them to do something. We can put all the specifics in the comments so they don't need to call and clarify."

Ease-of-use. The front desk is usually an untipped entry-level role, which means higher turnover. Quore's consumer-friendly interface is familiar to anyone who's used popular messaging and social media apps. It's intuitive, which reduces training time. The ease-of-use also keeps staff engaged and less frustrated, as they feel that the technology is working for, rather than against, them. For millennial's used to well-crafted interfaces, this is actually an important part of their expectations for the workplace.

Digital logbook. No more deciphering chicken scratch or calling a colleague from a previous shift about "complaint from 402." Standard log sheets keep staff informed from shift-to-shift. The digital log book also connects with related items, such as guest complaints or requests, so staff can easily find updates on notices mentioned in the digital log book.
Quore has robust front desk features to support your front office team: Local attraction directory, Guestroom notices, Guest request management, Guest complaint management, Satisfaction callbacks, Key sign-in, sign-out and audit, Log book, Cash count log, Guest SMS, Security walks, Wake-up calls, Guest shipments

General Managers Get Peace of Mind
The best general managers know the power of consistent, clear communications. And many have learned this first-hand, rising up the ranks from entry-level desk clerk. According to a 2016 AH&LA study, 45% of respondents said that at least half of the general managers began in actionable positions. Quore allows these veterans to focus on providing fluid and flexible workforce communications that empowers rather than discourages.
The Quore platform becomes a GM's stalwart ally in running a consistent hotel operation by supplying:
Centralized, digital log book. A GM can't be everywhere at once. Quore's position at the center of a hotel's operation relives some of that pressure. As Gerald Loughran, the GM of Hilton Franklin/Cool Springs emphasizes, Quore's digital log book is his hotel's bible: "We're religious about putting everything into Quore. If it's not in Quore, it didn't happen." By pulling staff together into one shared operational brain, it's much easier to maintain brand standards and close communication gaps.

Go-anywhere access. A GM also has to go home at some point! Quore enables managers to keep track of staff to-do's, tasks and track overall productivity across their hotel from any device. The go-anywhere access means that GMs aren't out of the loop when off shift, at a conference, or on vacation.

Actionable reports based on historical data. Historic data is easily accessible so that GMs can achieve growth and measurable improvement. This gives GMs the confidence that work is being done as it should be -- or quickly services areas that need work. When a GM spends less time on inspection or micro-management, it frees up time to focus on other metrics that matter -- such as guest satisfaction, revenue, and profitability.
Quore has robust features to support your general managers:, Analytics & reporting, Asset tracking, CapEx management, Attendance tracking, Custom inspections, Budgeting tool, Checkbook visualization, Daily property walks.
--
Guest services in the hospitality industry is extremely complex but hotel tech is making it easier and more fun by the day. Quore has developed a powerful platform that facilitates every guest and staff interaction from check-in to check-out without missing a beat. Quore has robust multi-property functionality and already works with many of the major hotel brands like IHG where large owner groups can check-in on the status of their property via mobile app with ease. Quore reviews on Hotel Tech Report by users are stellar, so if you're looking for more efficient staff communication maybe it's time to take a look at Quore and streamline your operations with a smarter team (and happier one).