Hotelchamp Deep Dive: Optimize Your Hotel Website in Real Time
By Jordan Hollander
Last updated January 26, 2022
5 min read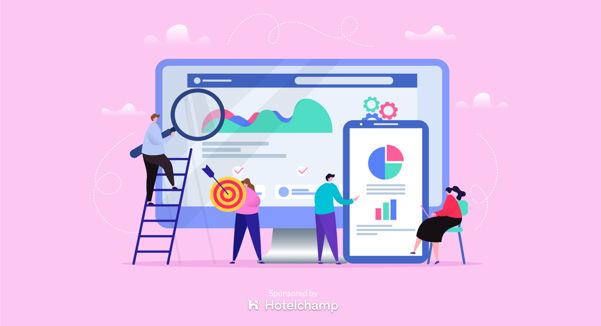 When designing a hotel lobby for ideal first impressions, each decision signals a brand position: high-end, luxury, rustic, down-to-earth, approachable, practical, inviting, welcoming, distant, elegant. Get just one of these wrong, and brand dissonance may lead guests astray.
A poor or disjointed first impression can lead to long-lasting perceptions that damage your brand. The same goes for your hotel's website. It's your digital lobby. It's where you welcome guests, offer guideposts about what to do and indicate that they're in the right place. A bad first impression can discolor the entire guest experience, says JRK Property Holding's Matt Lippman:  
"We've found lobbies and common areas to have a strong halo and horns effect on the guest experience. If a guest's first impression is good then they think of later impressions as good too which can help them overlook less attractive qualities about a property. The reverse happens if that first impression is bad. A bad lobby or website experience can actually overshadow the positive aspects of the guest experience that follows."
Unlike a physical lobby, the added advantage of the digital lobby is that it can be updated often. You can -- and should -- be making improvements frequently. The continuous optimization means that your hotel can refine messaging depending on who's visiting your website, from which channel.
One option to manage the refinement process is Hotelchamp, a website experience and marketing optimization tool for hotels. The value is in the "test and learn" approach, which enables hotels of all sizes to test, analyze, and optimize their websites, landing pages, and offers to convert more direct business. With this optimization superpower, here are four ways to optimize your hotel's digital experience.
Autopilot helps hotels of any size optimize in real time by leveraging its proprietary dataset
Your website is the entry point to your offering, so it must make a good first impression. If a luxury hotel presents itself poorly online, it's a turn-off. On the flip-side, if your midscale hotel presents elegantly, it can have a halo effect on guest perceptions.
To effectively manage your first impressions online, Hotelchamp encompasses more than just looks. It optimizes how each guest interacts with your website. For larger groups and brands Hotelchamp's constant website optimization via A/B testing makes websites better, all in response to how actual humans interact rather than a set of assumptions.
There's one problem: independent hotels and smaller groups rarely have enough data to run statistically significant A/B tests. Enter Autopilot by Hotelchamp.  Autopilot leverages millions of data points and the massive dataset that Hotelchamp has collected over years in the business to provide real time optimization for hotels without significant enough volumes to run A/B tests.
Hotels that invest in a digital marketing agency that handles search, social and metasearch advertising to drive direct bookings will be especially well-suited to optimize with Autopilot. The ability to test different offers and creative on your digital marketing extends to your website, as you can match the targeting and copy from your digital ads to a specific landing page on your website. Or, for traffic arriving from an OTA, you can hammer home the benefits of booking direct. Each experience can be fine-tuned for specific segments.
"Autopilot knows how the direct channel is behaving in the broader context of the ecosystem, for example metasearch.  Combine that and put it next to the patterns we've found in the data sets that we've gained over the years, we are quite good in predicting not only who you are, what you're intentions are, but - more important - that Autopilot is serving you dynamically with the right message. Based on that and based on your behaviors after that, it learns more about you, and every time we find the next action." ~Kristian Valk, CEO of Hotelchamp
Even hotels without as much marketing spend can benefit. In fact, those with no marketing spend will find value in Hotelchamp's Autopilot automation launched at ITB Berlin. The system runs many experiments across the entire ecosystem, then contextually applies those insights to each property's website and seamlessly optimizes what potential guests see according to what it's learned.
In the example above, you can see how two messages would be tested, and then the highest-converting one selected as the "winner" to move forward. The test-and-learn process continues in perpetuity, automatically optimizing messaging and website experience based on rules developed by analyzing the entire dataset rather than just one individual website.
Personalize the experience with behaviorally targeted offers
Kalibri Labs' 2018 Direct Booking Report found sustained growth in direct bookings since its last report in 2016:
When compared to the contribution to occupancy from the OTA channel, the Brand.com channel maintained its growth running approximately 50% greater than the OTA bookings.
To sustain this growth, hotels turn to targeted offers that encourage more direct bookings. Website optimization is a constant -- and low-cost -- renovation to your digital lobby. When using optimization strategies, such as the ones offered by Hotelchamp, hotels can simply highlight the advantage of booking direct or then can target offers to specific demographics.
With each new visitor, your website experience can be personalized with persuasive messaging that converts. It converts because the messaging is precisely aligned with a guest's intentions, as inferred by guest attributes, such as repeat visitors, geo-location, and which website a visitor arrives from.
Known as "proposition testing," it's a technique that aligns a user's behavior with a specific offer. For instance, a proposition for a newsletter signup or a direct booking discount for a user that's clicking away. Another example is offering a voucher, such as for a complimentary drink upon check-in.
Targeted offers also extend to smart notifications. These are similar to the urgency-generating messaging popular on OTAs. Hotels can build that urgency and share specific data around how often a hotel has been viewed, for example. Another common use of Smart Notifications is to highlight a specific feature, such as a gym, for specific type of traveler, like a business traveler. Set a Smart Notification to fire whenever a user arrives from a corporate booking tool URL -- and boom, you have a segmented communication that can improve conversion with a carefully crafted message.
Build trust by highlighting reviews, location, on-property amenities -- and live customer chat
In an analysis of conversion rates across hotel star ratings, Hotelchamp found that 5-star hotels convert at less than half the rate of 3- or 4-star hotels.  
On its face, this is surprising. One would expect conversion rates to be in a narrower band between categories. It comes down to how guests search for information, says Hotelchamp:
"Many 5-star properties across the world also contain luxurious spa facilities or illustrious restaurants and cafés that draw visitors who are not necessarily guests of the hotel. Hotelchamp conversion specialists often see that portions of the website traffic only visit these specific pages on the website, such as spa facilities or afternoon tea."
To build trust with guests, point them to the right information at the right time (and in the right language!). When you have an idea of who they are and what they need, you can then personalize the website experience -- automatically and without having to deploy extensive code.
Hotelchamp has three specific callouts that highlight a property's review score, a property's location, and a floating tab that calls out specific property amenities. As you can see in the screenshots below, guests can engage directly with each of these optimizations.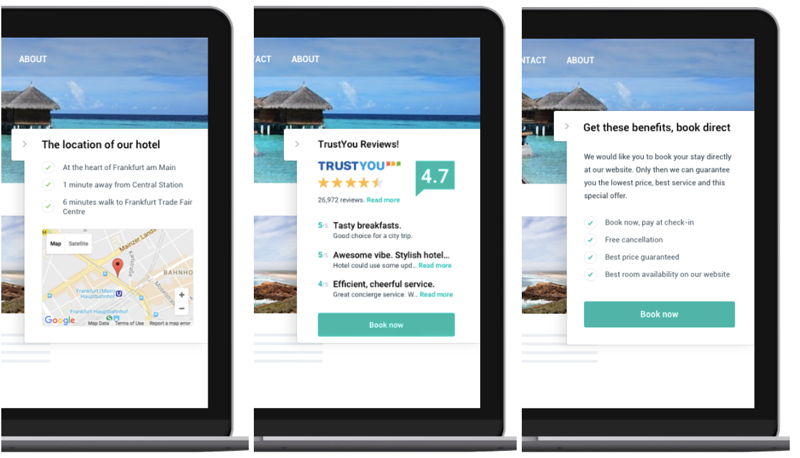 Successful targeting requires a detailed understanding of guest behavior. For 5-star hotels, the floating tab may feature rich content highlighting the on-site spa or restaurant. Then this tab might be served to any visitor from the hotel's own IP address. This puts pertinent information right at the fingertips of on-property guests, reducing barriers and ideally generating more revenue for the business.
Another way to build trust via your digital lobby is to make it easy for potential guests to connect with staff. It's like walking up to the front desk -- it should be simple with a reasonable wait time. Hotelchamp integrates this right into its solution, so hoteliers can engage via live chat without implementing another vendor. All of these tools exist to build trust and give individual guests the information they need quickly and without fuss.
Bringing it all together with comprehensive analytics
The Hotelchamp dashboard keeps you up-to-date on the latest active tests, as well as the results from former tests. As you (and Hotelchamp's team of conversion specialists supporting each account) learn more about how guests interact with each proposition, the data then informs new tests. It's a virtuous circle that fuels a continuously improving your digital lobby.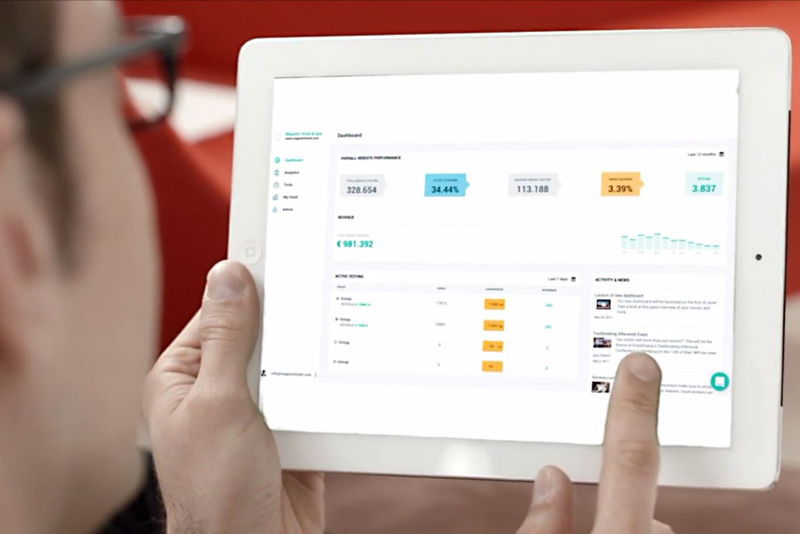 A fully-implemented optimization tool for hotels can lead to a conversion mindset with enormous potential. Not only will it empower staff to come up with better-targeted offers, but it will also make guests happier. As guests encounter stronger offers, they convert more often and the hotel enjoys a revenue boost.
For one Hotelchamp hotel, the Hotel Casa in Amsterdam, the optimization technology resulted in a 38% increase in direct bookings. Another hotel, Frankfurt's New Century hotel, saw a 24% increase in conversion rates on its website, leading to an additional €4,685 in revenue per month.
One caveat: What you sell, how you sell it, and who you sell it to differs dramatically across hotels. Rely on your data, set aside your assumptions, and use "test and learn" to determine which propositions, targeting, and offer types work best for your hotel. You may be surprised at which combinations work best!
Sponsored by Hotelchamp