Deep Dive into Revinate's Hotel Marketing and CRM Technology
By Jordan Hollander
Last updated January 26, 2022
5 min read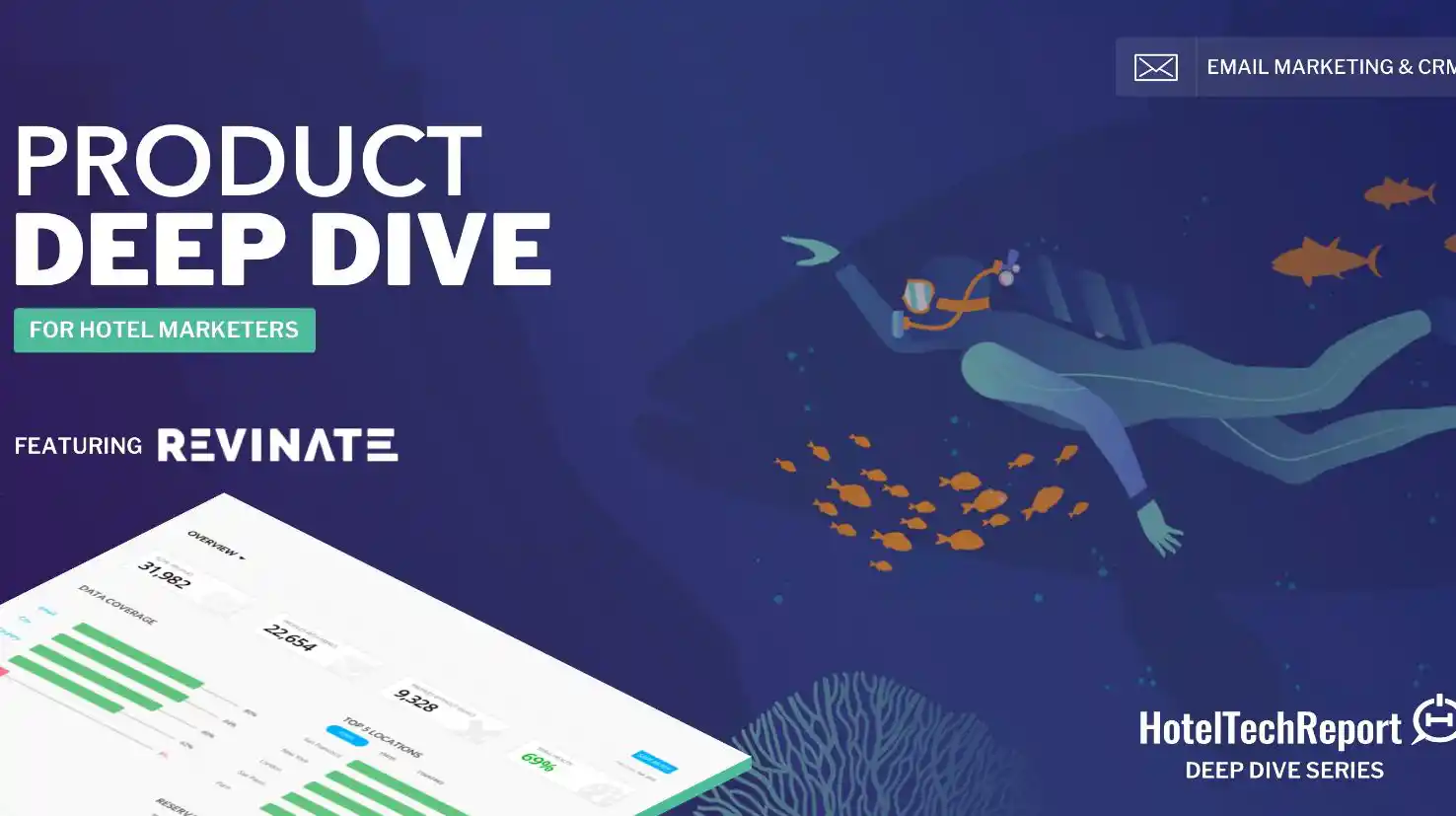 In our Product Deep Dive series, we go deep into one solution to help hoteliers evaluate and assess the best software for their specific situations.
In hospitality, relationships are everything. When a potential guest browses search results on third-party channels, price is the most prominent attribute. If a hotel wants to capture this booking, reputation and brand must be strong enough to push through the clutter. Ideally, the hotel has established a relationship with this potential guest and has thoughtfully nurtured this relationship over time. A top-of-mind relationship encourages more direct bookings, which improves overall profitability per booking.  This relationship materializes through return visits to your property or hotel group.
To accomplish these objectives, hoteliers turn to top rated hotel marketing software, such as Revinate, that delivers 1:1 relationship building via email marketing, powered by a hotel CRM with rich guest profiles.  Revinate's hotel marketing platform combines email marketing, CRM and upsell functionality into one suite that facilitates stronger connections between guests and hotels. Here's what you need to know about Revinate.
Revinate CRM helps you build rich guest profiles and leverage their data to drive incremental revenue
In a recent presentation, Chief Revenue Officer Karen Stephens shared how Revinate's focus on data unlocks revenue for hotels. With deep integrations across 45 different property management systems, the value of data is made more accessible and valuable through rich guest profiles. By busting silos and bringing this information together in one view, it's much easier to personalize messaging which in turn fosters a more accurate and authentic guest relationship.  
Revinate's guest profiles include data that helps personalize communications to ensure that you are delivering the right offer to the right guest at the right time.
Of course, it's not easy to integrate data into existing workflows. Data is often isolated in disparate systems, creating quite the complexity for hotels that want to merge data sources into a single view. Complexity adds cost and impedes speed, tempering even the most ambitious initiatives. Revinate's product integrations solve this problem allowing the software to both pull and push data from core systems.
Related reading: Everything you need to know about hotel CRM software
Grow your email list at the front desk and enrich those contacts with data from various systems automatically
Revinate wrangles this complexity with its various PMS integrations. By synchronizing information between the PMS, and Revinate's marketing suite, hoteliers can rely on rich guest profiles to improve segmentation. Each guest becomes a segment of one, which empowers the hotel to prioritize personalization over mass marketing.
Data from these integrations are then aggregated and distilled into unified dashboards that eliminate the need to log into multiple systems. With PMS data pulled all the way up, hoteliers can see a top-level view of guest profile count, guest geography, average stay length, average spend, and more.
Since Revinate surfaces all of this data into a single view, hoteliers can easily monitor the recency, frequency, and monetary value of individual guests, segments, or the entire property. This is called RFM analysis, which identifies customers most likely to purchase again in the near future. For example, marketers could target a segment of Loyal Guests Without Stays in the Past 90 Days to re-engage a cohort with slipping frequency.
The dashboard also shows how many guest profiles have emails attached, which acts as a useful metric and motivator for the front desk, says Revinate CRO Karen Stephens: "The number one thing properties want to do is to gather emails at the front desk. You can filter this by custom time field. This means you can set a goal with the front desk to collect a certain number of emails in a certain timeframe. What's measured gets done, and this is a great way to check that."
Notable feature: View into top booking channels. It's impossible to surface this information in typical email marketing. Booking channel insights help you understand your best channels and run your distribution accordingly.
Revinate's profile-based approach decreases unsubscribes and increases revenue per contact
As they aggregate information across touchpoints, these rich profiles become the center of the guest relationship. Guest communications flow from there, says Karen Stephens, Revinate's CRO, "All the fields on here can be used as merge tags in communications, so it's really a beautiful way for hotels to surface this data and understand how to speak to each guest."
Instead of relying only on instinct or common demographic segmentation, hotel marketers can now use any data point on a guest's profile as a hook. With recency, frequency, and spend data readily available alongside guest preferences, marketers can deploy smart segmentation to send personalized emails.
Divide your hotel's total email list subscriber count by total revenue from email offers and you'll come to a 'revenue per subscriber' metric.  When your email list subscribers receive generic content that doesn't meet their needs they become more likely to unsubscribe and each unsubscribe costs you real money. Conversely, personalized product recommendations generate up to 170% lift in revenue compared to non-personalized recommendations (Bariliance).
For example, the guest below could be pulled into a campaign targeting Past Guests with Last Stay Over 90 Days, Past Guests with VIP Status, or Past Guests Who Work for Amazon, as well as a campaign for Spa Lovers.
Rich profiles on Revinate's dashboard highlights key guest history summary data
Another option for hotel marketers looks at recent survey data for segmentation opportunities. Dissatisfied guests may be carefully segmented to avoid certain types of promotions or phrasing. For example, a guest who felt that the room wasn't well-designed shouldn't be paired with a promotion focused on room design. All of this is rolled up into the guest profile, which becomes the "single source of truth" about a guest's history with a property.
Revinate's guest profile integrate directly with guest surveys for attribution analysis
Increase ancillary revenue and grow tRevPAR with upsells
In recent years, hotels have looked at airline ancillary revenue with envy. As airlines saw such strong results with unbundling, hotels have dedicated more attention to incremental revenue. With fixed costs for rooms and on-property amenities, additional revenue has outsized impact on profitability. Alongside the traditional Revenue Per Available Room, many hotels now track Total Revenue Per Available Room and/or Total Revenue Per Client to monitor how well they're doing at growing revenue from upsells and non-room sources.
Data from Phocuswright on which add-ons interest hotel guests most.
Revinate's rich guest profiles are tied deeply to email marketing, which means that email campaigns can be precisely targeted for optimal performance. With detailed analytics to show which campaigns work best, revenue can be easily attributed to the proper segment. This analysis can be looped back into hotel marketing workflow to improve incremental revenue efforts continuously.
Upselling and targeted offers can help marketers pick up lost revenue in real time
As far as pricing, Revinate's Marketing platform allows for an Oaky-style model with upselling functionality charged on a flat fee basis. This is in contrast to some other upsell platforms, such as Nor1, that charge up to 20% on commissions. The simple flat fee structure aligns everyone towards a common goal: more revenue from precisely targeted campaigns that don't alienate guests.
Notable feature: Any field in a guest profile can become a merge tag or a segment. Hotels that develop accurate guest profiles can create smarter segments that personalize messaging more accurately. Precise segmentation means marketing to guests based on hotel-chosen attributes (such as "wine lover") and not just basic segments (such as geography).
Revinate integrates seamlessly with sales applications to drive more group business
When using smart segmented campaigns, Revinate's clients see an average of 73% higher revenue per recipient. Whether it's a one-time campaign or automated, the efficacy of e-mail marketing is greatly improved by segmentation based on Revinate's rich guest profiles.
The power of using data to inform segmentation becomes quite clear when considering examples of marketing campaigns geared towards specific segments.
Group segment: Target group bookers with specific offers by importing lists from third-party event management software, such as Social Tables and EventPro, RFP software, such as Cendyn Sales Suite and Cvent Hospitality Cloud, or hotel CRM software, like Revinate and Salesforce.  Once these lists arrive into Revinate's system, e-mails are matched with existing guest profiles to further enhance your segmentation abilities.
Corporate: Target specific companies to encourage more direct bookings by showing show what's included with the corporate rates. Business travelers that book out-of-program may not realize what they're sacrificing, as far as negotiated perks. Use this segmentation to inform this cohort about the benefits of booking direct or via their corporate booking tool.  
Locals: Boost transient revenue by segmenting drive markets to entice nearby guests with exclusive deals. Messaging can be targeted to individual cities, giving marketers the chance to be more nuanced in writing copy that resonates with guests from each city.
Current guests: Use "time of week targeting" to extend existing stays. The "Sunday Check Outs" segment is low-hanging fruit that engages on-property guests with 1:1 offers that aren't public. Weekday targeting could also focus on upselling additional activities, such as spa booking or in-destination activities.
Notable feature: Real-time email list integrity checks. The system monitors database health to maintain email deliverability and sender reputation. By keeping your list accurate and avoiding spam flags from email providers, you'll enjoy higher open rates which lead to more conversions.  Each email you send has a theoretical monetary value so email sendability is critical for hotel email marketing success.
Is Revinate the best hotel marketing platform for you?
Revinate's hotel marketing platform is a powerful ally for hotel marketers looking to optimize marketing efforts and nurture long-term relationships with guests. With its centralized, data-rich approach, hotels can engage in ways that meet guest expectations, preserve guest privacy, and deliver business results.
Related reading: Everything you need to know about hotel CRM software