Hotel Sales Strategies and the Software You Need to Power Them
By Jordan Hollander
Last updated January 26, 2022
6 min read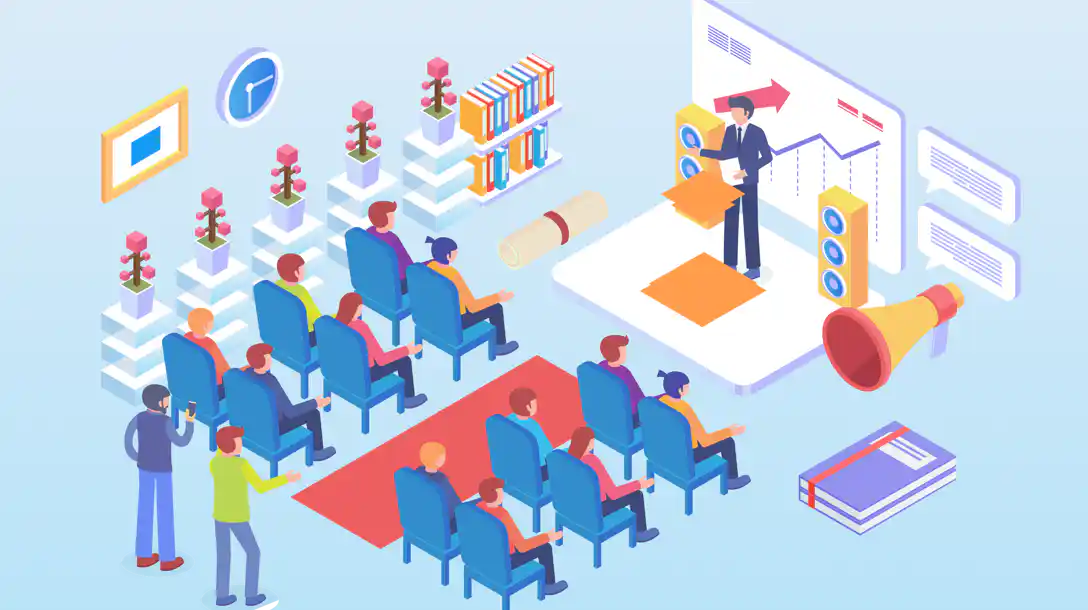 Winning hotel sales strategies take into account a variety of factors related to internal business performance, competitive analysis and market trends.  Great hotel sales teams have a deep understanding of both their product (i.e. hotel rooms, catering spaces, amenities) and the greater market trends.  Great sales leaders conduct a regular SWOT analysis and value analysis to better understand their property's unique selling propositions (USPs).  The reality is that no matter how strong a hotel sales strategy is, every hotel sales & catering team needs the right tech to succesfully execute on those strategies.
The right tech tools put your sales and catering team in control of their own destinies. Greater productivity and more automation of tedious tasks boosts job satisfaction and gives staff the confidence to do more high-impact work that leads to more revenue. Many solutions now also include predictive analytics to guide efforts automatically, helping staff to pursue the most promising leads effortlessly.
The increased effectiveness also builds good will with guests. When staff more ably respond to requests -- with increased accuracy and 3D space visualizations -- event organizers feel much more confident in their venue selections. Best-in-class event management solutions also include strong collaboration features to build trust and boost conversions with event planners and organizers.  
Here's a look at the essential tech for your sales and catering team.
Hotel Sales Platforms & CRMs
Sales platforms and CRMs are the backbone of successful sales. The sales team needs to be organized and focused on the most lucrative leads first. A sales platform/CRM will give the sales team a centralized repository for tracking the sales pipeline so that promising leads don't slip through the cracks. Other leads may need more nurturing over time; a dedicated CRM is a critical piece of this puzzle.  
Hotels have one significant choice in this category: to use a specialized hospitality CRM or a major brand that serves all industries. For users of CRMs not specifically focused on hospitality, some feel a disconnect with customer service. It really comes down to whether you prefer a CRM solution with global scale or one targeted to hospitality. Global scale can mean that there are many strong integrations with existing tools, while specialization means that the tool delivers targeted functionality essential to hotels.
Here are the top three sales team CRMs for hospitality, plus one startup to consider.
Salesforce: The most well-known CRM provider enables data-driven sales and marketing through its rich guest profiles and robust engagement tracking. The software is familiar to many, which simplifies on-boarding new staff. There's a tradeoff there, however: specialized support may be harder to come by.
Amadeus Delphi: Amadeus' CRM module is accessible on mobile and combines a detailed overview of function space with guest room availability so sales can act quickly and accurately. The Simple module supports hotels with less than 5,000 square feet of space, while the Advanced module extends to multiple properties, making this a solid contender for all kinds of properties.
Startup to consider: Quore Sales is an alternative to the major brand names mentioned above. The tool supports efforts across your entire hotel staff and ensures more transparency, accountability, and collaboration across your entire team -- without any legacy hangups.  
Want to learn more about Hotel CRM?
Meetings and Events Intelligence
When it comes to leveraging data to close more group business, it's ideal to have a 'second brain.' There's only so much capacity during the work day. And often, valuable nuggets are buried deep in the data. Meetings and events intelligence tools push further into the data to find opportunities, trends, and threats that enable sales teams to be more effective.
While some other categories here include advanced reporting and detailed analytics, a standalone business intelligence tool often outperforms. The specialized focus means that the tool has a deeper set of data than the average event management software, and can truly unearth new insights that were inaccessible outside of a dedicated events intelligence tool.
Here are a few meetings and events intelligence tools that help you get more out of your data, as well as one startup to consider.
IDeaS SmartSpace: The visual strategy management solution bridges sales and revenue with deep analytics around business trends and performance of a hotel's event spaces. The tool includes a space utilization tool to illustrate effective use of space, as well as a pricing strategy tab that breaks down conversions by arrival data, team member, booking type, and meeting class.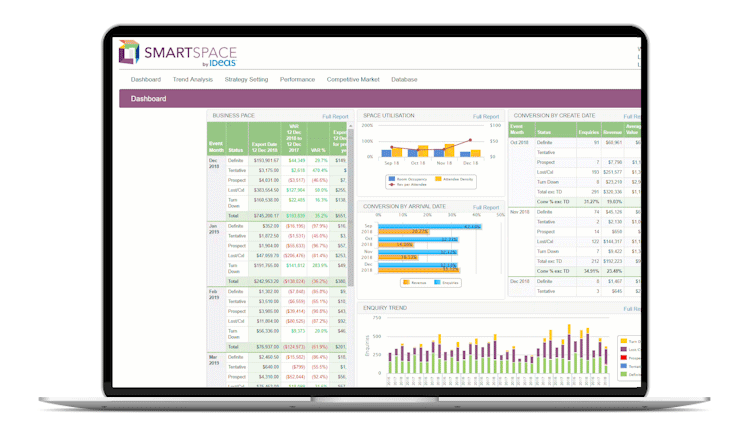 KNOWLAND: Knowland helps teams achieve their group goals with deep analytics on group booking patterns, market benchmarking, and planner buying behavior. Predictive analytics based on "the industry's largest historical database of actualized events" accelerate sales cycles by matching inbound requests with the highest likelihood of success
Startup to consider: A winner of the 2019 HotelTechAwards, Get Into More's strategic tool manages meetings, events, and groups for both branded and non-branded hotel. The tool visualizes data and enables better analysis outside of spreadsheets and reports. For properties building a la carte events/meeting technology, this is a go-to for business intelligence.
Group Sourcing & RFPs
When sourcing groups, timing is everything. Strong RFP management capabilities ensure that your team is responding to the highest-value RFPs quickly and accurately. One of the biggest struggles faced by event planners is the lack of timely responses to their requests; some even complain that venues don't even respond. This delay is directly tied to the increase in RFPs received by hoteliers. Reducing the delay is a main benefit for hoteliers that use an RFP management tool that streamlines responses. These tools can pull together responses quickly, and even provide more self-service options to event planners so that hotels have less work to do for each proposal.
Group sourcing is also a key part of this category. The major players, such as Cvent, offer hotels a direct line to event planners. These tools are able to match hotels with groups by looking at the characteristics of each group and determine hotels that would be ideal venues. This makes inbound RFPs more likely to be a good fit for hotels, reducing staff labor and increasing the odds of closing group business.  
Here are a few group sourcing options, as well as one startup to consider.
Cvent Hospitality Cloud: Cvent's platform achieves three things: help hotels find buyers through increased visibility, win business with lead scoring, and optimize business with metrics and business intelligence. Reviewers appreciate the ability to set up a profile at the property level that includes a variety of offers, which increase transparency with meeting planners.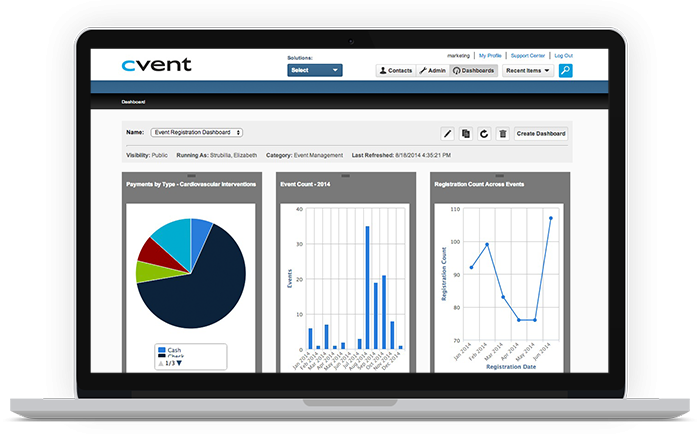 Cendyn Sales Suite:  Cendyn also takes the platform approach. Its Sales Suite ties into Cendyn's other products and centers around its eRFP automation, which reduces RFP response times while increasing the accuracy. Reviewers mention an innovative video chat function gives sales teams a way to differentiate proposals with video content.
Startup to consider: The top reviewed vendor in group sourcing/RFP management is Event Temple, popular with those who don't want to tie into a larger platform with many bells-and-whistles. Reviewers love its all-in-one approach, which assists with everything from lead prospecting, client retention, email automation, ROI analytics, and performance metrics.
Event planning software
Hoteliers use event planning software to manage the operational intricacies of on-property events. From collaborating on table layouts to providing a visual layer for event planners to request proposals, these tools improve the experience for everyone. By providing event visualization capabilities that represent your space and your resource inventory, you can deliver on the meeting experience, plan events faster, easier and more accurately. Ultimately, this makes event planners more confident and secure in their venue selections because they can visualize how the event may look in a particular space.
There's also the issue of uneven transfer of information. In traditional models of managing event sales, there can sometimes be some missed information in the hand-off from sales to catering. Event planning software ensures that hotels deliver exactly what's been promised to the event organizer. There are fewer questions and stronger accountability. The
These are the top event planning tools, as well as one startup to consider.
Amadeus Hospitality Diagramming: Amadeus' diagramming tool allows properties to accurately plan events with organizers, planners, and guests. The intuitive interface via the web makes it easy to organize room plans, including a 3D virtual walkthrough of the completed room. Plans can be shared with others for review, feedback, and approval.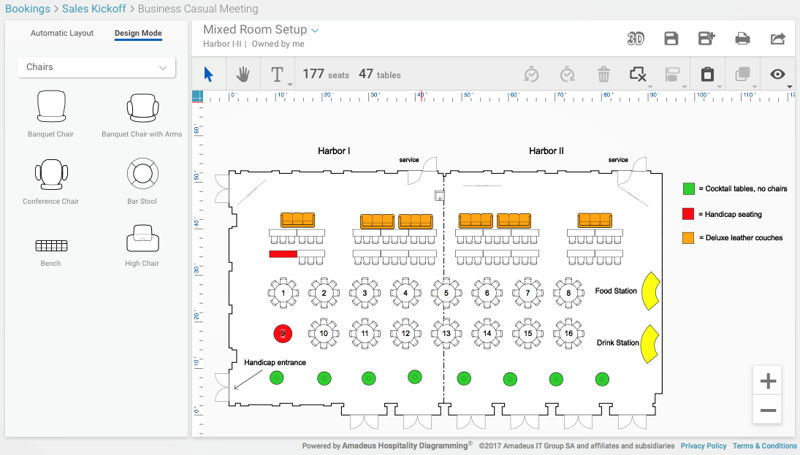 Social Tables: Owned by Cvent, the tool has expanded functionality to become integral to many event planners worldwide. The focus on collaboration between planners and properties on both mobile and desktop. The suite also features online sales and marketing solutions, 2D and 3D room diagramming, business intelligence for hotels, and event attendee management.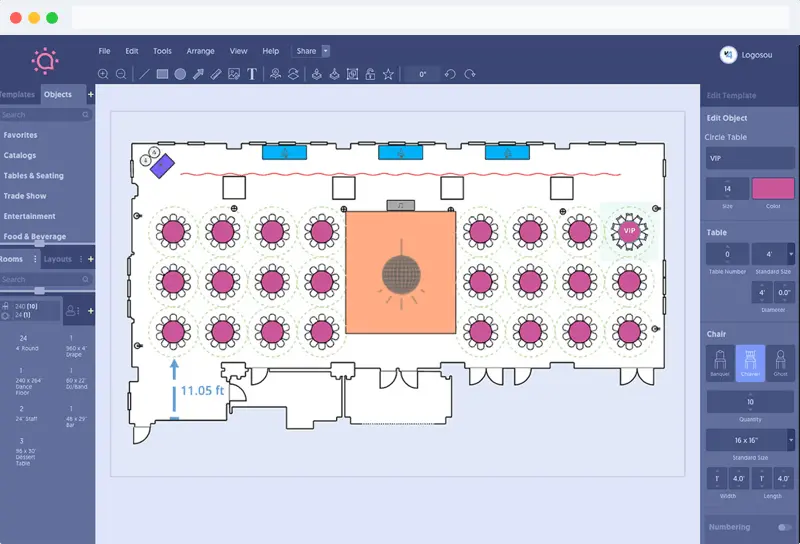 Startup to consider: Allseated's scrappy approach appeals to independents and technologists alike: the freemium business model lowers barriers to entry and the immersive 3D walkthroughs of specific events is a huge bonus to event planners and guests.
Where Should You Invest Right Now?
Sales and catering technology can transform the way your hotel approaches group business. With the right tools, your sales team can prospect more effectively and your catering team can deliver knockout events that make guests sing their praises.
While this category of technology can be a lot to sift through, focus on the functionality with the biggest bang for your buck. If you already have a CRM (and your team actually uses it daily), then it may be best to focus on event planning software and diagramming solutions that give event planners a way to visualize their events.
However, if your sales team isn't using a CRM yet, now may be the time to invest in a holistic solution that provides both sales tools and event management. The most underinvested area within this space lies in meetings and events intelligence solutions.  Such solutions provide near instant ROI and should be considered by every type of hotel that has a decent group business mix. With a comprehensive capability at the heart of your group sales and event delivery operation, you'll see a massive improvement in productivity, revenue, and client satisfaction.