How to Use Your PMS to Personalize the Guest Experience
By Sarah Duguay
Last updated August 18, 2022
5 min read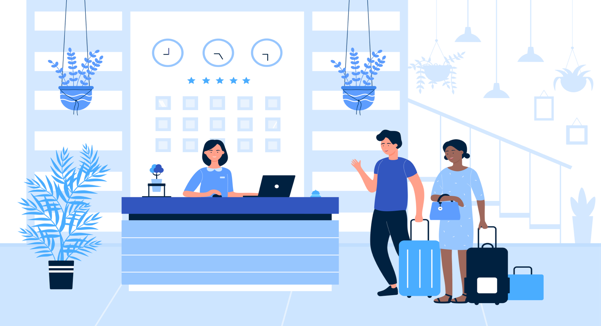 As consumers, we seek experiences that make us feel valued. For 84% of us, being treated like a person, not a number, is very important to winning our business, according to a Salesforce study. How do you make someone feel valued? By getting to know them, understanding their needs, and exceeding their expectations—in other words, by personalizing their experience.
From a business perspective, personalizing the customer experience not only earns loyal customers but has a positive impact on your bottom line. Research shows that personalization most often drives 10 to 15 percent revenue lift.
In the hospitality industry, treating guests like people, not numbers, is what it's all about. But as a hospitality provider, how do you personalize the experience for each and every guest? It all boils down to guest data and how you use it—and your property management system (PMS) is the key.
Keep reading to learn how you can use your PMS to personalize the stay experience for every guest.
Use your booking engine to get the data you need
The booking stage represents the first opportunity to capture valuable guest data that forms the foundation of the guest relationship. Even basic contact details (name, address, phone, email) and reservation information (room type, rate type and stay dates) is enough to start personalizing the guest experience.
You can ensure you get the data you need by setting required fields in your booking engine for both online bookings and bookings coming through your front desk. For example, the guest's email address and/or mobile phone number is necessary for sending routine guest communications. Properties with age restrictions will need the guest's birthdate. Some properties require the names of all additional guests within a reservation.
Optional fields such as dietary requirements or special requests are useful for gathering more information about the guest at the time of booking, but consider their inclusion on the booking form carefully—you don't want to jeopardize the simplicity of the booking process. Instead, you can ask for more information in the confirmation and/or pre-arrival email.
Personalize the booking experience for the guest by allowing amenities-based room searches for more customized results.
Offering add-ons (like in-room extras, activities, and dining reservations) during the booking process is a great way to allow guests to curate their perfect stay (and to boost hotel ancillary revenue too)—but again, take care not to compromise the simplicity of the booking experience. Ensure any booking add-on options are attached to the right room types / rate types so that guests are presented with relevant offers.
Use guest profiles to recognize repeat guests
Using reservation information, a good PMS will automatically create a guest profile whenever a reservation for a new guest is entered into the system. Guest profiles not only make entering reservations for repeat guests easier, they are key to personalizing the guest experience.
At the basic level, guest profiles help you recognize repeat guests and, as long as existing profiles are used for subsequent bookings, will build a record of stay history for every guest, helping you discover reservation trends at both the guest and property level.
At the next level, guest profiles equip hoteliers with the kind of knowledge that allows them to go above and beyond for their guests.
Use profiles to store juicy details about your guests (that they share with you), like their dairy allergy, the name of their four-legged travel companion, their love of sushi. Then, use this valuable information to hyper personalize their experience, from letting them know about the newest sushi joint in town, to surprising them with dairy-free welcome chocolates and treats for Fido on their next visit. This is the way to earn forever guests!
Profile notes about guests can be set to appear on check-in and check-out reports and within guest profile searches to help staff personalize service in a proactive way.
But a guest database is only useful when it is clean and healthy. Avoid duplicate profiles by ensuring front desk staff are trained to use and maintain guest profiles and to merge duplicate records. Allowing repeat guests to use their existing profile when booking through your website also helps avoid duplicate profiles—and is a convenience they'll appreciate. Maintaining and using existing guest profiles is crucial for tracking guest reward points if you have a points-based loyalty program in place.
Offer self-check-in for a convenient, seamless arrival experience
It might sound contradictory, but self-check-in (or contactless check-in) can result in an even more personalized experience for some guests than checking in at the front desk.
For a start, simply offering the ability to check in online gives your guests a choice—and where there's choice, there's personalization. For guests that choose it, the convenience of online check-in results in a more preferable experience.
Secondly, self-check-in is managed via automated communications (emails or text messages) that are addressed to the guest by name and are specific to the guest's reservation. (More on automated communications later.) These personalized communications help make the guest feel more like a person and less like a number as they are instantly recognized by the hotel, even before they arrive. In this way, self-check-in can offer a more personalized experience than checking in at the front desk where staff may still have to ask for the guest's name or reservation number in order to identify the booking.
A self-check-in experience should always be complemented by in-person staff to welcome arriving guests and to assist if needed.
Use reservation folios to make the in-stay experience extra special
In addition to recording ancillary purchases (which can tell you a lot about a guest), reservation folios should also allow you to record additional notes that are pertinent to the guest's stay and will help staff provide personalized service—such as special dietary requirements, guest requests and administrative remarks about the guest. Applicable comments can be saved automatically to the guest profile for future reference. Some can even be added as pop-up alerts for staff when the reservation is opened.
Need to swap out those feather pillows for hypoallergenic ones because of a guest's allergy? Not a problem. Simply add a housekeeping note to their reservation that will show up on the housekeeping report so your housekeeping team can ensure the guest's room is feather-free upon arrival.
Applying VIP color codes to reservations is useful for helping staff identify very important bookings at a glance—on the tape chart, on the reservation folio itself, on check-in/check-out reports, and on the housekeeping report.
Automate communications to ensure every guest feels valued
When we talk about automated guest communications, we're definitely not talking about generic mass mail outs. Customizable email templates allow you to create guest-specific communications that can be generated and triggered automatically using reservation data.
Automating routine guest communications ensures every guest receives the right message at the right time. It also ensures every guest feels acknowledged and establishes an open line of communication between the guest and your property. That's important for any relationship.
At the minimum, customized email templates should be set up for booking confirmations, pre-arrival messaging (including check-in messaging if using contactless check-in), and post-stay feedback requests.
Pre-stay communications are especially useful for gathering additional information about your guest that can be used to personalize their experience, from confirming their expected arrival time to offering relevant add-ons or upsells. Post-stay emails thanking guests for their stay are also important for building loyalty and gathering feedback that can be used to improve and personalize future stays.
If your property uses CRM software and/or a guest messaging platform like Akia, Alice, Ivy, Kipsu, LoungeUp, Twilio, Whistle or Zenya, make sure it's integrated with your PMS so that the right message is triggered at the right time for every guest, based on live reservation data.
Tailor rates and packages to special guests
It's important to offer different rate types to serve the different needs of your guests (and your property). Getting a good deal makes customers feel valued, so reward special guests with special rates.
For example, you can create packages tailored to specific guest segments, set up and promote a password-protected discount rate for your Facebook followers, and create negotiated rates for corporate guests. A flexible PMS will also provide an easy way to apply discounts to individual bookings at your discretion for your favorite guests.
The right price is a big part of personalized customer service. Use your guest database to determine who your guests are and then design offers that are relevant to them.
Make personalization seamless with guest-centric integrations
Integrating your PMS with dedicated guest experience platforms—from CRM systems and guest messaging platforms to smart room technology and reputation management solutions—can elevate the guest experience through data automation that results in seamless, effortless personalization.
When your guest experience applications receive reservation information directly from your PMS—without relying on manual human input—the output (whether that's sending an upsell offer, applying reward points to a reservation, charging a meal to a guest's room, or delivering a mobile room key code) hits the mark every time. Sharing reservation data with your other systems through direct integration reduces the chance of human error and ensures every guest receives accurate, personalized service.
Automated PMS are not only designed to simplify operations, but to help hoteliers provide excellent service that earns loyal guests—after all, that's a sure-fire way to grow revenue. Packed with practical guest-centric features, modern PMS like WebRezPro empower you to personalize the guest experience every step of the way.