Analytics Powered Digital Collaboration is the Future of Hospitality
By Sameer Umar
Last updated January 26, 2022
2 min read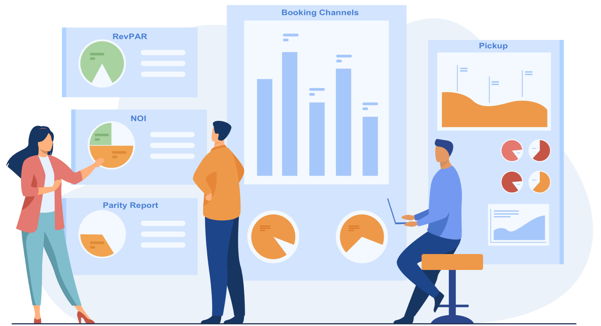 In the last few months, you've likely come across articles and online discussions debating the benefits of working from home vs going to the office. The pandemic seems to have convinced many that a drive to the office is not essential to a productive workday. Accordingly, while some companies have already reduced office space, others have their doubts.
In the hospitality industry, this conversation gets even more interesting. After all, the human touch is an important factor in the experience we offer our guests. However, strategic roles like finance, revenue management, marketing, and others require more data-driven decision-making than hands-on experience at the property. Yes, it'd be nice to have your entire leadership team meet regularly at the hotel, but in 2021 it's not essential. We live in a digital world and it's digitizing even faster thanks to the global pandemic. Hoteliers too have to adapt to this new reality. At the very least, a hybrid approach should be a serious consideration.
That said, simply letting people work from home isn't enough unless there is a reliable mechanism for all of them to gain timely access to hotel data and to collaborate efficiently with each other to take timely action. That's where you need an analytics-powered digital collaboration platform - a portal or intranet where your strategic teams login to work every day, access a single version of the truth (through automated data integration), share, comment, plan, and track performance. Let's dive into some of the most important reasons for investing in digital collaboration within your commercial teams.
Employee Morale
According to the latest Deloitte Millennial Survey almost 70% of Millennials and 64% of Generation Z said the option of working from home in the future could relieve stress. Another survey (conducted by the insurance company Breeze) found that 2 out of 3 Americans would be willing to take a 5% pay cut to be able to work from home. Clearly, this is something they feel strongly about and are willing to put their money where their mouths are.
Cost savings
The fact that you may be able to find talent at a lower price (by letting them work from home) is a 'nice to have' especially when your business is facing economic challenges. However, over time salaries will go up as working from home becomes more commonplace. Instead, more reliable efficiencies and cost savings can be achieved by centralizing strategic functions wherever possible. Market trends and buyer behavior are likely similar over defined geographic regions. Even if there are fluctuations in different parts of a region, centralized teams armed with analytics and a broader view of the market can respond faster and coordinate better than property-based teams working in their respective bubbles. The important thing is to have a Business Intelligence (BI) infrastructure and a culture of data-driven decision-making within the organization.
Timely Decision Making & Action
For years hoteliers have relied on their knowledge of the market and gut feeling. While those still matter, human instincts work best when coupled with timely and reliable intelligence. You need to keep your finger on the pulse so as to avoid any (more) unpleasant surprises. Downloading data into spreadsheets and emailing each other is a good way for people to fill their days but it fails at ensuring the timely realization of opportunities and threats. Not to mention the many different versions of the truth that float around in inboxes thanks to human error and/or differences in the timing of data extraction etc. We live in a world where streaming data and AI are already a part of our day-to-day lives. They should be incorporated into our digital workspace as well.