What is a Content Management System?
By Jordan Hollander
Last updated January 26, 2022
4 min read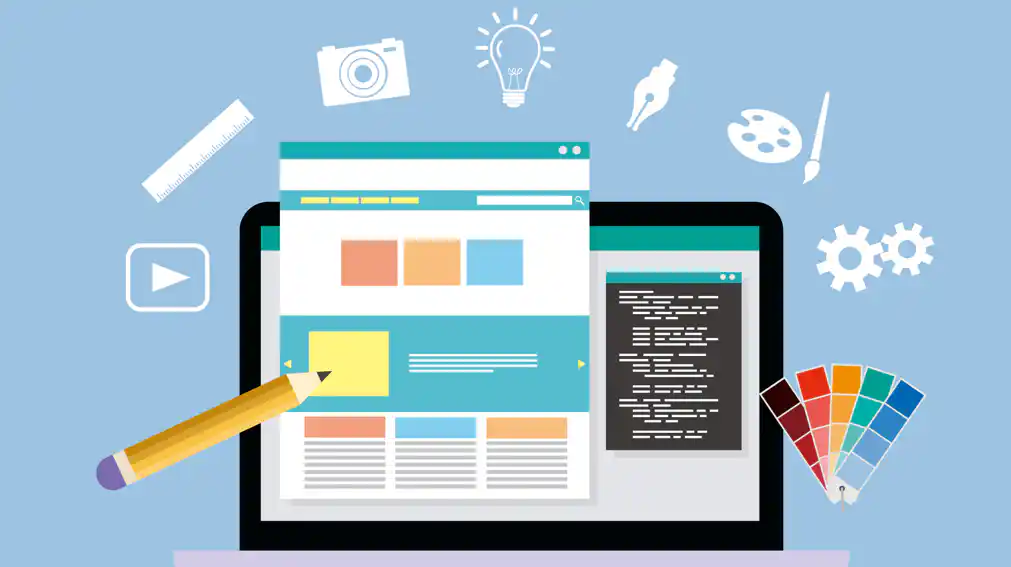 Working with the right partner to build your hotel website is hard enough and knowing what kind of content management system to build it on makes things even more complicated.
The CMS that you choose has a huge impact on your business.  A bad CMS inhibits your ability to update content such as images and text - both of which are critical to rank in search engines and get found by travellers. You probably feel a little overwhelmed or unsure of how to take your website to the next level.
In this article, we'll discuss the pros and cons of using a content management system to optimize and organize your website content. Looking through a hotel lens, we'll show you how you can make your website stand out among the competition to improve your conversion rate and increase direct bookings. Since a CMS makes website editing easy, it's possible to launch a beautiful website without hiring an expensive web design agency or investing lots of your own time. Ready to see how you can build a better hotel website? Keep reading for our essential tips about content management systems.
What is a Content Management System?
You already know about property management systems and revenue management systems, but what exactly is a content management system? In short, a content management system (CMS) is a tool that allows you to build all of the pieces of your website - from text to photos to widgets - via an easy-to-use interface. With a CMS, you don't need to write your own code; instead, you can apply pre-created templates and plug-ins to quickly and efficiently build a website. These systems make web design accessible for people with little to no web design experience.
Popular Content Management Systems
There are tons of content management systems are on the market but the most well-known is WordPress. All kinds of websites use WordPress, from blogs to online stores, and even many hotel websites. In fact, it's estimated that 32% of websites worldwide use WordPress! But WordPress isn't the only option for content management, and some hotels benefit greatly from using a hotel-specific content management system, as we'll discuss in a bit.
Is WordPress right for your hotel website?
WordPress is popular for many reasons, but that doesn't necessarily mean it's the right choice for your hotel's website. What makes the most sense for the skill level and time commitment for yourself or your colleagues who will be managing the website?
Millions of marketers and website creators choose WordPress for the following features:
The system is highly customizable, so your website can look exactly the way you want it

Templates and third-party widgets and apps are available for a huge variety of industries and design styles

Your website content always lives within WordPress, so you can change themes or hosting providers without losing your content

Drag and drop editors like Divi allow you to build and manage content yourself

WordPress websites generally load quickly

The standard system is free of cost, with optional fees for some add-ons or templates
However, WordPress isn't perfect. It's not a one-stop-shop for website building since you'll need to use plug-ins and add-ons to optimize your website, so you'll still need to configure your website hosting and domain services, which requires some technical knowledge. Also, if a glitch happens, you'll likely need technical know-how to resolve it. Because WordPress offers so much customization and functionality, new users might need some training to fully understand how everything works.
Other Content Management Systems
If WordPress doesn't sound like exactly what you're looking for, perhaps another content management system will do the trick. Two other popular CMS options are Squarespace and Wix, which both offer plenty of features but are less customizable than WordPress. Wix has a few hotel-specific templates, including some for bed and breakfasts, but both systems support considerably fewer plug-ins and third-party apps than WordPress. In addition, Wix and Squarespace charge fees, but they require less technical skill than WordPress.
Content Management Systems for the Hotel Industry
Though the lion's share of hotel websites use WordPress, thanks to the system's speed, flexibility, and ability to switch to new vendors, some hotels opt for a custom CMS like SmartCMS by NextGuest Digital. Wondering what a custom CMS can offer that a system like WordPress can't? Keep reading to discover if a custom CMS is right for your hotel.
Why use a custom CMS?
When the "big guys" like WordPress and Squarespace are designed for literally any type of website, hotels can enjoy the benefits of a custom CMS, like SmartCMS, that's specifically built for hotels. A custom CMS can integrate with your existing hotel systems and leverage guest browsing history to deliver personalized content that increases conversion. With built-in A/B testing, a product like SmartCMS knows what works for hotels and what drives conversion rates higher, with a full suite of reporting services and analytics tailored to the needs of hoteliers.
Does a custom CMS sound too good to be true? Let's not forget about a couple potential downsides of using a custom CMS. Because the tool contains all of your website data, if you decide to go another direction and use a different CMS in the future, you'll likely lose all of your content and need to start from scratch. In addition, you wouldn't be able to implement any of the third-party apps available to WordPress sites, and the actual content management could become a bit more tedious if you need to contact the agency every time you want to make a change. Despite being called a "custom CMS," you may find less customization than a general CMS like WordPress.
What does a website built on a custom CMS look like?
Curious to see all of those hotel-specific benefits in action? Take a look at these eye-catching examples of NextGuest client websites built on a custom CMS and see how they incorporate strategies that increase conversion.
We love this website's calendar of events and integrated Instagram feed.

The blog incorporates a lot of visuals, which encourages potential guests to click.

The slick booking widget is always visible and easy to use, so guests can seamlessly reserve a room.

Try viewing the website on your smartphone; you'll find that it's totally mobile-optimized.
This multi-property website would have been expensive and time-intensive to build on a generic CMS like WordPress. The hotel-specific CMS features make a lot of sense for a portfolio website.

The template creates a sense of cohesion despite Viceroy having three hotel collections and properties in several geographic areas.
What kind of CMS is best for your hotel?
Choosing a CMS requires some thought and consideration for any type of hotel. Does your hotel have the budget for a custom CMS, or does a free tool like WordPress make more sense? Does your team have the time to learn the WordPress system, or is outsourcing the work to a custom CMS a better solution? And what happens if sometime goes wrong - does your hotel have on-site IT support, or would you prefer to call up a dedicated account manager from your agency?
While you likely won't need all the customizability of a platform like WordPress and can trust a custom CMS like smartCMS by NextGuest to have your best interests at heart, we encourage you to make sure you deeply understand the pros and cons of the system before you begin a vendor relationship. During conversations with your rep from a custom CMS, you'll want to ask a few questions:
What are your conversion rates and how do they compare to WordPress-based websites?

What happens if we have a disagreement down the line? Who owns my website content?

Why did you build a custom CMS instead of building client websites on a platform like WordPress?
Whether you choose a custom CMS or a widely used one like WordPress, a content management system can help you build a website that showcases your hotel and drive direct bookings.