10 Mandatory Marketer Skills in the Hotel Industry & Beyond
By Jordan Hollander
Last updated January 26, 2022
10 min read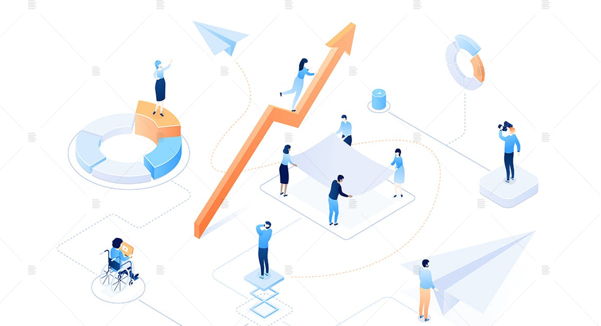 Social media marketing and digital marketing made LinkedIn's list of most in-demand skills in 2019. Research by Marketing Hiring Trends predicts that 44% of companies will want to hire more digital marketers in the coming years. From Google Adwords to content marketing, learning the marketer skills is a critical step to future-proofing your career and keeping you in constant demand.
Digital marketing is a wide-ranging and diverse area where a marketer can develop different skill sets, from analytics to visual design to creative writing. Because more than 90% of online activity starts with a search engine, SEO and paid search marketing are critical tools for any marketer or entrepreneur. Content creation, email marketing, and social media strategy are needed at virtually every B2C company and deliver high ROI to businesses seeking to build 1:1 relationships with customers.
Glassdoor's data shows that the average salary for a digital marketer is around $61,000 per year. Digital marketers can get hired at agencies, directly by companies, or as consultants and freelancers.
In the hotel industry, on-property marketers have the benefit of working with agencies who already possess these digital marketer skills.  Hotel marketing agencies like Net Affinity tend to become more than just service providers, they act like members of your team.  Top marketing agencies not only help you tactically execute on the skills we outline below but the best ones actually teach these skills to their clients.  If you aren't learning from your agency, it may be time for a new marketing partner.
Hotels are best suited working with a firm that specializes in hotel marketing because they understand industry specific nuances such as Google Hotel Ads, lodging benchmarks & best practices, booking engine conversion rates and the latest hotel trends.  Net Affinity, for example, has built it's own booking engine which integrates closely with your hotel website to control the full purchase funnel.  Outside of these nuances, the marketer skills required to succeed in a digital world are relatively similar no matter what industry you're in.
These ten areas will help grow your marketing career more effectively, sharpening your skills and boosting your client's marketing efforts in the process.
On-Site SEO
A study by SEO experts Ahrefs found that 91% of online content receives no traffic from Google. That means the majority of websites out there aren't getting any views from people searching on Google. On-site SEO prevents your hotel's website from falling into that dark void of no views.
On-site SEO refers to those factors on your website that impact the ranking of your page on Google. There are five main on-page SEO components that matter most when building your strategy: 
User engagement: how do people interact with your website? Metrics for measuring your user engagement include click-through rate, bounce rate, pages per session, and return vs. new visitors. 

Site structure: the way your website is built combines with your keywords and content strategy by preparing your website for indexing and crawlability. How easily can a search engine access, crawl, interpret and index your website? Is your site secure? Are your URLs clean and easy to understand?

Content: keyword optimization plays a role in making sure your site is getting the traffic you need. To find keywords, use a tool like Google Keyword Planner, Moz, or Ahrefs. Then, add focused keywords into title tags and page titles. Create header sections that use header tags.

Interlinking: Interlinking is when you add links in your copy to other parts of your hotel's website. It enables customers to move with ease between content, increasing session time and decreasing bounce rate.  

Mobile responsiveness: mobile is taking over the hospitality industry. And, Google has taken notice: starting July 2019, Google officially rolled out mobile-first indexing. Sites that aren't mobile-optimized will receive a lower ranking than their competitors. Your site must be able to be read on any device.
On-page SEO can get technical, but a basic understanding of the factors impacting your organic ranking can start you off on the right foot. Find a partner like Net Affinity – they're a Premier Google Partner, meaning their experts are in the top 5% of agencies worldwide with deep expertise in on-site SEO. Work with their team to reach your organic traffic goals and gain bookings from Google and other search platforms.
Off-Site SEO & Link Building
On-page SEO is dependent on the activity and structure happening on your hotel's page. Off-page SEO, conversely, applies to elements occurring outside of your website. These elements include social media, your online marketing activities, and most importantly, links to your web pages from other websites.
There are a number of ways to impact your off-site SEO. Google's algorithm uses "ranking factors" to improve your site's visibility, and one of those factors is relevance. Does your page contain relevant information to a user's search query? To meet the relevance metric, Google looks for "backlinks" or inbound links. These links remain the single most important factor in improving your off-page SEO ranking.
When other websites recognize your page's value, your domain authority goes up and your search engine page ranking will follow. Previously, Google's algorithm would look to the number of backlinks to verify relevance. Now, it's quality that matters: and the quality of the link incorporates a number of different factors, including:
How often are you acquiring backlinks 

How old is the link

The text used to link back to you (does the anchor incorporate a keyword or phrase?)

The domain authority of the linking site

Number of visitors the link garners
There are numerous ways to earn backlinks, including working with a PR agency, launching an influencer campaign, or pitching your hotel to bloggers and the press. Actively using your social media channels can also impact your off-page SEO. 
Conversion Rate Optimization (CRO)
Conversion rate optimization, CRO, is the process of increasing the percentage of your website visitors who convert to guests. To build a CRO strategy, investigate how a customer moves through your site, what actions they take, and what barriers are preventing them from clicking the "book now" button and completing their reservation.
For a clear picture of what's going on, start with your website analytics. Google Analytics can tell you: 
Which webpage does a person land on to enter your site?

What parts of your site does a person engage with?

What channel or referrer brought them to your page?

What device or browser are they using?

Who are your customers (by geography, demographics, and interest)?

Where do users abandon your site?
A heatmap tool like HotJar can show you where users are scrolling, clicking, and leaving your site. Visualize areas of weakness on your page to optimize your site and capture more bookings. Net Affinity can also dive into your analytics to discover the true value and impact of your marketing channels, using that data to focus your marketing efforts toward higher conversion rates. Continuous optimization informed by your analytics means that your hotel can refine messaging, site speed, and other factors to improve CRO. 
Content Marketing
Content marketing is a type of marketing that involves generating valuable, relevant, and consistent content – blog posts, videos, social media posts, or podcasts, for example – to attract customers and drive conversions. By some estimates, "content marketing provides conversion rates about six times higher than other digital marketing methods."
Many hotel owners see stats like that and assume they must immediately start a blog. But, as we've argued in the past, hotel blogs and other forms of content work only when they're relevant. No benefit comes from blogging for blogging's sake: your content must work for your property and be interesting to your prospective customer.
To get started with content marketing, determine who your ideal guest is, forming guest personas based on rich, actionably psychographic and behavioral traits. A persona should read as if you're describing a single person, digging into their motivations and mindset to understand their mission when they visit your hotel site.
Once you've defined your blog audience, develop a content calendar that offers stories, videos, or recommendations that help them achieve their mission. Don't be shy about getting granular in your topics. The more specific you can be, the more likely your content is going to be relevant. Over time, content marketing can positively impact your SEO ranking as well as boost your CRO score. When done properly, content marketing costs about 62% less than traditional marketing tactics. Clearly, there's a big payoff to be gained in building a thoughtful content strategy. 
Social Media Management
There are mixed opinions over what a hotel's social media strategy should look like. Some hotels have benefitted from 6% of direct reservations coming from Facebook; others have discerned no notable difference from investing resources in social media platforms.
The key takeaway to social media management is recognizing its value as a) an SEO and content marketing tool and b) a place for sharing. Social media profiles can boost your SEO when you share quality, relevant posts. You must offer your audience value to see the benefits of social media. This can be in the form of promoting a travel deal, highlighting a new spa service, or posting a travel guide to some top attractions near your property.
The second reason to actively manage your social media profiles is that guests frequently share reviews and experiences on your pages. Net Affinity predicts that user-generated content is going to rise in 2020; your hotel can be proactive about sharing and responding to great reviews, as well as managing negative feedback. It takes a solid social media management strategy to know how to address both instances. 
Pay-per-click and Google Hotel Ads
Paid search has an immediate impact on your direct booking strategy. Net Affinity uses paid search to deliver insight on where your traffic is coming from and to help hotels connect with the right guests at the right price. This involves utilizing Google Ads and pay-per-click campaigns.
Google Ads (formerly Google Adwords) is an advertising channel that promises to put your ad in front of a user at the moment they're ready to book. It utilizes a pay-per-click model, meaning that you only pay when a user takes a specific action, like clicking your ad to visit your site or make a booking.
Google Hotel Ads and PPC campaigns offer a way to earn back more direct bookings and counter OTAs. A smart keyword strategy involves a deep understanding of the services and queries for which your target guests are searching. Then, make your ad text "specific and unique to your hotel, mentioning benefits and descriptions which are clearly about your hotel," recommends one expert. By doing so, "you can often appear more relevant to the user and earn the click over the OTA. The high level of specific relevance might also help increase your Click Through Rate, Quality Score and Ad Rank, the result of which can be a reduction in Cost Per Click."
Pay-per-click is a smart way to stretch your marketing budget, but to see real results, you need to dive into your website analytics and learn about your guests. Lean on Net Affinity's expertise as a Premier Google Partner to ensure your bid strategy gets you results. 
Metasearch Bid Management
Metasearch engines like Google Hotel Ad, Trivago, and Trip Advisor have opened a new channel for independent hotels who wish to compete with large third parties, elevating their listing through smart bid management. Net Affinity leverages their relationships with several metasearch channels to bring new guests to your hotel website and convert clicks to bookings at a lower cost than OTAs.
There are four key reasons why metasearch must be part of your marketing mix. 
Gain exposure: metasearch immediately shows guests what they're seeking – the price of a room. It allows them to quickly make a purchase decision and gives you a way to make more direct bookings outside of OTAs. 

Take control from OTAs: metasearch gives your hotel a way to set a rate for specific stay dates and room type. 

Competitive bidding: managing your metasearch gives you deeper insight into your market position to make sure OTAs aren't undercutting your prices. 

Diversification: position your listing as the more favorable option and open a new channel through which to gain bookings.
Google, TripAdvisor, Kayak, and Trivago are the biggest metasearch channels you must understand. A digital marketing agency can help you test different metasearch channels to come up with the right strategy that delivers bang for your buck. 
Graphic Design
Lessons from Amazon, Zappos, and Expedia have proven that simple copy updates and changes in color theme on your website can increase revenue by double and triple percentage points. Graphic design is an element of your website experience that can't be ignored. 
The design of your site is the digital equivalent to the lobby of your hotel. It sends certain signals to your guests that can either entice them to book, or turn them away. Use high-quality images that are optimized for page speed and views on mobile devices. Adding video to your site can increase revenue per visitor by 27%. Show your rooms in a grid layout to enable site visitors to quickly scan to find what they're looking for. Remove any distractions that prevent a user from completing their booking. Look to Sorrento's Grand Hotel Royal for an example of a clean, straightforward home page that uses great graphic design elements.
Unless you have a graphic designer in-house, it's likely that you'll need an agency to help design a website that is both functional and appealing. Find a website builder that gives you the flexibility to edit pages easily and add landing pages for your marketing campaigns. Your graphic design is only as good as the user experience, and it's imperative that your agency partner recognize that. 
Email Marketing
According to research by Campaign Monitor, every dollar spent on email marketing led to a $38 return. That makes email marketing the most effective marketing channel out there in terms of ROI. Redirect spend from your social media marketing to email to capture higher ROI and develop higher brand affinity with targeted messaging and personalized offers.
Email marketing requires four elements for success: 
Customer segmentation: divide target customers into groups based on factors such as loyalty, lifetime spend, frequency and recency of stay.

Valuable content: what does your email campaign deliver in value to the reader? Send content that is relevant as measured by an increase in conversions or a decrease in the unsubscribe rate. 

Timing: 98% of all upsell revenue came from pre-arrival emails; your email must be timed for key moments in the guest journey. 

Benchmarking: learn how your emails perform based on geography, segment, and email type to constantly improve.
Setting up your email campaigns takes the right tools. What action do you wish your email recipient to take as a result of your message? Net Affinity's booking engine incorporates automatic pre and post-stay emails to constantly help your property improve their reputation and services. Design landing pages that convert from your email campaigns, and send targeted upsell offers that capture additional revenue per guest. 
Purchase Psychology & Creative Promotions
Upselling, when done well, increases revenue and guest satisfaction simultaneously. Guests are expecting personalization; Google Traveler found that 36% of travelers are willing to pay more for tailored information and experiences.
Understand why people click "buy" on an ancillary product to master your upselling technique. According to Psychology Today, "a buying decision is the result of a consumer learning pathway where the consumer must learn about a product or service and relate it to their specific situation to make a favorable buying decision."
Drive profit by creating promotions that utilize compelling marketing copy, vibrant and high-quality images, and strategic pricing. Show the guest that you understand their needs, delivering the promotion in a way that connects with the guest. A creative promotion can be anything from a cooking class from your on-site chef, a welcome package with local treats, or a partnership with a luggage transfer company to bring a guest's suitcase door-to-door. Mine your website data to learn more about what will excite your guests and use those insights to improve the guest experience and drive revenue.
Where to start: Consumer Insights
All of the skills above are tactical. Without understanding your consumers (guests and prospective ones) you can't execute any of the digital marketing strategies outlined here with any precision. Hotels must be good at analyzing guest surveys and reviewing data to build customer personas; then, shape your tactics around these insights and personas.