Hotel Housekeeping Departments Depend On Great Software
By Jordan Hollander
Last updated February 08, 2022
9 min read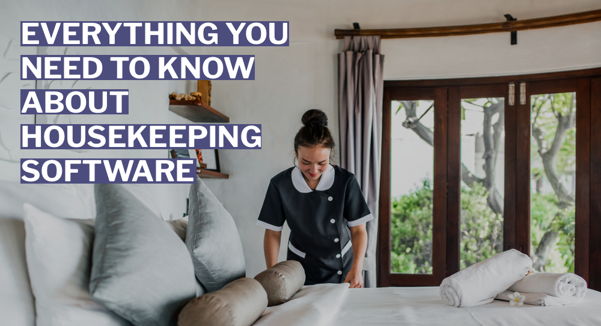 With simultaneous rising labor costs and stubbornly high turnover in the hospitality industry, hotel housekeeping remains a top challenge facing the industry. According to STR's 2019 HOST Almanac, a compilation of operating statistics of more than 5,000 U.S. hotels, 2018 labor costs tallied an estimated $70 billion. As a percentage of total revenue, the median full-service hotel spends 30 percent, while limited-service hotels spend 22 percent. 
And that number is only going up. The U.S. Bureau of Labor Statistics reported a 3.2 percent increase in hourly wages for non-supervisory works in the accommodations business at the end of 2018. At the same time, job openings are also near record-highs: per the BLS, the hospitality industry had more than 900,000 job openings. And that's despite the wage increase! With low unemployment it becomes increasingly difficult to fill full-time or even part-time housekeeping jobs.
On the supply side, labor shortages are likely to worsen as hotel pipelines continue to grow. STR reported nearly 18 percent growth in global hotel inventory during the decade between 2008 and 2018 while
CBRE's December 2018 edition of Hotel Horizons accessed a 1.9 percent net increase in U.S. hotel supply in 2018.
More hotels are competing for fewer capable employees. This labor crunch is especially acute in the housekeeping department. Adding fuel to the fire, immigration laws are tightening in primary markets like the United States and in parts of Western Europe.
To do more with less, hotels must deploy housekeeping software that streamlines housekeeping's day-to-day tasks while still maintaining strict brand standards.  Technology is the key to less stress amongst hotel housekeepers, faster room cleaning and happier hotel guests.  Ultimately software helps executive housekeepers manage their teams more efficiently so that they can deliver better guest service.
"The use of such software is dramatically speeding up the process of turning rooms over, leading to lower costs and higher revenues." -HTR's Housekeeping Management Software Buyers Guide 
With technology, time-consuming tasks, such as creating housekeeping schedules, tracking room attendants' progress, and adjusting to changing requests in real-time, are much simpler. Staff carry mobile devices, which centralizes communications and optimizes routes in real-time throughout shifts. In short, housekeeping software expedites housekeeping operations, captures data to continuously improve performance, and makes your hotel more organized than ever. 
Historically sophisticated housekeeping software was reserved for chains like Marriott and Hilton; however, there has been an explosion of tools on the market that are much more affordable and intuitive.  Many of these tools integrate with other hotel systems to facilitate engineering tasks as well as lost and found.  Forward thinking hotels understand that housekeeping software is as critical as vacuuming equipment and cleaning supplies.  As you look to find the right software solutions for your property, the list below can help narrow your search to find the right vendor for your property and team.
Here's what to look for as you start evaluating housekeeping management software vendors.
What to Look for in Hotel Housekeeping Software
When evaluating the best housekeeping management software for hotels, here's what to look for at a higher-level:
Mobile-first. A non-negotiable. Mobile-optimized applications ensure that your staff can do the work whether they are on property.

Reporting. Accurate, timely, and useful reporting ventures your teamIs optimized for performance. Find a solution that gives you the visual reports in formats that work best for your team.

Automated room assignments. Manually assigning rooms isn't efficient, especially for routine cleans. Look for automation to eliminate wasted work.

Intuitive user interface. Tech that isn't easy for everyone to use  will cause more headaches than its worth. Focus on usability so that your staff needs less training on the software.

Plenty of integrations. Your housekeeping management software will be severely hobbled without the appropriate integrations. Be sure that any solution you select integrates with your existing property management system!
With clearer visibility into the hotel's day-to-day operations, owners and operators can also make more informed decisions to improve their bottom lines. To help you decide which tool to select for your hotel, here are the 6 housekeeping tech tools that have hoteliers talking.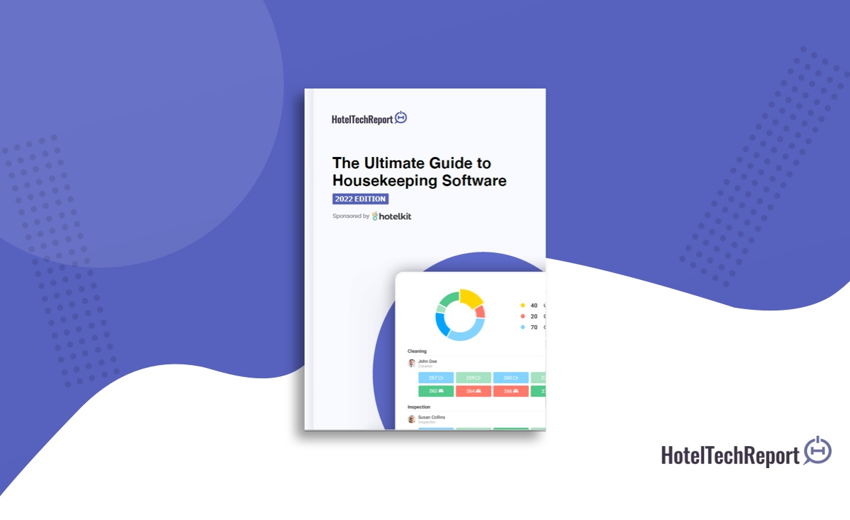 Download the free 2022 Housekeeping Software Buyer's Guide
Popular Hotel Housekeeping Software Vendors
1. ALICE Housekeeping
Hotel operations platform ALICE debuted its latest evolution in June (check out our exclusive coverage), a housekeeping solution that enables direct and immediate communication between individual members of housekeeping staff as well as between housekeeping and all other hotel departments.
The platform can directly reduce a hotel's labor costs by at least 10 percent, and the company says it saves an average of four minutes in cleaning time per room. The platform is wholly customizable, with a tool kit that includes:
A dashboard-like feature that gives housekeeping managers a comprehensive overview of their department's operations, from room attendant assignments and task sheets to room clean status, special requests and personalized guest details.

The ability for managers to automatically prepare staff task sheets and balance assignments

The ability for room attendants to track their cleaning progress and immediately report any unexpected issues
The new housekeeping software solves for two critical pain points that typically drive up hotel operations costs. ALICE Housekeeping reduces training time for new hires by replacing the numerical code-based systems with icons and colored labels to indicate tasks and other messages. It also directly connects front of house and back office teams, the software drives a 60 percent reduction in radio and in-person communications.
Notable feature: The platform can also alleviate housekeeping managers of the daily and time-consuming burden of accessing the day's room inventory and subsequently assigning available staff to occupied rooms and rooms in the midst of turnover. ALICE Housekeeping has an algorithm for that. Just hit the "auto-assign" button –or override it for manual control.
What clients say: ALICE is popular with boutique properties around the world, and comes recommended by 97% of HTR users, ranking Number 2 in popularity.
2. OPTii Solutions
OPTii streamlines housekeeping operations by optimizing room-attendant path of travel and reducing manual communications by at least 60 percent. This housekeeping software can automatically estimate cleaning times to predict, manage and optimize housekeeping schedules in real time, allowing managers to automate the vital tasks of creating daily schedules.
On average, hotels that use Optii see up to 500 percent within just months of implementation by reducing housekeeping labor costs up to 18% and increasing productivity up to 24%.
Additionally, OPTii gives managers the ability to identify room status as it pertains to housekeeping, including those ready for inspection. Managers can also view room attendant progress, for real-time insight on how well each attendant stays on, ahead or behind schedule, how quickly they're completing rooms and how many rooms each attendant has completed at any given time during their shift.
Notable feature:  OPTii also has in-depth reporting capabilities that can compile metrics and analytics to generate 15 different reports. These reports can be personalized to deliver a quick-and-easy way to stay on top of your team's performance trends.
What clients say: The product is recommended by 72% of HTR reviewers and scores 3.8 of 5 in both ease of use and support. A number of users also commented that they would like to see an option to delete and edit notes or the addition of a real time messenger system so that housekeepers can instantly be notified of reservations changes.
3. Flexkeeping
Flexkeeping's housekeeping feature is purpose-built to keep housekeeping staff up-to-date, rooms clean, and workflows organized. Since the platform provides an intuitive home for housekeepers, there are fewer miscommunications and far less confusion. In fact, hotels that use the app have an average of 70 percent fewer disruptive phone calls to housekeeping. 
With a clear overview of rooms that need servicing, housekeeping managers can dynamically assign available staff, with the added ability to confirm room cleanliness instantly and manage other duties such as turndown service and minibar refills. On the housekeepers end, the app has clear checklists and integrated messaging to keep on top of quality and recent requests.
The app also offers an inspection checklist for quality control in addition to a translation feature to accommodate non-English speaking staff. Flexkeeping allows for integrations with several Property Management Systems (PMS) including Oracle Hospitality OPERA Cloud Services, Mews Systems, Cloudbeds Myfrontdesk and protel. The app is described by one hotel manager as "simple to use and very helpful."
Notable feature: The Flexkeeping interface is colorful and clear. It's easy to see at a glance which rooms have been tended to and which ones still need attention. With this interface, managers can be more efficient and spend less time on room assignments and more time on quality control.
What clients say: Flexkeeping is recommended by 98% of reviewers on HTR. Users rate its ease-of-use and support highly, as the platform is simple and helpful, allowing users to fix issues quickly.
4. RoomChecking
With both intuitive mobile and desktop applications, RoomChecking directly connects to a hotel's PMS, with dozens of integrations available. The platform streamlines communication between housekeeping, maintenance the front desk and management so that operational tasks can be expedited and tracked. 
As one HTR reviewer explained "all employees use the same software (room attendant, maintenance, front office, F&B)." But the same user also noted that load times can sometimes be long. 
RoomChecking's housekeeping product is equipped with a mobile app for room attendants and another for supervisors inspecting rooms as well as schedule planning and a function to convey housekeeping changes in real time. The software also warehouses all cleaning and inspection records. As far as cost, implementation fees range between $1,000 and $2,500, while the monthly subscription cost is around $3 per room on a monthly basis.
Notable feature: RoomChecking has standalone apps for different parts of your business. With its Cleaner, Inspector, and Runner apps, each role has specific tools at its disposal, while still benefiting from communication across the different applications.
What clients say: RoomChecking's housekeeping product comes in at Number 6 on the HTR popularity index; 96 percent of reviewers recommend the product. The software's highest overall rating was for ROI, scoring 4.7 out of 5 with ease of use following just behind at 4.5 of 5. The platform was given a score of 4.2 of 5 for support and 4 of 5 for implementation. 
5. HotSOS Housekeeping (by Amadeus)
HotSOS Housekeeping's purpose is threefold; the app prioritizes the process of guestroom cleaning, digitizes the guest room inspection process; and virtually mobilizes management of the housekeeping department. In 2016, it saved hotels $166 per room. More specifically, the launch of HotSOS Housekeeping throughout one hotel client's property resulted in a 14 percent increase in productivity and a total labor savings of $136,000 annually.  HotSOS was one of the earliest housekeeping products brought to market and has the largest install base.  The drawback of going with the largest player is usually legacy that comes with scale. When a software is widely used it can be hard to change this drastically without alienating users.  For HotSOS one major drawback is the code based system used which can be confusing for room attendants who haven't yet memorized the platform and have lots else on their minds. The benefit of this system is that it's widely used so many experienced room attendants will be familiar with it from a previous property.
Another client, the 159-room Prince de Galles hotel in Paris signed on with HotSOS Housekeeping when an insufficient inventory of clean rooms upon guest arrival became a chronic issue. Room attendants had to located by radio or physically in order to be updated on last-minute changes and new cleaning priorities, leaving supervisors with little time for department management and room inspections. To solve this, HotSOS Housekeeping provided the team with an automated solution for consistent communication in real-time. The consistency pushed cleanliness scores higher, as the hotel's Director of Housekeeping said: 
"Our GEI scores for 2016 show a 2% increase in guestroom cleanliness and a 5% increase in guestroom condition since 2014. Having more time to spend on guestroom inspections and the ease and efficiency in reporting deficiencies in real time, have helped improve our guest ratings."
Notable feature: HotSOS' focus on service optimization includes an automated dispatch feature that pushes operational and guest requests to the right person instantly to reduce wait times and increase efficiencies.
What clients say: 96% of reviewers would recommend HotSOS, which is used across hotel categories, with reviewers appreciating fast housekeeper responses and the customizable reports.
6. HKeeper is a startup newcomer in the housekeeping software space
While HKeeper is one of the newer entrants in the housekeeping software space, the Company's product is surprisingly mature.  The founding team at HKeeper is comprised of hotel owners who have built and extensively tested the software on their own properties long before bringing the product to market.
Using HKeeper, you will find requisite tools to avoid unnecessary problems that arise as a result of lacking collaboration between departments. HKeeper will optimize all daily routine processes, improve your guest relations quality, and free up more time for working with projects and vendors. Hkeeper is one of the best tools for managing the personnel of the hotel and tracking material usage. With HKeeper, you can streamline workflows, reduce the turnaround time between tasks, and increase employee productivity.
HKeeper also monitors working progress in real time and analyzes staff performance by counting active working time, turnaround time, and time required for each task. Another exceptional function in the HKeeper program is that the mobile application can work off-line. Not all similar programs are offering integration with PMS software, and HKeeper does, so hotels can easily stay updated on room status, availability, and guest information.
Notable feature: HKeeper offers a unique feature that allows tracking all materials used during cleaning and preventive maintenance tasks or other operations through the program in real time.
7. Quore Cleaning Plus
Quore's Cleanings Plus software has been named the top Housekeeping Management Solution for two years running in the HotelTechAwards. This was its second consecutive year at the top spot, likely influenced by the fact that the tool is used at more than 3,600 properties across 80 brands in 29 countries.
With Cleanings Plus, housekeeping managers can record and view room updates and also schedule, manage and track cleanings and inspections. Additional functions include analysis of individual and department-wide performance trends as well as the ability to immediately report work order requests. 
Rooms can be assigned by cleaning type and a virtual breakout board can be created in the app for everyone to view. Room attendants also have the capability, via mobile access, to make relevant updates on their end. As one HTR reviewer pointed out, much of the data is retained so hotel management can go back and reference it without the hassle of having to physically store older information. "[I like] having so much in one program and the ability to keep so much historical data without keeping paper files," he said.
Notable feature: The software is available in 22 languages so staff can communicate in their native tongue. This is a fantastic way to improve productivity and staff engagement, not to mention stronger guest satisfaction when they communicate in their native tongues as well.
What clients say: Quore is extremely popular with branded properties in the U.S. and is highly recommended by 95% of its users. Clients rate Quore 4.8/5 for ease of use and 4.7/5 for customer support making it the most highly recommended software in its category on Hotel Tech Report.