2023 Hotel Tech People's Choice Winners Announced
By Jordan Hollander
Last updated January 10, 2023
3 min read
Each year along with individual awards for the top-rated hotel software in each category, Hotel Tech Report recognizes the Top 10 most customer-centric global companies in the annual People's Choice Awards. The People's Choice Awards serve to honor and recognize companies who have balanced strong growth with a relentless focus on customer-centricity.
The HotelTechAwards platform (by Hotel Tech Report) leverages real customer data to determine best of breed products and companies that help hoteliers grow their bottom lines.
"The People's Choice list is the most competitive HotelTechAward because it compares the most influential hotel tech companies across all categories.  This award is earned by the companies in the industry who have the customer centric cultures and are writing the playbook for digital transformation in hospitality," says Hotel Tech Report CEO Jordan Hollander.
The key factors used to determine the annual People's Choice Award include total verified customer reviews, geographic reach of reviews, and overall review sentiment and ratings.
The best companies know that the most effective way to communicate their value proposition is to empower and amplify the voices of their happy customers.  The People's Choice Award recognizes companies whose customers really value the relationship and partnership.
"Twenty years ago we lived in a world where hoteliers just used one of the three or four technology systems out there and typically just ended up using whatever system they had heard of before.  Today there are thousands of SaaS choices in the market and dozens of great options available for most use cases but the market is moving so quickly that it's hard for hoteliers to identify and keep track of the best products and companies.  This award honors the companies whose hotel customers are the most vocal advocates of their products to make that process easy," says Hollander.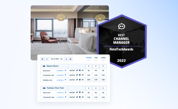 THE PITCH
RATINGS
BEST FOR
100
HT Score
Hotel Tech Score is a composite ranking comprising of key signals such as: user satisfaction, review quantity, review recency, and vendor submitted information to help buyers better understand their products.
Learn More
More than 1406 hoteliers in 34 countries gave SiteMinder an average likelihood to recommend of 91%. SiteMinder also demonstrated outstanding achievements in other critical buyer quality signals such as 16 verified case studies that demonstrate strong return on investment, 16 expert recommendations from leading technology industry executives, 241 verified integrations and has achieved the rigorous Level III Global Support Certification.