Hotel Terminology and Key Industry Jargon
By Jordan Hollander
Last updated October 12, 2022
6 min read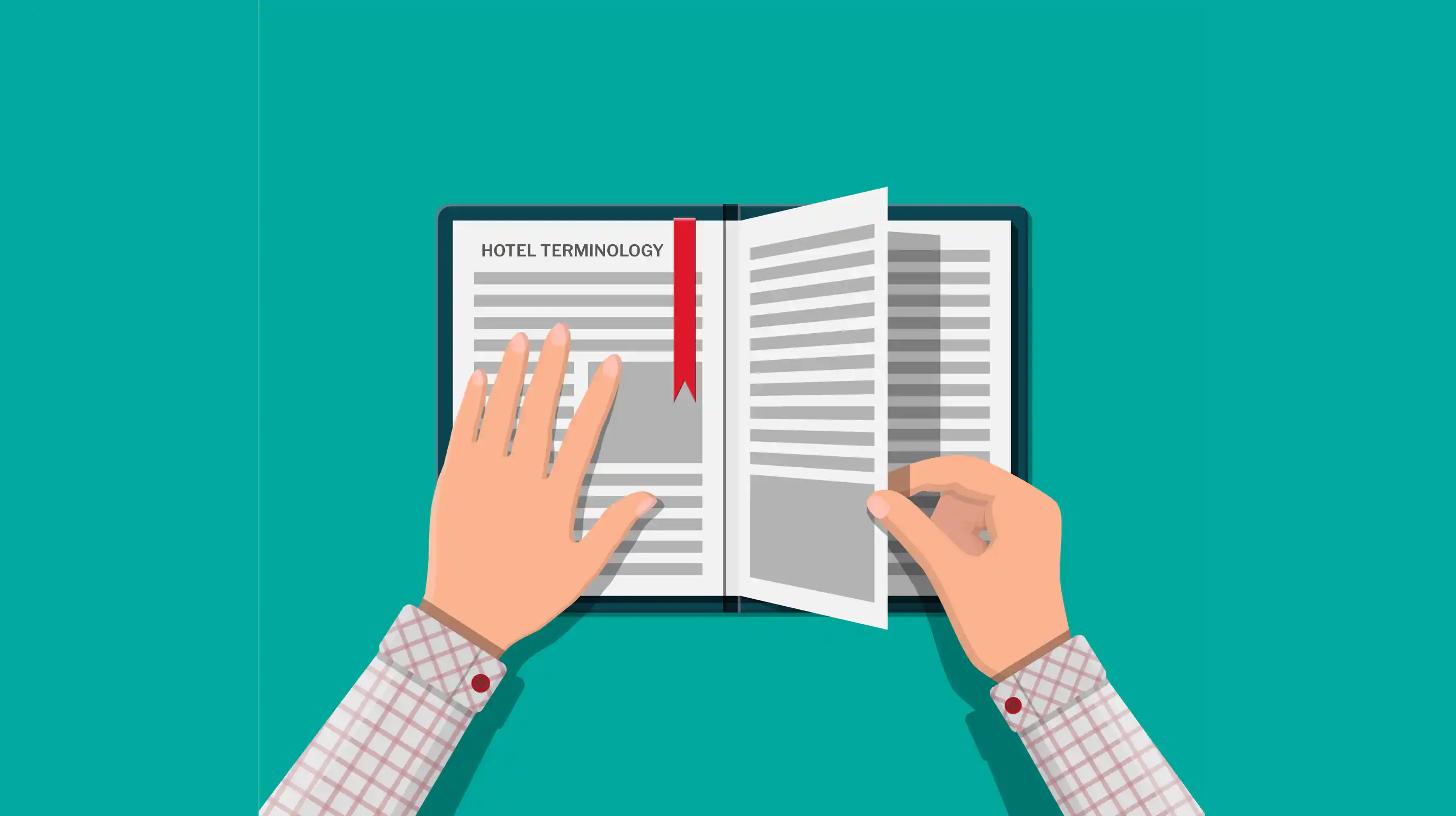 There are lots of terms and acronyms that get thrown around industry reports and news coverage that can be confusing. Some terms, like hotel star ratings, mean different things to different people. Other acronyms, like GDPR, come up frequently in news articles but are never fully unpacked. 
While you may be familiar with some of these terms, its worthwhile to keep this list in your back pocket in case any questions come up. How are Gen Z members different from Millennials? What is the calculation for RevPAR? What does CRS stand for? 
Here are some general and more tech-related terms with which every hotel manager should be familiar.
General Hotel Industry Terminology and Definitions
What some hotel managers don't realize is that some of these common phrases can actually mean different things to different people. A "single room" may refer to a room's bed, size, or occupancy restrictions. A four-star property in Europe looks very different to a four-star property in the US. It's important to get a deeper understanding of these general terms to keep your team on the same page and know how your company is performing.
Room Type: Every hotel classifies their guest rooms differently: by size, beds, or amenities. These definitions can be confusing for guests seeking to understand what space (and price) is right for their needs. Learn how room type classifications vary from property to property. 
Hotel types: There are more than 80 kinds of hotels, resorts, vacation rentals, boutique hotels and more. Guests want to know what each type of hotel has to offer: do budget hotels offer free toiletries? Is a guest house the same as a bed and breakfast? We break it down in our guide outlining the more than 80 types of hotels.
Hotel Star Ratings: Not all star ratings are the same – and the difference between three and four stars can vary dramatically, depending on where you are. Small differences in amenities and services impact a hotel star ratings dramatically. 
RevPAR: RevPAR is an abbreviation for revenue per available room. This metric helps hotel managers understand performance by combining both occupancy and ADR (average daily rate) – it's an easy way to assess how a hotel is doing relative to its competition. The RevPAR KPI is one of the most important in a hotelier's toolkit.
ADR: Average daily rate is calculated by dividing total room revenue divided by total number of occupied rooms in a fixed time period.  It is mainly used to benchmark similar assets and to better understand pricing strategy.
Front of House: The "front of house" refers to any teams on the hotel property that operate in guest-facing roles. Your front of house must work in lockstep with the back-of-house to satisfy guest needs. Coordinate your front of house to support the other parts of your hotel operations.
Demand Curve: A demand curve represents the relationship between the price of a good or service and the amount (quantity) demanded over a given period of time. By understanding your hotel's demand curve, a revenue management team can be more strategic in maxing out your property's revenue potential. 
Suggestive Selling: Suggestive selling is a sales method that encourages a customer to add an ancillary product or service onto their original purchase – an airport shuttle onto their hotel stay, for instance. This powerful practice can dramatically increase your hotel's revenue. 
Revenue Management: Revenue management can best be described selling the right room to the right customer at the right moment and price – with the best commission efficiency. It's not just about pricing rooms, but also about maximizing a guest's total spend on property. 
SMART Goals: SMART is an acronym for specific, measurable, achievable, relevant, and time-bound. Setting SMART goals keeps your hotel team on track for reaching new levels of growth, guest satisfaction, and profitability. Read more about SMART goals specific to the hospitality industry.
Gen Z: Generation Z is generally regarded as those born between 1995 and 2015 – the generation following Millennials. Gen Z members are already becoming one of the most powerful consumer groups in the market, with tastes and preferences that are dramatically different from other consumer groups.
Best Available Rate (BAR): A pricing mechanism that indicates to prospective guests they are getting the best possible (lowest) rate of the day that's available to book.
Length of Stay (LOS): Typically used as an average this term indicates how long a guest stays at a property or in aggregate is used to measure the average guest room stay across a property or customer segment.
Hotel Technology Definitions
Many of these tech terms are familiar – if you have a degree in business or marketing. For the average hotel manager, acronyms like GDS and PCI/PSD2 aren't that intuitive. These tech terms and acronyms are essential for running modern marketing campaigns and keeping your hotel compliant with industry standards. 
Metasearch: A metasearch tool aggregates results from a variety of search engines into one view. For travelers, metasearch engines like Google, Tripadvisor, Kayak, and Trivago can be used to find the best deals available on hotel rooms, plane tickets, and more. 
CRS: CRS stands for central reservation system. A CRS is used by hotel properties to manage room rates and availability. CRS platforms share availability information across distribution channels, adjusting as bookings are made or rates are changed. 
GDS: GDS stands for global distribution system. A GDS functions as a middleman between a travel agent and a hotel's CRS. It displays available room types, rates, and restrictions so that travel agents can book vacation packages in just a few clicks.
GDPR: GDPR stands for the General Data Protection Regulation, also known as the Data Protection Act. This act was passed by the European Union in 2018 and governs how companies collect and store personal data, with the goal of protecting the consumer with opt-in alerts and and controls.
SEO: SEO stands for search engine optimization, a set of marketing pratices and strategies that bring more visitors to your hotel's website. SEO can be divided into two strategies: on-page SEO and off-page SEO. Things like your page design, navigation, and load speed impact on-page SEO and can be addressed through a partnership with an agency.
5G: 5G is shorthand for the fifth generation of mobile broadband that will replace 4G, the type of connection you likely have on your smartphone. 5G promises to improve device responsiveness, provide faster download speeds, and give consumers the ability to connect lots of devices at once. 
Content Management System: A content management system, or CMS, is a platform through which you can build your website. A user-friendly interface allows you to drag and drop elements from text to photos to widgets and more.
Payment Processor: A payment processor enables hotels to take credit and debit card payments. When a guest books using their credit card, a payment processor actually receives the money, then charges the hotel a markup when the funds are paid out. 
Booking Engine: A booking engine is a platform that optimizes your hotel website to capture as many direct bookings as possible. Your booking engine selection is a big decision: this tool should  should remove any obstacles preventing a guest from completing their booking, using mobile optimization, accepting any form of payment, and even optimizing your website design to capture the most possible direct bookings. 
Revenue Management System: A revenue management system is a tool that aids in revenue management (as defined above). These platforms help hotels match the right room to the right guest optimizing for price and timing to maximize profitability. For more information, check out our revenue management systems guide. 
PCI/PSD2: PCI stands for the Payment Card Industry Data Security Standard, which provides industry standards for accepting, storing, and processing credit card information. PSD2 are the Payment Directive Services that any businesses who could potentially engage with European customers. Read our guide for more about PCI PSD2 hotel industry compliance.
CRO: CRO is an acronym for conversion rate optimization. It refers to the process of improving the number of people who complete a desired action on your website. Read more in our guide, "What is CRO and Why Does it Matter To Your Hotel?".  
Data Science: Data science is the practice of extracting information from data. Data science involves analyzing large amounts of data to uncover useful insights and business intelligence. The basics of data science can increase profit at your property with the right tools in place to help inform your decision-making. 
STR Report: An STR report is developed by hotel management analytics firm Smith Travel Research. It's a benchmarking tool that can give you information about hotel's performance as compared to your competition.
Online Travel Agencies: Online Travel Agencies, commonly known as OTAs, are digital travel agencies that give potential travelers access to all the available hotel rooms, car rentals, flights and tours they may want for their next trip. In the process, OTAs take a commission anywhere between 5% to upwards of 25%.
Cyber Security: Cybersecurity goes hand-in-hand with geopolitics in the hotel industry. Understanding these two areas can help hotels mitigate online risks to guest information, and avoid becoming front page news due to a hack or data breach.
Property Management System: A property management system or PMS is the core operating software of a hotel.  This software helps owners and front desk workers manage their businesses from booking to check-in and even back office operations.
Point of Sale: Point of sale or POS is the hospitality software system used by retail or F&B (food & beverage) outlets to manage orders and payments.
New technology is being introduced all the time: and with it comes more acronyms and industry jargon. Check out more of our free resources to build your expertise and stay on top of trends in the hospitality industry.