These are Hotel Tech's Most Inspiring Female Founders
By Hotel Tech Report
Last updated January 26, 2022
6 min read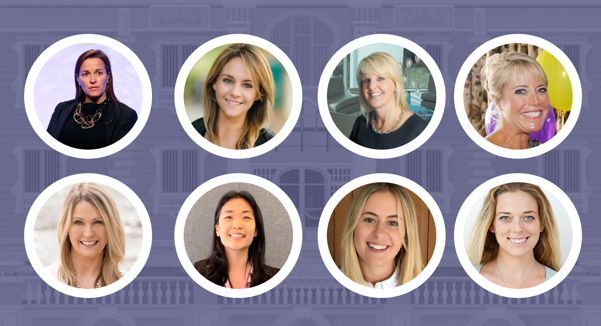 Female entrepreneurship has seen a staggering amount of growth in the last 40 years. As of 2018, the US had 12.3 million women-owned businesses, compared to 402,000 businesses in 1972. Today, women-owned ventures make 4 out of every 10 businesses within the US, a shift that has altered the landscape of female leadership.
Even traditionally male-dominated industries, such as tech, are being disrupted by female founders and leaders. Women in the travel technology space are solidifying their leadership and paving the way for their younger counterparts to find their way in this growing industry. While not a founder, Booking Chairwoman Gillian Tans is arguably the most powerful woman in travel tech. She shares wisdom with budding female entrepreneurs and leaders:
"The advice I would give to anyone starting out is to take risks and not be afraid of new challenges or opportunities. My career path was not obvious, I had to make many twists and turns along the way to get where I am today. It required taking some chances. But those were the moments where I learned the most. Without challenging yourself, growth opportunities are limited. So take the risks. You will be better for it in the long run, regardless of the short-term outcome."
Without further adieu eight of the travel technology industry's most inspirational female founders, and how they forged their way to the top.
1. Allison Page, SEVENROOMS
Allison page comes to hotel (and F&B) tech with a finance background and a bachelor degree from University of Pennsylvania's prestigious Wharton Business School. Allison and her co-founder Joel Montaniel founded the business in 2011 and haven't looked back since raising $79.6M in funding to date. Hotel food & beverage operations often lack the resources and know how to run personalized marketing campaigns. SevenRooms' segmentation and email automation enables F&B managers to easily add customizable tags to guest profiles then run rules based marketing campaigns to those segments. Run unique marketing to critical segments like: first timers, high value regulars, positive reviewers and more. Companies like Revinate and Cendyn have demonstrated the immense value of personalized hospitality marketing campaigns. Now F&B outlets can benefit from marketing automation too.
2. Janine Williams, Impulsify
Janine founded Impulsify as a retail technology solution for hotels. Impulsify equips hoteliers with customized retail technology solutions to maximize impulse sales in hotel pantries and gift shops through a POS and inventory management solution. Hotel front desk teams see a reduction in front desk retail traffic by up to 90%, enabling guests to get what they want when they want it. Based in Denver, with 29 employees, Impusify has been named a top-rated solution in the HotelTechAwards on multiple occasions.
Janine takes any opportunity to fuse travel and giving back. Recently, she launched a campaign to donate a whole house to a family in need for every 50 hotels that added ImpulsePoint POS to their pantry or gift shop. Janine regularly travels to Honduras to build schools, clinics, and houses for those in need.
It's hard not to be inspired by the incredible female leaders that are finding success and bringing innovation to the travel tech industry. We are seeing unprecedented support for women's empowerment within the workforce, turning what was once a barren wasteland for female leadership opportunities into a fertile ground for growth.
3. Amelia Gain, Preno
Running a hotel is hard work, running a successful hotel without modern software is near impossible. Many hoteliers are using tech systems that are out of date and difficult to use, – costing operators valuable time and money that they could be spending on creating an exceptional guest experience. Hoteliers deserve hotel management software that is easy to look at, simple to use, and connects with leading tools – this is where Preno comes in. Preno is an intuitive hotel management system designed with a user-friendly interface and created specifically for independent hotels (up to 300 rooms/units).

After having trouble with difficult, old-fashioned software systems for her own property, The Spire Hotel, Preno's now founder and CEO Amelia Gain decided to bridge this gap in the industry and make lives easier for hotel owners just like herself. Today, Preno serves hundreds of hotels globally and Gain is remarkably the only New Zealand-based entrepreneur to make this list.
4. Amanda Szabo, ResortPass
Amanda Szabo is a serial entrepreneur and founder of Los Angeles-based ResortPass. The firm has raised $12.7M in funding to data according to data from pitchbook and has its sites set on global expansion. In hyper-competitive markets finding new hotel guests is expensive and difficult. Travelers are notoriously hard to market to which led Amanda to realize that hotels were missing the lowest hanging fruit around - locals. With that insight, Amanda created ResortPass to sell day passes where locals (or guests at other hotels) can use luxury hotel amenities when they're not a guest. ResortPass works with hotels like the W Hollywood and Viceroy Santa Monica and leverages a congestion-pricing model similar to Uber to ensure that those amenities don't end up getting overcrowded for guests while ensuring that hotels achieve maximum profit. This is one of those ideas that everyone says "how did this not exist before" but Amanda took the reigns and is executing like crazy to bring her vision to life.
5. Jennifer Wong, LaaSie.ai (formerly Stay Wanderful)
Jennifer comes to hotel tech with a finance and real estate background, a bachelor's degree from MIT and an MBA from Harvard Business School. Jennifer founded LaaSie.ai in 2016 under the name Stay Wanderful). The start-up uses Instant Gratification to power the transaction moment (i.e. booking on a hotel website) in a more relevant way for today's consumers.
LaaSie.ai leverages a unique approach to loyalty by providing personalized incentives and perks, such as free Uber, Amazon credits or VIP access. The platform can increase direct booking conversion and retention by leveraging an ever-growing network of premium national & local merchant rewards alongside its AI technology. LaaSie.ai (under its former name Stay Wanderful) won Top Direct Booking Platform in the 2019 HotelTechAwards. The Company also won the Most Innovative - Judge's Choice Award at HITEC 2017 and of the Best Business Model Award at Launch Festival 2016.
6. Robin Deyo, Cendyn
Robin Deyo is co-founder of the global travel tech company Cendyn. With over 30 years of experience in hospitality, Robin began her career on the sales side for Hyatt Hotels Corporation and Red Rock Resorts. In 1996, she and her husband recognized a hole in the market and co-founded Cendyn, a SaaS marketing, sales, and event solutions platform for the hospitality industry.
Cendyn enables hotels and hospitality groups to leverage data and drive guest loyalty in a secure and compliant way while cutting down response times and offering personalized service. Cendyn's foundational product, eProposal, was one of the first solutions to allow hotels to accept group business RFPs via their websites, thereby growing their group business. eProposal still makes up a small but important part of Cendyn's overall portfolio today. Cendyn is the leading hotel CRM platform with over 30,000 customers across 143 countries, offering products that incorporate sales software and hotel digital marketing services with enterprise spend levels in excess of $1 billion.
In June 2019, private equity firm Accel-KKR purchased a majority stake in Cendyn. Robin and her husband have taken a backseat in the day-to-day operations of the company. Robin has recently started De Joux Holdings, a company focused on investing in hospitality-focused and philanthropic projects. It will certainly be one to watch to see what exciting new paths this industry veteren will take next.
7. Alexandra Zubko, Triptease
Alexandra Zubko founded Triptease in 2013. Since then, it's become one of the industry's fastest growing tech upstarts.
One of the biggest issues facing the hotel industry has been the rise of online travel agencies. OTAs cut off the direct connection between hotel and customer and obscure room data for hoteliers, creating rate parity issues and making profitable pricing more elusive.
Triptease increases direct bookings by making the booking process easier. Triptease: Attract is a metasearch management software that aims to drive an additional 10% of direct revenue to hotels at a lower cost than OTA commissions. Triptease: Convert is a direct marketing tool that flags a hotel's most valuable guests, offering ways throughout the entire customer journey to make sure they book directly with the hotel. Triptease's cloud-based software and real-time pricing tool give hotels increased ownership on how rooms are priced. Triptease was the top-rated Direct Booking Platform in 2018.
Alexandra was VP, Head of Global Strategy at IHG (Intercontinental Hotel Group) prior to co-founding Triptease. She had her first taste of start-up life – in between working at consulting giants McKinsey and Goldman Sachs – as the founder of TripTips, an online social networking platform for sharing travel recommendations. For more on her background, check out our exclusive interview with Alexandra about her career journey and vision for Triptease.
8. Tammy Farley, The Rainmaker Group
Tammy co-founded The Rainmaker Group in 1998 where she spearheaded all sales, marketing, and customer-related operations for the company. Rainmaker is a market leader in profit optimization solution for hotels, resorts and casinos and was recently acquired by Robin Deyo's Cendyn.
Rainmaker has three key products: revintel, guestrev, and grouprev. The proprietary guestrev revenue management tool optimizes room rates to reflect guest's spend across an entire property enabling properties to plan revenue goals and set rates based on demand. Grouprev helps hotel owners convert group and meeting business and maximize revenue. The tool optimizes group room rates, function space revenue, and manages a property's sales and catering calendar. Revintel is a tool that aggregates and analyzes data to produce actionable insights to drive revenue and help site managers measure performance against corporate goals.
The Rainmaker Group was recently acquired by industry tech giant Cendyn (yes, that's the same Cendyn founded by Robyn Deyo above!) to help round out their digital offerings. Tammy will become a board member and continue her heavy involvement in local philanthropy.
Did we miss any? Let us know!