HITEC 2019 Recap: Everything You Missed in Under 5-Minutes
By Jordan Hollander
Last updated January 26, 2022
27 min read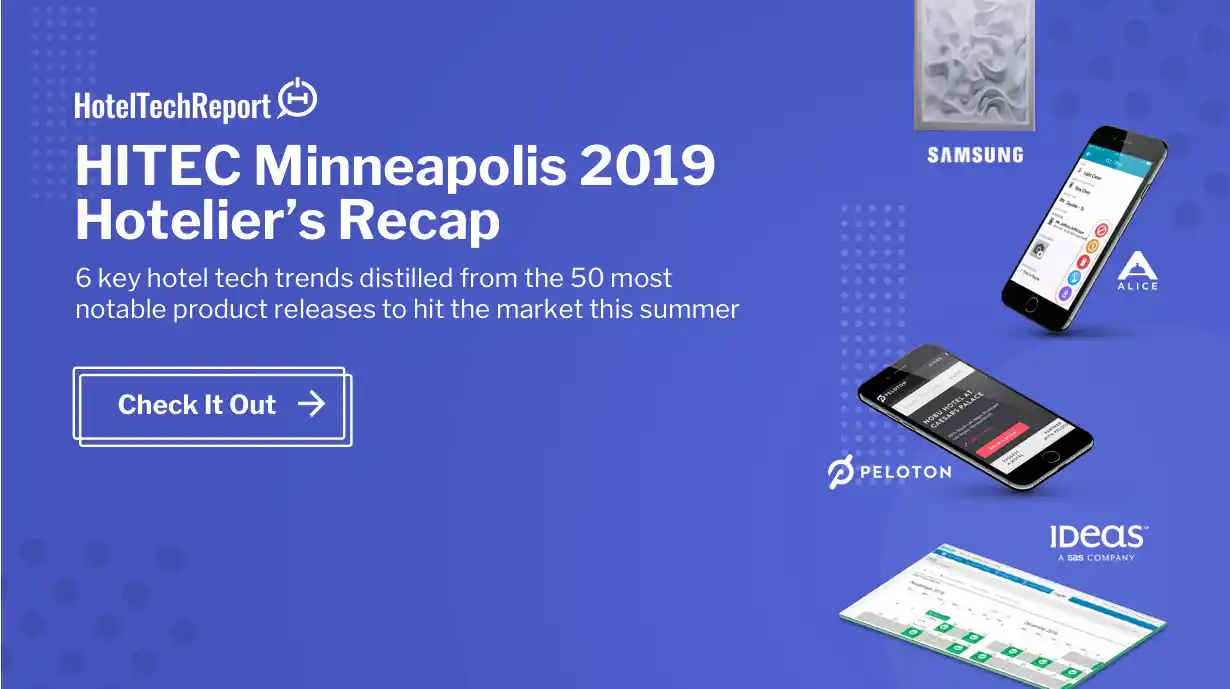 The Hotel Tech Twins just returned home from HFTP's annual US HITEC show which just so happened to find itself in...wait for it...the twin cities.  This year's location in Minneapolis is the hometown of hotel tech darling IDeaS which happened to be celebrating its 30th year in business - serendipity was in the air.
The week kicked off with our favorite part of every major conference, Klaus Kohlmayr's exclusive tech startup happy hour where we got to bump elbows with CEOs like ALICE's Alex Shashou, Meeting Package's Joonas Ahoola and Triptease's Charlie Osmond who just returned from running a marathon in North Korea (nope that's not a typo...NORTH Korea!).
During the conference we met with more than 50 tech companies to learn about the latest tech developments and tips to grow your hotel business.  In this article we distill major trends that we saw in the market and highlight key innovations that should be on every hotelier's radar within each trend. 
Consolidation certainly seems to be driving the market with Travel Tripper + Pegasus making its first combined HITEC debut, Jonas Hospitality launching its Jonas Chorum brand and HeBS/Serenata rebranding the organization Next Guest.
Whether you were at HITEC and were too overwhelmed to cut through the noise or couldn't make it at all...fear not, we've got you covered.  Below you'll learn about the 6 biggest hotel tech trends we saw at the show, discuss what they mean for your hotel business and highlight the companies that are pushing the envelope within each.
TLDR; HITEC trends at a glance
TREND 1 | Companies are doubling down on automated workflows to save time and reduce human error (12 products covered)
TREND 2 | A cambrian explosion of tools to help hoteliers manage and make sense of their data (6 products covered)
TREND 3 | A new focus on enabling guests and driving revenue with self service (8 products covered)
TREND 4 | Big tech is leaning into hotels for new use cases & distribution (4 products covered)
TREND 5 | Housekeeping software is heating up (4 products covered)
TREND 6 | Fraud and security are still poignant post-Marriott breach (8 products covered)
Bonus Coverage: More Notable Product Rollouts and Launches From the Show (10 products covered)
Before we jump into the trends...3 shout-outs for creativity at the show
Most creative HITEC marketing initiatives: a tie between IDeaS and Infor
IDeaS went big for their 30th anniversary and brewed their own line of local craft beers for the show.  We heard they still have a few extra cases left so when you are negotiating that contract for your hotel group's next RMS - make sure to ask them for a hoppy throw in.
Infor launched its new grab-and-go POS solution where guests can purchase food on a touch screen kiosk.  The Company went all in on the demo and had a full service food and beverage operation running in real time.  It turns out hoteliers love free food and the demo was super slick so the Infor booth was slammed every time we passed by.
ALICE delighted conference goers by shelling out envelopes of cash to announce its latest release.  While envelopes of cash alone would have been enough to secure a shout out for creativity, the meaning behind the stunt sealed the deal with class, creativity and customer centricity.  Having just launched the all new ALICE Housekeeping, the envelopes were actually tip envelopes for conference goers to bring back to their hotel rooms and leave for their room attendent paying homage to housekeepers and the back breaking work they do day-in and day-out.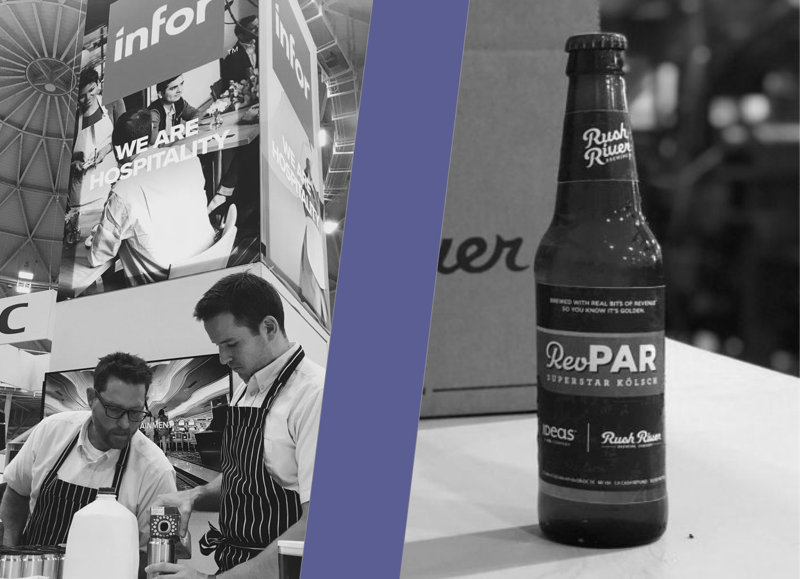 Congrats to SABA Hospitality, the winner of E20X People's Choice Award.  SABA Hospitality manages every aspect of the guest journey. From answering questions, to managing requests, making recommendations, fulfilling F&B orders and everything in between. Their artificial intelligence driven chatbot transforms a hotels guest experience, while lowering staff workload and driving revenue.

TREND 1 | Companies are doubling down on automated workflows to save time and reduce human error
Due to years of overzealous media hype, when hoteliers hear the word 'automation' they mostly think about robots but the kind of automation that's actually changing the hotel industry is a very different kind of automation.
Most techies are familiar with companies like Zapier and IFTTT (If This Then That).  Essentially these companies are platforms that help businesses setup and execute rules for repetitive processes.  For example, you could set a "Zap" that triggers a Google Calendar meeting scheduled every time someone fills out a form on your website.  These kinds of automations are the backbone of building a great business because they free up your team to focus on high value tasks. 
Hotels are notorious for having these kinds of repetitive tasks.  For example, every time a room attendent finishes cleaning a room they need to radio the housekeeping manager who then needs to mark the room ready for inspection.  Take another example where your night audit team needs to do a manual bucket check to cross reference each in-house folio against your in-house list in your PMS.  All of these tasks can be automated away which frees up those team members to focus on higher value tasks which can really move the needle for your business.
At HITEC this year we saw a ton of companies from guest messaging platforms to revenue management systems showcasing ways for hoteliers to automate away those redundant and tedious tasks.  These tools help you save time, eliminate frustration and mitigate the risk of error across your property operations.  
Below are the key HITEC launches and showcases that help hoteliers like you with task automation.
Whistle launched AI conversation and dispatch automation for its guest messaging product
Some hoteliers fear that adding guest messaging at their property will increase the amount of work for their teams by adding a new channel for requests. The good news is that Whistle has been honing their conversational Artificial Intelligence (AI) / Machine Learning (ML) model which now claims to predict responses to 80%+ of guest questions and requests. With this knowledge, Whistle can suggest or automatically prompt the appropriate response back to the guest, and even auto-prompt service requests and work orders to internal departments via Whistle's lightweight task management module or other integrated Service Optimization solutions like Quore.  Whistle has won the top rated Guest Messaging category two years running and its new time saving functionality looks like they're likely to step up their game again this year.
IDeaS showcased Investigator, a new feature to show hoteliers how pricing decisions were made
As technology plays more of a role in revenue management many revenue managers want to know the "why" behind pricing decisions to ensure that mistakes aren't being made and so that they can effectively communicate strategic decisions to stakeholders. With Investigator, revenue managers can drill into the analytics behind decisions made by IDeaS' G3 revenue management system. Investigator allows revenue managers to embrace automation while also staying in the loop to make sure everything is working properly.
OTA Insight adds intelligent rate parity breach detection and bulk actioning via automated alerts
Hotel distribution is extremely complex and due to the way that 3rd parties resell inventory it's nearly impossible to track down parity issues like price discrepancies or room-type issues. Parity Insight provides a turnkey solution to detect, action and resolve parity issues in real-time. The new functionality provides workflow automation and streamlines communication between groups, chains and hotels. OTA Insight is trusted by more than 40,000 properties globally and leverages data across the entire group to help each individual client ensure that their distribution partners aren't engaging in costly breaches of contracts.
Zingle launched automatic message categorization and intent triggered automation
Without the right automation, guest messaging can add more work onto your team's already busy plate so it's important to have the right automations in place to ensure that this great guest amenity doesn't come at the expense of team productivity. Zingle's messaging software has pre-made and customizable automated workflows that re-route and follow up to messages to save staff valuable time on repetitive tasks. There are dozens of automations available today, including recognition of plumbing issues, process information requests (like gym hours), or housekeeping related messages like  room-cleaning and turn down service. Zingle  streamlines communication for hotels and improves service times by reducing the need for manual ticket entry, routing and follow-up by staff.  Zingle raised $11M from Peakspan Capital to fuel technical R&D and drive growth. Fun fact, Zingle's founder Ford Blakey also happens to be the brother of billionaire Spanx founder, Sarah Blakely.  
Travel Tripper showcased its ADA compliance audit and monitoring platform to automatically detect compliance issues with your website.
The platform offers a proactive approach to the increasing threat of ADA website lawsuits in the hotel industry, allowing hoteliers and their web service providers to address website accessibility issues and mitigate the risk of ADA compliance lawsuits.  This platform is the first of its kind (in the hotel industry) which actively audits hotel websites according to WCAG 2.1 AA-Level standards and automatically alerts property teams if a technical violation is found.  Upon recognizing an ADA violation, the platform sends regular notifications to account users until the issue is fixed.  In addition, Travel Tripper assists hoteliers' legal teams by giving them the proper documentation they need when responding to an ADA website compliance lawsuit.
Cendyn announced a new funding round lead by Accel/KKR to increase the capabilities of its marketing automation products both in SMB (Guestfolio) and enterprise (eInsight).
Cendyn was one of the first movers in the hotel CRM market and to this day is amongst the top hotel CRM choices in the enterprise clients with its eInsight product.  Back in 2016 Cendyn acquired Guestfolio, a provider of hotel CRM independents and moving forward AKKR is likely to have its sights set on more M&A opportunities like Guestfolio (or even a larger merger).  With Tim Sullivan taking the helm from founders Robyn and Charles Deyo, hoteliers can expect the firm to push deeper into automation.  Over the last few years hotel CRM vendors have needed to invest heavily in GDPR compliance initiatives but with that behind them expect more "Marketo" like marketing automation functionality out of this category in the next 6-12 months.
Protel launched zero cost 1-click integrations to fuel automation
Integration is the key to all automation but historically integrations have been extremely expensive and time consuming to set live. protel launched one-click connect and slashed activation costs for select partners in its i/o marketplace. Now protel clients can instantly turn on top rated apps like OTA Insight, Oaky Upselling and Atomize revenue management without paying a dime. While this is a small step towards a more integrated future it is a critical one since this kind of move from a major PMS company like protel with 14,000 clients will put pressure on others to follow suit.
Atomize launched its group booking price optimization functionality
Group sales reps often price groups manually which takes a lot of work.  If they ask too much they could lose the contract and if they charge too little they leave money on the table. Atomize's new group booking functionality allows hoteliers to automatically set optimal prices for group booking packages.  The software cuts out manual calculations, negotiations and collaborations by taking into account the total expected spend of various groups on property.  Atomize can factor varied requests within the same group like different arrival and departure dates. Atomize won top rated revenue management system in the 2019 HotelTechAwards and has been taking the industry by storm ever since.  This new group functionality is another step towards rounding out Atomize as a complete revenue management software the platform.
SevenRooms launched email marketing for hotel restaurants
Hotel food & beverage operations often lack the resources and know how to run personalized marketing campaigns. SevenRooms' segmentation and email automation enables F&B managers to easily add customizable tags to guest profiles then run rules based marketing campaigns to those segments.  Run unique marketing to critical segments like: first timers, high value regulars, positive reviewers and more. Companies like Revinate and Cendyn have demonstrated the immense value of personalized hospitality marketing campaigns.  Now F&B outlets can benefit from marketing automation too.
Zoox debuted facial recognition technology for hotel check-in
Front desk agents are overloaded with repetitive tasks like identity verification which creates bottlenecks at check-in and hurts the guest experience. Zoox' facial recognition software allows guests to check into the hotel in under 15 seconds without the front desk ever needing to verify their identity with ID or credit card. Facial recognition is already being used in markets like China which have leap frogged some of the West's archaic traditions by using next gen tech.
Avvio showcased its Allora powered booking engine
Each guest is enticed by different booking messages, layouts and visuals so having a static booking engine means that you're losing guests by not putting the right offer and presentation in front of them. Allora leverages data from Avvio's client base to put the right messages and visuals in front of guests that are likely to be enticed by those calls to action. Continuous website optimization is mainstream in eCommerce and is a critical piece of maximizing direct bookings. Avvio guarantees that you will see a 25% increase in direct booking revenue when you switch to their booking engine.
Knowcross launched KNOW Maintenance to automate preventative maintenance
KNOW Maintenance is a cloud based multilingual application that helps automate, schedule and monitor all preventive maintenance activities at hotels.  The application organizes all engineering responsibilities for hotels, thus ensuring superior guest satisfaction, minimize malfunction accidents and maximized equipment lifetimes. This also results in enhanced productivity and better manpower forecasts.
Event Temple showcased group sales automation.
Sales & catering is the lifeblood of any business hotel and managing your group sales pipeline effectively could be the difference between making or losing money.  Event Temple's group CRM is purpose built for the hotel industry and features digital contract signatures, banquet orders, pipeline overview, menus and more.  With this software your sales team can track progress at the property or portfolio level.  Event Temple features built in emails and the ability to automate initial drip outreach with new leads.

TREND 2 | A cambrian explosion of tools to help manage and make sense of your data
We know that you and your staff are probably sick of tech companies talking about artificial intelligence, machine learning and big data.
Ultimately the big hotel data challenge can be boiled down into 3 simple buckets:
(1) Guest profile data
(2) Market data
(3) Operations data  
Most of the datasets that tech marketers are referring to are not really big data.  Here's how analytics firm SAS defines big data.
"Big data is a term that describes the large volume of data – both structured and unstructured – that inundates a business on a day-to-day basis."
Since big data can be overwhelming for hoteliers, let's first define our data types so that we can see it's actually not so scary:
Guest profile data helps us target new guests and better serve them on property.  CRM systems use recency, frequency and monetary value as the core data points but this data includes PMS data like stay dates as well as 3rd party data pulled in from social media platforms, reputation platforms like Revinate, guest surveys and other data sources.  Ultimately we want to use this data to find new guests who are like the ones that stay with us and to deliver personalized experiences that drive loyalty
Market data helps us price our rooms and plan for the future.  This data includes historical pricing, demand trends, local events and more.  Market data sources come from platforms like OTA Insight or TravelClick Demand360 as well as 3rd parties like Kalibri Labs, STR or CBRE.
Operations data helps us streamline how we run our business.  This data comes from PMS and operations systems.  We'll want to look at things like how long it takes to turn our rooms, average cost per occupied room, time to service requests and more.
The challenge becomes tying all of this data together in ways that enable us to make business decisions and act on them in real time.  Integrating these datasets and visualizing them in a clear and understandable way is critical for the success of any hotel. Because this data is constantly flooding into our properties it's impossible for humans to process it and make good decisions without the right software systems in place.
From budgeting and forecasting to marketing and operations, the vendors below showcased new ways of visualizing and manipulating a hotel's existing data to help hoteliers make better business decisions.
Revinate debuted its new platform that promises to manage and organize all of your hotel's marketing data
How can hotels manage relationships with guests? Not just manage room inventory, but create and manage rich guest profiles that tell them everything they need to know about potential guests: recency, frequency, and spending of previous stays to really understand who their VIPs are and when and how they should be marketed to. Currently, data is tied up in various systems that don't speak to each other very well. Hoteliers need tools specifically built for the complexities and nuances of the hospitality industry. Nowhere is this truer than when it comes to managing guest relationships effectively at scale. The Hotel GMS allows hoteliers to easily surface insights on their guest, segment and market to them, and learn more about them over time to make future communications even more effective.
Hotel Effectiveness showcased its labor optimization dashboards and new wage benchmarking capabilities
With labor costs on the rise and labor being the single largest line item on most hotel's P&L, finding ways to monitor and optimize your labor and staffing is mission critical for most hoteliers.  The problem is that most hotels still track and manage their labor manually on pen and paper but luckily, Hotel Effectiveness (in depth review).  The team showcased their purpose built tool that is used by major clients such as Heritage Hotels & Resorts, Interstate Hotels & Resorts, Pacific Host Hotels and Chartwell Hospitality and promises to reduce total labor costs by 5-10% by turning labor hours and cost data into actionable recommendations served up right in the dashboard.
SHR launched its Wave RMS (revenue management system)
SHR is the latest in a slew of companies launching revenue management systems in the last couple of years. SHR's algorithm uses Reinforcement Learning techniques with a proprietary mathematical model that recommends prices not only based on one specific date, but factoring in both days-to-arrival and optimal price on shoulder dates, as well, to maximize revenue across the stay pattern.  Wave combines advanced algorithms with a Strategy Builder tool so that Revenue Managers don't need to solely trust a "black box" recommendation.
Cenium showed off its Microsoft BI powered customizable dashboards
If you've used multiple PMS' before you know that the dashboards often look the same.  Based on your role, there are different metrics and views that are most important to you but it takes a million clicks to get to your favorite view. With a redesigned interface, Cenium put its new customizable dashboards on display at HITEC.  Powered by Microsoft BI, hoteliers can pick from pre-built templates or easily slice and dice data to personalize their dashboard. Owned by a Norweigan hotel conglomerate, Cenium was built for the portfolio's own hotels and is now being made available globally to other hotels outside its portfolio.  Funded by the cashflow of the real estate business, Cenium's pockets are deep and offer a deep resource pool to build a strong product with a customer mindset at the heart of product development.
SnapShot rolled out its V1 POS Analytics to compare PMS and POS data in one interface
While PMS Software was built for hotels, most POS Software was built for restaurants which often becomes evident when trying to run hotel analysis of various F&B outlets or compare POS and PMS data in one interface to identify performance by outlet as well as slice and dice data from both systems to do things like remap and unify POS outlets' names, payment methods, F&B categories and price modifiers. Snapshot POS Analytics is currently only available for hotels who utilize sister Shiji company Infrasys' POS and the lightning fast growing Lightspeed POS.
Profitsword showcased its custom financial performance dashboards
The new user interface is a continuation of ProfitSword's commitment to provide instant and straightforward access to the information that businesses need in order to plan and ensure a successful, efficient and profitable operation. ProfitSword customers are now able to instantly access, group and compare real-time performance data in a way that fits their specific needs at any given time, and with a level of detail that is truly a first for our industry and save custom reports as favorites for easy 1-click access.

TREND 3 | A new Focus on enabling guests and driving revenue with self service
We're living in an age where we manage our investments on mobile devices via apps like Robinhood and choose our workouts at home via platforms like Peloton.  As technology gets better, we're able to go straight to the source and get exactly what we want, when we want it and at a fraction of the cost.
In the hotel industry the notion of self service has taken a bit longer to catch up except in innovative markets like Las Vegas.  Many hoteliers believe that disintermediating services is detrimental to delivering a great hospitality experience. In many ways they are right and there will always need to be a highly personal component between guests and staff to truly create a great guest experience.
Having said that, there are many facets of hotel operations where guests are actually better served completing these tasks themselves which also frees up staff to focus on building personal relationships, surprising and delighting.
An example of this in our professional lives exists within the meeting booking space.  Platforms like Calendly and x.ai are actually much better at scheduling meetings because they integrate directly with our calendars and don't require back and forth to coordinate between parties.  That doesn't mean executives no longer need personal assistants, it just means that personal assistants can focus on adding more value for their employers and skip the back-and-forth.
There are lots of examples of this dynamic in hotels. Most guests would prefer an automated grab and go where they don't need to go through an entire transaction process with an associate.  This seamless experience at the front desk actually builds loyalty by cutting out any wait time or frustration - something that is increasingly critical in the age of instant gratification.  Similarly, there is no check-in experience that can make up for waiting in line at the reception. Solutions like mobile check-in and keyless entry can alleviate wait times and free up staff to focus on higher value tasks.
Below you'll find the latest technology developments within the self service trend that deliver instant gratification and consistently perfect service to guests while freeing up your team to focus on surprising and delighting.
Zoox Smart Pass rolls out facial recognition for seamless and verified self-checkin
So you've been Global Entry or Nexus and wondered why the kiosks there can check you in but you have to talk to someone at the front desk at a hotel.  Well, now you don't have to. As self service check-in goes more mainstream especially at select service and extended stay properties, it's only logical that facial recognition will allow for a more frictionless and secure identification process.  With this new tech, guests simply walk up to the computer camera like they would a Global Entry terminal, scan their face and checkin to their room in under 15 seconds.
Impulsify showed off its ShopPop hotel pantry solution that they're so confident in it actually comes with an ROI guarantee
Having a hotel pantry has often been reserved for brands and larger properties who have the manpower to be able to properly service customers.  Even so, in the majority of cases front desk agents double as grab-n-go cashiers and anytime something is sold it creates a bottleneck at the front desk.  Impuslify's purpose built pantry POS, ShopPop, allows any hotel to easily run their own pantry to offer additional convenience items to guests while driving ancillary revenue through an easy to use self service checkout kiosk.  In addition to time saving features like automated shopping lists and PMS integrations-- Impulsify has processed over 5 million transactions, giving it a growing database of information so you won't have to rely on instinct or habit to decide what guests prefer.   The results are so good that Impulsify even offers new clients an ROI guarantee.
Infor showed conference goers just how easy self-service can be with its POS Kiosks
Usually we expect creative displays from smaller companies but at HITEC, Infor stole the show with a live demonstration of it's grab-and-go solution where attendees ordered food and beverages on one of Infor's new self service POS kiosks.  Similar to Impulsify, Infor's self service kiosk allows hotels to offer additional food and convenience items to guests with the tap of a button without having to worry about staff oversight.
Zaplox rolled out its new customizable self-service check-in kiosk
While self service check-in/check-out kiosks are ubiquitous in the airline and grocery industries, most hotels have lagged behind the trend and few offer a fully self-service check-in process.  More and more technology providers are creating solutions hoping that hotels will wise up and follow their more technologically advanced sibling categories. Following the likes of Mew's Self Service Checkin Kiosk that was released earlier this year, Zaplox launched their take on the tech hoping to bolster usage of keyless entry by offering a more fluid end-to-end check-in experience.  Zaplox Kiosk enables guests to skip the lines and check in and print their own key cards - with 24 hours availability. The kiosk's custom-branded interface enables hotels to create a cohesive brand experience and because the kiosk runs on any tablet-based device, hotels can select the hardware that best matches the interior and space limitation.
Whistle put its conversational commerce on display with its new text based upselling feature
According to Whistle, nearly 30% of guest interactions on their guest messaging platform are potential revenue generating opportunities for the hotel. While guests often express their interest in purchasing an item or placing an order through messaging, they are then inconveniently redirected to communicate their request to the appropriate department (ex. Please call room service to place your order) which both adds friction for guests and reduces conversion to purchase for hotels (aka lost revenue). With Whistle's new upsell module, hotels can add custom inventory from their F&B outlets, pantry, local businesses or even add-ons like late checkout and guests can now seamlessly purchase with one click and have the charges added to the room via PMS integration or leverage 1-click checkout with Apple or Google Pay.  Conversational commerce has long been the gold standard in Asian markets so its great to see frictionless ways to tap into more guest wallet share during their stay while simultaneously adding convenience value for consumers, a win-win for Whistle, hotels and their guests. 
MeetingPackage showcased it's group booking engine and channel manager
If you've ever tried to book a hotel meeting space or venue online you know just how cumbersome of a process it usually is. First you have to fill out a form, then you wait for a response, then when you finally get a response the first question hotels often ask is 'how much is your budget'.  The whole experience is cumbersome, awkward and feels inherently like you're being taken by a used car salesman. In comes MeetingPackage to the rescue with its M&E booking engine and channel manager that allows you to manage content, sync across channels to increase your reach and add a booking flow with rich content, add-ons and full customization for your next event promising to drastically increase conversion rates while delivering corporate clients and meeting planners a seamless self-service booking experience that consumers expect.
Aethon Robotics turned heads with its delivery robots to cut down on delivery times
Aethon's TUG robots take a different approach to self-service by delivering things like food, linen, banquet supplies and luggage via an R2D2 looking robot.  Except for singularity believers waiting for the Terminator to jump through a time warp portal to initiate Skynet--the Aethon is likely to leave guests with a unique and memorable experience that they'll want to tell their friends and social media followers about.  Beyond the buzz factor, for hotels looking to cut down on expensive labor can leverage Aethon's robots to automate common deliveries and cut down on delivery times.
Intelity's tablets got a backend upgrade to make it easier for guests to access information at their fingertips
New additions to INTELITY Staff include an enhanced ticketing system, a more robust content management solution (CMS), in-depth guest and operations analytics, and Guest360™, which provides a 360-degree view of guest preferences, designed to help hotel staff across all departments make the right decisions at the right time while further personalizing the guest experience. The new enhancements to INTELITY Staff will provide staff with access to comprehensive business intelligence and the ability to streamline daily workflows, seamlessly track, manage, and organize preventative maintenance and service recovery, and make real-time content updates. One of the biggest challenges today's hoteliers face is connecting and engaging with their guests in a personalized manner on digital platforms. Guests expect highly personal experience and interactions in hospitality, but also want to have access to the convenience that technology affords them. The new enhancements to INTELITY Staff streamline staff workflows so that staff can spend more time focusing on creating the connection and personalization guests crave.
Saba's chatbot and no-download app 
SABA Hospitality manages every aspect of the guest journey. From answering questions, to managing requests, making recommendations, fulfilling F&B orders and everything in between. Their artificial intelligence driven chatbot transforms a hotels guest experience, while lowering staff workload and driving revenue.
Swyft put its Amazon-esque cashierless stores on display
And we're back...more automated retail! Have you ever walked by a Best Buy or CVS vending machine in the airport? If so, then you've seen Swyft's cashierless retail kiosks in action.  While not as widely adopted in hotels Swyft's tech offers another option to generate ancillary pantry and merchandise revenue without the added labor bottlenecks or cost.
StayMyWay rolled out all new keyless entry door hardware
StayMyWay featured a series of shiny new access solutions including its signature Cylinder door lock hardware and 3 more unique digital replacements that each boasted clean lines and strong functionality without breaking the bank starting at under $200.
4Suites showcased its app-less mobile key solution
4Suites mobile keys are fully automated for hotels and frictionless for guests. No actions required from hotels, no app download or login for guests. All intelligence and security is handled by 4Suites in the background to offer the easiest, yet most advanced mobile key solution. Mobile keys can simplify guest operations, reduce costs and improve the guest experience. If done correctly.  4Suites removes friction and has created a fully automated process for hotels and a simple, seamless and impossible-not-to-understand journey for guests.
Qwick showcased its short term staffing platform
The Qwick app refines and matches job listings for professionals and allows them to accept and confirm shifts all through a smartphone device. The Qwick app has features all in one central place: view matched shifts to accept, view work schedules, clock-in and clock-out, and receive payments within as little as thirty minutes after completing a  shift through their secured platform. This level of convenience and accessibility is helping to grow Qwick's database of professionals, ensuring high quality workers and quickly filled shifts for businesses.

TREND 4 | Big tech is leaning into hotels for new use cases & distribution
Hospitality has always been a big focus for big tech and fortune 500s but it seems to be heating up in recent years.  Travel and tourism contribute $1.5 trillion to GDP globally so it's no surprise that these companies want in on the action.
Traditionally companies within the room automation space (e.g. Honeywell), high tech materials (e.g. Corning) and business electronics (e.g. LG) focus on the hotel sector and increasingly we're seeing big tech get into the mix with the likes of Samsung, Microsoft and Amazon.  Below we highlight some of the key hospitality launches for big tech players at HITEC this year.
Peloton made its HITEC debut offering a new way to attract a fitness focused audience for hotels
Peloton made it's HITEC debut where the firm unveiled its new "Hotel Finder" feature.   With Hotel Finder, riders can find and book hundreds of hotels with Peloton bikes across the United States.  The Company is set for IPO this year with it's last valuation set at $4.15B and growth has been on a tear.  Peloton's rider base recently surpassed Soul Cycle as it doubled its user count year over year and the firm is naturally looking for new growth avenues.  Fitness focused hotel brand Westin partnered with Peloton and this move seems to be an evolution of that thesis.  More than 400,000 bikes were sold by February of 2019 and many of those riders are die hard fitness junkies who are highly likely to seek out hotels where they can get their fitness fix.  As Peloton continues to grow it's install base and product offerings (e.g. Peloton Tread) hotels could find an interesting niche distribution channel to reach fitness enthusiasts.
Samsung mounted its 8k QLED monitors dubbed, 'The Wall' outfitted with captivating next generation digital art
Samsung's gorgeous 8K QLED and The Wall stole the show with digital art provided by partners Niio and Black Dove.
8K digital signage delivers impeccable picture quality and resolution that was previously unimaginable at scale. Samsung's technology uses Artificial Intelligence (AI) upscaling to produce lifelike images and immersive experiences.
Great hoteliers know that first impressions are everything. For select service hotels digital art can provide new advertising revenue while for more upscale high end and boutique properties it can give your hotel a huge leg up.  Digital art leaders include firms such as Niio, Blackdove and the 2019 HotelTechAward winner in the digital art category, Wrapped.
Create your own next gen hotel check-in experience with digital art like Sharks from Wrapped on an 8K Samsung Wall.
If you need some inspiration, we highly recommend checking out Wrapped Studios's Shark installation that wow'd even the high brow crowd of attendees at this year's renown Art Basel in Miami.
Amazon and LG's hospitality divisions collaborate to make in-room entertainment remoteless
Gernophobes will be rejoicing at Amazon for Hospitalty's latest partnership announced with LG.  Together the companies will infuse Alexa voice controls into the hotel TV experience allowing guests to never have to touch a remote again.  Other than being carriers for germs, most hotel remotes are clunky and make channel surfing a frustrating experience so voice controls promise to make for more seamless guest room entertainment.
Microsoft steps up to the plate looking to bring its Teams for Frontline Workers product to hotel operations and compete in the employee engagement category
While most offerings in the staff collaboration and employee engagement categories are purpose built for the hotel industry, Microsoft appears to be testing the waters by tailoring its employee communication offering to empower frontline workers.  Teams for Frontline workers dubs itself as "the hub for teamwork" and touts benefits including easier employee training, culture building and document management. With Microsoft's office suite already being used by most hotels to manage email, the company has a strong foothold into the industry already and may just be able to gain footing in the employee communication category if it plays its cards right.
TREND 5 | Housekeeping software is heating up
Earlier this year the NY Times wrote a great piece titled 'The next wave of unicorn startups' where it argued that the next wave of billion dollar tech firms will not look like the last.  Rather than splashy consumer facing companies like Snapchat, Uber and AirBnB making their way towards IPOs - the article hypothesizes that the next wave of unicorns will be filled with B2B software companies focused on seemingly boring and unexpected industries.  
Now, many of the up-and-coming start-ups that may become the next unicorns have names like Benchling and Blend. And they largely focus on software for specific industries like farms, banks and life sciences companies. ~New York Times
Add hospitality to that list because there are some major players entering the market.  Where the OTAs and digital distribution have largely driven the last wave of massive technology adoption in hotels because they focus on the top line, the next wave of hotel tech adoption is coming from operations software and specifically within the housekeeping segment.  After watching Quore take the title as "Top Rated Housekeeping Software for Hotels" in the HotelTechAwards two years in a row, several newcomers are entering the space to capitalize on the opportunity.
ALICE upped its game with the launch of its all new ALICE Housekeeping
While ALICE has always offered a flexible staff communication and task management platform that is used by housekeeping teams across the globe--the all new housekeeping offering is designed from the ground up to deliver a magical experience that will leave even non-housekeepers wanting to take it for a spin.
The platform packs a punch with mission critical housekeeping management functionality like automated room assignments but delivers this functionality in an elegant and easy to use solution that integrates each department on property like a finely tuned orchestra. ALICE gave us a glimpse into the future of housekeeping with an exclusive behind the scenes tour of their reimagined housekeeping product. ALICE gave Hotel Tech Report an exclusive behind the scenes look at the all new ALICE Housekeeping See the product in action
Hkeeper showed off new functionality that enables housekeeping departments to track materials usage and supply levels
Using HKeeper, you will find all needed operational management hotel's tools and avoid unnecessary problems related to the human factor and lack of collaboration between departments. HKeeper will optimize all daily routine processes, improve your guest relations quality, and free up more time for working with projects and vendors. Hkeeper is one of the best tools for managing the personnel of the hotel and tracking material usage. With HKeeper, you can streamline workflows, reduce the turnaround time between tasks, and increase employee productivity.
One of the main advantages over other housekeeping software is that Hkeeper offers a unique feature that allows tracking all materials used during cleaning and maintenance tasks or other operations through the program in real time.
Moreover, HKeeper also monitors working progress in real time and analyzes staff performance by counting active working time, turnaround time, and time required for each task. Another exceptional function in the HKeeper program is that the mobile application can work off-line. Not all similar programs are offering integration with PMS software, and Hkeeper does, so hotels can easily stay updated on room status, availability, and guest information.
Nuvola showed hoteliers if you can't measure it, you can't manage it
The housekeeping department in the hotel industry is simultaneously one of the most valuable areas in creating the best guest experience possible while at the same time the hardest to optimize. Introducing new technologies and systems can often make daily processes seem more complicated and be met with resistance. Developed by former hoteliers with this unique understanding in mind, Housekeeping Productivity has been created to meet the specific department needs through an easy to use system and provides accessibility across desktop and mobile devices. Daily room attendants are now able to streamline activities (i.e., room assignment needs, cleaning service tasks) through an intuitive platform that speaks to the notion of making their lives easier.  Nuvola's analytics suite helps hoteliers gain critical insights to reduce average time spent "in between rooms" for room attendants, measure room attendant productivity by credit count and compare guest survey score vs. room attendants effectiveness.
PurpleCloud takes a unique approach to housekeeping by leveraging gamification to increase staff productivity
Housekeepers for hotels are in short supply and the nature of the work is unique. Their work is time sensitive and requires great attention to detail. If we give these housekeepers world-class tools to make them better at their jobs and couple this with common sense, easy to understand recognition and incentives, then we start winning their hearts. In doing so, hoteliers win for the guest.  PurpleCloud organizes the housekeeper's day with a world-class digital platform. Gone are messy paper assignment sheets and balky walkie-talkies. The system is easy to use: self-explanatory; requires only a few clicks; and is available in the housekeeper's given language. The system further provides housekeepers with feedback on their performance and rewards them for doing well by way of a gamification leaderboard. The result: housekeepers are connected and function as a team.  

TREND 6 | Fraud and security still poignant post-Marriott breach
A recent study by the American Hotel and Lodging Association (AHLA) reports that as much as 55% of all credit card fraud in the US takes place within the hospitality industry. Of course, that only considers criminal fraud; but when you factor-in other loss sources like fraudulent chargebacks, the real figure is much higher.
Fraud tends to impact the travel and leisure industries even more heavily than other sectors like retail or digital goods. This is attributable to five specific factors:
Fluidity: Multiple and last-minute booking changes create more opportunities for fraud.

Perishability: Fraudsters tie-up space that cannot be used for legitimate bookings.

Margins: Higher ticket values for hotel bookings mean greater impact on the bottom line.

Revenue Loss: Excessive false positives mean merchants are declining valid bookings.

High OPEX: More manual reviews mean increased operating expenses.
With such high transaction volumes and so many moving pieces--hotels continue to be highly susceptible to fraudsters and hackers as evidenced by the Marriott data breach earlier this year of more than 500 million guest records that were hacked earlier this year.  Luckily companies are coming out with new and innovative ways to help hotels ward of expensive fraud and damaging hacks.
Canary showcased its Y Combinator approved software that claims to cut chargebacks by up to 90%
While not the sexiest topic, payments and fraud prevention are big business when it comes to hotels.  Y Combinator backed Canary Technologies has a suite of PCI compliant solutions to secure guest data, reduce chargebacks, and speed up sales and catering contract execution by eliminating paper processes on property.  If you're ready to leave your fax machine in the 80s, minimize fraud or just want to hear about why PG is bullish on the product--its probably time to reach out for a demo.
Insighti offers hackers for hire to help brands and management companies pre-emptively identify security flaws and protect their data
Insighti offers hackers for hire. With the hospitality industry suffering loads of hacks lately from Marriott to Sabre, insighti offers much needed protection. insighti goes in-depth with physical, social, and digital facets of security, using creativity and persistence to find the vulnerabilities other companies miss.  Insighti recently partnered with former MGM Resorts VP of IT Marc Fancourt to create hiGuard.io taking the firm's approach to cybersecurity and applying it to the unique complexities of the hotel industry.
VENZA announces partnership with the PCI Council positioning them on the forefront of the latest compliances and security measures
Navigating the ever changing PCI compliance regulations and ensuring that your hotel is up-to-snuff can feel like the endless climb to the top of Everest.  Luckily, Venza is here to be 'your guide to data protection'. In the limelight was Venza's partnership with the PCI Council and certification as a Qualified Security Assessor (QSA) that enables the team to work hand-in-hand with the council to set requirements, become early adopters on new PCI DSS requirements and, overall, ensure that customers are receiving the highest quality standards possible.  If you're looking to shore up your hotel's compliance you'll want to check out VENZA's Everest Plan, their entry level plan to get your hotel compliant.
ADAsoft launched eSwipe, a passport/ID scanning solution for speeding up and automating guest check-in
ADASoft launched its new passport/ID scanning solution for speeding up and automating guest check-in and registration while eliminating data entry errors by seamlessly reading, capturing and accurately transferring data from ID documents and passports into practically any PMS in the market. The company lately announced the release of another unique feature allowing printing of a pre-filled customized registration form available after each passport/ID scan for the guest to sign. Simply scan each guest's Passport/ID in less than a second creating an accurate and complete database, and enjoy the benefits of a great marketing tool and after sales potential. ADAsoft's eSwipe passport scanning solution facilitates GDPR regulation compliance since typing errors are eliminated and data is accurately registered as stated in GDPR regulation, Chapter II, Article 5, Section 1.d
ASSA ABLOY GLOBAL SOLUTIONS unveiled its all new staff safety solution 
With the US hotel industry continuing to up its requirements when it comes to staff safety with many cities such as Chicago and Miami now requiring hotels to provide employees with safety devices--ASSA ABLOY is the first major company with a storied history and strong credibility to bring a safety solution to market.  The safety solution runs off of blue tooth low emission gateaways (BLE) via its Vostio Location Solutions software meaning that (a) it doesn't take up any wi-fi bandwidth and (b) it allows properties to unlock additional location based services within their hotel including asset tracking, proximity messaging and wayfinding.