What is a Hotel Reservation System? + 4 Types 2023
By Jordan Hollander
Last updated January 12, 2023
4 min read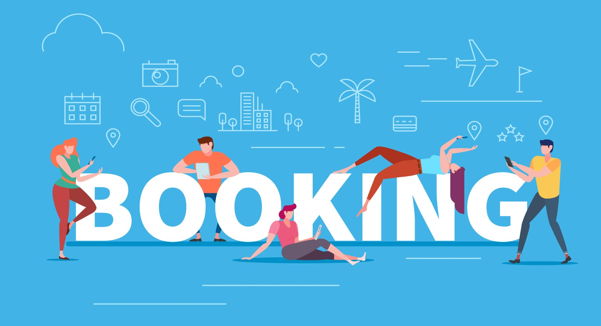 A hotel reservations system is a software platform that allows hoteliers to manage and accept online reservations for their hotel rooms.  It's important to understand that the word 'system' is actually a bit misleading as there are actually multiple integrated systems required to capture, facilitate and manage hotel reservations.
Hotel reservation systems may also include integrations with third-party providers such as online travel agencies (OTAs) like Expedia and Booking.com, as well as a channel manager to optimize distribution across multiple channels. Many hotel reservation systems also offer a user-friendly interface for guests to book directly on the hotel's website, as well as real-time updates on room availability. Additionally, a hotel reservation system may include a property management system (PMS) to assist with front desk operations and guest experience. Some hotel reservation systems are cloud-based and offered by providers such as Cloudbeds, while others are standalone software that can be installed on the hotel's own servers. These systems are essential for the hotel industry and hospitality industry as they help hotels to manage reservations, occupancy, and revenue more efficiently. They also help to increase direct bookings and reduce overbooking. Additionally, they help to improve customer support and automate confirmations, which help to improve the guest experience.
With an increasing number of guests choosing online booking - up to 80% of guests under the age of 30 - a well-informed hotelier should have a solid understanding of the hotel booking software landscape. The term "hotel booking software" can refer to a few different types of software, which can be confusing for hoteliers who might not work in the technology space on a regular basis.
In this article, we'll introduce you to the five main categories of booking software in the hotel industry: OTAs, Central Reservations Systems (CRS), booking engines, channel managers, and property management systems (PMS). By the end of this blog post, you'll know the ins and outs of each so you can maximize your property's online reach and make the right technology decisions for your hotel.
Property Management Systems
A property management system is at the core of your hotel tech stack and automates most administrative tasks within the hotel. It houses all of your reservations, guest profiles, billing information, room statuses, and more. Nearly all hotel departments use the PMS on a daily basis: front desk agents check in guests, housekeeping teams learn which rooms need to be cleaned, finance teams manage billing, leadership teams look at reporting and trends.  Booking is just the first element of a PMS but functionality should also include capabilities for hotel operations and guest experience management.
The top 3 rated PMS vendors on Hotel Tech Report at the time of writing include: Cloudbeds, Clock PMS+ and Mews.
Without any booking engine or channel management capabilities, a PMS is only considered hotel booking software if we think about reservations booked manually by hotel staff. But most PMSs include modules for additional functions; some PMSs even include CRS, channel management, and booking engine functionality. If your hotel uses a PMS that connects directly to OTAs and has integrated an CRS, channel manager, and booking engine, that PMS might be the only system you need.  Sometimes when smaller properties like b&bs, inns, or hostels leverage an integrated PMS + Channel Manager + Booking Engine it's referred to as hotel management software (or hotel management system).
Want to learn more about Hotel PMS? Check out the Ultimate Guide to Property Management Systems
Central Reservations System: Manage Online Bookings
It's a good rule of thumb to diversify your mix of reservation channels, so most hotels don't rely solely on OTA bookings. Large hotels and chain hotels often use central reservation systems (CRSs) to manage bookings made through their own reservations teams. CRSs allow various reservations agents to view real-time pricing (rates) and availability and create, edit, or cancel reservations in one centralized system.
The top 3 rated CRS vendors on Hotel Tech Report at the time of writing include: Pegasus, GuestCentric and Vertical Booking.
A hotel wouldn't use a central reservations system alone, though. The CRS would receive rates from a revenue management system, exchange availability data and reservation details with a property management system, and possibly also integrate with a channel manager to distribute inventory to third-party channels like OTAs or the GDS. CRSs deliver the most benefit to hotels with reservations teams or which are part of a brand or chain with off-site reservations offices.
Want to learn more about Hotel Central Reservations Systems? Check out the Ultimate Guide to Central Reservation Systems
Booking Engine: Drive Direct Bookings from Your Hotel Website
Besides booking through reservations staff, guests can also make reservations on hotels' own websites - but in order for that to be possible, the hotel website needs a booking engine. Booking engines display real-time rates and availability, house the booking process and gathering of guest details, and integrate the confirmed reservations with the hotel's property management system.
The top 3 rated booking engine vendors on Hotel Tech Report at the time of writing include: SiteMinder, Cloudbeds, and Bookassist.
Some property management systems include integrated booking engines, and some hotel-specific website builders also come with booking engine capability. But even if your existing tech stack includes a built-in booking engine, it's worth doing some extra research to find the most user-friendly booking engine. Glitches or slow loading speeds can make guests change their mind about booking at your hotel, and, on the flip side, a great booking engine with upselling and customization capabilities can increase your conversion rate and your RevPAR.
Want to learn more about Hotel Booking Engines? Check out the Ultimate Guide to Booking Engines
Channel Manager
Direct reservations - whether through a reservations agent or your hotel's website - usually don't lead to a full house every night. A savvy hotelier leverages third-party channels to maximize online exposure and develop varied segments of guests. In order to work with third-party channels most efficiently, hotels use channel management software.
The top 3 rated channel manager vendors on Hotel Tech Report at the time of writing include: SiteMinder, Cloudbeds and RateGain.
Channel managers often support connections to hundreds of third-party sites that range from big OTAs (Booking.com and Expedia) to smaller niche sites (HostelWorld and Mr & Mrs Smith) and wholesalers (Hotelbeds). Manually updating rates and availability on hundreds of sites is impossible, so a channel manager makes it easy to keep all of your distribution channels accurate and up-to-date. Some property management systems include integrated channel management functionality; if not, be sure to choose a channel manager that supports integration with your PMS so reservations can sync seamlessly.
Want to learn more about Hotel Channel Managers? Check out the Ultimate Guide to Channel Managers
Online Travel Agencies (OTA)
Out of all those reservations booked online, many of them come through online travel agencies, or OTAs. You can think of these digital marketplaces as an Amazon for travel; travelers can use various criteria to search through available hotels, flights, rental cars, and more, then complete the booking process through that marketplace platform.
Popular OTAs include: Expedia, Booking.com, C-Trip, and TripAdvisor.
OTAs offer significant benefits to guests, such as loyalty programs, credibility, and the convenience of having all the available options at your fingertips. Guests complete their booking on the OTA and receive a confirmation from the OTA, at which point the OTA sends a notification to the hotel with the reservation details. Those reservation details integrate with the hotel's property management system or travel to the property management system via a channel manager - more on that later!
For hoteliers, OTAs also deliver plenty of benefits. OTAs give hotels visibility among massive audiences (Booking.com receives well over 200 million monthly visits, for example) and access to marketing channels that would be cost-prohibitive if the hotel tried to get similar reach independently. Many hotels also experience the "billboard effect," in which travelers find a hotel they like on an OTA, and then they search for that hotel's direct website to complete their booking. However, all this marketing exposure comes at a cost; most OTAs charge commissions between 15% and 20% on each confirmed reservation.
**
What else would you like to learn about hotel booking software? Let us know!