How Does Hotel Booking Software Work?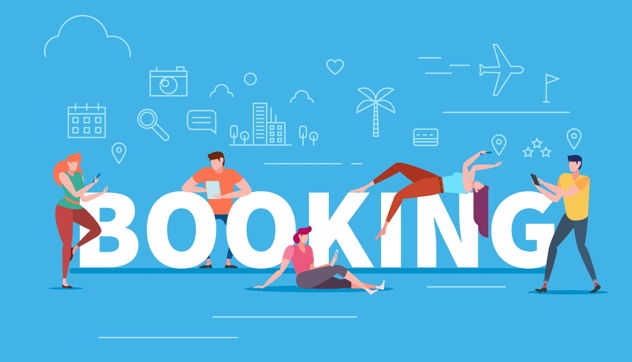 The growth in technology tools for hotels has complicated life for hoteliers. While it has always been important to bring potential guests into the conversion funnel, there are now many ways to both capture and convert lookers to bookers.
When considering the different ways to bring prospects into your hotel's funnel, it can be helpful to start with the goal and then look at technologies that accomplish that goal. This approach differs from other common vendor evaluation processes in one key way: it puts the goal first rather than the category.
Generally speaking you always want to start closest to the conversion event and work your way higher and higher in the purchase funnel. This means that you should start by analyzing your hotel's booking software to make sure that you don't have leakage (i.e. low conversion rates). Next you'll analyze your website and direct channel and lastly you'll explore ways to bring more visitors into that funnel once you've sealed up any holes.
In this method, we advise analyzing data across your business from channel mix to conversion rates to identify problem areas. Once you've identified these problems, prioritize starting at the bottom of the funnel and work your way up. We'll then explore the tools that can help solve each of these problems (hint: some tools may solve the same problem in completely different categories).
We'll start by clearly explaining the different types of hotel booking software. We'll then outline the four main objectives of any hotel marketing strategy, we'll then dive into which software categories and providers can help shore up issues within each objective.

With an increasing number of guests choosing online booking - up to 80% of guests under the age of 30 - a well-informed hotelier should have a solid understanding of the hotel booking software landscape. The term "hotel booking software" can refer to a few different types of software, which can be confusing for hoteliers who might not work in the technology space on a regular basis. In this article, we'll introduce you to the five main categories of hotel booking software: OTAs, Central Reservations Systems (CRS), booking engines, channel managers, and property management systems (PMS). By the end of this blog post, you'll know the ins and outs of each so you can maximize your property's online reach and make the right technology decisions for your hotel.
Central Reservations System: Manage Rates & Inventory
It's a good rule of thumb to diversify your mix of reservation channels, so most hotels don't rely solely on OTA bookings. Large hotels and chain hotels often use central reservation systems (CRSs) to manage bookings made through their own reservations teams. CRSs allow various reservations agents to view real-time rates and availability and create, edit, or cancel reservations in one centralized system.
A hotel wouldn't use a central reservations system alone, though. The CRS would receive rates from a revenue management system, exchange availability data and reservation details with a property management system, and possibly also integrate with a channel manager to distribute inventory to third-party channels like OTAs or the GDS. CRSs deliver the most benefit to hotels with reservations teams or which are part of a brand or chain with off-site reservations offices.
Booking Engine: Drive Direct Bookings
Besides booking through reservations staff, guests can also make reservations on hotels' own websites - but in order for that to be possible, the hotel website needs a booking system to sell hotel rooms called a booking engine. Hotel booking engines display real-time rates and availability, house the booking process and gathering of guest details, and integrate the confirmed reservations with the hotel's property management system or hotel management system.
Some property management systems include integrated booking engines, and some hotel-specific website builders also come with booking engine capability. But even if your existing tech stack includes a built-in booking engine, it's worth doing some extra research to find the most user-friendly booking engine. Glitches or slow loading speeds can make guests change their mind about booking at your hotel, and, on the flip side, a great booking engine with upselling and customization capabilities can increase your conversion rate and your RevPAR.
Channel Manager: Facilitate Bookings on 3rd Parties
Direct reservations - whether through a reservations agent or your hotel's website - usually don't lead to a full house every night. A savvy hotelier leverages third-party channels to maximize online exposure and develop varied segments of guests. In order to work with third-party channels most efficiently, hotels use channel management software.
Channel managers often support connections to hundreds of third-party sites that range from big OTAs (Booking.com and Expedia) to smaller niche sites (HostelWorld and Mr & Mrs Smith) and wholesalers (Hotelbeds). Manually updating rates and availability on hundreds of sites is impossible, so a channel manager makes it easy to keep all of your distribution channels accurate and up-to-date. Some property management systems include integrated channel management functionality; if not, be sure to choose a channel manager that supports integration with your PMS so reservations can sync seamlessly.
Property Management Systems: From Hotel Bookings to Guest Experience Management
A property management system is at the core of your hotel tech stack. It houses all of your reservations, guest profiles, billing information, room statuses, and more. Small hotels often opt for a combined PMS with a channel manager and booking engine referred to as hotel management system. This helps to streamline hotel operations in a simple and easy to use management solution and reservation software combined - which can be more cost-effective. Nearly all hotel departments use the PMS on a daily basis: front desk agents check-in guests, housekeeping teams learn which rooms need to be cleaned, finance teams manage billing, leadership teams look at reporting and trends.
Without any booking engine or channel management capabilities, a PMS is only considered hotel booking software if we think about reservations booked manually by hotel staff. But most PMSs include modules for additional functions; some PMSs even include CRS, channel management, and booking engine functionality. If your hotel uses a PMS that connects directly to OTAs and has integrated an CRS, channel manager, and booking engine, that PMS might be the only system you need.
Online Travel Agencies (OTA): 3rd Party Booking Extranets
Out of all those reservations booked online, many of them come through online travel agents or OTAs. The smallest hotels and guest houses (under 10 rooms) often lack direct bookings in their channel mix at all while major hotel chains command a larger share relative to the OTAs. You can think of these digital marketplaces as an Amazon for travel; travelers can use various criteria to search through available hotels, flights, rental cars, and more, then complete the booking process through that marketplace platform. Guests often choose OTAs due to the perception of better pricing on travel products and streamlined package offerings which help to automate a lot of the itinerary management processes.
OTAs offer significant benefits to guests, such as loyalty programs, credibility, and the convenience of having all the available options at your fingertips. Guests complete their booking on the OTA and receive a confirmation from the OTA, at which point the OTA sends a notification to the hotel with the reservation details. Those reservation details integrate with the hotel's property management system or travel to the property management system via a channel manager - more on that later!
For hoteliers, OTAs also deliver plenty of benefits. OTAs give hotels visibility among massive audiences (Booking.com receives well over 200 million monthly visits, for example) and access to marketing channels that would be cost-prohibitive if the hotel tried to get similar reach independently. Many hotels also experience the "billboard effect," in which travelers find a hotel they like on an OTA, and then they search for that hotel's direct website to complete their booking. However, all this marketing exposure comes at a cost; most OTAs charge commissions between 15% and 20% on each confirmed reservation.
Goal #1: Optimize Website & Hotel Booking Software Conversion
When it comes to getting more direct bookings, it's all about the hotel website (and booking software or IBE). After all, a hotel with a buggy website and poor user flow will scare off many potential guests who seek a trustworthy booking experience.
Direct booking tools promise growth in direct bookings by increasing conversions on a hotel's website through price check tools, real-time guest messaging, smart segmentation, and pricing optimization. These direct booking tools offer a mix of capabilities, so it's best to evaluate each according to how your hotel prioritizes direct bookings.
Booking engines are a necessity for selling rooms directly. Without a modern and intuitive interface that's optimized for conversion, guests will go elsewhere out of frustration or suspicion. Look for a booking engine or hotel booking software with real-time inventory updates; otherwise, you risk double booking across channels.
Reputation management is more than just an operational tool: it's also handy for marketing. Most hotel reputation management solutions have the ability to feature previous guest reviews on your website; doing so can dramatically boost your conversion rate.
Virtual tours can help conversions. When potential guests consider a hotel, they want to be certain that the property is as advertised. Consider investing in a virtual tour to give guests piece of mind.
Goal #2: Drive More Traffic to Your Hotel Website With Paid & Social
Once a website has been optimized for direct bookings and conversion, the next step is to entice more potential guests to it. There's a blended approach to making this happen.
Content marketing is one of the most affordable ways to engage potential guests and to bring them to your website. With great content, you'll have an engaging website to attract visitors, as well as plenty to post on social media. Be sure to make your content relevant to your guest profile.
Social media is a challenging place but can deliver results when done right -- especially for distribution of the great content you've created! Social media is also a goldmine of consumer insights. Leveraging social media tools can bring you closer to your customers.
Influencer marketing continues to be a growth area for hospitality marketers. Inviting influencers to experience the property, or paying them to post about the property, appeals to hotels looking to reach particular demographics. These influencer marketing tools should factor into the mix, helping identify the right influencers and tracking the success of your campaign.
Digital marketing agencies are assets for those hotels that have enough budget to engage subject matter experts. Hotel digital marketing vendors use their experience across clients to build high-impact campaigns that can be quite intimidating to deploy solo.
Goal #3: Drive Retention and Return Visits
According to research from Bain & Co., the company that invented the Net Promoter Score, increasing customer retention rates by 5% increases profits by 25% to 95%. Statistics aside, it really comes down to customer acquisition cost for hotels. With each booking channel taking a large commission for bringing in a guest, it can be extraordinarily lucrative to re-engage former guests.
Loyalty programs are helpful assets to organize and track a comprehensive loyalty program for independents. The best technology will give you insights into your guest profiles, and help you craft the best offerings to each group. Read our article reviewing independent loyalty programs to decide if this option is right for your hotel or properties.
Email marketing is a critical piece of the loyalty puzzle. When evaluating email marketing tools, you want to be sure that it integrates with your existing loyalty program and hotel CRM tools.
Goal #4: Develop a Well Balanced Omni-Channel Distribution Mix
Third-party websites and metasearch are important pieces of any hotel revenue management strategy. As part of a cohesive approach that includes direct bookings, wholesale, and groups, these channels are valuable tools to shore up low demand periods and achieve overall revenue targets.
Metasearch and ad tech bring advanced reporting, bidding and inventory management to your third-party distribution strategy. These metasearch tools help hoteliers wrangle the complex web of metasearch campaigns, as well as integrating in real-time with existing systems to maximize profitable bookings without overbooking.
Review management software performs a critical function: it monitors your hotel's reviews for potential operational issues. Catching poor performance before it affects the guest experience means better reviews -- and a higher ranking in search results on OTAs and metasearch sites.
**
Want to get started today? Run an internal SWOT analysis for your hotel's marketing department to identify weaknesses and opportunities then use that analysis to inform where you invest resources. Rather than comparing only direct booking tools to one another, for example, this process focuses on the desired outcome -- and then compares tools across categories that may help your hotel achieve that outcome. With this outcome-based approach, you'll have stronger odds of successfully matching with the correct vendor for a specific issue.
What else would you like to learn about hotel booking software? Let us know!