WTM London 2019: Here's What You Need to Know in a Complete 8,792 Word Guide
By Jordan Hollander
Last updated October 28, 2022
34 min read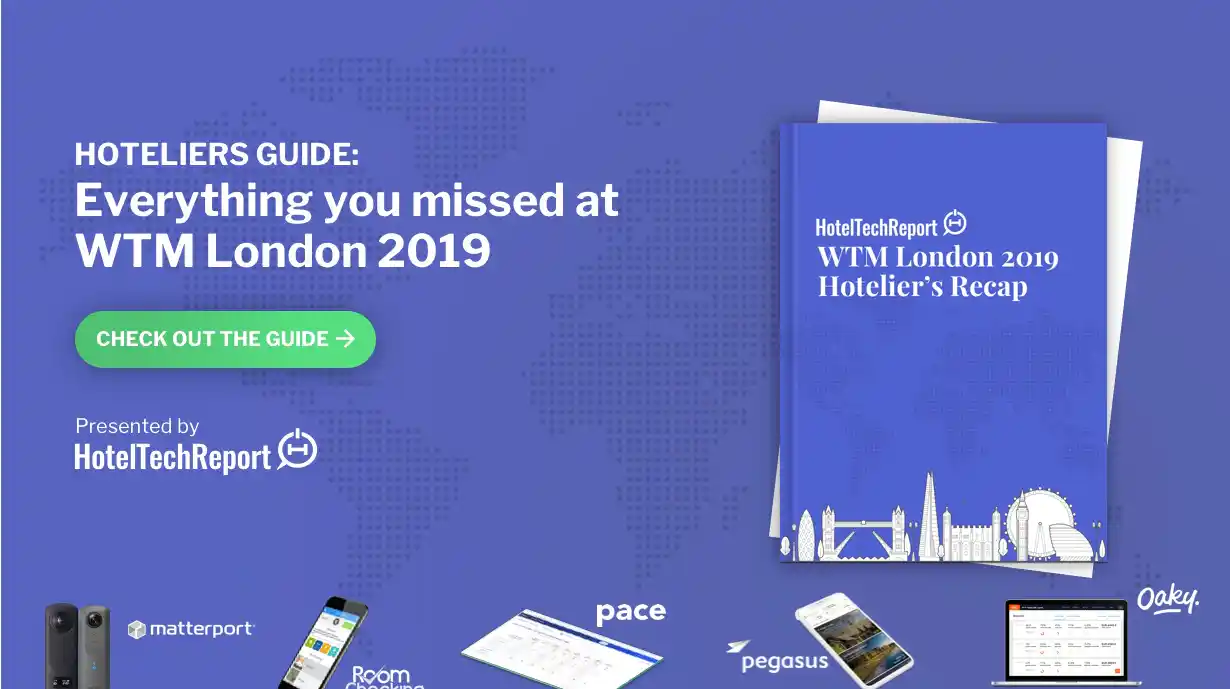 If you want to learn about all of the latest hotel tech product launches and feature releases from WTM London 2019, then you'll love this comprehensive (yet skimmable) guide.
Hoteliers can browse the new products covered in this guide to get a pulse on the latest tools and strategies available to grow your hotel business in 2020.
We know that you've got too much on your plate to keep up with all of this yourself, so we carefully reviewed 100+ of the top product launches from the trade show floor and bucketed them into 6 major themes:
1. Group Business Innovations
2. Multi-Property Portfolio Tech Rollouts
3. Emerging Advertising Technology
4. Features & Products That Enter New Categories
5. Automation Features
6. Revenue Management & Big Data
Bonus: 9+ Notable Product Launches
Let's dive in, shall we?
Group Business Innovations
There's historically been a ton of hype around consumer travel apps and guest experience platforms but every hotelier knows that the real money is in group business.  Groups offer higher margins and larger deal sizes - who wouldn't want a piece of that?  As such, there are a lot of launches this year in the group and sales space ranging from sales CRMs to revenue management tools that offer displacement analysis and even 3D modeling software to better market your meeting spaces.
Pace: Group displacement analysis helps your team optimize decision making
Group Displacement Analyses have always been a painful exercise for hoteliers. They take up significant time for a very simple question: "Will I make more revenue by taking in a group vs. continuing to sell to my transient business segments?"
Revenue managers and sales managers can now evaluate group requests with ease. Users simply provide the duration of stay, the number of rooms required per night, and then they can customize the rates to quickly see the value of the group and make a decision if they should take the booking or not.
Pace's Group Displacement Tool uses accurate and granular forecasts to generate displacement analyses for you, that not only save you time, but also ensure that your evaluations are based on real data science.
Matterport: Build 3D models of your meeting spaces to drive more group business
Matterport is a spatial data company focused on digitizing and indexing the built world. With Matterport technology, anyone can create and share a digital twin of the built world, which can be used to design, build, operate, promote and understand any space.
Creating a 3D digital twin of hotel rooms, meeting spaces and common areas is simple with Matterport's technology. Using a Pro2 3D camera or any compatible 360 capture device, the Matterport Capture app guides one through the scanning process. The model is then uploaded to a Matterport Cloud account, where the software creates the digital twin. After creation, Matterport lets individuals edit, customize and refine the model.
Matterport Cloud 3.0 harnesses the power of Matterport's AI-based image processing technology, Cortex, to transform data collected with the Matterport Pro2 or a collection of simple 360 panoramas from compatible 360 cameras into Matterport True3D™ digital twins.
Clairvoyix: Hotel CRM for groups and sales teams
Groups sales has seen very little change in the past few decades. Sales personnel typically call meeting planners from a stack of questionable leads pulled from the sales and catering system.
The Clairvoyix Group Solution allows sales and marketing professionals to schedule targeted and personalized group/event direct marketing campaigns that include lifecycle marketing and automated follow-up by email, or from a tele-research center.  Fully qualified leads are delivered to property, regional, or headquarters sales personnel, eliminating the historical and time-consuming process of calling every lead in the system.
The solution deploys sales and marketing automation, including lifecycle direct marketing (email and LinkedIn) allowing for an exponential gain in the number of meeting planners contacted. Most importantly, the system generates periodic communication with meeting planners who previously booked at meeting ensuring that all potential repeat business is secured.
MeetingPackage: Plug into venue directories to increase meeting space occupancy
MeetingPackage has been working hard to deliver flexible meeting payment services for both Travel Management Companies and their clients. AirPlus integration helps Travel Management Companies and meetings organisers centralise and manage payments more easily for their clients. Integration with Venue Directory means that hotels and venues across the UK and Europe benefit from distribution on the UK's leading platform for meetings organisers and enhances value for users of the Venue Directory's platforms by allowing users to consult availability of spaces, pricing and ancillary services all in one easy to use interface.
MeetingPackage's new features are of particular interest to the sales and revenue management departments within a hotel group as they will be able to drive more M&E business through their direct channels. AirPlus integration will simplify billing for hotel users of MeetingPackage and corporate clients, making hotels' M&E products more attractive to those clients in the process.
MeetingPackage's integration with Venue Directory means that for the first time venues will be able to distribute details of their availability, pricing, F&B and services to the UK's largest source of M&E enquiries thereby streamlining a labour intensive and old fashioned RFP process into a modern online booking and enquiry tool.  For many venues, direct integration with popular industry PMS platforms such as Oracle Opera or Mews Commander means less need to interact with third-party tools.
MeetingPackage's integration with Venue Directory is unique in that it is the only service that facilitates the delivery of pricing and availability directly from a venue's PMS or sales and catering system to a front-end interface used by Meetings bookers, corporate clients and travel management companies worldwide.  With AirPlus, clients will be able to dynamically generate AirPlus payment numbers.MeetingPackage is the only M&E booking service to offer this facility and it has been designed to meet the requirements of corporate clients.
Multi-Property Portfolio Tech Rollouts
Most hotel tech companies start off serving small independents.  After all, these clients are less demanding and easier to woo in the early days of launching a startup.  The interesting thing that we're seeing is a huge wave of startups that are hitting scale and moving upstream to serve enterprises with dedicated functionality built for groups and portfolios.  This is a great sign as it indicates that firms in the ecosystem are achieving healthy growth which ultimately is a sign that hotels everywhere are becoming more digitally savvy.
Oaky: New multi-property functionality built for portfolios
Switching between multiple properties in the Oaky dashboard used to be..well...a hassle. They've fixed that. Oaky understands that when you work in a Hotel Group or Chain, you might have specific needs and this innovation demonstrates Oaky's commitment to a platform that is easy to use for bigger groups and chains.
With this development, hoteliers can control their Oaky content centrally, add deals in 1-click and ultimately generate more revenue.  In short, you can now switch between properties from within Oaky's software where before you needed separate setups for each property.
RMS Hospitality: Property Management System helps clients with turnkey loyalty programs
Loyalty programs can help hotels drive repeat visits and reduce acquisition costs by giving guests an incentive to return again and again. By allocating points for guest stays and activities that can be redeemed for credits,the RMS Guest Rewards module encourages guest engagement and brand loyalty. The more guests stay and spend, the more they are rewarded.
Guest Rewards is a fully integrated module that can be added to any RMS client's existing hotel management system. Setup by the property is straightforward, with customizable reward ratios, i.e. dollars spent to points earned, and points earned to guest credit. Staff can enroll an existing guest in the hotel's database in the loyalty program with one click, making it quick and hassle-free for guests to join the program and start earning points. Points are automatically allocated to guest accounts based on their stay and activity spend, and can be redeemed as a payment type within RMS so staff can apply points to guest accounts when guests want to use their rewards.
Guest Rewards is fully integrated with RMS' hotel management software, so hoteliers using RMS as their property management system can easily add loyalty program functionality to their tech stack without the need for additional software. Guest Rewards is also customizable to each hotel client, allowing properties to set up a points and rewards system that makes sense for their business model and fits their existing brand.
GuestCentric: Multi-Property Booking Engine to Cross Sell Properties on Sell Out
If your hotel is not available on a specific date, but your sister hotel on the other side of the road is still open for reservations, why not push your sister property. Helping the user not to start their search all over again and promote our group hotels as an alternative can prove to be a useful and profitable strategy.
When a guest accesses the booking engine or website of the hotel and selects a specific date - if the hotel is full the the booking engine returns a message: "Sorry, we don't have any rooms left".  When that happens hotels lose money. With this new functionality, GuestCentric can now provide those guests a room in another one of your fantastic hotels." The platform shows a list of hotels the user can choose from and when the user selects an option, the guest will be redirected to the partner hotel booking engine with the dates pre-selected.
GuestCentric offers a highly personalized solution integrated into the Shopping Booster feature that is proven to increase direct bookings. Everything is engineered to remove from the process any friction that may affect the conversion.
Quicktext: Website chatbot for multi-property websites
When you have several properties in the same website search is much more complicated than in simple websites. Groups like Accor can have >100 properties in the same city which is great but might induce choice paralysis on the customer side.
Quicktext multi-property is a chatbot that is able to guide the customer from many possible hotel choices to the hotel that is most relevant to each customer based on their expressed needs. If you're looking for a hotel with a swimming pool in Paris on accorhotels.com you might come from having to search 160 properties down to 4 that are really relevant to satisfy your needs.
What makes Quicktext different is its database. While all chatbots are text-based meaning that the hotel needs to introduce answers in a text format. Quicktext is structured around data points that they collect from the hotel. For example, you can tell the bot that there is a swimming pool by ticking a box in the software. The chatbot will then make an answer and when a prospective guest searches at the group level it will be very easy for the bot to find what hotels have a swimming pool in Paris.
Emerging Advertising Technologies
Ad tech has been a hot sector for years with one of the highest profile mergers to date coming from the Taboola/Outbrain merger.  In hotel tech, it has taken some time to heat up.  Historically we've had digital marketing agencies and then a couple of categories in the space like metasearch management platforms (e.g. Koddi, Triptease) and audience targeting solutions like Sojern.  We noticed some really interesting tools and features launching in the ad tech space at WTM this year.  Most notably, Triptease has continued it's cadence of product launches driving towards an end-to-end guest acquisition platform.  Naturally the firm started it's journey optimizing conversion rates on hotel websites and is now focused on building innovative tools that bring more traffic into that finely tuned funnel.
Triptease: Bring more guests back to your hotel website with retargeting
"Price remains the single most powerful factor in booking decisions, and we've known since the launch of Price Check that a live price comparison gives guests a proven, powerful incentive to book direct," says Alasdair Snow, Triptease's co-founder and Chief Product Officer. "Now, with Retargeting, we're able to share that message with guests even when they're not on the hotel website or booking engine. Most importantly, Triptease knows which guests are worth retargeting - and which to ignore."
Triptease's algorithmic approach combines search, parity and behavioral data to avoid costly bidding mistakes. With Triptease Retargeting, hotels can avoid common pitfalls such as targeting a visitor if their search dates are in the past, or bidding to advertise when they don't have the best price available online.
In addition to knowing who to target and when to target them, Triptease Retargeting dynamically updates ad creative to show only the messages most likely to convert an undecided guest.
Powered by Triptease's price intelligence software, Retargeting allows hotels to show live price comparisons to guests based on their unique search - wherever they are on the web.
Triptease is able to drive far higher levels of retargeting performance through our data advantages across user and journey targeting precision, global publisher coverage, optimised ad creative and co-ordination with attract and convert products.
Curacity: ORA provides Instagram revenue attribution over a 6-month buyer journey
Curacity's new product, ORA for Instagram, measures travel influencers to determine which Instagram posts or stories resulted with a direct booking to that hotel for an attribution window of up to six months.
Curacity built the data bridge to measure Instagram against hotels' PMS to determine bookings that were influenced by Instagram influencers.  We haven't seen anything like this in the market. Competitive means of measuring Instagram is based on a 30-day window, max and this opens it up to 6x that. This time frame is irrelevant when consumers are booking a hotel stay that will cost over $1,000. Large purchases require a longer customer decision-making journey.
RoomCloud: Google Hotel Ads Management on any booking engine
Thanks to Google Metasearch hotels and Property Managers can save money on commissions and increase traffic on their official website but only 74 companies globally can connect into Google Hotel Ads today.  Given that most hoteliers who are happy with their booking engine wouldn't want to switch just to optimize Google Hotel Ads - RoomCloud now has a solution that integrates with any booking engine.
RoomCloud Booking Engine is certified by Google to sell rooms and apartments on the Metasearch and it will act as a bridge between non certified Booking Engines that your property uses and Google Metasearch. RoomCloud just needs the inventory of prices and availabilities to send requests to. Through a "deep link" RoomCloud will connect Metasearch to your Booking Engine of choice.  When using this connection, your hotel will pay RoomCloud for Google bills every 3-months which can be a nice way to pay for advertising during off-peak times without dipping into your cash coffers.
RoomCloud only asks for a fixed cheap annual fee for the activation of the connection, without any extra commission on the reservations. Your hotel then only pays for ad spend on Google.
Squarelovin: New player that helps hotels leverage user generated content to drive more bookings
Professional hotel photography is super expensive and time consuming to generate but guests are increasingly wary of getting "catfished" by cherry picked imagery.  Content created by actual guests provides a sense of authenticity and social proof to new customers, much more than professional shots of empty pools or restaurants can. squarelovin helps curate and filter content created by actual guests, as well as effectively placing it on the website.
The squarelovin UGC Management Tool collects all brand-specific User Generated Content in one place. By tracking selected brand accounts, geo-locations or hashtags, all images are filtered from Instagram in real time. Essential on & offline image usage rights can then be requested with just one easy click. The software takes care of individual feedback to the customers. This way, more direct appreciation can be conveyed while manual work gets reduced to a minimum.
The tool is mainly used by marketing, e-commerce and social media managers. Their main task is to select those pieces of content which fit meet their expectations and fit the property's aesthetics. squarelovin also comes with detailed analytics which allow users to precisely track which kind of content works best and which guests could become possible brand ambassadors. The amount of time spent on picking content and diving into analytics is based on individual preferences.
As the squarelovin tool secures essential usage rights for UGC in accordance with copyright laws and in compliance with GDPR, it takes away the burden of dealing with image rights and the fear of possibly facing legal consequences when embedding content the wrong way.
One of the big advantages of embedding UGC through squarelovin compared to other tools is that the galleries clearly indicate which Instagram user originally uploaded a picture or video, while a click on the content directs to the respective product detail page within the WBE.
This results in significantly longer website visits and higher conversion rates. The UGC Management Tool, other than direct integrations of Instagram, allows filtering content before it's published to the website. This way, brands can ensure that only UGC that matches their values and aesthetics is being featured. Moreover squarelovin also offers significantly more possibilities for collecting content, as the tool allows curate posts based on hashtags, mentions and geo-locations.
Features & Products That Enter New Categories
It's no secret that hotel tech is kind of a $hit show when it comes to features and product portfolios.  It's often hard for hoteliers to tell who does what let alone who does what well.  Well, if you're having problems figuring it out we've got an easy solution - go check out their client reviews on Hotel Tech Report!  That said, it's natural for tech companies to expand their product offering over time by listening to customer feedback and this next group of companies is doing exactly that with their WTM launches.
GuestRevu: Reputation Provider Launches Service Tickets
GuestRevu clients frequently told the hospitality software provider that one of the most helpful aspects of the guest feedback system was that they were getting notified quickly of small issues or downfalls in guest experience, such as repairs that needed to be made in bathrooms or improvements that could be made to the breakfast offering. Timely feedback meant that these could be rectified before they impacted other guests.
However, one of the major challenges busy hospitality professionals face is ensuring these incidents are tracked and resolved as quickly as possible. Service tickets are GuestRevu's answer to this, assisting management and staff facing these challenges by:
- Removing ambiguity: each service ticket has one assignee, which means there is certainty of who is responsible for resolving this issue.
- Ensuring issues are not forgotten: reminder emails keep each team member's assigned tickets top of mind, whether the ticket has just been assigned, is approaching its deadline or is overdue.
- Improving reaction speed: Automation rules can be set to generate tickets immediately and assign them to the appropriate people based on predetermined concern criteria.
- Giving management peace of mind: ticket "watchers" can easily track when tickets are resolved, and if they are resolved quickly enough.
- Keeping staff engaged and motivated: tickets are also a great way to share positive guest comments with relevant staff and their managers.
The service ticket feature in the GuestRevu application helps clients to more efficiently and effectively manage incidents as they arise from customer feedback. A service ticket refers to a task created in the GuestRevu application that details a specific action which needs to be resolved. These could be from issues raised by guests or courtesy follow-ups should guest comments reference or highlight key-value elements of their experience. Service tickets can be generated automatically from direct feedback responses based on certain triggers or created manually by a user. Only users with appropriate user rights can create, view or resolve a ticket. Whoever resolves a tickets also needs to include a note so that everyone involved has a good overview of completed tasks.
GuestRevu clients can create customised service tickets, such as a reminder to download reports or go through older reviews, or they can create a service ticket directly from a particular guest's response and assign it to a particular team member. Service tickets can also be set up to be created automatically when a guest gives a low rating or alert logic is triggered from a specific question.
Service tickets save teams time by allowing users to easily keep track of what tasks still need to be addressed, who is responsible for them, and when they have been completed. These are perfect for managing and monitoring review responses, maintenance tasks and more. Service tickets are an essential management tool, allowing GuestRevu clients to ensure every concern raised in their reviews is dealt with in an efficient and professional manner.
With GuestRevu's service ticket feature, clients are able to automatically generate tickets based on a number of triggers, including any rating on overall satisfaction scores and other key metrics related to specific areas of the customer experience. In comparison to competing systems in the market, this feature allows a more granular flexibility when creating specific rules for auto-creation from guest feedback.
There is also no need for predetermined escalation groups to be set up in the system beforehand, which means users can select one or more watchers based on the nature of the task. The service ticket dashboard is built with the busy hospitality professional in mind, with the ability to easily view tickets assigned to the user or tickets the user is watching, with the click of a button. If a service ticket was created based on particular feedback from a guest or customer, this information will be stored in their profile on the GuestRevu system which staff can use to personalise their experiences in the future.
SiteMinder: The latest player to launch an App Store
The Hotel App Store comes 18 months after the launch of SiteMinder Exchange, a connectivity hub that allows hotel data publishers and developers of hotel application software to transfer guest information between their systems. From 4 November 2019, hotels using a data publisher connected to SiteMinder Exchange—which includes more than 80 property management systems (PMSs) and SiteMinder's channel manager—can use the Hotel App Store to access applications.
This means that SiteMinder's Hotel App Store allows hoteliers to filter, search or browse through over 100 applications that can seamlessly connect to their SiteMinder Exchange-connected PMS or, in the absence of that, SiteMinder's channel manager, which can act as a data publisher by connecting the data from a hotel's online booking channels to their selected apps.
The Hotel App Store gives hoteliers access to the most relevant applications that support their daily operations of running a hotel business, help their business to grow, and make the daily work more rewarding. These applications include, but are not limited to, applications for upselling, guest communications, review management, loyalty programs, airport transfers and revenue management. To connect to an app, hoteliers need to simply sign up by filling in a form for their preferred app and let SiteMinder do the rest.
Until now, app marketplaces have mostly been closed environments for hotels (e.g. Mews, Protel, Hotelogix), accessible only by using a marketplace provider's designated PMS (with the exception of BookingSuite). Additionally, as the leading guest acquisition platform for hotels, SiteMinder's Hotel App Store opens up the opportunity for 35,000+ hotels around the world to easily access and connect with apps right away by seamlessly connecting their guest data from online booking channels to their chosen apps, via SiteMinder's channel manager.
RoomRaccoon: Cloud PMS player launches free light weight yield management tool
Yield Management is a variable pricing strategy based on influencing and anticipating consumer demand. This feature maximizes revenue and profits by ensuring rooms are sold, and sold for the optimum price since many of RoomRaccoon's clients may not implement a dedicated revenue management system.
RoomRaccoon enable hoteliers to set rules based on availability and time to automatically increase/decrease prices. These can be simple independent rules like decreasing room prices if a set percentage of stock remains X days before arrival. They can also be a series of inter-dependent rules that regularly adjust prices with the passing of time based on performance / anticipated future performance. Either way the purpose remains the same. Ensuring hoteliers maximize revenue and profits. By automating these price adjustments hoteliers save a huge amount of time and eliminate human error.
A number of very good stand-alone Yield Management Systems exist on the market. However, these need to be integrated into your existing Property Management System and are often prohibitively expensive for smaller / independent properties. Providing the Yield Management functionality for free within RoomRaccoon's PMS is unique and puts this important functionality in the hands of more hotels.
Repup: Reputation management firm launches a Hotel CRM solution
Repup is solving the problem of manual, non-personalised and inconsistent communication with guests. They do this by unifying data from several interfaces including PMS, Booking Engine, OTAs and manual entries to save time for hoteliers and have a single source of truth for the entire guest data, past activity and persona profile.
This product has an automation and data intelligence layer that enables hotels to define rules for their guest communication and set automated campaigns. The intelligence layer divides guest data into segments so personalisation can be achieved at scale. All transactional emails sent through the solution have an embedded concierge link that takes guests to a concierge using which they can submit preferences, buy upgrades and fill in-stay feedback.
Automation Features
We've previously covered the automation trend in our ITB Recap so we won't belabor the issue.  Having said that, automation cannot be understated as a trend - it's HUGE.  Ultimately the role of technology is to make our lives easier and automation is something that computers do 1000x more efficiently than humans so it's a natural place to focus.
Atomize: Real time pricing automation
The hotel next door is pricing their rooms faster than you and it's eating your profits without you ever even noticing.  Faster yield management software and real time pricing is like a secret weapon for revenue managers. If your local market competition is employing real time pricing, you are likely bleeding RevPAR so this concept of real time price optimization is especially important to understand and get a grip on. If your competition isn't using real time pricing yet (which they most likely aren't), this article will show you how you can use it to beat out the compset.
A fully automated system working in real time gives your hotel an edge over the competition when you need it most. In full autopilot mode, Atomize continuously receives data from the PMS and continuously runs real time optimization runs and pushes the optimal rates back to the PMS for all room types and all future arrival dates around the clock where each price point is uniquely calculated in real time. In addition to considering historical data such as reservations, cancellations and current pickups, Atomize RMS also monitors real time changes, search trends, competitor information and other factors such as local holidays and dynamically sets the price per room type while respecting pricing hierarchy and takes into account the effect on adjacent days and room types. As any data points above change for any future arrival date, relevant price points updates in real time. With Atomize, hotels can continuously have real-time rates pushed live, around the clock, 365 days into the future, dynamically for all room types.
HelloShift: guest messaging smart reply automation
Messaging as a channel for hotel guests results in more guest requests. This is a good thing but it can overwhelm the limited hotel staff resources. Furthermore, the high employee turnover in the hotel industry can lead to inexperienced staff providing inconsistent responses to even basic, routine guest requests.
Smart reply helps hotels deliver consistent replies to common guest requests in a timely fashion.
When a guest request comes in, HelloShift infers the intent of the guest request using Natural Language Processing (NLP) that relies on Machine Learning (ML). Once inferred, HelloShift scans the answers provided by a property to their Frequently Asked Questions (FAQ) and assists hotel staff in replying to the guest via a feature called Smart Reply.
By default, Smart Reply suggests the right answer for the staff to pick and respond manually. A property can also deploy Smart Reply on auto-pilot (Smart Auto-Reply). Between Smart Reply and Smart Auto-Reply, HelloShift lets hotels choose the extent to which they want to stay authentic and high touch -- a big goal in hospitality.
To deliver phenomenal guest service, hotels need Guest Messaging (to understand guest needs) and Staff Collaboration (to fulfill guest needs). Most solutions address only one or the other.
HelloShift provides Staff Collaboration and Guest Messaging in one integrated platform. No more dropped tasks between separate, poorly integrated apps. This results in soaring guest satisfaction scores, with hotels reporting 56% more and 25% better TripAdvisor reviews.
Roomchecking: housekeeping software room assignment automation
Labor cost ranges for at least 40% of the global cost of running a hotel. Usually, a hotel will hire permanent cleaning staff for 50% of occupancy and tap into external cleaners in case of higher occupancy. Forecasting the right amount of resources needed in a super volatile environment with reservations coming in and out with all specificities (back to back, day uses, MICE) is not a simple task. If you add labor constraints (max number of rooms, balancing between stay and due out, floor and section constraint), it is easy to understand why supervisors spend so much time every day into planning daily cleaning.
Every morning, supervisors (or inspectors), log into the Automatic Planner. They will immediately see all the rooms to be cleaned with ETA, ETDs, VIPs, Queues, Day Use. They make sure all cleaning staff is present and will make necessary adjustments. With all the constraints and rules already preloaded, they will click on "Create Plan" and within seconds, the best cleaning path will appear. They will be able to modify it with the mouse and submit it so cleaners can begin working.As cleaners enter rooms, set DND, delays or clean rooms, they will be able to see the progress of the plan in real-time.
The automatic planner is based on constraints, not on rules. it can take geography constraints (like addresses for apartments but also buildings and towers and floors), time constraints, credits constraints and many more. Most existing products just distribute rooms with very basic rules.
Revenue Management & Big Data
The reason revenue management software companies continue to lead innovation in the hotel tech industry is two-fold.  On one hand, revenue management companies drive tangible topline gains so it's easy for hoteliers to justify investment with crystal clear ROI forecasts and easy to understand time savings.  More investment from hotels means more R&D at those firms and ultimately more innovation.  On the other, revenue management companies have access to massive datasets which means limitless opportunities to learn, iterate and grow.
IDeaS: Improved forecasting for newly renovated inventory
Due to the limited available data, hotels face significant challenges when trying to accurately forecast demand and set prices by room type for newly renovated inventory. IDeaS has expanded its Limited Data Build feature in its G3 Revenue Management System (RMS) to provide a data-driven solution for hotels undergoing room renovations. Limited Data Build scientifically predicts demand for new hotel properties and, with this latest enhancement, now enables existing hotels adding newly renovated inventory to receive an immediate, precise forecast by room type.
Using historical sold information and booking patterns, combined with the hotel's sales projections, Limited Data Build enables hotel revenue managers to immediately utilize accurate data for their new room types, rather than waiting for actual data to materialize over time.
This advanced functionality is a unique offering on the RMS-vendor market, allowing hotels a new opportunity to leverage accurate data insights to optimize revenue from day one of renovated room sales by room type.
Pegasus: Distribution analytics connects data silos and provides actionable insight
Distribution Analytics is a business intelligence platform that allows hoteliers to streamline their data analysis and save hours of administrative work needed to collate and corroborate spreadsheets. Hotel data often lives in multiple platforms, and bringing these data sets together to get a full picture of performance involves a lot of manual work — you need to download the raw data, bring it together on a spreadsheet, and then run various analyses to understand what's going on. And even then, it can be very hard to drill down and pinpoint a specific cause of any particular trend. Distribution Analytics helps solve that problem.
This interactive platform brings together CRS, PMS, Channel Manager, GDS, call center and website data into one dashboard, giving hotels a 360-view of their hotel performance and allowing revenue managers to drill down into any aspect of distribution performance. The data comes in real-time, meaning that you can act quickly to identify trends that may be affecting your hotel bookings. For example, hotels can easily track historic and future pace of bookings in a standard dashboard, so you can see if you are behind from previous years. Then you can take action to remedy that situation, such as running a special offer. Or you can also drill down into geographic markets to see which ones are driving the most business, and set marketing strategies accordingly. Or as a brand, you can see how their entire portfolio is performing, or filter it by country to see how hotels in one market are performing in comparison to another market.
The platform is built for flexibility and can bring in different types of data from different sources. Want to see how your Google Analytics data compares to your actual booking engine data? Our platform allows you to do that. The interactive capabilities of the platform are also quite unique; there are many ways to slice, dice, filter, and drill down into data — including geographically. The platform also includes collaborative tools so that revenue managers can annotate and share their findings within the organization. Think of it as Tableau but specifically for the hotel industry.
OTA Insight: Compare different rate types within your hotel and against the competition
Many of OTA Insight's clients were asking for additional Excel exporting functionalities: they wanted the ability to export specific rate types from our tool. When digging deeper, the company found out the reason behind this question, namely that users wanted to combine these different Excel exports manually to find out the changes between these different rate types. So the real problem was in fact that hoteliers needed a tool through which they could compare the different rate types of their competitors and figure out what discounting strategies their competitors apply on their BAR rates.
The Compare Module allows users to compare different rate types for your own hotel, as well as your competitors, and to have a view on the average discounting strategy of each competitor. As a hotel, you choose which two data sets you want to compare. Examples include comparing mobile rates to desktop rates, comparing breakfast rates to room-only rates, comparing membership rates to public rates, and so on. OTA Insight's tool then presents the two datasets next to each other in a simple, user-friendly way, emphasising the rate changes and exposing the discounting strategies of competitors.
The strength of this feature lies within its ease of use and its simplicity. Most of OTA Insight's subscribing hotels use this feature on a monthly basis, as the strategies do not change that often. They use it to gain insights into how their competitors are discounting in order to stay competitive within the market. What would you do if, for example, you found out your competitors give their members 3% off during weekdays and 5% during weekends? Would you adjust your strategy towards your members? It is by providing these strategic insights for hotels that they can stay even more competitive within their market, without them having to manually figure it all out.
OTA Insight's tool provides the industry's first comparison module that allows hotels to compare different rate types and that shows the discounting strategies of the hotel's competitors. None of the competition has been able to offer these strategic insights in an easy-to-understand and easy-to-use way.
Pace: Inventory hierarchies ensure your brand strategy while maximizing RevPAR
With demand-based dynamic pricing and automation there are instances where a hotelier wants to ensure that certain hierarchies between inventories are retained to be in-line with the property's branding and meet customer expectations. This leads to Hoteliers being challenged with either losing out on revenue due to rigid price structures or giving into the possibility of product offerings being inconsistent with your branding and strategy.
With Inventory Hierarchies, all you need to do as a hotelier is provide a hierarchy of your inventories and a minimum price buffer you would like to retain between them. Pace's algorithm handles the rest, acknowledging these hierarchies and maximising RevPAR across your full inventory by simulating demand for countless pricing scenarios.
There is a true paradigm shift with Pace's Inventory Hierarchies as hoteliers can now setup their product offerings in a way that maintains their branding and strategy, while also allowing for the maximum RevPAR optimisation through dynamic, demand-based pricing.
Juyo: Connecting disparate data sources with constellations
Today hotels have access to a wide variety of data in different systems and places. Not only extracting that data is hard but also deriving insights from it is equally hard.Constellations are connected analytics that combine different widgets and dashboards that serve a specific business purpose. The goal of constellations is to connect external and internal data sources and empower hotel users to Fastrack decision making by connecting the dots.
Constellations are used daily by revenue managers, general managers, analysts and other members of the hotel commercial team. Some give high-level information like on the books data while some deep dive in Net Revenue analytics.In the example of net revenue, hotels can use the data to track net RevPAR for past and future, optimize sales and marketing budget, track campaign ROI and develop the most profitable business and channel mix.
The uniqueness of constellations is that in the analytics applications spectrum there are 2 categories. On the far left, you have the tools that offer reporting and dashboards that have been predefined. These are your typical hotel BI applications that are easy to use but often luck context in how the data is modeled. On the far right, you have tools such as Tableau or PowerBI that are extremely powerful but very difficult to model the data and put something together. Juyo constellations sits exactly in the middle and offers the best of each world.
Profit Intelligence: Smart sales & distribution helps make sense of channel profitability in real time
One of hoteliers top revenue management and distribution issues is to monitor and leverage cost of client acquisition. The complexity of sales and distribution, make almost impossible to just know what is the real NET value of a reservation. Hoteliers all know their commission percentages per travel agent, but often forget or cannot calculate other important related costs such as credit card fees, loyalty member program expense, sales team commissions etc. This problem makes their sales & distribution decisions really difficult and often results in poor decision making. Knowing these costs in real time, sliced by channel, market segment and account canbe a true strategic advantage to your hotel and help drive bottom line results (via higher GOPPAR).
Hoteliers get set up with PI team support who analyze different costs of sales & distribution through a user friendly interface that guides you through the process. Each cost gets attributed to a reservation using different methods depending on the cost (Distribution key, recurring fee, period of override etc.). Profit Intelligence Smart Sales & Distribution algorithm will then calculate the cost for each past and future reservation dynamically and make predictions for future bookings. Results will be displayed in different meaningful dashboards from top level to account level. From their hotelier can know what is the exact NET value of his reservations and even check the NET value for each Travel Agent or corporate account.
The easy to use DIY interface for hoteliers to set up their cost structure and visualize results make this new module unique. The chain view and chain costs management feature is also unique in that it allows hotel chains or management companies to consolidate costs from all hotels using smart mapping feature to eliminate brand specific details.
RateGain: MarketDrone provides intraday rate updates to your mobile device without running reports
An average hotel in North America changes its rates 3-4 times a day. The frequency of rate changes increases as we get closer to check-in dates. In other words, hotels are constantly changing rates for existing plans and introducing new rate plans close to check-in-date to sell off their unsold inventory and maximize revenue. As such, traditional batch dependent rate shopping tools are redundant and manually triggered reports are inefficient. They are not able to capture and highlight the intra-day rate changes that happen on the go. Hoteliers are in dire need of ways to help them stay on top of these real-time changes and take action when it still matters.
RateGain's MarketDrone is a feed that automatically pushes market changes through push notifications to Revenue Managers on a device of their choice. The instant alerts give notifications to Revenue Managers or other users as soon as market changes. In other words, whenever, any competitive hotel makes a rate change, an alert is triggered to the subscribed Revenue Manager or user. This is a shift from the current experience provided by traditional rate shopping tools where Revenue Managers has to pre-schedule reports and spends a major chunk of their day looking for changes in their respective markets. 
MarketDRONE tracks intra-day rate and rate plan changes by hotels in real-time and surfaces them on the go on a device of the user's choice. It works on mobile, tablets and desktops. With MarketDRONE, Revenue Managers can be assured of staying on top of competitive landscape while they focus on what matters the most, i.e. making strategic decisions, improving business and boosting profits.
Always keep an eye on market changes and keep yourself abreast of competitive landscapes on the fly. Not only can you keep an eye on market changes, but also respond to them as soon as they happen by taking corrective actions.  A Revenue Manager or any user do not have to come to the rate-shopping tool every time to know about the market changes. They do not have to run a complete report. The notifications update them on the changes. As such, they can focus on the more important strategic decisions involved in day-to-day revenue management.  With MarketDrone, revenue managers can be proactive about new promotional rate plans when nearby competitive hotels introduce them.
BONUS: 9+ Notable WTM London Product Launches
TrustYou launches direct response to Google and Booking in platform
With this enhanced functionality, TrustYou users can now reply to the majority of all reviews directly without having to leave the platform. This development addresses a hotel's increasing need to save valuable time and improve operations with technology. By responding directly to guest reviews received from Booking.com, Google, and TrustYou's powered guest satisfaction surveys, hoteliers can respond on average to up to 78% of their total reviews without having to leave the TrustYou platform.
Guests write reviews to be listened to and it is of great importance for businesses to reply to them. The limited capacity of many hoteliers to respond to all reviews means that there is a great need the new features addresses.Users can draft the response to a review in the TrustYou platform. Available response templates make it easier for users to address the feedback. Once submitted, the response will be pushed live to Google or Booking.com and the users do not have to leave the TrustYou platform to respond to a review for a hotel.
Replying to reviews is essential in today's sharing economy and online search-and-buy experience, as users expect their feedback and shared experiences to be valued by hotels. With these new feature enhancements, hotels can make a big impact on Booking.com and Google, where a majority of travelers start to search and book their accommodations, to actively influence a traveler's booking decision. Actively managing the response and having a high response rate has a positive effect on the online reputation. TrustYou enables users to make this a priority, with easy response templates and that is available in different languages.
hotelkit unveils its housekeeping software solution
Cleanliness is one of the most important criteria for guests, which makes housekeeping a very important factor when running a hotel business. The correct deployment of personnel, the structure of workflows and ongoing monitoring are key so operations can run smoothly. In most hotels, housekeeping processes are inefficient and do not meet guest requirements.
The housekeeping tool simplifies all processes within the department. The executive housekeeper or the housekeeper in charge can easily assign the rooms to the cleaning staff based on time resources and qualifications. With clear checklists, it is easy for the housekeeping supervisor to carry out inspections, thus guaranteeing a high standard of quality. Housekeeping staff is able to work neatly and efficiently with checklists. Recurring tasks make everyday jobs easier. After cleaning, the current room status is reported directly to the Property Management System, so the reception team is always up to date.
The housekeeping solution lets you stay on top of traceable, paperless processes by using a PC, tablet or smartphone. Simple and fast distribution of work according to the time resources and qualifications of the employees can work wonders in terms of efficiency. Structured checklists for room cleaning and inspection ensure top quality. Thanks to real-time updates, you always have an overview of the cleaning progress.
Bookboost launches a new guest messaging inbox
Bookboost provides a messaging platform throughout the whole guest journey. Our new inbox makes sure the conversation with guests end up in the right inboxes. Also we provide hoteliers with AI based suggestions so during, especially, repetitive conversations they are able to automate most of those conversations while maintaining to be personal. Thirdly our new inbox delivers a cockpit view over the guests. For example it enables hoteliers to give location based suggestions for, for example, restaurants or bars, after a guests shared their location via Whatsapp.
Lets say a hotelier has a reservation office and 3 receptions in 3 hotels. Our inbox routing makes sure that reservation inquiries end up in the reservation office and that if a guests talks with a brand via Whatsapp this conversation will end up at the right reception at the right hotel.
Also it enables staff in the hotel to collaborate and hand over converstion to each other. For example, a guest with a room service inquiry, can be handed over to the room service team by a receptionist.
There are many guest messaging solutions on the market, however our tool makes it practical for bigger organisations to make sure that the right conversation ends up at the right people in the hotel. Combining the power of a range of messaging channels, PMS systems, an advanced CRM, and AI for conversational suggestions. Enabling groups & brands to share user data & intelligence between properties while making sure the right person talks to the right person in the hotel.
Net Affinity launches 12 conversion updates to their high performance booking engine templates
Based on extensive research and testing (including A/B testing, exit intent and user flow studies) Net Affinity hasdeveloped 12 key updates for their desktop and mobile booking engine templates. Their mission is to significantly simplify the booking process for hotel guests – with a special emphasis on mobile experience.
The purpose of Net Affinity's booking engine is, simply, to drive more direct bookings for their clients. The updates they've made were informed by ongoing quarterly device data trends analysis & reports which have shown consistent increases in mobile traffic and revenue. Their most recent in-depth report shows a mobile revenue increase of 6% (from Q2 to Q3 2019). With mobile at 45%, desktop at 44% and tablet at 1%, this means mobile revenue now trumps desktop revenue.
The new templates will be an automatic upgrade for all Net Affinity clients. Their booking engine will work the same.  All that changes is the experience for the user will be even better. Some of the key enhancements include:
- New Searchbox which includes a new Book Direct feature sidebar and improved promo code fields.
- New top panel on mobile with filters and summary
- New mobile "cards" feature for roomtype scrolling
- Breadcrumbs have been simplified and animated
- Improved booking summary
- New occupancy filter functionality
- Simplied Reservation Form
- UI and UX refinements"
Net Affinity is seeing 2 out of 3 users visiting their client's hotel websites on mobile which has lead them to continue releasing smart, timely product updates that fully support the mobile booking experience.
Monscierge adds image functionality to its Connect Staff product
There are three main use-cases for the new images feature:
1. Overcoming language barriers between hotel staff (using pictures to describe a chair is broken in rm. 213 or that a wall socket is loose etc.) and another,
2. Collecting penalty fees from guests opting to smoke in non-smoking rooms.
By combining images of a room with incurred fees with the guest room policies signed by guests during check-in, Hilton Belfast City now has an easier process to more readily service their guest rooms.)
3. Creating a new task quickly and/or without language barriers or delayed reporting by floor;or utilize a quicker flow for room turnover and use the image/photo functionality to record issues in the room.

Monscierge had several clients that asked if they had considered it, because while their teams were generally using Connect Staff for most things, at times it became faster to portray an urgency or need quicker by also following up on the requests/issues pushed through the app with a separate picture taken on their phones and sent through regular text between departments. Building it into the app allows the hotels to have that same option, but to also keep it together with the other details of the room turnover as well as become permanent documentation for that room in the Connect CMS portal - hotels cannot track images and messages from text messages as easily. Therefore it cuts short the overall data accrued each year.
Housekeeping, maintenance, front desk, GM, operations, concierge... any member of staff that the hotel has assigned as a user.
An application for hotel staff that take into consideration images/pictures functionality to communicate quickly what an issue might be, or to use for validating front office claims when trying to recoup money quickly, is a differentiator compared to other staff products.All of this data including images, is then stored for that specific room's history.
Nonius launches a branded guest app
When guests make a reservation at a given hotel, they receive an email to download the hotel's app. After installing it, guests immediately get access to information about the hotel's services, events, landmarks of the city and the Online Check-In.
If the guests check-in online, they can go directly to their room and use the digital room key to get in. The Nonius app allows for guests to enjoy Room control over the lights and the AC, while also using their mobile device as a TV Remote Control.
Guests can make requests for room service, all while keeping an eye on the bill and being able to Check-out without waiting at the front-desk. The Nonius App has unlimited integration capacity and is integrated with the main PMS players. This allows single sites and hotel groups for infinite scalability.
HotelTime Solutions launches a PMS with specific functionality designed for serviced apartments
Recognizing that serviced apartment operations require specific features within the PMS, HotelTime has been working hard in the past two years to bring innovative tech solutions to this part of the hospitality sector.
HotelTime Serviced Apartments has been developing as a specialized version of the PMS based on feedback from our customers running serviced apartments.

HotelTime Service Apartment features include :
- Customised set of features with some standard PMS feature tweaked or removed and specific Serviced Apartment features added, like housekeeping and maintenance tools
- 2-way integration to channel managers in multi-location environment where 1 PMS connects to various channel manager endpoints due to multiple OTA listings (one per each location)
- Extended reporting 'by apartment numbers' for operations with multiple apartment owners (to be able to report revenue to each owner)
- Automated 'room number assignment' adjusted to allocate different apartments to spread revenue proportionally throughout the property
- Extended reporting by location as well as aggregated reporting by clusters in a multi-location environment
Jonas Chorum launches mobile app for it's popular cloud PMS
Chorum Mobile solves the issue of guests being unable to adequately reach hotel staff or having to wait long periods of time to get assistance by communicating with the front desk via their mobile device to order services. In addition, the ability to check-in and check-out speeds up the arrival/departure times and provides a more seamless experience overall.
Chorum Mobile is accessible by both the hotel staff through the software and by the guests through a mobile application. Hotel staff utilize this on a daily basis, allowing them to be untethered from the front desk and perform actions such as messaging both guests and staff members, checking guests in/out, viewing room status in real-time, and documenting maintenance items.
Chorum Mobile is truly device and platform agnostic, meaning it can be used on any tablet or smartphone. Security permissions allow properties to maintain complete control over who has access to the mobile app and what functions they can utilize. In addition, Chorum Mobile leverages cloud technology to ensure all data is updated and available in real-time.
HotelRunner launches its third generation booking engine
With HotelRunner's third-generation Booking Engine, properties can market their property online by uploading photographs, writing room descriptions, entering the room details and amenities. They can manage their direct reservations and availabilities with ease and provide secure payment methods to their website visitors.
HotelRunner provides properties a code that they copy and paste onto their website. This code links their property's website to their HotelRunner inventory, which allows them to display their rates and availability, promotions, packages and offers in real-time. Therefore, hoteliers can easily showcase their inventory and the website visitors can book a room seamlessly. Apart from the completely customizable appearance and infrastructure, with its minimalist and effective design, the new Booking Engine will encourage potential guests to make a reservation, resulting in a boost in reservation revenues.
HotelRunner's third-generation Booking Engine is different from its competitors in many ways: Seamless real-time inventory update, completely customizable appearance, availability calendar, and packages and offers tab. The properties can set market-specific payment methods and pricing, upload 360° virtual tour photos, set all their rate types, and create campaigns seasonally, integrate virtual POS or online payment systems to provide a secure booking experience. However, the newest, the most functional and unique feature of HotelRunner's third-generation Booking Engine is the "Recommendation" feature. With this newly-added feature, the most suitable alternative room and price option for their guests is displayed as a recommendation.
--
Did we miss an innovative launch? Let us know via live chat!