Coronavirus: Survival of the Fittest for Hotels
By Jordan Hollander
Last updated May 27, 2021
15 min read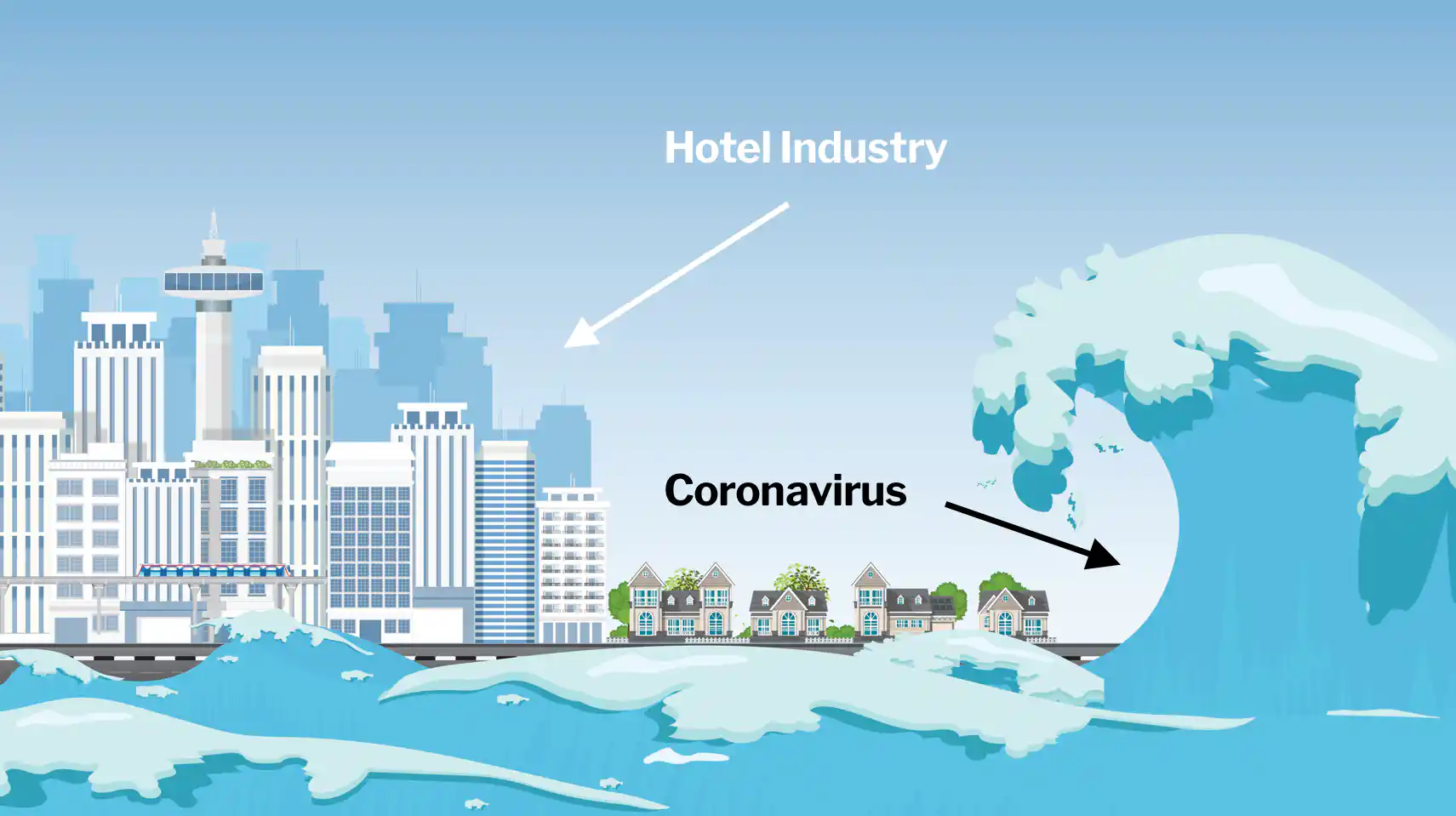 In the face of a global pandemic and hotel industry meltdown we are sailing deep into uncharted waters.  No hotel (or any business for that matter) can stay alive without revenue. The U.S. hotel industry (and airline) came back strong after 9/11 when travelers were afraid of terrorism.  Regions affected by the SARS and MERS outbreaks were followed by similar bounce-backs.  But somehow this time feels different.
"Without government intervention, there will be no service industry whatsoever. There's so many people that work for me whom I am incredibly concerned about. Where are they going to get their next meal? Do they have health care coverage? How are they going to pay their bills? It's as if aliens came from outer space and decided to totally destroy restaurants," said famed restaurateur David Chang.
The good news is that this pandemic may be over sooner than you anticipate and the mortality rate may actually be much lower than we initially thought (due to undocumented cases).  The tricky part about virality is that the models have wild swings based on even miniscule changes to the assumptions of those models (which are changing dramatically each day).  The same scientist whose very report jolted the US and UK into action has since changed his model assumptions which massively changed the forecasts.
"It will recede in a converging exponential; in other words, the coronavirus can be expected to disappear from this region with the same dizzying speed with which it entered our lives," Dr. Dan Yamin.
It's not only virologists suffering from inaccurate and quickly outdated predictions, hotel industry forecasters like Jan Freitag are facing the same dilemma.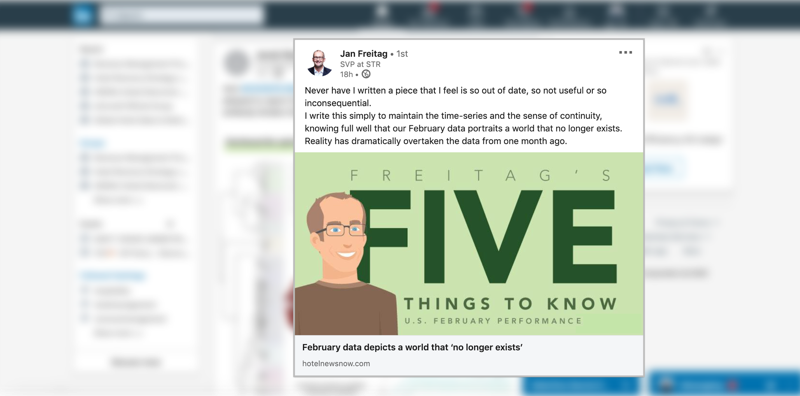 There's more good news.  The world is uniting against a common enemy and we're collaborating as a species like never before.  While the media likes to portray drama and political posturing, the reality is that this crisis has helped humanity put aside our cultural differences because a virus doesn't care where you're from.
On a Facebook live with TED, Bill Gates mentioned some of the collaboration that's happening in the scientific community.
Even ordinary people are collaborating, as evidenced by Google Sheet of volunteer opportunities created by thousands of individuals from around the world.
We're also seeing collaboration like never before in the hotel community.  Competitive walls were broken down when major hotel chain CEOs addressed U.S. President Donald Trump in their pleas for an industry bailout.  Similarly, major hotel tech companies have banded together in an initiative spearheaded by Cloudbeds to convert excess hotel capacity into lodging for those in need like healthcare workers.  Hotel owners are listing their beds in droves at HospitalityHelps.org.
It's not all good news though.  Never before in our lifetimes has business come to a screeching halt like this...and hopefully it won't happen again.
Most hotel businesses maintain around 2x payroll as working capital (cash to run their day to day operations).  As hotels get closer to the 60-day mark we'll see more and more layoffs because they simply can't foot the staffing bills.  The only way to help these hotels is through government bailouts and improved payment terms on mortgages. Here in the U.S., the government has put together an incredible program to offer fully forgiven SBA loans of 2.5x monthly payroll to any hotel business under 500 employees.
Here at Hotel Tech Report, we are always looking to understand how technology can help improve hotel business performance but sadly there isn't a ton that you as a hotelier can do with new technology right now.  Revenue management systems don't add much value when you're at 2% occupancy, upsell software can only do so much with a couple of heads in beds and so on.
We'd be lying if we said "we're all going to get through this together."  We're not all going to get through this. Poorly capitalized hotels like those described in this great article by The Real Deal will go under even with government intervention.  Overextended technology companies will face the unfortunate same truths.  Even the previously untouchable venture funded alternatives like Sonder and Lyric have faced hard truths faster than we anticipated.
We are a strong and resilient industry like many have pointed out.  The Darwinian reality is that these crises make all industries more antifragile.  The bad actors die out (along with many good ones) and only the fittest survive.  Ask your finance friends what major bank balance sheets look like today in comparison to 2008/2009.  The companies that come out of times like these are the leanest and smartest - and they get even leaner and smarter through the pain.
We don't say the above in a good or a bad way - it's just the truth.  Many hotels have or will cancel software contracts while others will go out of business.  This is really unfortunate and painful for their suppliers in the short term but new owners will purchase those properties and those owners will understand more than anyone the power of running an efficient organization.
They'll be more entrepreneurial in aggregate and eager to surround themselves with the best technology partners around.  For software companies this means there will be more whitespace than ever before in history to pick up new market share - in the 12-18 months after this crisis fades we will see the defining hotel technology companies of the future separate from the pack.  COVID has been a great equalizer and while painful we believe that it will accelerate digital transformation in hospitality (like many industries) by 10-15 years.
As we said before, technology can't save you RIGHT NOW but great software is the key to running an efficient and consistent business.  Market intelligence software helps you stay ahead of trends, revenue management software can help you price rooms automatically without relying on a revenue manager who's basing forecasts on last year's irrelevant results, operations tools can keep consistency of SOPs and so on.
TCV's David Yuan shared an awesome initiative from Toast POS to get consumers buying restaurant gift cards to support their favorite local businesses.  The same way that a restaurant can't serve you when they're shut down, tech companies can't do all that much for hotels that aren't open.
Software is key to how you anticipate, react and recover from a recession.  It makes you better at acquiring guests, running an efficient operation and maximizing every dollar.
During the Bill Gates interview with TED he was asked what he would do if he was President right now and his answer was basically "It's too late, the time to act was 3 years ago.  All we can do now is ramp up testing, pray for a cure and promote social distancing".
Similarly, the only thing hoteliers can really do now is negotiate with lenders, stay current on local bailout opportunities, make prudent layoffs, focus on helping their employees as much as they can and pray that this ends soon.  Once we've sorted out all of those issues and have some downtime while our businesses are closed, the best thing we can do is prepare for the next downturn and improve our operational capabilities. Never again will you have this much time to try different technologies and lots of vendors are even offering concessions and free tools that we encourage every hotelier to take advantage of for this limited and unprecedented period before we get back to the new normal.
Do everything you can afford to support the technology companies pushing our industry forward because when this is all over you're going to need them more than ever.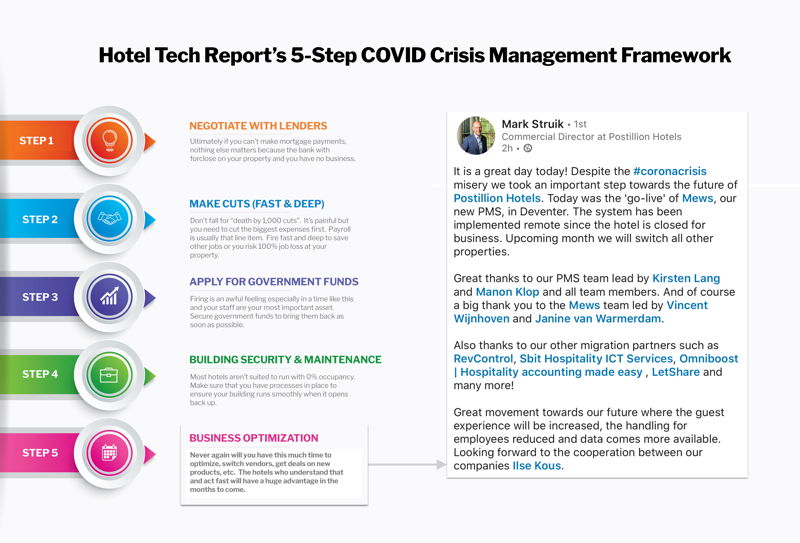 The biggest barriers to adopting technology are broken down right now in ways they will never be again - take advantage of that to optimize your business before it's too late.
#1 Contract Lock-in: Most can be broken with force majeure.  If you don't like a vendor, now is an opportune time to upgrade your stack.
#2 Switching Risk: Especially when it comes to mission critical systems it can be scary trying to migrate while your hotel is at full occupancy.  This is the perfect time to make the move while your hotel is closed.
#3 Time: Learning new software takes time no matter how easy to use the system is.  You'll never have this much time to try and learn once the market picks back up.
#4 Cost: Lots of vendors are extending free trials during closures from 30-days to 90-days.  You'll never have an opportunity like this to try software and see if you like it over extended periods of time.  Having said that, your vendors are hurting as much as you are - support them don't strain their businesses unless you absolutely need payment delays etc. Use the golden rule and treat them as you hope guests treat you.
#5 Integrations: This barrier is already broken down.  Simply avoid vendors who charge high integration fees or don't integrate with your critical systems.  There are plenty of great vendors who have open APIs...it's 2020 after all.
Focus on ensuring your hotel business survives this crisis financially then get proactive, get creative and learn how to optimize your business to accelerate the recovery and you'll be outperforming the compset in no time.  Remember that the best defense is a good offense.  Everybody looks like a genius in a bull market, it's times of crisis that separate the average hotel businesses from the truly great ones.
--
Put the proverbial oxygen mask on yourself first.  Once you've got your finances sorted out - here are some ways that you can optimize your hotel business and support the technology vendors working hard to keep the industry running smoothly.
WHISTLE GUEST MESSAGING. Extended free messaging (guest and team) for new signups. A few reasons how Whistle will help your hotel during the crisis: - Social Distancing: No need for in-person interactions between guest<>staff and staff<>staff - Efficiency: Hotels can manage more inquiries and help more guests, now that they are operating with even more limited staff - Remote Operations: Respond to guest inquiries remotely. Unlock offer →
Offer terms: Extended free trial available until June 1, 2020 for new clients.  No CC required unless hotel is continuing after trial and cancel at any time, even after trial period, no penalties
LIFE HOUSE (HOTEL MANAGEMENT):  Life House is an VC-backed institutional management company that uses software & process innovation to increase low cost direct bookings & materially reduce the operating costs of a hotel, which is ever-more relevant with depressed revenues. To support owners who need help navigating these difficult times, Life House is offering waived management fees until 2021 and a complimentary management transition for independent hotel owners. Whether a 200-room luxury boutique hotel or a 25 room bed & breakfast, Life House's white-labeled management platform can help. Learn more about the offer →
ATOMIZE: You can now get Atomize Revenue Management Software, free of charge, up until you have realized 50% of your average occupancy. This offer comes with no setup fee, free training, and including support. This limited offer is valid until April 30. Learn more about Atomize →
TRUSTYOU'S TRAVEL HEALTH INDEX. Due to widespread limitations on travel, there is currently an unprecedented drop in hotel stays. To help hoteliers from all over the world to assess the global and regional situation, we are now introducing the Travel Health Index! This exclusive KPI is only available from the world's largest guest review database and it benchmarks current #review activity with the normal levels of 2019. Access it here and keep an eye on the Index for weekly updates.  Learn more about the Travel Health Index →
ALICE PREVENTATIVE MAINTENANCE CHECKLIST. Hoteliers know how to run a property, but shutting one down is a different story.  That's why ALICE created a free checklist tool within their software that hotels can use to keep their property safe and clean with a skeleton crew that is available for free to any and all hotels looking for help. A few reasons how ALICE will help your hotel during the crisis: - Preventative Maintenance: Understand what needs to be done to keep your property safe and clean with a skeleton crew to avoid property damage and maintenance issues during downtime. - Crisis mgmt: Hotels are not meant to operate at low occupancy, or with a lean staff, yet that is the trend for so many hotels right now. ALICE Checklist helps hotels take rooms, floor and whole buildings out of service, while maintaining a record of tasks to bring a hotel back up to full occupancy quickly and easily. Get the free toolkit →
Offer terms: ALICE Checklist is available to any and all hotels that are using (or not using) the ALICE platform with no strings attached. It is a free product, there are no obligations, and it can be cancelled at any time.
REVINATE'S COVID RESOURCE CENTER. Revinate ran a survey and found that 70% of hotel professionals are looking for projections on how this unfolds, and 71% are looking for planning ideas. That's exactly what this new site aims to provide.  This resource center will aim to be a centralized source of info and resources to help hoteliers in these uncertain times. Browse the resource center →
JONAS CHORUM PMS. Save on your PMS with 90-days free of Jonas Chorum for new clients. A few reasons how Jonas will help your hotel during the crisis: - Remote work: Cloud functionality, allowing hotels to remain connected and conduct business remotely, while also specializing in remote training to avoid any face-to-face contact. - Financial relief: Provide hotels with financial relief to help them ride out the storm. Learn more about Jonas Chorum →
Offer terms: This particular offer is only for new clients and is only being offered for a limited time as we are essentially getting companies up and running on our software free of charge. We would also be willing to honor this offer for a period of time whenever the impact of the pandemic starts to lessen. 
ALLIANTS GUEST MESSAGING. A few ways Alliants can help your hotel during the crisis: - Easily outbound message with impacted guests across all the key channels, including, WhatsApp, SMS, Facebook Messenger, WeChat, LINE, etc - Allow your teams to stay connected with guests, staff, and vendors while helping keep social distance. - No setup fees/onboarding costs - All training & installation can be done remotely. -Get your property up and running in less than 2 days. See Alliants in action →
Offer terms: We are offering our Alliants Messaging platform at no charge till the end of 2020. You can cancel at any time. No credit card is required and we can have your property live in less than 2 days.
Oaky Pre-Arrival Templates. Pre-arrival communication + translations templates to ensure effective communication so your guests feel safe. Get the templates →
RATEGAIN FREE STRATEGY SESSIONS. Complimentary, one-to-one session with RateGain experts. A few reasons how RateGain can help your hotel during the crisis: - access 200+ years of combined experience across all fields - Revenue Management, Distribution, Social Media and even HR - RateGain has its own data, both current and historical. As such we possess the knowledge and insights to guide our prospects in a way that no other can. Schedule a free session →
Offer terms: We are running it for three weeks starting coming Monday. We are only doing it for our prospects i.e. companies which are not a customer of RateGain. We are doing it for our customers anyhow. This is a 100% free service. Basis the request we receive we can extend it for a longer duration as well.
Want to list your company's offer? Reach out to our editorial team via live chat
BEEKEEPER INTERNAL TEAM COMMUNICATION. How are you keeping your employees up-to-date on the coronavirus? Reach every employee across shifts, locations, and languages with one easy-to-use mobile-first communication app.  A few ways Beekeeper can help your hotel: - provide instant communication between all employees - allow for real-time updates on Coronavirus as it affects your company - Allow for shift schedules to be accessed away from the hotel Learn more about Beekeeper →
Offer terms: This offer is available until June 2020 and is for new clients. Cancel anytime.
HELLOSHIFT MESSAGING & WEBSITE LIVECHAT. Hotels can use Guest Messaging and Website Chat to keep the line of communication open and accessible to all guests (and future guests.) With Staff Collaboration, hotels can keep running with smaller operational footprints and more staff working remotely. Use Covid-19 specific checklists, populate a knowledge base with Covid-19 specific information, and keep in communication with laid-off employees. Learn more about the offer →
Offer terms: To help hotels deal with Covid-19, HelloShift is offering free service to all sign ups till July 1, 2020.
HOTELCHAMP DEMAND TRACKER. Demand Tracker shows you real time demand based on your website date searches. Conversion Rate (CVR) helps you to contextualise performance of different dates. Change of search behaviour keeps you informed of shifting demand. A few reasons how HotelChamp will help your hotel during the crisis: - understand demand in the current market is key to steer pricing decisions - see real time demand from your website for up to 365 days in the future - create alerts for changes in demand so you can proactively act on what is changing in the market Learn more about HotelChamp →
Offer terms: New and existing clients. Completely free, no subscription to be set up. Automatically ends after 90 days.
BOOKBOOST UNIFIED INBOX & WEB MESSENGER. During this difficult time, we want to stand with the hotel industry. Our Unified Inbox and Web Messenger are now available for FREE to all hotels worldwide. Bookboost Unified Inbox enables you to manage all guest inquiries from your website, email, Facebook Messenger, in one inbox. Give clear and consistent COVID-19 communications and Save your team answering repetitive questions, improve efficiency and provide service day and night with chat automation. Learn more about Bookboost
ASKSUITE HOTEL CHATBOT: We are offering our award-winning AI chatbot for free to hotels located in North America and Europe. The bot can answer questions about hotel operations during the pandemic (as we included in the AI) and has all the other functionalities like integration with booking engines. Asksuite believes that helping each other is the way to overcome this crisis. Even if the hotel is temporarily closed, it can keep providing customer assistance to future guests, answering their queries, and facilitating the booking process. - helps decrease the workload, especially now when many hotels needed to downsize; - with the addition of the COVID-19 topic in the chatbot, it helps answer all queries about the COVID-19 and its impacts on the hotel's operations, the local status, and so on.  Learn more about the offer →
Offer terms: Only available to hotels in North America and Europe; - only for new clients - valid until December 2020 - if pandemic ends it will continue for free cause hotels will need help with their cash flow - no credit required
ROOMPRICEGENIE AUTOMATED REVENUE MANAGEMENT: Fully automated dynamic pricing solution in place helps you know when business is coming back and help you react immediately. Continuously track how your market behaves and understand when business is coming back. Learn more about RoomPriceGenie →
Offer terms: The offer is for new clients and it is valid until further notice (as long as the tough times last). After the regular trial period, clients need to sign up and will receive a 100% discount until they see business coming back. Our monthly cancellation policy stays the same - so they can cancel at any time.
AVVIO DIGITAL ACADEMY: With so many amazing hoteliers out of work Avvio is turning their time and resources to helping out with important skills development to help out during this period of downtime. Their Hotel Digital Academy is available for free registration and the first hotel digital marketing course will be starting next week. Hospitality will have to "do more with less" as the industry recovers and we think upskilling will be more important than ever as training budgets will inevitably suffer. If you know of anyone in our industry that you feel might benefit from this can I ask you to consider please sharing. Learn more about Avvio →
EXPERIENCE HOTEL EMAIL MARKETING. Hotels can get their Free access to our CRM's Emailing tool and send up to 3 custom Email campaigns to all their customers, valid for 3 months to keep guests informed as the situation evolves via email. Learn more about Experience Hotel →
Offer terms: No cost, no commitment. In order to access this free service, they must register with a professional email corresponding to their hotel; a manual check of each account is made to avoid abuse.
SAVETHEHOTELS.COM BY BOOK VISIT. Last Friday we started a marketplace called savethehotels.com which is completely free of charge. The idea is to make it easy for consumers to see all the great deals the hotels are offering right now in order to survive.  Set up unique promotions that are easy for guests to book. Learn more about Book Visit →
Offer terms: Right now we have the page as long as there is a need. We have no plans for this to be an OTA in the future. Right now we just want the hotels to survive otherwise we will also go down.
HOTEL RUNNER PULSE UPDATES CENTER. With HotelRunner Pulse, our goal is to support the travel industry using the 'big data' from the HotelRunner platform, which performs tens of millions of transactions per day, and to give our partners a snapshot of what is happening in the industry during these extremely challenging times. HotelRunner Pulse will be updated weekly, and you will be able to access detailed data from the previous week, data-points include travel agencies that bring the most bookings, confirmed and canceled booking volumes, average stay durations! Learn more about HotelRunner →
Offer terms: Starting this week, through the special panel we developed, we are providing free access to real data based on bookings made through HotelRunner in the previous week.
MYSTAY EMAIL TEMPLATES. MyStay Freemium automates the way properties can inform guests about the situation in the region and hotel's health and safety protocol using pre-defined email templates and semi-automated rebooking. It also allows automating selling extra services to the fewer guests to come in the next months through pre-arrival communication, email templates covering COVID-19 related health and safety protocols, flexible rebooking or loyalty points policy.  Special guest web as a WiFi landing page with stay-related information focusing on COVID-19 related aspects. Learn more about MyStay →
Offer terms: The offer and MyStay Freemium package is and will remain available forever unless canceled by the hotel. It is available to new clients, no contract or credit card required. The product is not going to disappear once the pandemic is over, hotels will be free to continue using it for free or choose to upgrade to any of the paid profiles.
HOTEL DIRECT BOOSTER WEBSITE LIVE CHAT. Livechat software for 1 month to keep contact and convert its visitors into direct bookings on the hotel's website.  Many hoteliers closed their hotels but they shouldn't close their direct bookings. Keep contact with website visitors during the pandemic on the hotel website and helps hoteliers prepare the resumption of bookings and support travelers. Learn more about HDB →
Offer terms: 1 month free offer only for new clients.  Available until April 30th 2020. Non-binding offer.  No credit card required
GO MOMENT WEBSITE LIVE CHAT. Use Go Moment's website live chat tool to inform potential hotel guests of the steps your hotel is taking to keep guests and staff safe, suggest rescheduling instead of canceling  and collect leads for future groups.  Learn more about Go Moment →
Offer terms: Offer available through June 30th, 2020. After June 30th, rate will change to $250 per month.
QUORE AID PROGRAM. The Quore Aid Program was designed to help any hotel converting its property into a COVID-19 isolation ward or temporary medical facility.  The Quore platform enables hotel management and staff to limit face-to-face interactions, implement mobile communications with guests and access modifiable templates that guide staff through recommended and/or mandated procedures that are updated in real time. These include isolation room set-up and turnover, hand and hygiene protocol, trash collection, sanitation requirements, signage placement and other actions to ensure the highest level of health and safety compliance throughout the property. Learn more about Quore