Hospitality Innovation is Thriving Despite the Crisis (Q2 Innovation Report)
By Jordan Hollander
Last updated September 02, 2020
15 min read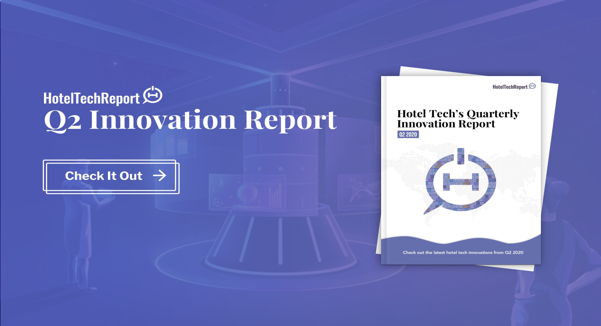 Innovation is alive and well in hospitality. Don't believe us? Check out the 47 new hospitality innovations that we cover in this report.  In the age of coronavirus we all catch ourselves thinking that the world is coming to an end from time to time. Don't worry, this article has nothing to do with coronavirus (but it's hard not to address the elephant in the room these days).
In order to keep this article COVID free, let's run a scenario analysis using Hotel Tech Report's Innovation Wager™.  The wager considers four alternate universes based on two axes.  On our X axis we consider two worlds: Scenario A considers optimal decision making if the hotel industry does not recover, Scenario B considers what to do if you believe that it will.
On our Y axis we consider what happens if we improve the way we do business with new technology and processes.  The wager shows us that in any potential outcome, it's always in our interest to improve the way we operate our businesses.  The only unacceptable outcome is the one where the world does not come to an end and we do not improve our tech and hotel operations processes.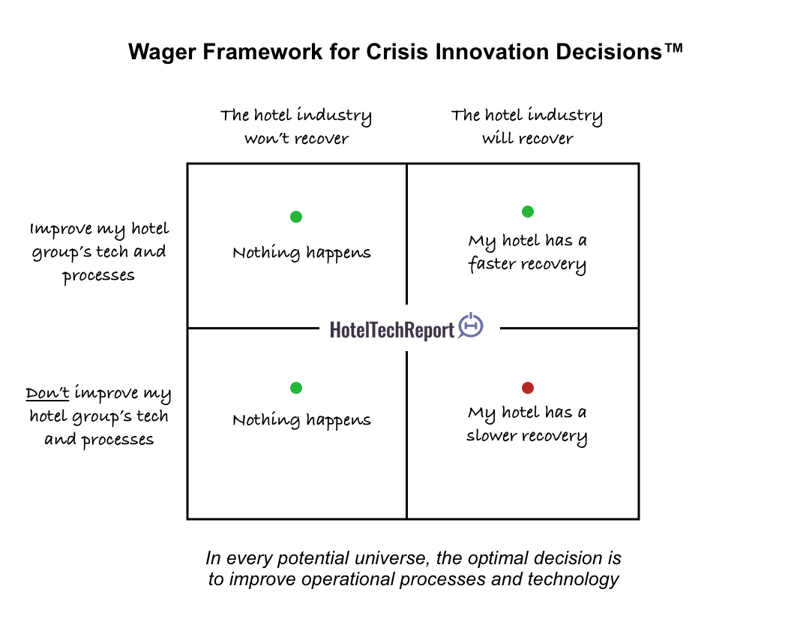 So the next question is how did we choose our Y axis (i.e. update my hotel's tech and operations)?  The math is simple, if your hotel group's breakeven is at 25-30% occupancy and you're currently running at 0% you are essentially racing against time to hit that occupancy. 
Global travel demand is unfortunately out of your control, so what can you do to get there as quickly as possible?
You can improve your margins to lower your breakeven occupancy by getting more efficient at your property.  For this you may explore technology like keyless entry or staff collaboration tools to help your slimmed down team do more with less.  You can sell long term group business today to bring deposit revenue in ahead of those bookings and for that you'll need airtight sales tech and processes.  You could also get more efficient at acquiring guests to hit that 25-30% occupancy rate faster.
In this article, we showcase 47 hospitality innovations that have been launched in the crisis.  As you explore ways to improve your margins, get smarter at guest acquisition and more - this list can put you on the cutting edge. 
We've divided the article into five categories:
Revenue Management Innovations
Sales and Meetings Innovations

BONUS: Look for the contactless badge next to products in the innovation report to identify technologies that will help your hotel go contactless, boost your recovery efforts and prepare now for the inevitable changes that are coming.  The tools have functionality that will enable you limit human physical contact to pre-emptively prepare for new government regulations and even more importantly, guest expectations.
Q2 Innovations in Revenue Management
1. OTA Insight Market Insight Tool
OTA Insight's Market Insight tool offers a smarter way to predict demand and price your rooms accordingly. Market Insight gathers and analyzes data from hotel web searches, flight data, events, holidays, online reviews, weather forecasts, and alternative lodging inventory to give your revenue team location-specific insights segmented into different customer groups. Learn more about your target guest's booking intent and use real-time market trends to capitalize on revenue opportunities before your competition.
2. SiteMinder Insights
SiteMinder Insights allows hotels to be smarter about their sales and marketing strategies while maintaining their brand integrity. This tool has monitoring and reporting capabilities that provide hoteliers a single place to access clear and actionable data on their local market, business performance and guests. This integration can help hoteliers make more informed decisions about hotel pricing and distribution, based on impartial data, as well as reveal insights that help get ahead of the competition.
3. Infor Price Optimizator
Infor Hospitality Price Optimizer (HPO) is a mobile-first app that helps hotels price their rooms in a more accurate and timely manner. The algorithms that drive the app replicate the approach the guest takes to book a room: the system data from star ratings, location, pricing, and reviews to select which hotels are the valid competitors that should influence the pricing decision. he system automatically detects seasons and events for a dynamic pricing solution that updates throughout the day as needed.
4. HotelIQ Monthly Forecasting
HotelIQ has been working on a Monthly Forecasting & Budgeting Tool that can generate forecasts and budgets for up to 12 months at a time. The platform pulls your real-time PMS data to use as a baseline, automating the burdensome task of maintaining spreadsheets and forecasting by hand. Easily edit figures, track performance, and generate market segment level forecasts and budgets.
5. IDeaS RevPlan
IDeaS RevPlan is a total revenue forecasting, planning and enterprise consolidation tool. RevPlan can automate scientific forecasting, budgeting and financial submission for your entire property – from rooms to food & beverage and other income revenue streams. Save time and manual effort while driving greater profitability: RevPlan provides hotels the ability to forecast accurately and precisely.
6. RateGain MarketDRONE
RateGain is launching MarketDRONE, a new feature for its rate intelligence platform OPTIMA. MarketDRONE tracks intra-day rates and rate-plan changes by hotels in real-time. Whenever a competitive hotel makes a rate change, your revenue manager receives an alert. Hotels are constantly changing rates for existing plans and introducing new rate plans close to check-in-date to sell off their unsold inventory and maximize revenue. As such, a revenue manager, on an average, may lose $1,000 or more per day by not acting on these intra-day market changes in real-time. With MarketDRONE, revenue managers do not have to pull out rate shopping reports on a daily basis to make the strategic decisions. The instant alerts provide them the market insights on the fly and basis that they can take the recommended actions on the go.
7. HotelTime Instant Reporting
HotelTime Solutions is debuting Instant Reporting, a reporting and forecasting tool that helps revenue managers working at multi-location properties get a clear picture on their distribution. It aggregates data on key metrics across different properties. This tool makes it easy to get accurate reports, merging revenue center statistics at the chain level.
8. Hotelchamp Demand Tracker
Hotelchamp's new demand tracker will give revenue managers insight into how much demand there is predicted for future stay dates in their hotel. Set up automatic alerts to be notified when demand increases for a specific stay date. Get insights for a specific demand period to better predict trends in revenue.
9. HotelPartner Synergy Model
HotelPartner's synergy model is a new service offering for individual hoteliers that combines manpower, technology, and expertise in one package. The firm will offer a revenue management tool as well as the team to use it; the synergy model offers a blend of consulting, technology, and a revenue management solution tailored to your property.
10. 5stelle Business Intelligence
5stelle* is introducing a new business intelligence tool that provides 18 interactive dashboards. Get reporting on your reservation lead time, month-to-date revenue and occupancy, RevPAR analysis, and more all in one place.
11. Fairmas Advanced Revenue Planner
Fairmas Advanced Revenue Planner simplifies the planning and controlling of all hotel revenues, either by market segment or by account line item, on a daily or monthly basis. The platform is built for different user groups – from department managers who need to plan on the operational level, to revenue managers for a detailed view of the total hotel, and to the general managers who can refer to its consolidated view. The  Pickup Planning feature allows a different way of planning that may be a more realistic approach depending on the day-to-day situation (e.g., How many more rooms do I still need to pick up to achieve my goal?).
Q2 Innovations in Hotel Marketing
12. Revinate Guest Data Platform
Revinate's Guest Data Platform is another take on consolidating guest information to deliver the insights hotel managers can use to drive direct bookings, provide a great guest experience, and increase profit. The Guest Data Platform combines guest data into rich, unified profiles that can inform your sales and marketing campaigns.
13. SHR Maverick CRM
SHR Maverick™ CRM by Sceptre Hospitality Resources LLC is a new CRM system that unlocks information from third-party providers. This CRM shows your hotel data about customers no matter where they booked: direct, or through an OTA. Maverick gives hoteliers access to clean, consolidated guest data, including user behavior and booking habits. The platform includes a loyalty and rewards platform and integrates with Windsurfer CRS, Windsurfer CRO, Windsurfer IBE, and a built-in Campaign Management Platform.
14. D-EDGE CRM
D-EDGE launched Guest Management, a CRM tool that integrates with the brand's existing CRS product. Guest Management offers hoteliers a way to centralize data from your PMS, CRS, website, and other sources into one guest profile. By consolidating all data about each guest in one place, your team can more easily send specific, customized offers to guests, driving guest satisfaction and loyalty.
15. Dailypoint Content Bot
The dailypoint Content Bot is a tool which pushes email communication finally to an individual experience with each guest. The bot pulls data from guest profiles in dailypoint to select content pieces from a library, offering individualized, concierge-style recommendations based on each individual's unique needs. Content Bot allows your marketing team to get hyper-focused with messaging. Send a newsletter customized per person, rather than per target group.
16. Suiteness OTA Distribution
Suiteness launched a partnership with Booking.com for travelers to book connecting hotel rooms and suites through Booking.com. When connecting rooms are available, they are booked 3.3x more often than multi-bedroom suites in the same hotel. Customer segments like families and groups are heading to AirBnB in droves because they demand more space and don't want to risk showing up at your property only to find out they can't get connecting rooms. Give them peace of mind and you're more likely to win their booking.
17. RoomRacoon Integrated Upselling
RoomRaccoon is developing an integrated upselling tool for its hotel management system.  This will allow clients of its HMS to offer add-ons like breakfast or room upgrades prior to arrival.  While there are quite a few standalone upselling tools on the market, RoomRaccoon is one of the first HMS players to offer this functionality.
18. AskSuite Booking Engine Chatbot
AskSuite's latest integration syncs your booking engine with their chatbot to recapture a guest who may be having trouble booking directly. For instance, if a traveler tries to book a room on an unavailable date, the chatbot will automatically respond with a message that there are no rooms available and suggest the next earliest date with availability. Or, the chatbot can be set up to suggest a nearby property from the same chain that does have availability. This integration helps your reservation team work more productively, captures more direct bookings, and standardizes customer service messaging on your site. Asksuite is also in the process of building a Smart Chat Distribution tool that can matches a reservation agent to an open chat, helping large reservation teams coordinate their responses to individual customers. Your property defines specific rules – using triggers such as language, communication channel, type of inquiry, and more – and the algorithm uses these qualifiers to send an open request to the right customer service representative. The goal is to improve your property's customer service and make it easier for your team to work efficiently.
19. Profitroom WebAssistant
Profitroom's WebAssistant is a new tool for creating and maintaining your hotel website. The tool is built specifically for the hotel industry, with templates designed to set up booking pages that drive direct bookings as well as unlimited data transfer and automated free updates. This website builder is an option for hotel properties that do not have the budget to work with a digital marketing agency to set up their site.
20. Quicktext Lead Generation
Quicktext's chatbot aims to improve your sales cycle by generating new leads for your sales team. When a customer engages with this chatbot, the program checks your CRM to see if this user exists; if they do, the tool will add any missing contact details and customer interests as determined through the chat interaction. If this is a new customer, the bot will upload insights into your CRM that can be used by your sales and marketing team to send more personalized offers and marketing messages. The Quicktext bot interacts with 9% of online visitors each month; if you have 3,000 visitors every month, Quicktext will create 270 new leads to whom your team can market.

21. myhotelshop GmbH Link Travel Ads
myhotelshop GmbH recently launched Link Travel Ads, a metasearch marketing platform for hotel chains, booking engines, and hotel marketing agencies. This tool is built specifically for properties that have struggled to run, manage and report metasearch marketing campaigns. Link Travel Ads will take you through the process from start to finish. With this tool, one account manager can manage campaigns for more than 500 different properties, with reporting and invoicing all in one place.
22. Experience Hotel Dedupe
Experience Hotel, like D-EDGE, is trying to solve the problem many hotels have: multiple entries for the same guest. Hotel brands that have multiple properties with multiple data sources (the restaurant, spa, reservation system, etc.) tend to have duplicate profiles for the same guest in their PMS. Experience Hotel's approach is Unified Customer Repository (UCR), a system that can identify all the duplicates in your guest list and combine every guest's details in one single profile. This allows your team to see an entire guest history in one place, and use insights from multiple sources to deliver personalized messages and offers.
Q2 Hotel Operations Innovations
23. hotelkit Facility Management
Hotelkit debuted a new Facility Management platform that enables maintenance teams to  plan, schedule, and track corrective and preventive maintenance tasks. The tool help maintenance managers allocate resources such as time, money, and employees more effectively, and can automate and oversee daily maintenance routines. Get data and reporting on energy consumption or wear and tear of equipment to predict future expenses.

24. Mews Online Check-Out
Mews Systems now offers an online check out feature aimed at reducing lines at the front desk and streamlining your property's operations. Guests can checkout online without having to stand in a queue before departure; the platform sends housekeeping an alert once the guest has left, and your revenue managers can start upselling early check ins. Mews Online Checkout gives time back to guests and hoteliers alike with essential automation to guests who are in a hurry and hotels who are trying to turn around rooms.

25. HelloShift Inventory Management
HelloShift is introducing Inventory Management to systemize the process of ordering and maintaining your stock of hotel supplies – parts, tools, equipment, linen, guest amenities, and more. Store detailed information about your supplies (warranty, brand, model, etc.), automate reordering, and reconcile inventory levels with regular checks. Reduce error that can lead to over and under-stocking, and reduce costs associated with ordering the wrong amount of supplies.
26. Bookboost Multi-Property Inbox
Bookboost Guest Messaging added an all-in-one inbox with multi-property function that integrates messages from a number of channels into one inbox. Manage messages from your website, email, Facebook Messenger, Whatsapp, and more in one platform. This allows one team member to oversee one unified inbox – a big gain in efficiency, especially for multi-property hotels.

27. Sertifi eConfirmations
Sertifi eConfirmations allows travel companies to send payment digitally to travel suppliers (e.g., your hotel). Receive corporate credit card payments, virtual card payments along with the corresponding payment instructions, and guest information, such as check-in time and room preference, all at once – quickly and securely. All payment data is tokenized and transferred in a PCI compliant manner. Offer a smooth, hassle-free payment experience for corporate travelers.
28. Beekeeper Task Management
Beekeeper's Whispr Partnership will help frontline workers learn their job duties more quickly and help add consistency to your operations. Whispr transmits "motivational audio messages", as well as work instructions in your employee's preferred language through Beekeeper's operational communication platform. Facilitate communication between your housekeeping team and management in an innovative and authentic way.

29. Telkonet Ecoinput
Telkonet introduces EcoInput, a simple way to save energy and reduce your costs. EcoInput turns any light switch into an energy management device. Using the Zigbee wireless protocol, lighting can be controlled locally – e.g., guests can use the light switch as normal – or remotely via software or mobile control. Add sustainability and energy savings to your property without sacrificing guest experience.
30. Hoxell Quality Operations
Hoxell has a new tool called Quality Operations. With Quality Operations, members of your team can send messages, create and assign tasks, and digitize workflows to improve productivity. The platform aims to streamline housekeeping activities, create direct communication channels, and improve reporting by reducing friction in communication and knocking down siloed reporting structures.

31. Mister Booking Payment Automation
Mister Booking's Payment Automation feature offers a simple way to process payment from your Hotel Management System. All credit cards collected as guarantee from OTA or booking engine can be verified and pre-authorized directly from the PMS. Automate advanced payments for all non-cancellable and non-refundable reservations, according to their payment conditions. It will save your team time by automating the administrative burden of payment verification.

Q2 Guest Experience Innovations
32. Crave AppLess Mobile
Crave unveiled AppLess™ Mobile, a tool that gives guests access to guest services through location-specific QR codes. Guests simply scan a QR code and choose from the services you offer. Create multiple custom QR codes and post them at different points throughout your property: for instance, a QR code for ordering drinks at the bar, a QR code for catering in a meeting room, a QR code for more towels by the pool. AppLess™ enables frictionless digital experiences for consumers to access services on their own devices, without the need to download a mobile app. Includes payment technologies such as Apple Pay and Google Pay.

33. SuitePad Premium Docking Station
SuitePad has two new products to share, the SuitePad Premium Docking Station and the SuitePad 10" Tablet. The SuitPad 10 is a premium version of their previous model, featuring a 1920 x 1200px resolution screen, larger battery for longer use, and 2GB of RAM for smoother content delivery. The docking station includes new features such as a bluetooth speaker, in-room presence sensor, and telephone handset. These features increase your property's ability to send offers to guests at the right moment, and provide a premium in-room technology experience.

34. Volara Google Interpreter
Volara introduced Google Assistant Interpreter Mode for Hospitality, a partnership with Google that facilitates real-time conversations with guests through instant translation. The tool translates between 29 different languages to help your staff welcome guests from diverse language backgrounds. Improve the guest experience and solicit reviews in multiple languages with this quick and easy translation platform.

39. TrustYou On-Site QR Feedback
TrustYou's On-Site Solutions Beta is a new product that solicits feedback during the guest stay using a QR code or short URL. This survey tool proactively asks each guest about their stay, escalating any issues occurring at your hotel for immediate attention. One hotel property that tested this product was able to increase their post-stay review scores by 3.8 points by asking for feedback in real-time.

35. Travel Appeal Destination Report
Travel Appeal's On-demand Destination Reports are tailor made for independent and chain hotels, DMOs, and tour operators looking for deeper information about their territory. These reports are available for any city, region, or territory within a few days, and can be used to analyze visitor groups, sentiment scores, trends, competitors, online channels, seasonality, and more. Compare different time periods (up to three years back) and learn about the reputation of the destination, individual sectors (F&B, retail, experiences, and more), and what topics are most discussed in relation to your specific area. Know what to highlight in your marketing campaign and help your concierge team craft the perfect experience for your guests.
36. LoungUp WhatsApp Messaging
LoungeUp debuted its new WhatsApp Messaging function, adding a new way to communicate with guests. Use this tool to initiate contact with each customer before they arrive over WhatsApp. Send guests a way to check-in in advance, pay their deposit, book a shuttle to the hotel, or offer an upgrade. Automate some of the time-consuming administrative process and offer real, conversational exchanges with guests. With 1.5 billion worldwide users per month (as of January, 2019) worldwide, WhatsApp is the number one messaging platform, ahead of Facebook Messenger (1.3), Wechat (1.1), Skype (0.3), Snapchat, Viber and Line.
37. Zaplox Mobile Check-in
Zaplox Premium iterates on Zaplox's original product with new mobile-check in and mobile key functionality. This app integrates with most leading PMS and lock systems to streamline check-in. The custom-branded app allows your property to connect with guests before, during, and after their stay. Guests can use the Zaplox app to check-in, preauthorize their credit card, and complete the guest registration before they arrive at the hotel. Includes mobile keys with integration with lock vendors ASSA ABLOY, dormakaba and SALTO systems as well as large PMS providers, such as Oracle, Agilysys, protel, StayNTouch, Maestro, and more.

38. MyStay Mobile Check-in
MyStay Check-in Agent is a tablet-based software solution that can make your check-in process 100% digital at the front desk and anywhere at your hotel. The tablet scans guest documents, and then prompts the guest to add missing information, agree to house rules, and sign the check-in card. This increases the accuracy of your guest data, streamlines the check-in process, and allows your team to focus on the guest experience rather than data entry.

Q2 Sales & Group Travel Innovations
39. OPERA Sales & Event Management
Oracle's OPERA Sales and Event Management Cloud (OSEM) helps hotels reduce the extra time spent managing data entry related to events. OSEM provides a single view of all a hotel's event booking details and revenue across rooms and event spaces for easier audit and analysis. Properties can increase their event revenue by optimizing inventory, bookings, streamlining logistics and providing smooth event logistics. The tool helps streamline operations, increase communication and cooperation across departments, and respond faster to customers.
40. Atomize Group Booking Pricing Module
Atomize announced fresh updates to its Group Booking Pricing Module with a tool that helps revenue managers to instantly calculate the optimal rate for groups. This module now presents both the total recommended price and displaced transient revenue for the group, along with details such as prices per room type and date. A separate module introduces the ability to email yourself the group pricing recommendation for future reference.
41. MeetingPackage Analytics
MeetingPackage has a new analytics extension for meetings and events bookings that allows you to advertise your meetings and events the same way you would advertise your hotel rooms. The analytics extension allows Google Analytics to track the full customer journey, capturing the total revenue of the meeting/event. Measure the booking process from the very first ad click until the event date, and make smarter marketing decisions on Google, Facebook, and LinkedIn to drive valuable direct traffic.
42. SABA Hospitality Digital Conference Tool
SABA Hospitality's SABA Conference is a digital conference tool that provides automatic answers to the questions and requests of conference hosts and attendees directly to their mobile devices. From conference information, directions and amenities, and information on the surrounding area, all information is easily accessible in multiple languages, and can be presented in any format (e.g. links, videos, text, maps and images). Users don't need to download a thing, making it easier for conference organizers to ensure all relevant information is received by attendees. Hosts and property operators simply enter the relevant information, and the platform presents it in a branded and engaging way.
43. EVENTMACHINE Instant Quote
EVENTMACHINE IQ Instant Quote automatically plans and quotes events based on a few simple inputs, like date or event type. Rather than tasking an event manager to manually select and calculate event spaces, catering and equipment. Eventmachine IQ can reduce that manual effort. Get instant, custom quotes emailed in a professional PDF proposal.
44. Get Into MoRe Strategy Dashboard
Get Into MoRe has built a new Strategy Dashboard advises whether or not you should allow an inquiry to proceed with booking your events space. One small event could easily reserve a space and prevent a more profitable, large event. Strategy Dashboard uses a red light/green light system to tell you if an inquiry is worth accepting – or if you should hold out for another booking request.
45. THYNK Meetings Management
THYNK has a new product, MYCE, a customer-centric meeting events and venue management system. The flexible, cloud-based system uses Salesforce to automate the sales process follow-up with task automation and two-way integration with your PMS, POS, and other applications. Assign tasks across departments and add the group booking module to make it easier to manage event bookings.
Q2 New Innovations in Food & Beverage

46. Bbot Smart Ordering System
Bbot Smart Ordering system allows guests to order room service on their phone from their room without downloading an app or signing up for a new service and integrates with popular hotel PMS and POS systems.  Guests order and pay for food + drinks right from their room without having to call down, which means you save on labor and menu management.  Bbot recently rolled out new PMS integrations including Mews & Opera.


47. Apicbase's Production Planning Tool
Apicbase's Production Planning tool streamlines kitchen operations at your property by making food production reliable and repeatable. Save money and reduce food waste by up to 30% with automated to-do lists, real-time inventory updates, and a function that allows your team to predict how many quantities will be needed at each meal. Prep only what you need and make the most of ingredients in your pantry to lower your food budget.