Eight Roads Ventures backed OTA Insight is picking up where STR leaves off
By Hotel Tech Report
Last updated January 26, 2022
5 min read
In business, competition is critical. In hotels, competition is everything. Without understanding the competition, it's almost impossible to know how your hotel is performing. Ok so your ADR (average daily rate) was $365 last night, what does that even mean? Is $365 ADR good or bad?
Tuesdays in the hotel world have historically been a very important day. Back when I worked as an investor in hotels we would wait for Tuesdays to get our STR (Smith Travel Research) Report so that we could see how we did the last week. We could see occupancy, rate and RevPaR (revenue per available room) for not just our properties but also for our compset. This data is collectively contributed to STR by hotels who want to have more visibility and transparency into local business conditions to help analyze performance and improve their operating strategies.
STR is still a great resource but it was founded in 1985. That's right, STR was founded before OTAs (online travel agencies were created). Heck, STR was founded before the internet even existed. Knowing how your property performs against the compset each week is critical but it has limitations. STR reports are static, delayed and tell us the "what" but not the "why".
Why didn't we get as many rooms booked as our compset last week? Were we priced too high on OTAs? Did we not make the right packaged offers? Were we not offering the right kinds of rooms?
In 2012 OTA Insight founders Gino Engels, Adriaan Coppens and Matthias Geeroms got together for an analytics competition and set out to solve this problem. What they noticed was that all of this data was publicly available online and required no contribution from hotels; however, it was impossible to analyze and act on that data in real time.
During the competition they hacked together a rate shopping solution using 3rd party software that scraped data from OTA channels to provide actionable insights to hotels (Get it? OTA Insight...). The solution they hacked together was so good that after they pitched it they had major hotel companies knocking on their door but no real product to sell. They actually didn't even have a company name at the time so they had to think fast.
Given this dynamic, the team instantly knew that they were onto something.
As any great entrepeneur does, they set out to build the product that those initial clients demanded and OTA Insight was born. Today OTA Insight is used by more than 40,000 hotel clients globally, has more than 120 employees and has launched new product lines in Business Intelligence (Revenue Insight) and Direct Booking (Parity Insight). They also recently recruited tech industry rockstar Sean Fitzpatrick as CEO. Sean was most recently at hospitality tech firm HotSchedules and previously Oracle.
In 2017, after 5 years of explosive growth the firm decided to escalate their commitment to helping hoteliers wrangle and act on data to make better business decisions by raising a $20M growth equity round led by Eight Roads, the venture arm of financial behemoth Fidelity Investments. Having invested more than $6B globally into high growth technology businesses Eight Roads has a massive support network, deep expertise and the ability to source unique global investment opportunities. The firm has also invested in travel/hospitality startups such as Peatix, Toast POS and Toreta so they know this space well and very actively sought out an investment in the hotel technology space.
We sat down with Lucile Cornet, Vice President at Eight Roads and point person on the OTA Insight investment to learn about why the firm is so bullish on hotel tech, how the market is evolving and why they're so excited about the road ahead for OTA Insight.
Read authentic OTA Insight reviews from hoteliers like you
How did you get into venture capital?
I've always been excited about the idea of working with tech entrepreneurs. The journey of a startup founder is often long and very bumpy. I am passionate about supporting fantastic European startup founders in their journey to disrupting large markets, creating jobs and breaking barriers!
Tell us a little about Eight Roads and your hospitality investments.
Eight Roads is a global investor with offices in the US, Europe, and Asia - in the last 10 years we've invested over $6bn into growing companies. In Europe, we recently launched a $375m fund for technology scale-ups - companies that have already found product market-fit and are in the process of expanding into new geographies, scaling their operations and sales teams. We led OTA Insight's $20m growth round in 2017.
OTA Insight is on fire right now, what has enabled the business to stand out in the hyper competitive hotel tech marketplace?
Founded in Belgium by three co-founders, Adriaan, Gino and Matthias​​, OTA Insight has become​ the leading cloud-based data intelligence platform for the hospitality industry.
With a portfolio of products such as Rate Insight, Parity Insight and Revenue Insight, OTA Insight provides business intelligence to hospitality groups, chains, management companies and independent hotels​. OTA Insight has just reached a milestone with 40,000 hotel partners globally, including brands such as Accor and Best Western. This growth has happened in just five years.
It uses publicly available market data to help accommodation providers make more informed ​pricing and distribution ​decisions, ​including pricing​ ​and channel ​strategy, demand forecasting, and competitor ​intelligence.
In addition to ​Rate Insight and Parity Insight, the company launched Revenue Insight​ in 2018​, a BI product that allows accommodation providers to analyse their own data to better understand the drivers of their historical performance across channels, room types and customer types.
Today, over 40,000 hotels are using ​the ​OTA Insight platform across ​168 countries.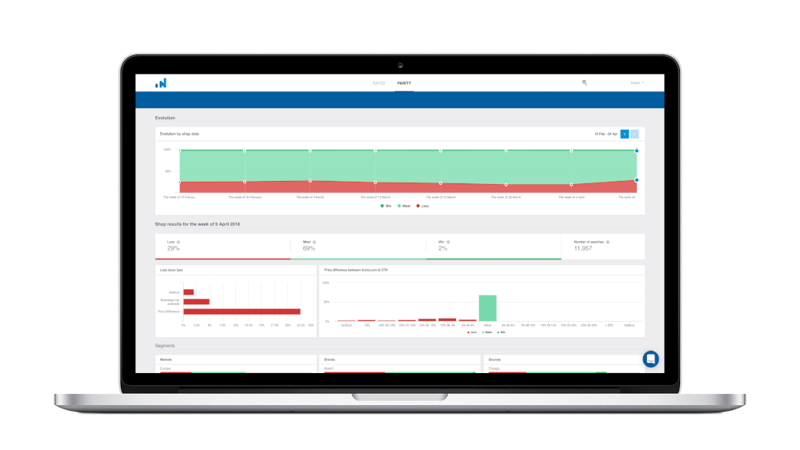 Screenshot of OTA Insight Parity Insight Dashboard
People often say that hotels are a bit slow to adopt technology. Do you agree?
The hospitality industry has historically lagged in technology adoption. According to Gartner, it is one of the verticals with the lowest spend on technology (~3.5% of revenue in the hospitality industry versus up to 8% in financial services is spent on technology). This is starting to change.
The industry is under an unprecedented amount of pressure due to the rise of the OTAs, the competition from vacation rentals, and the constant rise of customer expectations, who expect the hotel experience to move from transactional to experiential. This will push accommodation providers to adopt technology at a greater pace. Data and analytics are at the core of this growth, as accommodation providers seek to better understand the increasingly competitive market environment and drivers of their own performance. Incumbents in the space mostly rely on outdated technology and raw data feeds, which only works for larger hotels that have a dedicated revenue management team.
How did you come across the OTA Insight investment opportunity?
We had been looking at hotel technology as a theme, and had known OTA Insight since 2016.
Hotels have relatively low margins and little extra budget to spend on technology. Startups should be very crisp on what ROI they are bringing to customers and how they can demonstrate it. OTA Insight checked that box for us.
What's the most surprising thing that you found when performing due diligence on the hotel software market?
What I found surprising is the size of the market. If you look at hospitality and vacation rentals, you quickly realise that it is an enormous industry. I believe there is immense potential to build sizeable technology companies targeting the needs of accommodation providers.
If you were leaving venture capital tomorrow and forced to start a hotel technology company, what would it be and why?
I think it might be something around allowing guests to choose and tailor their hospitality experience. Give them credits to spend on what they like, from wifi, to two hours in a gym next door, to Netflix access for the night, or a set of extra cosmetics. I think the era of hotels trying to be everything to everyone is over.
What is the best book you've read lately?
"Grit" by Angela Duckworth. It shows that everything is a matter of sheer will and determination. I find that reassuring. Everything is possible.
What is your favourite podcast?
How I Built This with Guy Raz - it tells the stories behind some great companies, including Instagram and Airbnb
What is one thing that most people don't know about you?
I have the memory of a goldfish. To compensate, I am very organised and take a lot of notes!
For all the startups that might want to pitch in your office, what can you tell them about your investment criteria, etc. to help them decide if they are a good fit for your portfolio?
If you are the founder of a tech company with at least a few million of revenue, good traction, and early proofs of product-market-fit, we would love to meet you! You can write to me at lucile.cornet at eightroads dot com.