The Definitive Guide to ITB Berlin 2019: 5 Key Trends That Every Hotelier Must Know
By Jordan Hollander
Last updated October 28, 2022
22 min read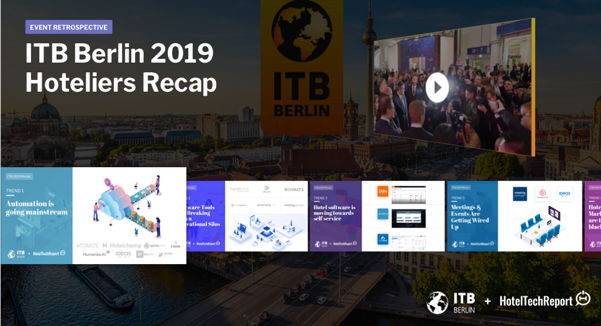 Last week Hotel Tech Report attended ITB to discover the most cutting edge innovations in travel and hotels.  Each year thousands congregate at Messe Berlin to connect with peers, partners and clients from around the globe. Below are 5 key trends that every hotelier needs to know about this year.  In this article we outline each trend, tell you how it impacts your hotel and give an overview of the companies that launched or showcased on trend products at ITB.  For those of you who couldn't make it to Berlin we also cut a reel from the show so you can get the next best thing to being there.
Check out Hotel Tech Report's official ITB Berlin 2019 Recap video above
5 key trends & takeaways from ITB 2019
1. Automation is going mainstream
2. Software tools are breaking down operational silos
3. Hotel software is moving towards self service
4. App marketplaces are soaring
5. Meeting venues are getting wired up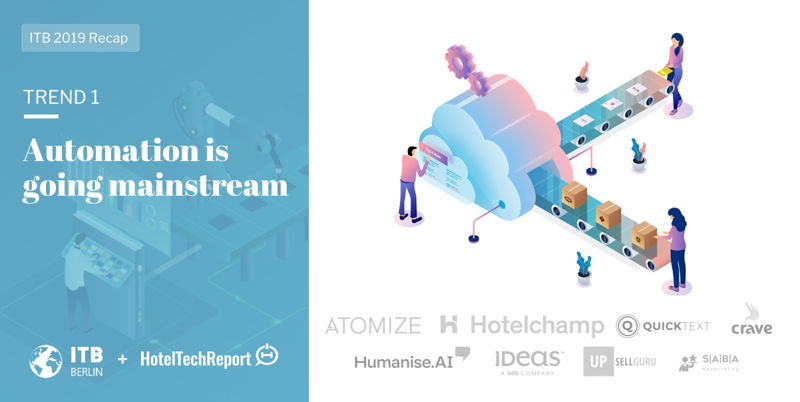 Our take on automation in hotel software
Automation allows for time consuming, tedious and repetitive processes to be handled completely by software. When a task or process reaches the limits of the software's capability, the appropriate team member is looped in to take over which is a beautiful thing. Let's face it, if you've ever worked in a hotel you know that there are dozens of repetitive tasks that seem like a computer should be able to handle and in many cases perform even better, and now they can.   Automation frees up staff to focus on the things that those computers can't handle like high level strategic thinking, trying new products and serving guests. Many hotels are still afraid that technology and the personal touch are conflicting ideas; however, innovative hotel groups are realizing that technology and automation actually enable them to focus on the personal aspects of experience in a way they couldn't when they were bogged down with repetitive tasks.
What's new in automation?
IDeaS launches Investigator to let revenue managers uncover the rationale behind automated pricing decisions by asking Alexa.
IDeaS announced Investigator, an intuitive way to answer your management's question: How did you achieve that price and those results?  IDeaS G3 is the most popular RMS on the market and now clients can ask the system via Amazon Alexa to rationalize the decisions that it automates to provide transparency into the decision making process that is out of a revenue managers hands and handled by the systems powerful A.I. engines.
Hotelchamp launches Autopilot to help hoteliers leverage web data and user behavior to deliver personalized web experiences to boost conversion.  
Hotelchamp announced Autopilot technology, which wants to transform how hotels approach their online guest bookings and experience. Autopilot uses AI to deliver an adaptive experience that is tailored to every single website visitor, and is completely GDPR compliant. Using an A.I. engine to identify customer segments and audiences, Hotelchamp Autopilot can automatically serve the best information for each guest.  Autopilot has been trained using pre-populated content, insights from the Hotelchamp data science team, and millions of A/B test impressions. Using this knowledge and live insights from the hotel's website, Autopilot recognises and personalizes the website experience in real-time to convince visitors to book direct. All Hotelchamp tools can now be controlled by Autopilot, meaning the system will only deploy the right tools at the right time to the right audience. This process happens in real-time and is entirely personalised to each individual website visitor and moment in the booking phase.
Crave Scheduler enables hotels to send targeted automated messages generating $5,000/mo in late checkouts. 
With the amount of times mobile comes up in conversation and the media, you might think BYOD (bring your own device) is the only way to go but the reality is there are lots of occasions where hotels just simply don't have the ability to get a guest's contact info or get them to download an app.  Crave Interactive has a unique, and near unavoidable, position in the guest's periphery with its in room tablets that see upwards of 90% guest engagement. At ITB, Crave announced a new feature called Crave Scheduler that puts a unique spin on automation allowing hotels to set rules to send target messages to guests.  One of the prime use cases that Crave customers have been taking full advantage of is timed late checkout offers which have seen upwards of $5,000 month in revenue at Crave hotel partners who received early access to the feature.
UpsellGuru announced "Auto Pilot" which automates the entire up-selling process.
Upsell Guru now sends targeted emails, calculates the dynamic minimum and maximum upgrade bidding prices, sets up the system to decide which offers to accept and when, updates the PMS - all fully automated not requiring human interaction. The new feature allows hotels to up-sell their rooms & ancillary services  without moving a finger. This saves hotels plenty of time and allows them to use the system without having to log-in on a daily basis. They're initial trial was successful with a British chain of 30 hotels where they achieve GBP 65,000 per month in up-selling revenue without any manual human work.
Quicktext showcased its website chatbot to help guests find answers faster while unlocking $140,000 in requests per 100 rooms. 
With Quicktext, guests can book at your hotel through a conversation (on various channels like WhatsApp, Facebook Messenger, Website Live Chat and SMS), something that has been mainstream throughout Asia (specifically China) via WeChat but has been slower to catch up in the West.  The most practical use of chatbots is on a hotel website where prospective guests often get lost looking for basic information.  A chatbot can answer critical questions instantly like "how far is your hotel from the convention center?", "what is the best way to get from the airport to the hotel on public transportation?" and "can we add a cot to our room?".  This helps shorten the time needed to research the hotel and in turn increases conversion into your booking engine flow. 
Humanise.AI had Gem on display boasting automation of 80% of inquiries.
 Humanise.AI announced automated web-chat for hotels ensures that guests get an immediate response most of the time, but can still summon a member of hotel staff when needed. When hotels use human-only web-chat systems, they often struggle to respond to enquiries quickly enough, meaning guests leave the web site before they get a reply. With Humanise's Gem product, they claim to automate ~80% of enquiries, radically improving the guest service and improving conversion-ratios for direct bookings.
SABA put its multilingual guest request and F&B ordering chatbot on display.
SABA Hospitality Technology announced a bespoke and fully automated hospitality chatbot (SABAGuest Request).  This multilingual chatbot and digital F&B ordering platform provides guests with a seamless communication experience, without the need for downloads. It provides operators the opportunity to eliminate language barriers, provide instant answers to all guest requests and enquiries, and engage with guests on their preferred communication platform: messaging. This allows for the redeployment of staff away from call centers and other low-value repetitive tasks, to engage in meaningful guest interactions that help build long-term guest loyalty.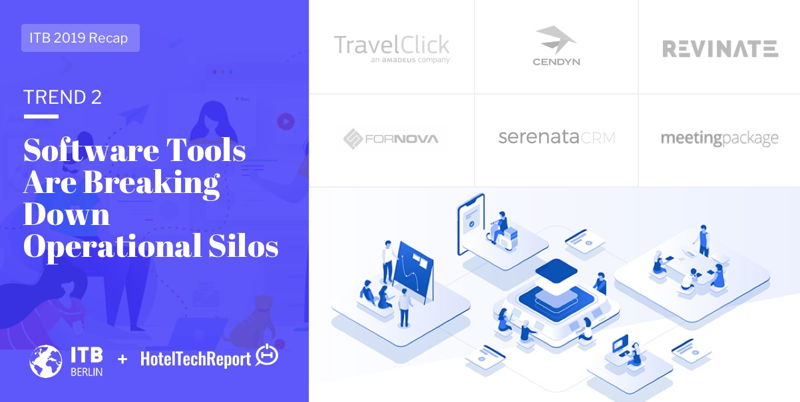 Our take on breaking down silos in hotel organizations
It's no secret that hotels have historically suffered from siloed organizational departments because historically without better communication tools and access to data, teams were essentially on an island in their own physical locations.  Technology companies are starting to realize that their products and tools can help hoteliers to become more effective by aligning departments around common goals, systems and data. At ITB we saw a lot of this happening as evidenced by a shift where CRM companies are starting to focus heavily on the operational applications of their guest data where historically that data has just been used for marketing purposes.
Who's breaking down operational silos?
TravelClick weaves Demand360 data into its Campaign Advisor toolkit to leverage market intelligence data to optimize marketing campaigns fostering collaborative efforts between revenue and marketing. 
TravelClick announced the addition of Demand360 to the Campaign Advisor toolkit. Building on last year's email send time optimizer, Campaign Advisor now allows hoteliers to take the guesswork out of marketing by providing them with recommendations on when to run marketing campaigns based on predictive occupancy in the market.  Demand360 is the hospitality industry's competitive market intelligence product providing forward-looking reservation metrics and competitive share by segment and channel. Hoteliers using TravelClick's GMS and Demand360 products will have access to current and projected occupancy data versus competitive sets to best identify the most valuable time periods to run campaigns, allowing them to avoid offering discounts and packages during peak market occupancy and place campaigns when they need it most. A huge pain point for hoteliers is knowing when to send promotions and emails to customers, as hoteliers do not have a clear picture of how their future occupancy compares with their comp set. It's hard to determine the most valuable time to run a campaign. The Campaign Advisor and Demand360 integration, which is proprietary to TravelClick, takes guesswork out of the equation and enables hoteliers to leverage market data to feel confident that they are choosing the best time to run campaigns and capture demand.
Serenata CRM announced Decision Maker, a solution that combines business intelligence with campaign management. Serenata Intraware's Decision Maker allows different users groups like owners, management, operations and marketing to view the same data but from different perspectives to get an optimal view of the hotel operation, identify potential problems and take corrective actions.  The Decision Maker KPI dashboard gives a high-level insight into revenue, OTA share, loyalty contribution and other key metrics and trends. Other dashboards give subject matter experts from operations and marketing the ability to drill-down and identify the root cause for a problem and based on this insight create marketing campaigns using micro-segmentation to mitigate the problem without changing tools or breaking the workflow.
Cendyn announced eNgage which brings marketing's CRM data and customer profiles to front line operations teams bringing the gap between marketing and operations.  
Cendyn's next generation product empowers front-line and call center staff to instantly access guest profiles including historical guest feedback, membership information, brand-wide stays, social profile information and more. Used in conjunction with Cendyn's eInsight hotel CRM, eNgage sits on top of a hotel's property management system or call center application and intelligently guides staff to create authentic, meaningful encounters and upsell offerings based on guest history, preferences and loyalty status. This lightweight application can be accessed on any device and features configurable messaging prompts and data displays. Like all Cendyn products, eNgage integrates seamlessly with other hotel systems, utilizing an open architecture that ensures the accuracy and completion of guest information for all team members at every touchpoint in the guest journey. Cendyn's eNgage solution allows hoteliers to provide the right approach to personalization for guests throughout their stay. eNgage brings to life all the data that hotels are collecting on guests and it displays it in real-time through an application window that always sits on top of the hotel PMS. For staff on the front-line, access to data instantly is critical for them to manage their workload and allows them to navigate every situation elegantly with customer service and upselling, so guests feel known and valued, not overly monitored.
Fornova expands its business intelligence offering to create a cross department interface for data insights.  
Fornova announced that they recently acquired HotelsBI, a hotel Business Intelligence platform. With this acquisition, Fornova now caters to all roles and departments in the property and chain.  With this acquisition, Fornova now has three product offerings; Distribution Intelligence, HotelsBI & eCommerce Optimisation. HotelsBI simplifies the process of analysing internal and external data sources thanks to simple, intuitive dashboards - enabling faster, data-driven decisions to optimize hotel performance.
Revinate's CRM is now being used by front desk staff and showcased the scalability of its platform on newly AWS servers.  
This shift allows Revinate to scale more efficiently and ultimately open guest data to new departments.  Revinate showcased the capabilities that get unlocked when front desk staff and managers can access CRM data.
MeetingPackage.com brings revenue management and pricing optimization to your sales team.  
The Company announced a partnership with IDeaS revenue solutions to bring real time dynamic pricing to meeting venues.  When paired with MeetingPackage's online booking engine for event spaces, this is a truly groundbreaking development providing hoteliers with real time insights to optimize pricing and a seamless, intuitive, flexible and real time booking experience.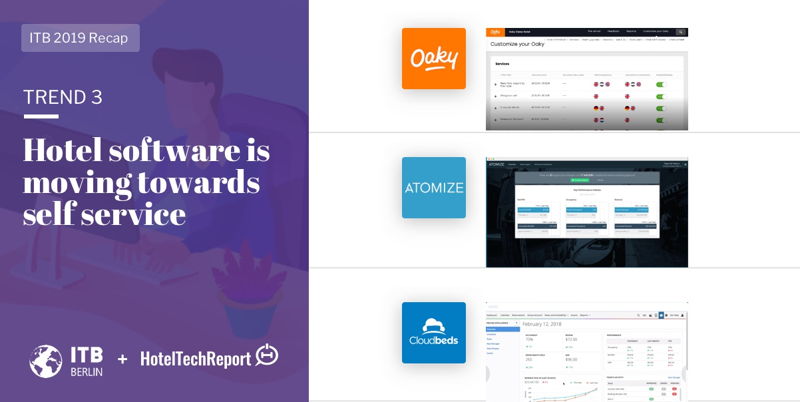 Our take on self service software in the hotel industry
This is one of the trends that we're most excited about at Hotel Tech Report.  Freemium and free trials are ubiquitous in the software world but it's not until recently that it's broken into the hotel market.  The challenge historically with hotel software has been that you need to ingest data from core systems like the PMS to make any software work; therefore, it's hard to offer a free trial or self service.  As the hotel software market moves this direction we'll continue to see exponential upticks in innovation and sophistication.
Another key reason that hotels don't like trying technology is because even if they like the solutions that they try - they're so busy that they don't want to add one more thing onto their teams' respective plates.  Long complex implementations have stifled innovation for years and lead to a massive trust gap between buyers and sellers. At ITB, Oaky cracked the code on this problem by launching it's simple onboarding wizard which helps hotels go live in just a few simple steps.
Who's helping you take things into your own hands?
Oaky's new self service onboarding lets hoteliers start upselling in under 5-minutes.  
Oaky announced an onboarding wizard which allows hoteliers to go live themselves, by completing a few steps. This reduce onboarding time and effort, and allow hotels to buy Oaky from marketplaces and go live without human touch. Inside the wizard they're putting together many millions of upsell moments, and predicting the optimal upselling set-up based on the type of hotel and its guests. From combining variables around the upsell, with data around the guest and the property - they suggest the optimal setup for the hotel (what deals to sell, which content, and so on) which also predict how much conversion and ancillary revenue guests that have not yet booked will spend using this setup. In today's revenue management, the room rate is often based on the room and not taking predictable revenue from segments into account. This upsell variable can impact the distribution decision and help hotels better price their rooms.  When the revenue management system knows the upsell spend of a guest from various booking channels, they can deduct the distribution costs and end up seeing how to price their rooms for a more profitable booking. Some segments spend 20% on top of the ADR, which makes sense for the hotel to 1) have an upsell setup that allows for that, and 2) an RM strategy that takes it into account to acquire more of those (more profitable) guests.
Atomize's self service functionality lets hoteliers try out automated revenue management on their own time.  
Atomize showcased its advanced revenue management platform that has flexibility that allows hotels to control as much or as little as they'd like when it comes to revenue strategy.  Atomize's mobile first platform has been designed from the ground up with the idea that hoteliers should be able to go live and try it out without ever speaking with an Atomize rep. The company's founder, Leif Jaggerbrand told us that he's had clients come in that his team has never met from countries he's never heard of.  This dynamic is widespread in the broader SaaS industry and companies like Atomize are bringing this dynamic to hotels.
Cloudbeds' PIE bakes new revenue management capabilities native into the PMS.
Cloudbeds announced PIE - Pricing Intelligence Engine. PIE is built directly into Cloudbeds hospitality management suite. It is seamlessly integrated with the entire Cloudbeds suite, including PMS, booking engine and channel manager. This helps hoteliers and hosts who want one easy-to-system to manage everything.  Many of Cloudbeds' clients have never used revenue management software before so this provides a lightweight way for them to get started making better pricing decisions.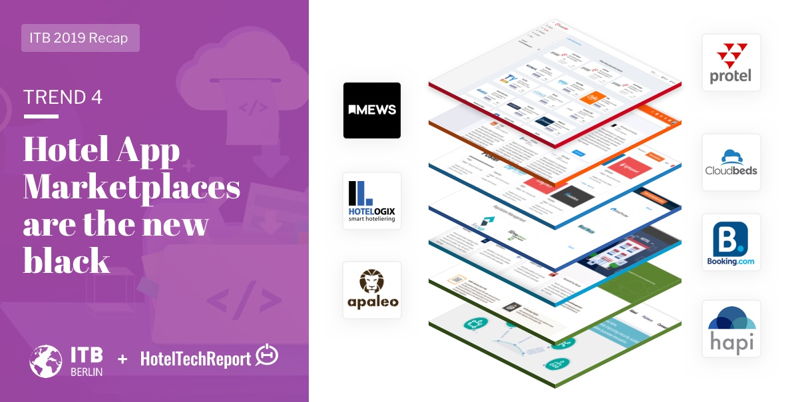 Our take on hotel software app marketplaces
Marketplaces are nothing new to the software industry.  The reality is that it's impossible for one technology company to be the best at everything.  Historically the hotel tech industry has taken a different approach where incumbents have tried to bolt all functionality into the PMS and maintain a closed architecture but that is rapidly changing as hoteliers are increasingly unwilling to work with closed vendors and sub-par tools.
In response to the shift most forward thinking providers are taking towards open architectures, several innovative cloud PMS companies have taken note from tech darlings like Salesforce, Intuit and Apple by creating marketplaces.  These marketplaces facilitate seamless integrations and eventually the ability to easily try new products with the click of a button making it easier than ever to find the best tools to grow your hotel business. Cloudbeds, Mews, Hotelogix, protel and Apaleo were the latest entrants into the marketplace space each launching their own native marketplace baked into their PMS empowering hoteliers to easily tap into a plethora of best-of-breed tools to grow their businesses right from their PMS.  eRevMax was the first non-PMS marketplace on the market and Snapshot was next but SiteMinder and more recently BookingSuite are clear favorites in the race to marketplace dominance.  Hapi is also taking a unique and differentiated approach by building a marketplace that is solution agnostic. 
Hoteliers should note that none of these marketplaces have gained significant traction from a demand perspective so the field is wide open.  While the idea has been around for some years we are still in the early innings.  Two-sided marketplaces require supply and demand to develop but those rarely happen simultaneously. Each of the players below has focused on signing supply/tech partners lately so it will be interesting to see which is able to deliver the best user experience and actually change the way hotels interact with their software.
Who's who in the rise of marketplaces
Cloudbeds Marketplace.
On top of announcing its native revenue management tool, PIE, Cloudbeds announced the official rollout of its marketplace offering enabling its 20,000+ hotel clients to access a variety of best-of-breed 3rd party tools to mix and match to find the perfect fit.
Mews Marketplace.
In a blaze of glory Mews Systems continued its streak of creative conference displays to showcase its marketplace with this year's theme of Pimp Your PMS (a parody of MTV's Pimp My Ride) and its booth was cleverly referred to as 'The Pitstop'.  In true Mews style, each team member was adorned head-to-toe in race car pitstop jumpsuits with patches for various apps that are integrated into their marketplace. Touche team Mews, touche...
Hotelogix Marketplace.
Hotelogix Marketplace launched at ITB and is a one-stop shop for all the hospitality technology needs of a hotelier. It helps hoteliers find and evaluate best-in-class Hotel Technology products on a single platform.
Hapi.  
Hapi is taking a unique and differentiated approach by building a marketplace that is solution agnostic.  Why is this important? By being solution agnostic, Hapi's marketplace is freed from the confines of being locked into a single PMS.  In fact, Hapi offers technology partners (ie marketplace apps) a way to normalize fragmented and messy data into a streamlined and unified structure opening up the potential to integrate to multiple PMSs (as well as various other hotel systems).  Their marketplace offering enables partners to gain exposure to hotels on the platform and enables hotels to tap into other available systems that are connected to Hapi.  Although Hapi is a smaller marketplace with only about 30 partners currently, its connectivity to multiple solutions from companies like Oracle, Infor and Salesforce signals a great deal of potential.
apaleo.
apaleo announced its One connection, where data from all pre-connected tools within apaleo's store is available directly within apaleo's property management system. No switching between browsers or systems. It happens all too often that hoteliers start off their work day organized, and then somehow within a matter of hours (or sometimes even minutes!), end up with dozens of browser tabs open and many systems running. Especially for front desk staff, it takes tons of clicks and searching around to find the info they need, when they need it. It isn't pleasant. With apaleo One, all the info that hoteliers need is visible within apaleo's PMS, saving staff time and creating a more seamless journey for guests.
protel Services Marketplace (SMP). 
While not quite its first appearance, protel proudly featured its services marketplace at ITB showing off its shiney new native ratings and reviews (syndicated from yours truly) to help hoteliers research, vet and discover the best tools to grow their businesses without leaving the protel app store.  Pretty awesome! From the protel team, "The SMP empowers protel customers to choose from a variety of certified and evaluated 3rd party technology vendors covering all the essential hospitality technology services, such as RMS, CRM, PMS and POS. In other words, it's THE App Store to start integration with protel. It's also the point of entry to integrations for any 3rd party vendor to showcase and offer their powerful services to our 14,000 customers around the globe."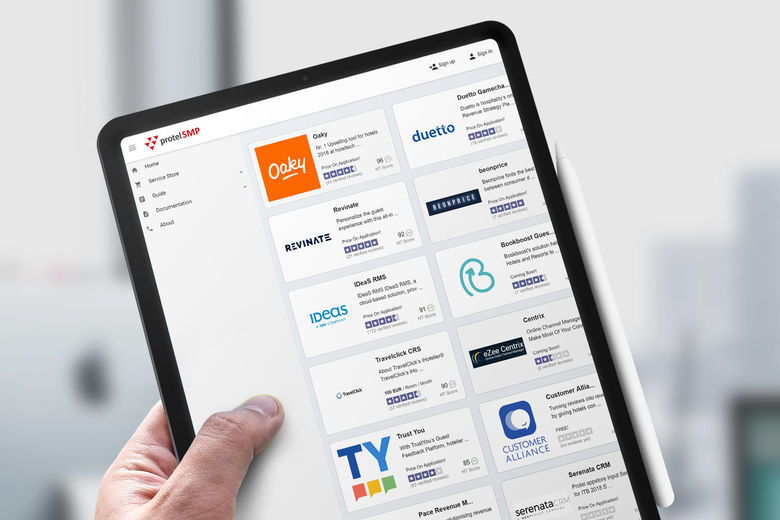 The protel SMP marketplace features reviews from Hotel Tech Report to deliver transparency for its users
BookingSuite App Store (by Booking.com).  
BookingSuite unveiled its app store for the first time where hoteliers can use single sign on (SSO) to activate new apps.  Many hoteliers are naturally wary of relying more on Booking.com or giving them more data, but overall it is a clear strategic move by Booking to provide more value to hoteliers to mend their often shakey relationship. BookingSuite's approach is similar to the way LinkedIn, Google, Amazon and Facebook allow users to login to 3rd party apps with their APIs. The difference between BookingSuite and these other tech giants is that they want to take commissions (into perpetuity) from technology vendors.
The commission vendors pay in the BookingSuite App Store is 25% for year 1, then 15% into perpetuity.  If you are a vendor with an average monthly revenue of $800 per hotel and a 7 year average customer lifetime that means you'll be paying Booking $2,400 in year 1 and $10,080 over the duration of the contract to acquire that single customer.
In our opinion, this fee will eventually be passed to the end user (hoteliers) over time and is just another form of integration fee. Google and LinkedIn give away this service free to foster innovation and strengthen their respective platforms. So while BookingSuite's tech is innovative we're concerned about their commercialization model and understand why hotels and vendors might want to remain cautious.
eRevMax.  
eRevMax rolled out updates to its LiveOS platform that allows its hotel clients to centralize the usage of various software applications into one interface using single sign-on.  While the LiveOS platform was one of the first to offer a marketplace offering, they seem to have fallen behind the competition with a limited range of apps available but seems to be pushing forward continuing to try to continue to explore the potential of LiveOS as a central operating platform, that can plug in various systems to help hotels make critical and time saving decisions across multiple systems without having to piece the data together manually.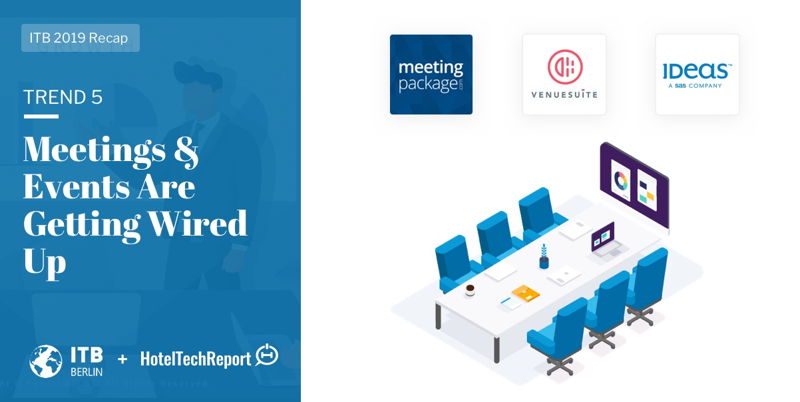 Our take on wiring up meeting spaces for easy booking
During November's Phocuswright event Hotel Tech Report tried to book the rooftop of several hotels for a client event.  In order to book the spaces we had to go to the hotel websites and fill out a form, then wait for responses from sales reps.  Some websites didn't even have a form so we had to manually email reps based on contact info from their website (that we had to dig around for).  Out of the 5 desired locations which were some of the hottest hotels in downtown Los Angeles - not a single one responded within 24 hours and 1 didn't respond to our inquiry at all.  Then to make matters worse, by the time they responded the first question was 'how much budget do you have to spend'. Needless to say, this was a pretty horrible customer experience so we decided to take our business elsewhere and avoided hotels all together for our event.
Imagine if you had to write to a hotel to inquire about availability.  Now imagine that when you wrote, the hotel wrote back asking "what's your budget?"  The idea is absurd. Hotel websites and OTAs have wired up the industry to make sure this would never happen again.  It starts the relationship off with a bad taste for the customer and completely undermines the intended nature of a collaborative ally that a sales manager should be for any client but especially given that they are a prospect who intends to spend thousands of dollars to throw an event.  Meetings and events contribute $325B of direct spending in the U.S. alone (source AmexGBT) - so it's about time this highly profitable inventory  got wired up.
Who's laying the groundwork to wire up meeting venues?
MeetingPackage.com brings channel management and a seamless booking experience to your meeting space inventory. 
Meeting Package's Joonas Ahola Joonas also announced his firm's launch of a meeting space channel manager which allows  inventory and rates to syndicate not just on a hotel's website but across a myriad of 3rd party channels that have popped up to help them find new demand to generate additional revenue .  Meeting spaces today can be booked on platforms like AirBnB as well as on niche marketplaces like Breather, Bizly and VenueBook.
Venuesuite launches demand side marketplace to help venues and planners work better together online.
Announced its direct booking platform (or marketplace) that helps venues & planners work better together online. The platform significantly simplifies the RFP process and sourcing of venues. The time required to book a venue for a meeting/event is reduced from days to minutes.  Both planners and venues. It enables planners to find venues fast, book instantly and configure meetings & events 24/7. For venues it generates more revenue via qualitative leads & higher conversion rates as prices are shown upfront to bookers. Within 10 months 1,000+ spaces available in The Netherlands via dedicated venue partners who've joined the new way of online (platform) working.
Other notable product launches and showcases
Business Intelligence

Pegasus announced its Business Intelligence Platform. It's difficult, if almost impossible to transform raw data into actionable insights - it pains most hotel companies, particularly independents.  Pegasus BI combines guest data from multiple sources and deliver it with automated intelligence and an easy-to-understand dashboard. Hoteliers can gain immediate insights that allow their properties to increase bookings, revenue, occupancy and profitability.
Revenue Management

RevControl announced rate recommendations calculated by room type separately. This announcement is specifically meant for hostels where the rate difference between private rooms and individual beds in a dormitory is huge and unrelated. It is now possible to use a separate set of business rules for each room/bed type and link each room/bed type to its exact match at hotels in de comp set to get individually calculated rate recommendations for each room/bed type.  

RateBoard announced revenue management modules for leisure hotels. RateBoard offers a special module for leisure hotels, taking historical  holiday seasons from different countries, matching this data with the booking window of the different nations and optimizing the forecast due to this important factors.

HotelPartner Yield Management announced the implementation of success-based billing models.  The implementation of success-based billing models aligns incentives between HotelPartner and clients since they don't charge new partners without having achieved added value in regards to room revenue.  This is an interesting and innovative approach - we're curious to see how it works as demonstrating uplift is a really difficult thing to prove given market fluctuations and the massive # of variables that can't be controlled.
Marketing

Travel Tripper announced Real Time Ads & Metasearch Direct. These tools help hotel marketers minimize costs and maximize RoAS on their digital marketing campaigns. Real Time Ads is the first digital marketing tool that allows hotels to advertise—in real time—their rates, availability, popularity and more right on their Google search ads, delivering double the conversion rates. With Metasearch Direct, Travel Tripper has helped hotels generate 38x their spend on metasearch with our direct connect to Google Hotel Ads. Their unique commission model means that independent hotels with smaller budgets can play on the metasearch channel without any risks—and for less cost than an OTA commission.

Travel Tripper announced ADA Monitoring Platform. Many hotels in the U.S. are in constant risk of ADA compliance lawsuits simply because their websites are not accessibility friendly. Not only does the TT Web team offer full-service ADA audits on websites, but they also have built out an automated ADA monitoring platform that performs website checks in real time to ensure compliance. Hotel marketers are immediately notified whenever an element of their site falls out of the accessibility guidelines (for example, lack of alt tags, color contrast etc.)

Serenata CRM & IgnitionOne launched a next generation CRM partnership that combines both historic guest information combined with real-time intent data. By tracking and scoring website visitors interests and propensity to convert hoteliers can tailor messaging, content and offers, both on the website and in the booking engine accordingly to this data. The scoring technology also supports new guest acquisition by identifying unknown website user that show high interest in a hotel property or a specific offering from the hotel. Based on the interest and score, the visitor can be prompted with personalized newsletter invite. This approach has proven to massively increase the number of newsletter signups, something necessary for many hotels after recent introductions of privacy regulations like GDPR that eliminated a large part of the hotels marketable profiles due to lack of marketing consents.  The newly created newsletter subscription profiles are enriched with the interests and intent information from the IgnitionOne scoring engine monitoring the hotel website and can be used for marketing purpose complementing the historical data points already stored in Serenata CRM. With Serenata CRM and the real-time intent triggered personalization powered by IgntionOne you can deliver a true personalized experience for your guests and website visitors to drive incremental revenue.

Integrator announcements

HAPI announced it's recent Salesforce integration following a 2-way oxy connect with Oracle's PMS

dailypoint™ - software made by Toedt, Dr. Selk & Coll. GmbH announced a data cleansing solution which allows hotels to automatically clean, correct, and de-duplicate their guest profiles and push that data back to the hotel's PMS. The fully automated, AI-based process includes hundreds of steps, reviewing all key data points within the guest profile. It removes duplicate profiles, corrects mistakes made from human errors, corrects addresses for more than 240 countries and ultimately creates one single, accurate guest profile for each guest. This data is stored in the central data management solution by dailypoint™ as well as pushed to the hotel's PMS so that data is accurate across all key sources.
Operations

Guest Applications & Devices

Criton announced multiple property group functionality which was piloted with London-based Cheval Residences became the first brand to adopt the new product. Created specifically for the hospitality sector, the new product gives accommodations providers with multiple properties a platform to include information on each one within a single parent app.  With locations across the capital city, luxury serviced apartment specialist Cheval Residences are the first group to adopt the new technology with eight of their luxury properties contained within their new app. Group functionality is a game-changer for multi-property organizations like Cheval; enabling them to showcase the unique personality of each property while reinforcing their brand, increasing direct bookings and driving loyalty from new and repeat guests.

GuestTraction announced online check-in to reduce queuing at Front Desk by moving check-in to pre-arrival. More than a third of guests polled (38%) indicated that a source of frustration was the front desk taking too long to complete requests.