The Best Hotel Software of 2020 (Ranked by Data)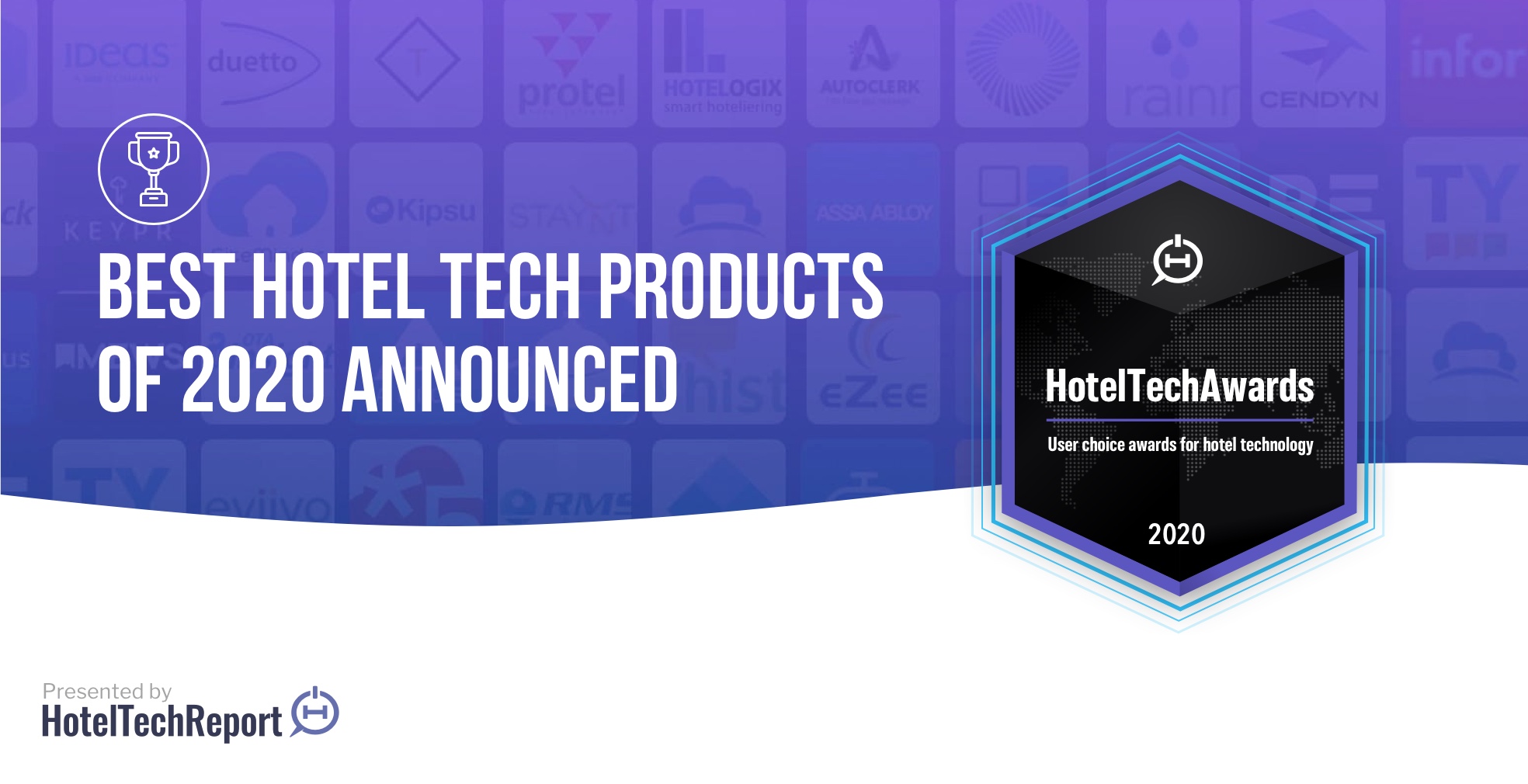 Are you overwhelmed by all the new hotel software solutions coming into the market?
You're not alone.
Perhaps you're ready to find a new property management system and need trusted information about which vendors are potential fits based on integrations, feature functionality and unbiased client reviews or even a great all-in-one hotel managment software.
Maybe you know that your hotel is missing opportunities but don't even know which hotel software categories you're missing in your stack let alone the best vendors that serve each of those categories.
Each year Hotel Tech Report leverages our global community to answer these questions for hoteliers like you so that we can save you time and help you make better technology decisions.
This year the Hotel Tech Report community has spent 600+ hours reviewing the hotel software that they use on property to help you find the best solutions for your property.
This list will save you time researching tech for your business and is 100% data driven.
What's inside this hotel software guide?
1. What are the different kinds of hotel software?
2. List of the best hotel software products (by category)
4. How does Hotel Tech Report determine the best hotel software?
5. Proprietary software ranking methodology
What Are the Most Popular Categories of Hotel Software?
Many online lists online wrongfully group hotel software into a single category but the reality is that the hospitality industry has unique challenges that require multiple point solutions to tackle different problems. Here at Hotel Tech Report we use 37 different software systems to run our business and the hotel industry is no different. The typical hotel uses at least 10 different hospitality software systems to operate. The good news is that today's SaaS model has enabled these solutions to be ultra affordable and developments in design have made them extremely user-friendly for front office staff and beyond.
The Best Hotel Software Products of 2020 (According to the Data)
Best Guest Experience Software
Best Hotel Operations Tech
Best Revenue Management Tech
Best Hotel Marketing Software & Services
How are the the Best Hotel Software Vendors Selected?
The HotelTechAwards (produced by Hotel Tech Report) announced the year's top rated hotel software companies and tech products based on thousands of hotelier ratings and other key data-points.
During the HotelTechAwards hoteliers from the world's leading hotel companies across 100+ countries review the top tech products used at their hotels to increase operating efficiency, drive revenue and improve the guest experience. This data is used to identify the best hotel tech products and organizations.
The competition spans core areas of hotel software & technology: marketing, revenue, operations and guest experience. 2020 Voting included participation from major hotel groups including: Four Seasons, Hilton, Marriott, Accor Hotels, Hyatt, Intercontinental, Rosewood and thousands of independents.
"Each month Hotel Tech Report helps more than 40,000 hoteliers research and vet technology partners for their properties. Winning a HotelTechAward is the highest achievement in the industry because it's based on real data. Winners have truly earned their showcase with our rapidly growing community. Hoteliers trust this award when making purchase decisions because scoring is transparent and participation is ubiquitous amongst the most reputable vendors in the industry," says Jordan Hollander, CEO of Hotel Tech Report.
"We created the HotelTechAwards as a democratized way to help our fellow hoteliers quickly determine best of breed vendors based on data they can trust. Our process is simple, transparent, and unbiased--judging is based on time tested ranking factors, publicly available data and crowdsourced insights from verified hoteliers who have hands on experience with each product."
The HotelTechAwards are often referred to as "the Grammys of Hotel Tech" and winners were selected from more than 100 of the top technology products around the world. The HotelTechAwards are the industry's only data driven awards platform with winners determined not by a handful of judges or popularity votes but by a global community comprised from thousands of verified hotel technology users across more than 120 countries.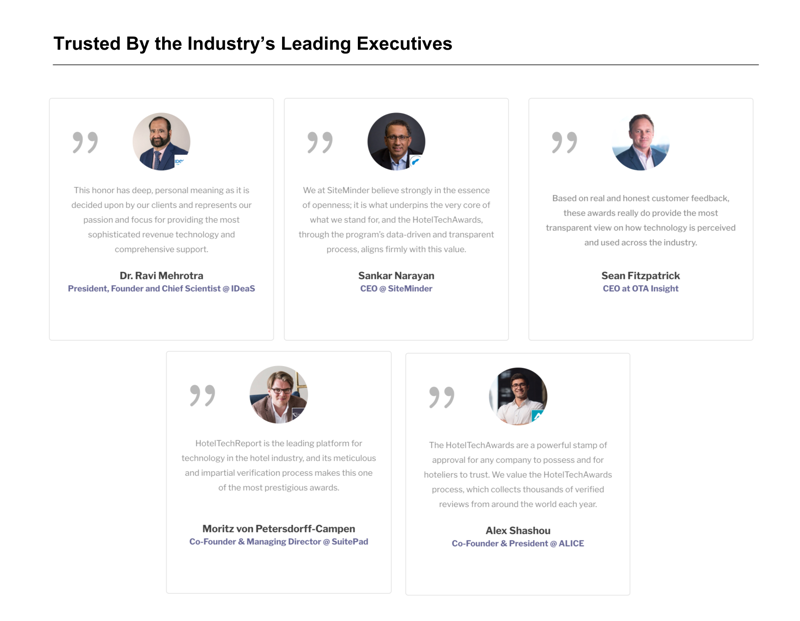 Time Tested HotelTechAwards Scoring Methodology